Devoted Encounter
Entwined hearts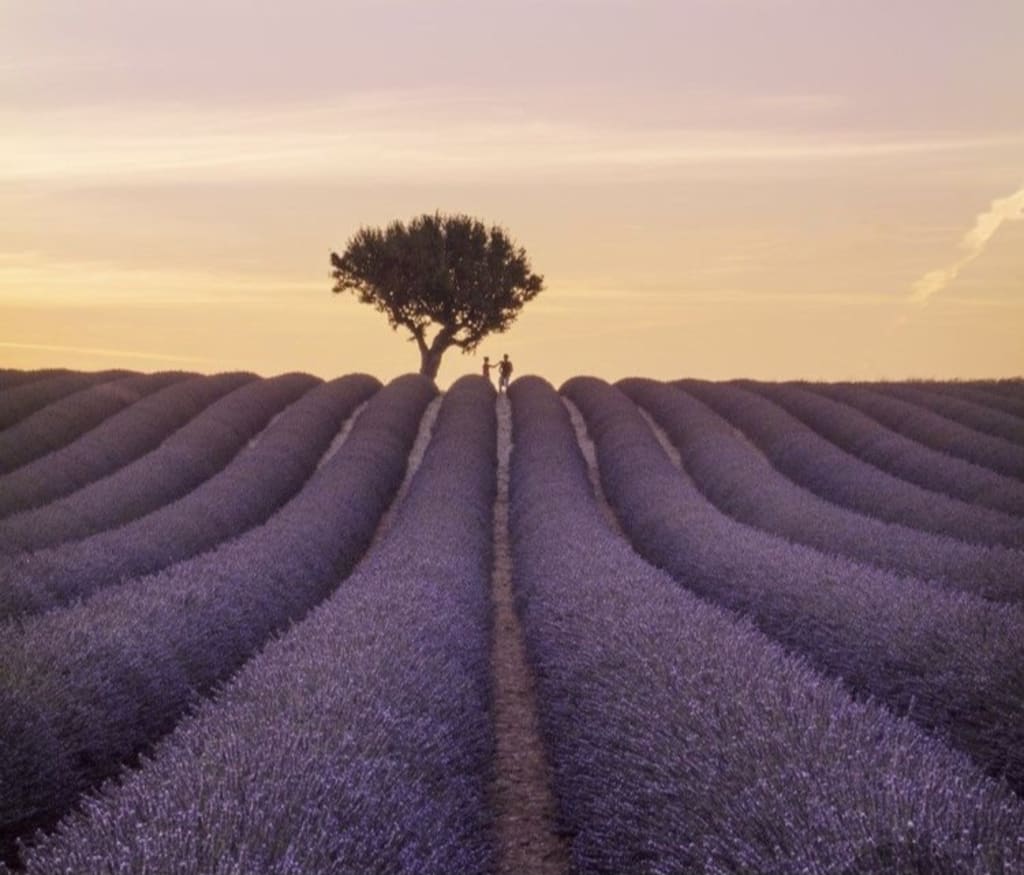 The fields of the sweet smelling lavender looked beautiful and the delicate odor floated in the summer air.
Dust rose up from the dirt road as my car moved down it toward the old white Victoria Inn perched between flowering myrtle trees.
Standing on the porch under the potted red geraniums hanging and swaying in the warm breeze, stood my aunt.
When I got closer i saw a unfamiliar car parked out front.
My aunt came over to greet me and gave me a big loving hug!
She saw the questioning look in my eyes as I looked at the car.
Oh it is Just some guest here for the wedding this week end, she assured me.
Great I thought to myself- I wanted to be alone - away from
Everyone and everything and now finding out there was going to be a wedding here.
So instead of going inside I drove over to the farm's shop hoping to give the visitors enough time to leave.
I went into the quaint little shop where the lavender soap essential oils and tea were sold.
The color purple vibrated from walk to wall with stacks of dried snd fresh lavender everywhere.
I sat in the sitting room on the French style velvet lavender chairs and sipped the refreshing lavender tea that Sally the clerk has given me.
Then the bell over the door rung.
I looked up as a good looking guy with broad shoulder and rust reddish hair and green eyes came though the door.
I sat up straight and turned so I could get a better look. His eyes met mine.
It seemed like time stood still.
Then he went to the counter and brought the lavender perfume.
He said this was her favorite perfume.
I just assumed it was for his special lady, his bride.
He went out and- I saw him go back to the house . Another guy o came out and they got in their car to leave.
When the car passed me he turned and looked into my eyes. We both stared at each other! I felt that I knew him from somewhere but I couldn't remember where.
My uncle and aunt had dinner ready and I ate a lot and even had some of the coconut lavender cake
for dessert.
My aunt said the two gentlemen were staying up the road at the other Inn and the bride and friend would be staying here.
She also added that the wedding was private with only the groom and bride, the best man and the maid of honor attending.
She explained, they had paid extra just for allowing it to happen at the spur of the moment without any prior arrangement.
Well I thought to myself, reassuringly, it was only a few people so I can still have my quiet week-end.
I went out for a walk alone after dinner.
The sun was sinking down into pink , peach, and purple clouds, it slowly fall below the horizon of the purple lavender fields.
It is breath- taking ! I said out loud!
I stood there enjoying the amazing view.
Then I look to my left and someone was standing in the fields watching the sun go down also.
When he turned toward me and even though he was far away, I could see his eyes piercing though-me- it seemed to my very soul.
He waved at me and his face seem to light up as he smiled at me.
I waved back and he began to walk toward me.
He never stopped looking at me. I felt like he was holding me hostage with his eyes.
As I watch him come to me my heart began to beat faster and something inside of me was coming alive - a burning desire a need I didn't know was there until I saw him.
He reached out his hand for me to shake.
. I felt my hand slip into his and it felt like a perfect fit.
. We smiled at each other as we held hands and at the same time I felt his warm vibrations covering me.
I'm Jed he said -
I'm Sandy, I replied.
You are here for the wedding?
Yes-he said as he quickly changed the subject.
-I saw you at the shop, he said.
Yes- I said, I do remember seeing you there also.
You got some perfume?
Oh that is for my mother! It her favorite!
I see. I replied.
We began slowly walking together in silence.
The twilight had began to fall as the stars slowly became visible around the
yellow moon.
Do you come here often? He asked.
It my uncle's and aunt's home and business. Yes! I replied.
I come here just to get away and reflex and relax!
Is it to get away or is it to find a missing part of you-
He asked with a serious look in his eyes.
I stopped and looked at him.
A sudden desire came over me.
I just wanted him to hold me and take me in his arms. A sudden breeze blew against my face making my hair fall into my eyes.
It was enough to bring me back to reality
I knew something was happen that I didn't understand so I just felt the need to get away.
It was nice meeting you Jed. I declared! I had better get back to the house. I began to back away and before turning to walk away I said to him,
Oh congratulations on your wedding.
But- I thought I heard him say.
I swiftly walked back to the house without looking back.
All I needed was to fall in love with a man about to be married I reflected.
The next day I rushed out of the house with my picnic basket jumped in the car and rode up the dirt road to the old oak tree.
I got out of the car and put my arms up to the sky.
Alone to relax!!!I screamed to the beautiful blue sky.
I put my blanket down at the end of the rows of lavender in the field under the large Oak tree. I placed my fruits, sweet bread, and lemonade on it . My romantic paperback was all I needed.
I was so into reading my book that I didn't hear Jed ride up on his bicycle.
May I join you, He asked?
Surprised and a little disappointed that I wasn't alone with mixed feelings , I said yes!
I fixed him a small plate of fruit and sweet bread and a glass of lemonade.
He smiled at me as he took it.
Then he began to tell me about how he loved the smell of lavender. He said you know it's symbolic of devotion.
Then he casually touched my hand as I was pouring him more lemonade and it sent a warm vibration all over my body.
We talked about everything and we really had a lot in common.
Then he looked at his watch and said he had to go.
He thanked me and said he was looking forward to seeing me later.
He got on his bike and before riding away- he turned as though he wanted to tell me something but thought better of it and just gave me a wave before riding away.
After he left tears just out of no where for no reason began to fall from my eyes. Why was I crying?
I didn't even know him and he means nothing to me I told myself but my heart was telling me a different story. It echoed that we belonged together, yet he was to mast someone else.
That afternoon, the bride and her maid of honor came to stay at the Inn.
They were bubbling over with excitement. After eating dinner I could hear them from my room laughing and talking till the early morning.
The tears came again and just before the sun came up I drifted off to sleep.
The day of the wedding I went to help my aunt arrange the lavender and purple roses at the alter.
Jed his friend and the clerk stood by the alter waiting for the bride.
The maid of honor wore a short pink sun dress.
The bride looked lovely in a flowing lavender gown carting pink roses.
The bride was walking over to the groom I couldn't look so I closed my eyes but when I opened them
to my surprise I saw the bride holding hands with the other gentleman- not Jed.
I was stood there gazing in astonishment. Then a smile came over my face.
Jed was looking at me and he fingered it out what I had been thinking.
A big smile came over his face..
Afterward the bride and groom were officially announced husband and wife sealed with a kiss, Jed came directly to me and took me in his arms and kissed me in front of everyone!
I don't care, he whispered in my ear, if I just met you- what I feel is real! I never felt this way before and I don't ever want not to feel this way ever again!
He saw the joy I felt in my eyes and he kissed me again.
We all went back to the house for an elegant dinner prepared by my aunt.
Then we danced on the patio decked with flowers and herbs and sparkling white light.
Jed held me tight as we danced to a slow romantic song. It was such a wonderful feeling and I knew I had found what was missing in my life.
I had by some uncontrollable fate found my true love!