Counting Joy
a passage of friendship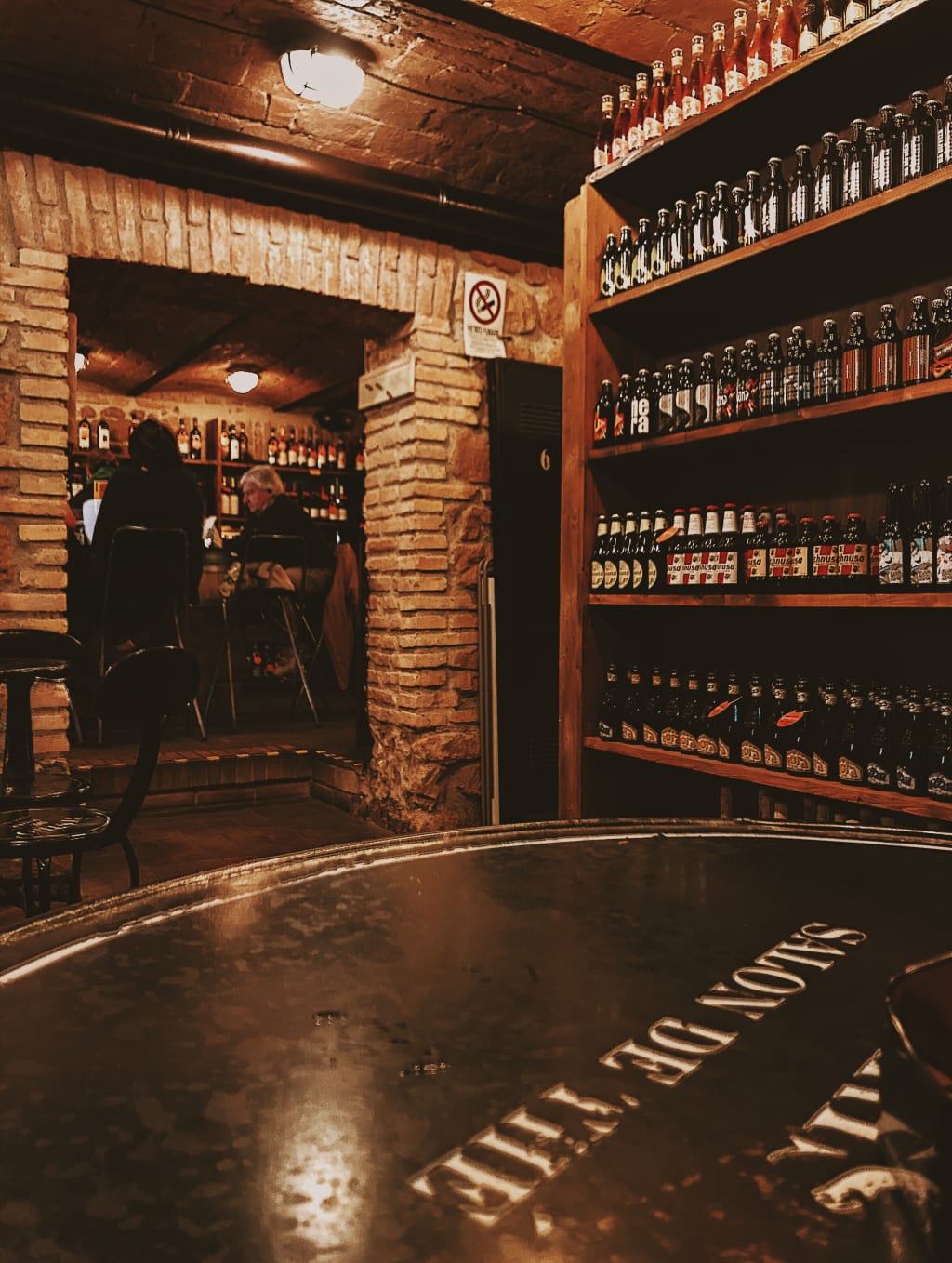 "How in the world did you find this place?" Charlie asked, white-knuckling the steering wheel. She didn't take her eyes off of the jagged, winding road for a second. If she did, she feared they might have an unpleasant journey down the sheer face of the mountain.
"Oh relax, it's not that bad. You obviously didn't drive much living in NYC, did you?" retorted Ellie, although she already knew the answer. She'd gone car shopping with her the week Charlie moved back to their hometown from Manhattan. It had been almost 17 years since the two had lived on the same street. Charlie's mom and dad had moved to Arizona when they retired so there was no reason, other than Ellie, for Charlie to visit the small Tennessee town.
After her recent divorce, Charlie considered her options carefully. She could move to Arizona to be closer to mom and dad-but, she despised the heat. She could stay in Manhattan and risk running into the ex and the 24 year-old administrative assistant he left her for-which was likely because she too, was employed at the pharmaceutical company that Charlie worked for. Or, she could go back to Tennessee and her best friend. Ellie would do anything for her, and she would do the same. They were in each other's lives for everything that mattered. Charlie's college graduation and subsequent move to the Big Apple and Ellie's wedding shortly after that. Then, the birth of Ellie's twin boys that happened 9 months to-the-day after she was married! Ellie was the only witness to the impromtu nuptials that Charlie and her now ex-husband planned on whim.
Once she'd decided the best course of action, she'd quickly listed her Manhattan high-rise apartment and had a better-than-asking-price offer within the day. She knew it was the right move and she was so thankful that Ellie had convinced her to get a pre-nup, otherwise, the "jackass of the century" may have been entitled to half of that real estate investment. It was the very first thing she'd saved for when she started her new "big girl" job. So yeah, she owed Ellie big time for her insight.
That wasn't the only time Ellie had given her brilliant ideas and kindly forced her to follow through though; Charlie had a history of spur of the moment decision making and knew that Ellie was the funnel by which all logic-based decisions needed to pass. Logic was for people with no spontaneity, sticks in the mud, according to Charlie. While that way of thinking was both fun as hell, it left rather unpleasant messes to clean up later.
Right now though, the two besties couldn't be happier to be together again. Ellie had 3 kids, the twins were 10 and her little girl was 7. She was so ready to have her friend back in town for some adventures that didn't include t-ball or tiny ballerina princesses. Today, she'd decided on the Sulla Montagna winery. It was one of 6 new wineries that had opened since Charlie had left town. They'd stopped at a few when she'd come for visits but this one had opened only 3 days prior. Ellie hoped it wouldn't disappoint, but she had no idea what to expect. Google turned up exactly 1 link. It the Google listing that included the phone number for reservations, and a list of hours. Probably didn't time the launch of the website right, is what she thought. The incredible winery coming into view had both of the women wide-eyed.
"Holy sh...." Charlie shout-whispered with Ellie quickly interrupting and finishing Charlie's sentiment with "Shrimp on the barbie". Charlie rolled her eyes, "Yeah Mom, holy shrimp on the barbie. Are there kids shoved in that giant diaper bag you're calling a purse? Because, I thought this was a "grown-ups only" day."
"Oh zip it Charlotte Suzanne, no one needs your potty mouth. Can you believe this place?" Ellie looked straight on, taking in the view. "It's like, Italy meets Falling Water. I mean, WOW!"
"Or, it looks like a winery with the roadway to death leading to it. It had better have the best wine I've ever tasted considering I had to risk my life to get here!" remarked Charlie. "And, don't use my full name, Eloise Antoinette. You don't like it either."
Charlie let off the gas and pressed the automatic window button so she could admire the rows and rows of grape vines as she breathed in the air, fragrant with sweet concord grapes. There were a few couples dotting the vineyard, strolling leisurely while sipping from their glasses. The expansive grounds included the main winery, which was much more modern than expected. It spanned a small waterfall which gave life to large paddle wheel, presumably used for another sustainable power source. There were also solar panels placed along the hillside and a very large wind turbine closer to the peak of the mountain. Charlie pointed to a few buildings tucked away in the trees that were likely for tools and equipment used to maintain the acreage. "It's all very sympathetic to the surroundings. Very well thought out, must have cost a whole lot to build into the mountain rather than leveling it." She pulled her brand new Volvo XC90 into a spot near the exit of the lot, far away from the door-dingers.
The two checked their perspective vanity mirrors, applied some gloss and headed toward the entry. Outdoor seating was set up on either side of the courtyard style grotto. The ladies opted for the stone, ramp walkway rather than the enormous stone staircase to ascend since they were both wearing shoes that screamed Girl's Night, not mountain-side hike.
After winding their way upward, and crossing the balcony toward the building, the doors opened outward automatically as the duo approached. "Fancy schmancy huh?" Ellie noted with a wide smile. "I can't believe I got reservations for a Saturday night!" They moved through the open doorway toward the host station straight ahead where a very sweet looking, older gentleman dressed in a light gray, bespoke three-piece suit, stood awaiting guests.
"Good evening, reservations for two? May I have your name please?" said the gracious man whose name tag read BENITIO.
"Yes, for Ellie," she spoke softly as if she doubted having called to make the reservation herself.
Looking over the tablet, Benitio tapped a few times then returned his gaze to Ellie and Charlie. "Please, come this way," he said, stepping out from behind the small lectern while waving his arm in the direction he stepped. "I will show you to your table, best in the house." He smiled as he spoke with a slight accent.
The dining area to the left of the entry contained several tables made from wine barrels with black glass tops. The unique chairs were made from wine barrels cut in half length-wise with a cushioned seat placed near the middle. Beyond the tables in the dining area, there was a small bar. Behind it, wine barrels with dull, black ink-printed labels, were stacked from floor to ceiling. There were a few wine tasters standing along the barside, chatting as they sipped the seasonal wines the vintner poured. The majority of the seating, it seemed, was on the balcony overlooking the vineyards. Charlie tried to guess which of the tables could possibly be the best in the house, since they all had the same view. Benitio led them down a small unseen corridor around the backside of the rock wall flanking the host station. Taking a few more steps, they found themselves staring, through glass walls, at the water fall disappearing beneath the floor. The single 2-top table set in front of the glass was absolutely the best seat in the house.
"Wow, this view is spectacular! Did you know this was here?" Charlie questioned Ellie as they took their seats.
"I had absolutely no idea," Ellie spoke, her mouth wide open as she scanned the room. "I didn't ask for anything special, but I did say that my best friend was moving back to town after being gone forever and I needed to make a reservation to celebrate!"
"What are we celebrating? My inevitable divorce from a man I married within the first month that I met him? Or, how about the 24 year old who is pregnant with his child after he told me he didn't want kids? I don't really have much to celebrate here Ells. I'm 39, I don't know if I have it in me to start over just to see it end like this." Charlie said softly as she choked back tears. It was the first time she'd felt like crying over her situation. It wasn't a pleasant feeling at all.
"Listen Char," Ellie whispered conspiratorally. "I know a guy who can take care of your donkey butt of an ex for a few lottery scratchers and a case of Natty Ice. You just say the word and I'll find him. Probably passed out on the park bench with a bottle of hooch in his hand, but I'll do it." Ellie said with such a straight face that it gave Charlie pause for a moment to see if she was actually serious.
When the corner of her lip twitched, Ellie knew she was caught because Charlie never missed her tell. The two fell into hysterics, laughing so hard that neither could catch their breath. It felt so good to Charlie, much better than the crying she wanted to do a minute ago.
As the sommelier served each of the ladies a glass of merlot, Charlie knew she was where she was supposed to be. More importantly, she realized that not all of her spontaneous, unguarded decisions were doomed. Sometimes, the universe has to shake the ground you're walking on to get you to turn in the direction you're meant to go. She knew good things were coming because she believed it.
friendship
About the author
The fun part about turning 40 is realizing all of the things that you want to do before you die. Writing is one of mine. I'm excited to be surrounded by others who feel the same!
Reader insights
Be the first to share your insights about this piece.
Add your insights