Count Christopher
by Paul Doherty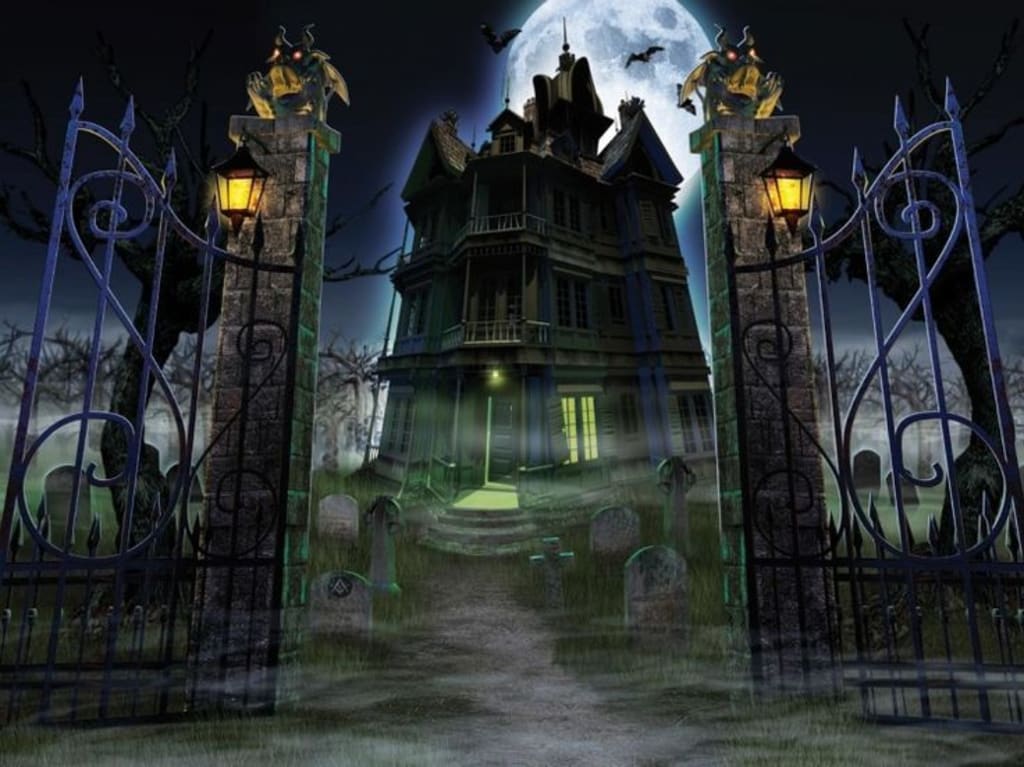 Count Christopher's Mansion
Count Christopher
Lee stood studying herself in the long mirror, 'How do I look Mum?' she asked.
'Beautiful, like always,' her admiring mum answered with a big smile.
'Just don't know mum,' Lee hesitated, 'this is my first date, and I am so frightened.'
Her mum rubbed her shoulder, 'You'll be fine. The ad said they will match you with your perfect partner.'
Lee looked up at the photo on the mantle of her late father, his face was handsome. He had piercing eyes that in a strange way, were very scary.
Her mother said 'He would be very proud of you. He loved you so much.'
The thing that worried Lee was that it will be her first ever date that she had ever been on, for she had never even been outside of the house! Not even into the garden, let alone out into the community. The world terrified her. Lee's father, Bram Constantine had liked his privacy and that is the way the family lived.
Lee's mother went over to the window peeking through large drapes. She was happy to see the sun sinking in the distance casting dark shadows from the homes and trees from across the road. The gloom seems to put a smile on her face. 'Well,' she said 'your limousine will be here soon. Your father prepared you for this.'
Lee looked up at the photo on the mantle. Constantine's eyes were looking into her eyes. She whispered in a very soft voice, 'I know exactly what to do, father.' Her eyes now looked as dark as his.
Lee's mother put a velvet cape over her daughter's shoulders. 'It may be a bit chilly outside tonight.' She said admiring the cape in the mirror, for it had belonged to Lee's father.
Lee now felt confident ready for the new life that lay ahead. Lee and her mother turned in unison and looked at the front door. Knowing before it happened, there was a knock, then a second louder knock. Slowly Lee opened the door.
A large man all dressed in black stood there, 'Hello, my name is Boris, and I'm here to take you to Christopher's house.' Handing Lee, a bunch of black roses, he escorted her out to the limousine. 'My master said to take good care of you.'
Lee sat in the plush leather seats of the limousine and admired the handsome timber panelling. She thought to herself that she could become accustomed to this.
Nightfall was now fully here, and Lee felt amazingly comfortable with herself, while acknowledging that this was strange as it was the first time she'd ever been out of the house. This is what her father had taught and trained her for. A big smile came over her face. Looking in the rear vision mirror above the front windscreen, she could see the driver, Boris smiling too. She ran her hand down the velvet cape and feeling safe looked out of the window. There were no more houses to be seen in gloom on either side of the road now. They were in the woods driving on a long and winding road. The clatter of the timber bridge as the car crossed, made her jump. The driver's face still had that big smile on it. She smiled back as she was thinking, she must be strong, for she was a Constantine, the last of her line. Tonight, she was lusting for the taste of blood. Rich red, juicy blood, flavoured with iron.
The limousine pulled up in front of two large iron gates. Automatically they slowly opened, and the car drove through and up a long tree lined driveway. There on the hill was Christopher House, looking menacing but yet inviting. 'Come on in it was saying, if you dare?'
Lee floated her pale fingers down the luxurious nap of the velvet cape once more and gracefully alighted from the car. Boris, the chauffeur escorted her into the house. How grand it all looked; it was very dark just the way she liked it. There was a beautiful fireplace with large logs burning. Hanging above the mantle place was a large painting. Lee could not take her eyes off it, for the man in the painting was beautiful. So beautiful. He wore a black cape, and his eyes were as black as hell, just like her father's eyes had been. Turning quickly at a faint sound, she was greeted by this very man, standing on the staircase. He was looking down at her, with those eyes that were so hypnotising. But she did not care. He descended the stairs, and he took her hand and kissed it gently, 'I am Count Christopher. Welcome to my home.'
He slid her velvet cape from her shoulders with a whisper of sensuous fabric. She wanted to stop him but couldn't. Taking her hand, he led her over to the dining room. The huge table had no food, just a huge centre piece of beautiful candles burning in towering silver candle sticks, crystal glasses glistened in the candlelight and wine bottles containing a rich, dark, red liquid, lined the table. Sitting down they looked into each other's eyes and fell instantly in love. They say love at first sight is beyond power.
Christopher took a bottle of Red Merlot wine from the table. This wine comes from Bright Cellars and is my favourite wine. It brightens up everything that is black, so let us drink to a long, long life together.