Cheaters Don't Do All The Cliche Behaviours We Expect Them To
They're fooling you with much worse.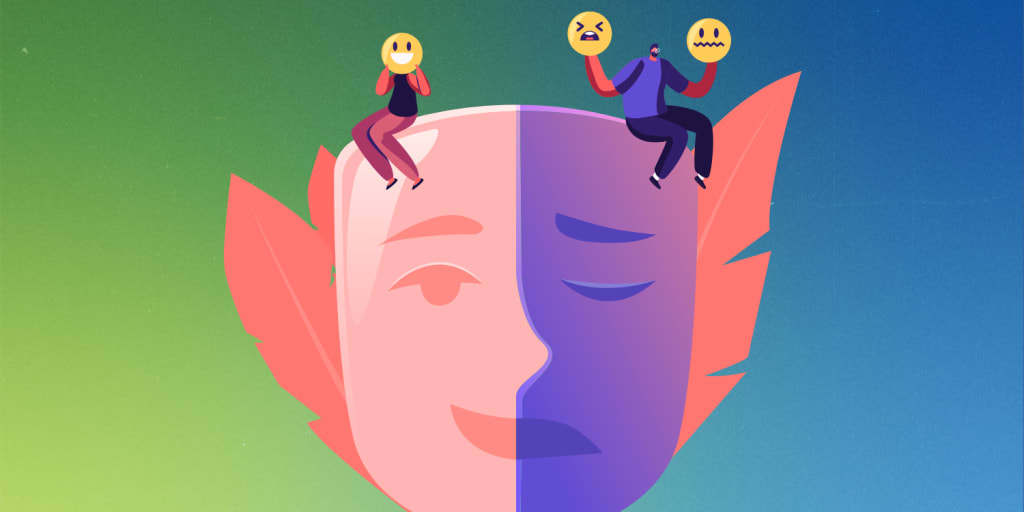 Image created on Canva
Everyone thinks they can spot a cheater.
Every over-confident person in their relationship would claim they know their partner well enough to identify infidelity. There's no fooling them.
Sometimes I act as one of those confident people. Cocky, even, claiming I can smell a cheater from ten paces away.
But then I remember; I was once a cheater, and I never got caught. 
No one walked in on me during the act itself. No one put any of the pieces together and accused me of cheating. 
No one ever suspected I was up to no good, even when I told them about it after the fact.
Getting away with cheating isn't something I'm proud of. I want to stress that. I can't go back in time and change what I did.
Instead of dwelling on the past, I'm going to use my repugnant actions for good. And not evil.
Cheaters don't act the way you think they do. 
Here's everything we get wrong about infidelity and how the cheaters are using this against you.
Cliche: Hiding the phone
It's impossible to have an affair without some sort of technological communication. Phone calls, text messages, social media DMs, emails, you name it.
Most people suspect their partner of cheating when the phone behaviour changes. This could be:
New password on the phone
When a password becomes added to the phone when there once wasn't one
Protecting their phone and never leaving it alone for anyone to use
Using the phone more than "normal"
Reality: Nothing much changes from the outside
When someone is using their phone differently to cheat, they use the phone differently, but rarely in a way that stands out. They don't use it less or more, they make changes and subtle you won't spot unless you share a phone.
This could be:
Deleting messages as soon as they're read and received
Burying messaging services deep within existing app folders
Using pseudonyms on the phone for the person they're cheating with
Adding extra folders to store emails with their lover within an existing account
Cliche: Late nights at work
To have an affair, you have to take time from your existing schedule. The usual way of doing this is spending more time at work and adding more conferences and meetings to the schedule. There is a problem with this cliche, by the way. This cliche doesn't account for when your partner:
Has high demands at work and needs more time in the office
Has received or is hunting for a promotion, or started a new job, where they need to put in extra time and effort to prove their worth
Is the owner of a business and is putting everything on the line to build and make money
Reality: Most cheaters fit their cheating into their schedules
Changing routines is one of the most significant red flags for a partner. It signifies something for them to feel worried about.
It's only the most brazen and stupid cheaters who completely lie about events that don't exist to allow them enough free time to cheat well.
Cliche: They begin taking care of themselves
You want to look good for the person you're sleeping with, right? You make more of an effort where it counts in the bedroom. A cheater starts:
Paying more attention to grooming especially hair, nails and skin in hidden places
Updating their wardrobe with nicer, more expensive clothing
Working out more, paying attention to their physical appearance
This seems logical. As a cheater, you have a predominantly sexual relationship and you want to make the most of every minute of it by looking and feeling your best.
It's a logical conclusion.
Reality: If your partner is putting more effort into their appearance, it's not a sure-fire sign of cheating
This is especially true if they're putting more effort into when you're around. 
Those who share a bathroom or conduct your morning and evening beauty routines at the same time know what it's like to witness the routine.
Be worried when they start grooming in private. Or when they start making extreme, irregular beauty appointments without your knowledge.
Cliche: Avoiding eye contact
Every cheater has guilty body language, so the cliches lead us to believe.
These are all the cues that you would look for in a child who has eaten eight cookies when you said they could only have one.
If paraded your partner before a jury, their guilty expression would make the front page of the papers covering the trial.
We're led to believe a cheater will:
Avoid eye contact with us
Become evasive when talking about any changing behaviour
Become defensive if ever accused of cheating or your relationship changing in a way that's untruthful
Acting distant, aloof, unlike themselves
Talking to you less about your problems or problem solving together
Reality: These are all dead giveaways
The best thing for a cheater to continue with their behaviour is to act as normal as possible.
Boringly normal.
Deviating from the emotional routine sends off alarm bells in relationships quicker than a fire alarm detects smoke.
Cheating aside, one frowning face and the other person panics. Cheaters know this and capitalise on this.
Cliche: Change in finances
Cheaters need to cover their tracks. They can't leave a financial trail wherever they go because their partner will eventually find out. 
If a bank statement appears in the mail, your partner accidentally opens it and spots a charge for a nearby hotel room, the jig is up.
Most people think cheating is a cash-only society. That makes all the sneaking around untraceable.
Reality: There is some truth to the cliche, in which a cheater needs to cover their tracks
A money trail is easy to follow.
But cash only? Yeah, not in this decade. What you should watch for to catch a cheater is:
Unannounced credit cards you don't know about - They have extra accounts they've added during the relationship they have kept secrets from you, especially with a bank they rarely use.
Excess of gift cards - It's easy to buy prepaid credit cards from stores you often frequent. There is no alarm for spending that much at the store, so no one suspects anything. Then they use it to make purchases they don't want you to know about.
Budget changes - Cheating doesn't come cheap. Though it's not all fancy hotels, you do need to pay up in certain situations to avoid getting caught. Some cheaters start putting areas of their life on a strict budget for apparently no reason.
Cliche: Vanishing relationship issues
Once someone cheats, they're happy now, right? They are now getting emotional and physical pleasure elsewhere and they've checked out of the relationship.
Everything wrong in your relationship seems to vanish. The fights disappear overnight; they don't pick arguments with you like they once did, and they don't seem to care what you do.
It's like someone waved a magic wand over your issues.
Reality: If only cheating solved everything
Tension, fights, and problems in the bedroom don't evaporate because one person is happier.
The relationship comprises two people, so just because one person is finding some happiness, it doesn't delete the concerns of the other.
Your relationship continues. It still happens day to day. As much as it seems like a whole new life, it's much the same.
Again, if you want to remain a cheater at large, routine is key.
Suddenly dropping the most significant and time-consuming issues in your relationship is a gigantic red flag. A cheater wouldn't do it.
The cheating game
Everyone knows the cheating cliches. There are many more of them I haven't listed but am happy to debunk (let me know!). We can thank Hollywood movies, romance novels and soap operas for that.
Yet, I haven't plucked these cliches out of thin air, though. 
That's what we need to remember. They've come from the idea of what cheaters do, but their behaviour is never as obvious as the media depicts.
It wouldn't make for a good story if they were that subtle.
Here's what we need to remember: cheaters know these cliches, too. They love them because they know everyone thinks that how cheaters act.
All they have to do to get away with their infidelity is the opposite of every cliche.
How does that help you? 
Well, that makes your job to catch them a lot harder.
dating
About the author
Writes about romanceships (romance + relationships) | Loves to talk about behind the scenes of being a solopreneur on The Frolics | Writes 1 Lovelock Drive | Discover everything I do and share here: www.ellenjellymcrae.com
Reader insights
Nice work
Very well written. Keep up the good work!
Top insights
Compelling and original writing

Creative use of language & vocab

Expert insights and opinions

Arguments were carefully researched and presented

Eye opening

Niche topic & fresh perspectives
Add your insights