Chat With Les: Calvin Cox
Model, makeup artist, experience creator & fearless provocateur extraordinaire—Calvin Cox is on the ascent, and his beauty is not skin-deep. Cal gets real with fans about his passions and pursuits in his interview with Call Me Les.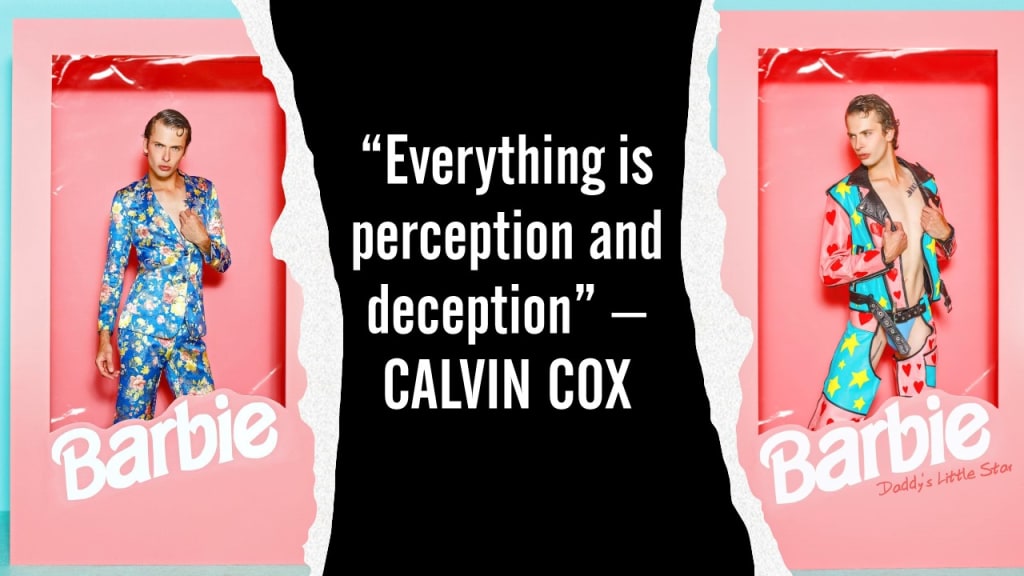 Pride Month 2021 Photographs by Andrea Hunter
This interview is part of a series of interviews collected for the ongoing column "Chat with Les" by Vocal Media author Call Me Les in the new Vocal Creators Chronicle. The Vocal Creators Chronicle is a free, online magazine that is comprised of authors from 5 continents and 8 countries. Les is both a columnist and a co-founder. Her column presents candid interviews with people from all backgrounds, and aims to examine the finer points in the lives of those around us, such as Calvin Cox: self-styled Barbie doll model, makeup artist, experience creator & fearless provocateur extraordinaire.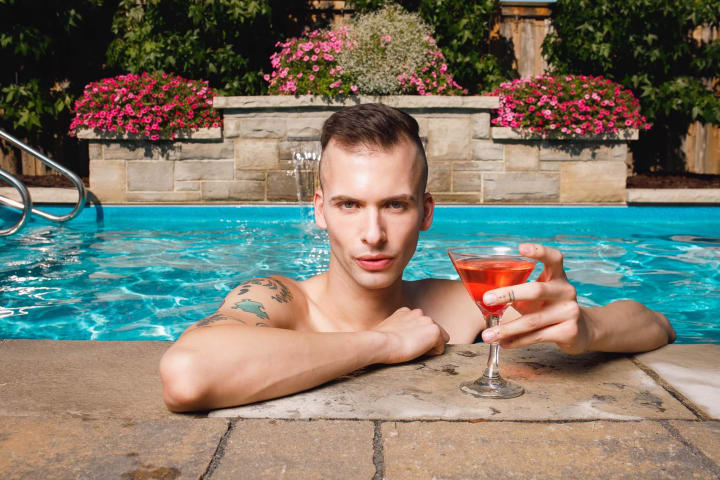 Interview
Q1: What is an average day like for you?
A: What's an average day for me? Hmmm… unconventional and lack of any sort of routine would be the best way to describe my days. I'm a creative person and I love new challenges so routine sends me into a spiral of depression. My mind is always dissecting everything I see to figure out how it works and how it can be implemented into projects I'm working on. Therefore, I need a constant change of routine and environment to thrive. The busier I am, the happier I become.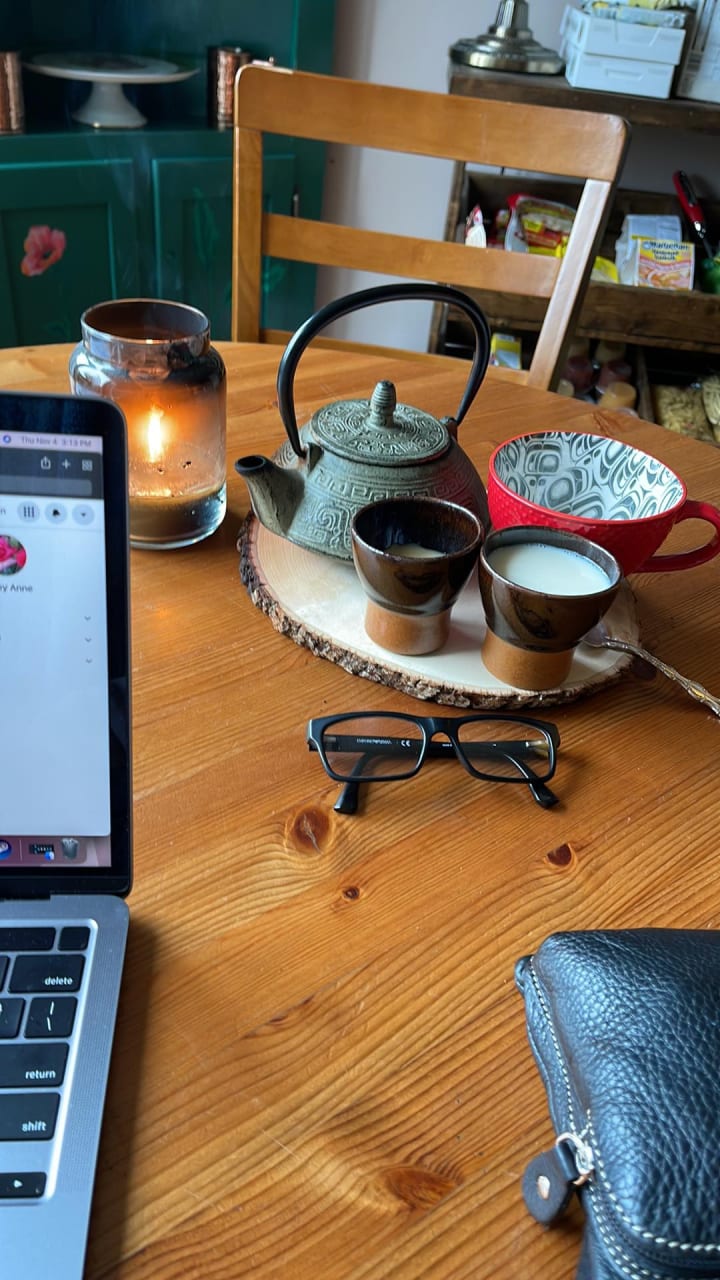 Q2: What or who inspires you?
A: I'm very much inspired by German expressionism, Gothic Revival, Baroque fashion/architecture, Art Deco patterns/architecture, cubism, wunderkammer, Joe Rohde (Google him) and, of course, the holy spirit that is Tim Burton. I love to implement and merge many of these together into my art and creations. The bold and often unusual colour patterns in art deco mixed with the other worldly shapes of German expressionism was the core values to the scenic design of my Halloween Haunt I created. Creating atmospheres that are driven by emotions are what make or break a themed attraction in my opinion. I'm very driven to captivate an audiences emotional response with my art installations. The sights, sounds, smells, temperatures, textures etc all play a key role in my creative processing.
Q3: Do you feel called to a cause of action? If so, what should readers know about it?
A: Growing up in a small town as an openly queer person with Tourette Syndrome and BPD has driven me to be very active in my community. Education and community support are extremely important to me. Over the years I've taken on many opportunities to help spread awareness for Tourette Syndrome.
As a kid it wasn't a known disorder, everyone thought Tourette was either based off the south park or the Tourette guy on YouTube. Very few understood what it actually was and people (especially adults) were very quick to judge. As a kid, I used to go around to various schools to teach students about Tourette syndrome and about the impacts of bullying, along with many newspaper articles revolving around my life with Tourettes and a few TV segments on TVO Kids (which won two TV awards for best non-fiction children's television and were nominated for 6 other awards). My family was involved in a provincial Tourette syndrome charity/support group, too.
I feel I played an important role in spreading the awareness and I'm extremely grateful that I can now talk about Tourette syndrome and that most people have a better understanding of it. It's been a very humbling journey growing up with these interesting quirks. I've shifted focus onto BPD since that is still a very difficult disorder to bring up without people jumping back in fear. When therapists even mention to their patients not to go near BPD people you know the stigma is very wrong.
Q4: What's the most interesting thing you've read or seen lately?
A: A little hidden fact about me is I'm a Disney dork! I love their theme parks (are we even surprised) and every single day I spend a bit of time researching the daily updates and news for the company and their park division. Lately, they've been making a lot of "unique" decisions that have not sat well with their park guests and I came across a petition online to ask Disney to fire their new CEO that has been cutting corners and costs at any opportunity he can. They had over 50k signatures in only 4 days and at the time of writing this they are at 65,356 signatures. It's interesting to see our natural reaction when a place we hold emotional memories to changes so dramatically. It's a friendly reminder to always put 110% into everything we do, never cut corners, provide guests with absolutely everything we are able to provide and always appreciate the human heart.
Q5: Why do you pursue your career and what is your niche?
A: I guess the best way to describe what I do is that I design experiences. Sounds odd I know, but let me explain. Disney World, Universal parks, a museum, a nightclub event… these all have something in common as a core value; they're an experience. If done properly, from the moment you step foot into the creatively engineered environment you are whisked away by all the little details around you. Every aspect has been meticulously designed and engineered to heighten your experience by tying emotion, nostalgia and memory together with physical and tangible objects. People like me, imagine and engineer how you will feel and what you can react to. We study the human psyche and manipulate emotional driven instincts to saturate your experience. I've been fortunate enough to have learnt many unique trades along my journey. Thematic lighting, stage makeup, animal husbandry, graphic/web design, landscaping, construction etc. It's been a wild ride and I'm always excited for my next project.
Modelling and Art
About his photographer Andrea Hunter: check out her Instagram. Products featured, models' names and clothing designers can be found on Cal's Instagram.
Modelling Suite Pride Month 2021: "💝 𝐁𝐚𝐫𝐛𝐢𝐞 𝐬𝐮𝐫𝐞 𝐡𝐚𝐬 𝐚 𝐥𝐨𝐭 𝐨𝐟 𝐧𝐢𝐜𝐞 𝐭𝐡𝐢𝐧𝐠𝐬 𝐟𝐨𝐫 𝐚 𝐝𝐨𝐥𝐥 𝐰𝐡𝐨𝐬𝐞 𝐤𝐧𝐞𝐞𝐬 𝐝𝐨𝐧'𝐭 𝐛𝐞𝐧𝐝 💝"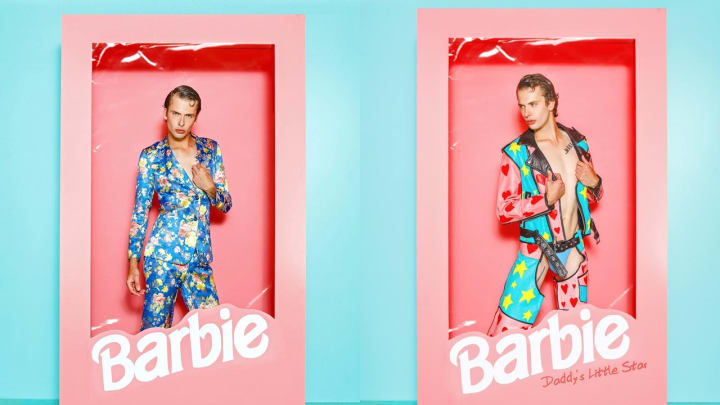 Makeup Work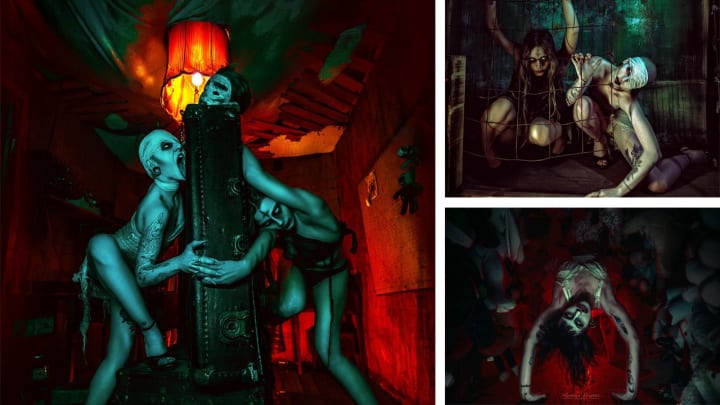 Advertisements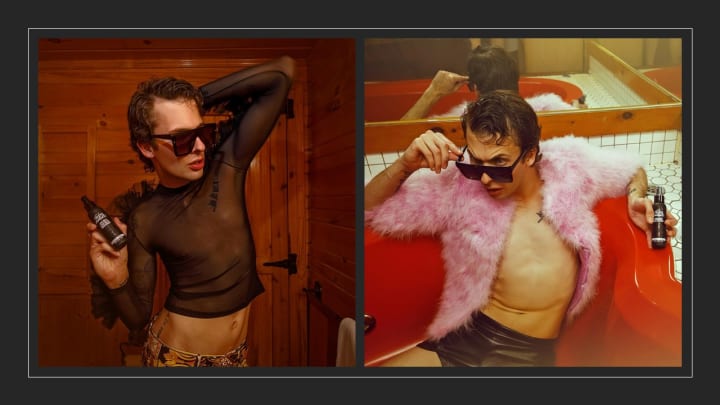 Q6: What is your best creation?
A: My best work would have to have been my Halloween Haunt I designed and operated from 2014-2019. I wanted to provide a full night of adventure for my guests so not only was the main haunt constructed, I also designed and built a museum of oddities, reptile zoo, candy shoppe, gift crypt, vendor alley, psychic parlour and a few other rotating attractions. I have always said it was my flagship attraction and clearly demonstrated the blue sky philosophy I love.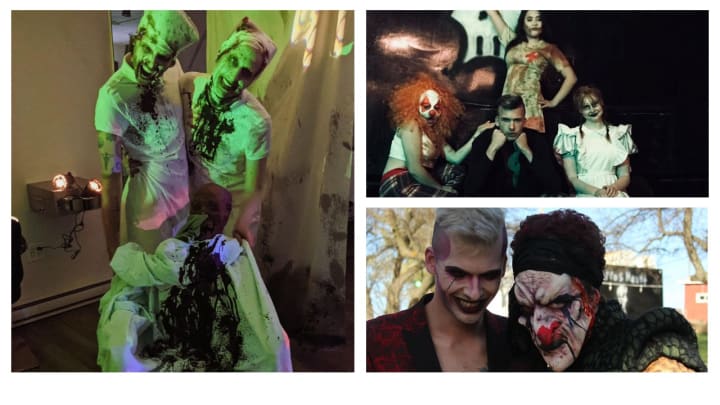 Les says, I'm sensing why Tim Burton is an idol.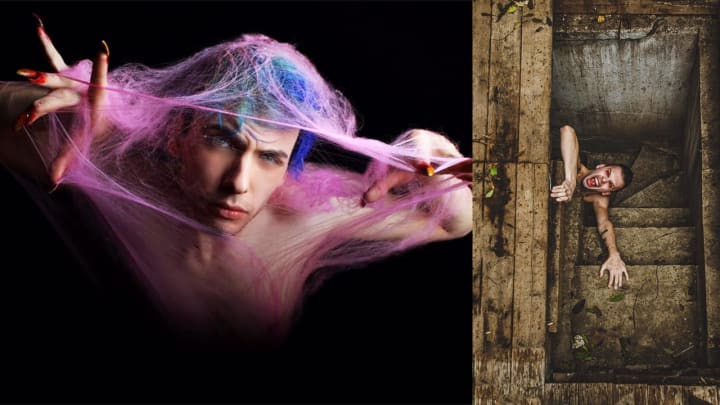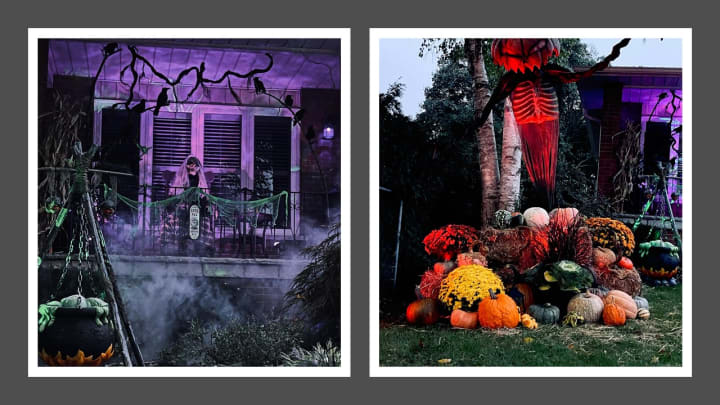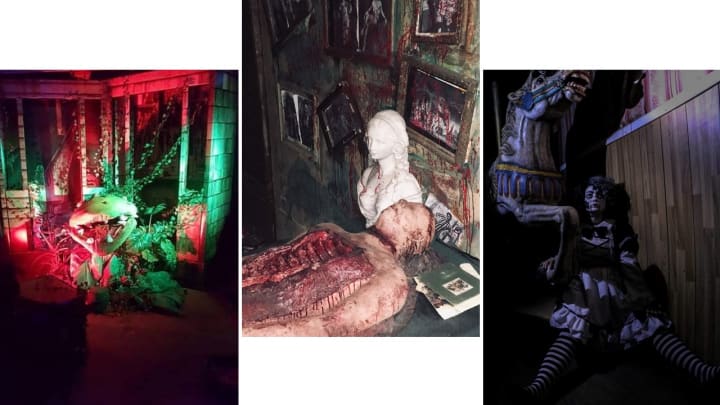 Q7: What is your best accomplishment?
A: Throughout my childhood and young adult years I struggled a lot with depression and suicidal tendencies. Being able to overcome them is my biggest accomplishment. It's been 2 years without any sort of depression /suicidal thought and it's been amazing. Life truly is worth living, don't let anyone say any less.
Q8: How do you pick yourself up after a failure?
A: Honestly, just brush it off...Failure is a natural part of human growth. You cannot succeed without first learning your lessons through failure.
Q9: What quotes get you through the hard times?
A: I love a tacky inspirational quote. "Shoot for the moon, even if you miss you'll land among the stars" always makes my eye twitch; it's disgustingly good. I've got a few quotes tattooed on my body as a friendly reminder to never fall back into my unhealthy habits: "and all will be lost", "no matter how much suffering I've gone through, I'll never let go" and my favourite "it's all smoke & mirrors" which is a nod to Victorian magicians using smoke and mirrors to make things appear and disappear. It's relevant today in the sense that,
in life, everything is perception and deception. -Calvin Cox
Q10: What would you like to have remembered about you?
A: That's a very good question and it's something I think about often. I honestly don't want to be remembered for anything. But for the sake of this article, I guess emotion is what I want to be remembered for, an intangible, not physical item that changes from person to person. Can you tell I enjoy a good joint and a long hard think?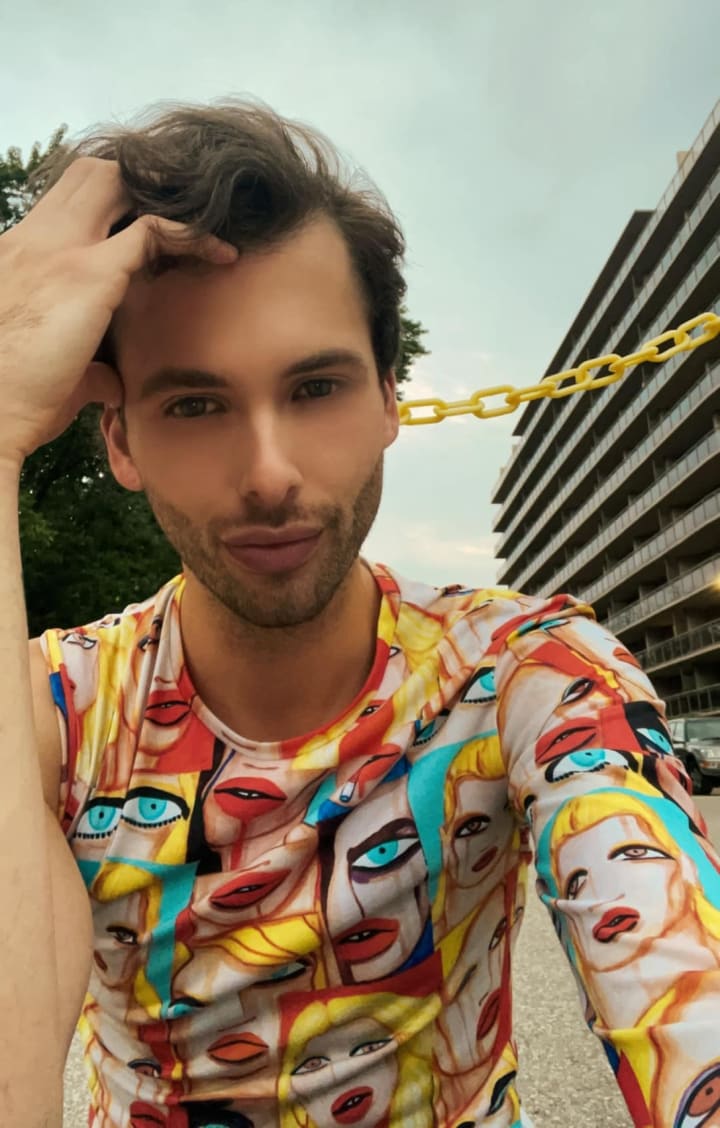 Q11: If you could have a superpower, what would you choose and why?
A: I'd want something practical. Maybe flying, so I can reach higher up to hang decor on buildings ahaha.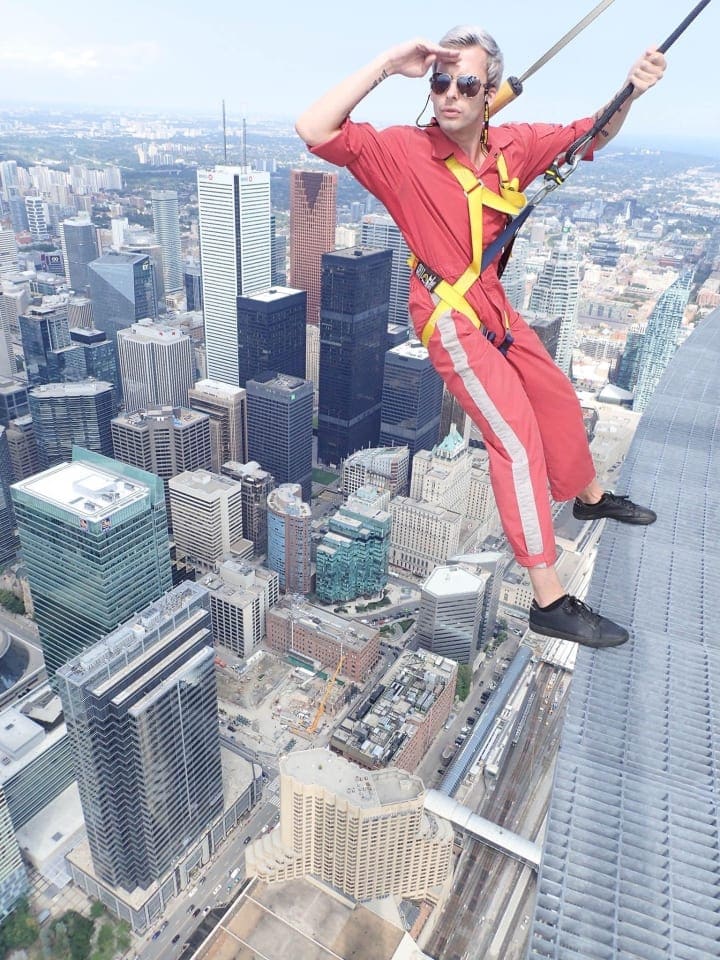 Q12: What is one message or piece of advice you would give to your fellow creators?
A: Have fun with what you do! You're a creative, you know you'll make it work… Stop stressing and live a lil' in the moment.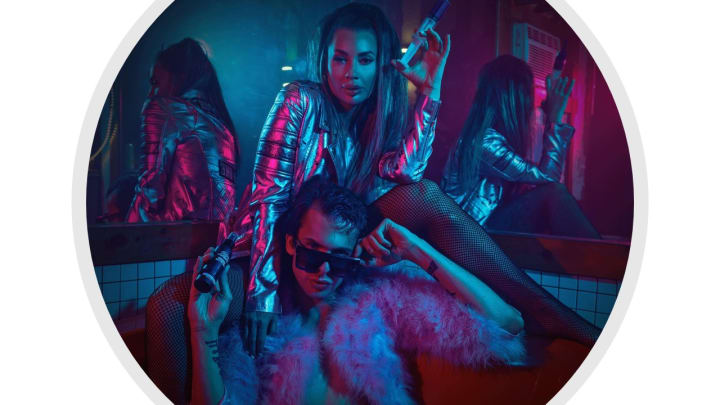 Trivia
Pet Peeves: When I spend a lot of time doing someone's makeup and then they immediately change it, dull it or remove it garrrghhhhhhh!
Dream Vacation: I absolutely love Japanese food and culture. It's a bucket list travel destination for me one day in the near future!
Body Modifications: I have 28 tattoos and my tongue is split like a snakes tongue.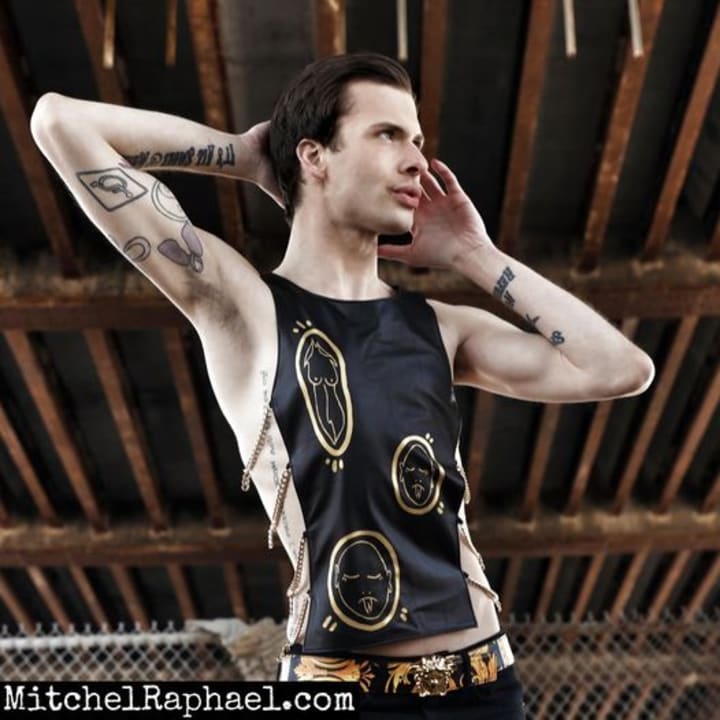 Most Unusual Pet: I used to have a pet alligator named "Fluffy" [Fluffy has since moved on to a comfortable zoo.]
Current Pet: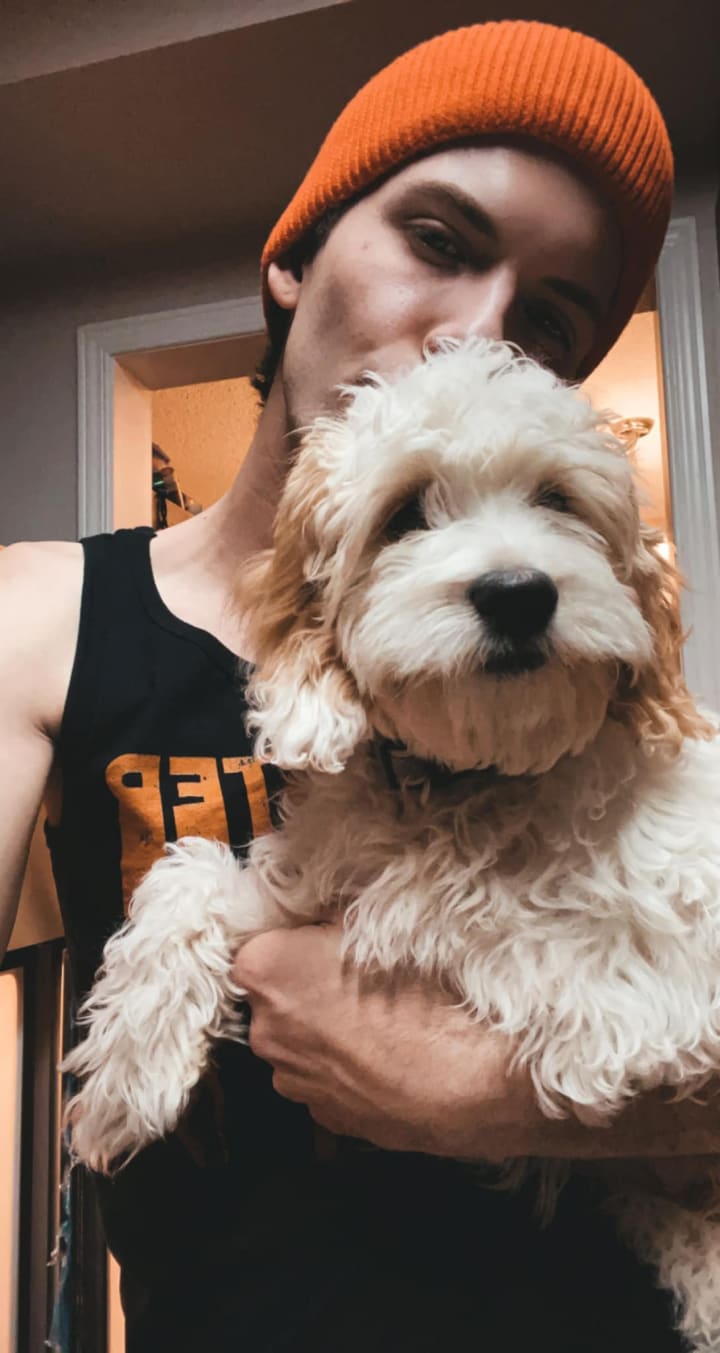 What's on Netflix: Canada's Drag Race, UK Drag Race
Food: My go to stoned meal is Mcdonalds Uber eats at 4am… two cheeseburgers extra slice of cheese, large skor mcflurry add caramel sauce and a large strawberry shake.. I'm lactose intolerant and my control skills are out the window when high. 💅💅💅
What it takes to look that good: I walk 10km a day and workout on top of that. The walk is my mind racing time.. gotta let it out somehow. I can create adventures and environments in my mind while I've got my head phones in walking endlessly.
...Are the lips REAL?: 100% ;)
Finale*
Q: If you had a theme song that played when you entered a room, what would it be and why?
Rich Mans Frug from Sweet Charity.
A: The absurdity and ridiculousness that is portrayed in the scene along with the funk of the song makes it the ultimate theme song! Prove me wrong haha!
And on that high note, Les concludes her interview of the "love me or love me more" Calvin Cox.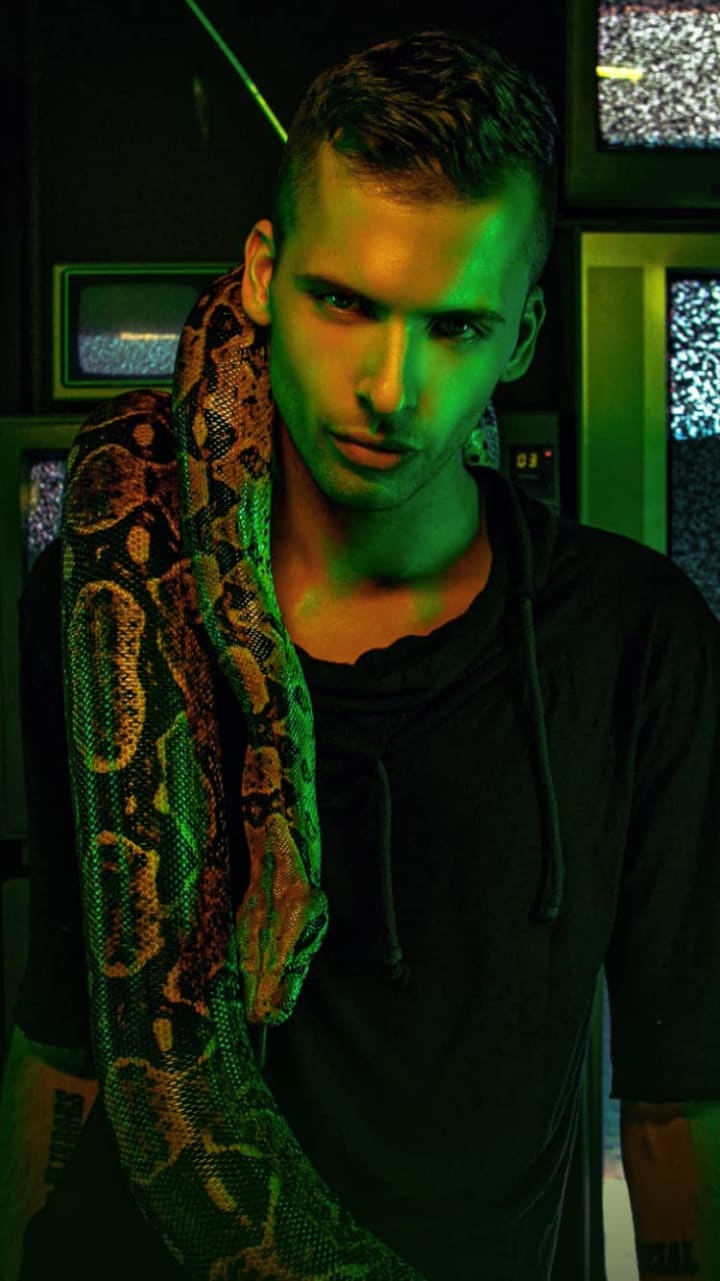 ~~~
Want to support Les as she interviews the world a person at a time?
Buy her a coffee:
Previous interviews in this series include:
About Les & Why She Writes Her Column
"Understanding each other is the foundation for many of the great causes in the world. I can't champion them all, but, like Dr. Roshdy states, I can make a difference by starting with one. Telling one person's story, starting small by bringing their passions, frailty, hopes and humor into the world, is a way I can make a difference to many." -Call Me Les
*This question is dedicated to the memory of Les' writing partner, the lateTom Bradbury.
First Published November 6, 2021 by Call Me Les for The Vocal Creators Chronicle.
celebrities
About the author
She/her | Cat enthusiast | "Word-Nerd" | Fueled by buttertarts
~&~
Reader insights
Be the first to share your insights about this piece.
Add your insights