Charity Spotlight: National Industries for the Blind | Blake McCoy | Chicago, IL
Check out this amazing nonprofit that is making a difference.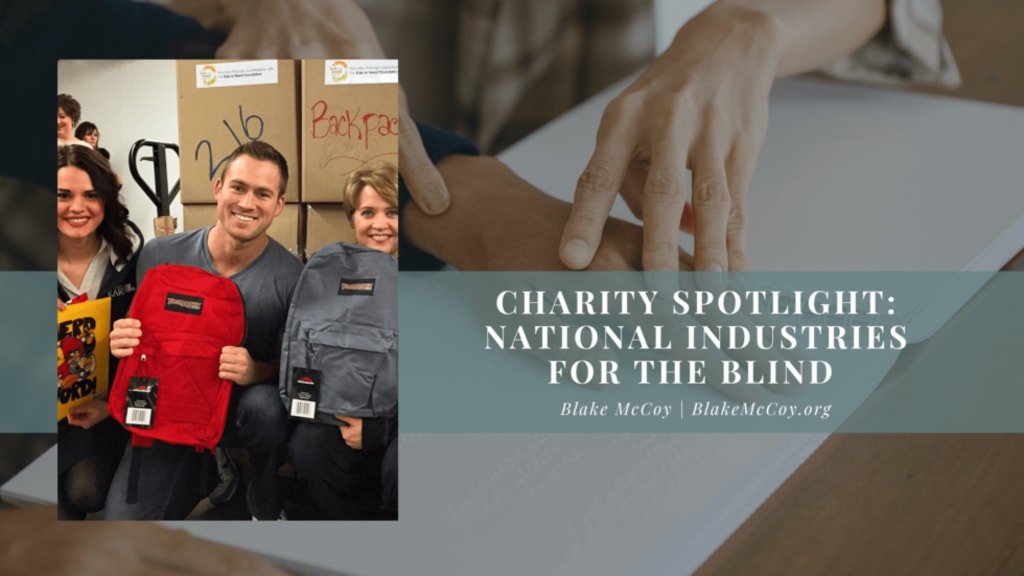 https://blakemccoy.org/charity-spotlight-national-industries-for-the-blind/
Individuals with visual impairments play an essential role in the federal government's operations. Since 2010, the nonprofit National Industries for the Blind has partnered with contractors to provide employees with job opportunities in support of the government.
Government workers can focus on their core duties through the CMS program, which provides job opportunities to individuals with visual impairments.
Who Are They?
The leadership team of NIB is composed of individuals with extensive experience in various fields such as government procurement, corporate, and nonprofit organizations. They are passionate about helping individuals with visual impairments achieve personal and economic independence.
Through its network of partners, the National Institute for the Blind (NIB) is the country's largest employer of people with visual impairments. We create job opportunities for individuals with visual impairments to become more engaged in their communities and contribute to the government.
NIB connects government agencies and commercial companies through its partners with the necessary manufacturing and service delivery solutions. It's a win-win situation for both the parties: the government and the individuals with visual impairments. In addition to providing job opportunities, NIB also offers training programs that help people with visual impairments gain the skills they need to succeed in their careers.
Values and Mission
The goal of NIB is to provide job opportunities to people with visual impairments. It's also dedicated to improving the economic independence of these individuals.
Research
A study conducted in 2022 revealed that many people with visual impairments experienced issues when hiring and onboarding new employees.
The study revealed that 33 percent of the individuals with visual impairments who were required to take an aptitude test or screening experienced issues during the hiring process. Moreover, 59 percent of people with visual impairments experienced problems completing their onboarding forms on paper. Lastly, 25 percent of the individuals with visual impairments could not fully access the training they needed to succeed in their jobs.
Accomplishments
Last year, NIB created over 270 new job opportunities for individuals with visual impairments. It also paid over $119 million in wages and benefits to its employees who are blind. It additionally provided rehabilitation services to over 63,000 individuals with visual impairments.
About Blake McCoy
Blake McCoy has established a career as a skilled broadcast journalist. Blake has anchored top-rated newscasts in Washington, DC, Minneapolis, Las Vegas and Boise, ID. As a recognizable face delivering news to those communites, Blake McCoy has looked for ways to give back and highlight important causes. Blake also spent several years as a Correspondent for NBC News, traveling the country reporting for Nightly News, TODAY, and MSNBC. Alongside his professional career, Blake McCoy is focused on giving back and supporting his community. He is involved with multiple charities and organizations, both as a volunteer and donor. Blake has co-hosted the annual Susan G. Komen Twin Cities Race for the Cure, a Mother's Day event that raises millions for breast cancer awareness and research and draws more than 50,000 people.
Blake McCoy was also Ambassador for Dining Out For Life Minnesota, an annual event that partners with local restaurants to raise money for HIV/AIDS resources. In his role as Ambassador, Blake leveraged his position at KARE 11 to generate excitement and raise awareness. On the day of the event, Blake visited as many restaurants as possible to thank the owners, greet diners, and take photographs which were then used to promote the local restaurants. A symbiotic boost to everyone involved and an annual event that helped forge new ties within the community.
Throughout his career, Blake McCoy has tapped personal connections to help inform and direct his giving. A former colleague and co-anchor, Shawn Yancy, created Girls' Night Out by Shawn Yancy in 2010 as a way to promote charities that benefit the wellbeing of women and children in the Washington, DC region. In 2019, she officially registered Girls' Night Out by Shawn Yancy as a nonprofit organization and established its mission to transform the futures of underserved women and children by empowering their lives. Blake McCoy is a supporter and annual donor of this great community project from his former colleague.
About the Creator
Blake McCoy is a dynamic, engaging broadcast journalist with a depth of experience. As a network news correspondent, Blake has traveled the country sharing stories of human triumph and tragedy, struggle and perseverance.
Reader insights
Be the first to share your insights about this piece.
Add your insights