Brands That Support Same-Sex Couples in Their Advertising
With the supreme court in support of legalizing same-sex marriage, brands have begun to revise their marketing tactics to be more reflective of the times.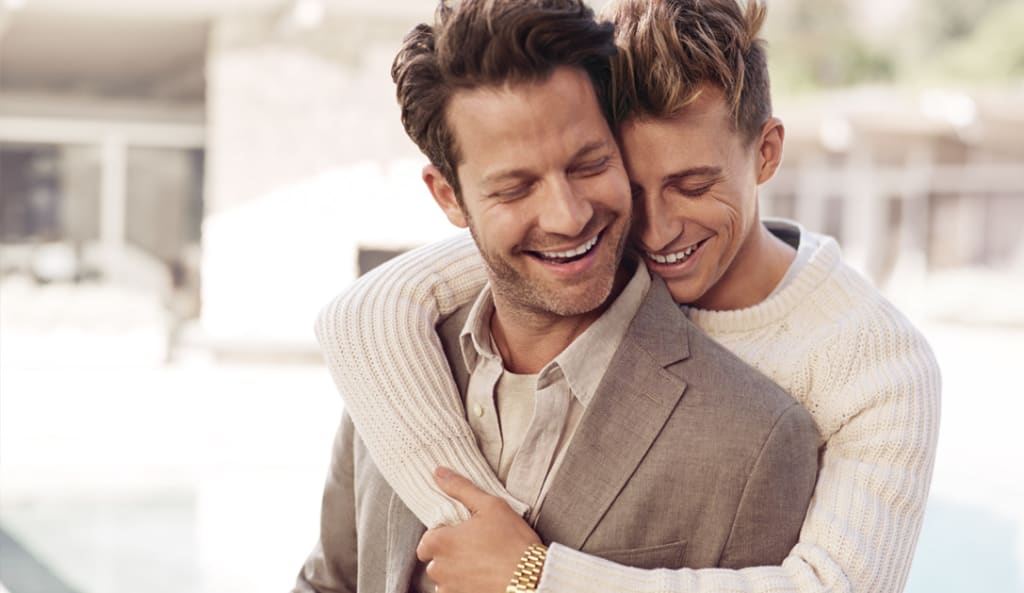 Some say that politics encourage media trends, while others argue the opposite. With more and more victories, like the Australia landslide win, it is undeniable that there is an overwhelming demand for support within the LGBT community. It was once in bad taste to bring light to families that did not portray the traditional mold of an American household, yet trends have changed drastically, forcing companies and the supreme court to revamp their strategies. Nevertheless, in order for brands to be considered a competitor outside of a quality product, they must recognize that there is a desire to be depicted, with 66 percent of LGBT individuals reporting "they don't see their lifestyles represented enough in advertising."
These brands have taken the opportunity to take a stance on the issue, and have shown their unquestionable support for same-sex couples in their advertising.
New, luxury diamond brand Real is a Diamond prides itself on its limitless variety of rare, natural stones while educating its consumers in the process. Yet, the most powerful statement the brand could make was one of inclusivity with its first commercial campaign Real is Rare. The minute long commercial follows a young lesbian couple, as one partner gives viewers an in-depth, loving perspective of the beauty's of her better half. Her narration of their relationship embodies the true characteristics of what love is, which is what guided the supreme court decision in legalizing same-sex marriage.
Besides having the best smelling handmade bath and beauty products that aren't tested on animals, Lush formulated the recipe for the term "love in the air," with their uplifting Valentine's Day advertisement. Patrons stopped by their Twitter to sing their praises and show support, many of which appreciatively joked that Lush would forever have a long-term customer in them. The company's initiative confirmed that, besides taking a stand for nonhuman animal rights advocacy, they support same sex couples too.
Cheerios served up a dose of love alongside their various health benefits in their Canadian "The Cheerios Effect" campaign. André, Jonathan, and Raphaëlle's story is that among three other heartwarming stories about love in all its variations. The campaign demonstrated that, though everyone's stories are relatively different, we share a common denominator: love at the core. Before legalizing same-sex marriage, lesbian, gay, bisexual, and transgender couples could never fathom adopting a child of their own. With much research, studies have shown that same-sex couples are as adequate as heterosexual couples, which is why adoption agencies have supported marriage laws.
Starbucks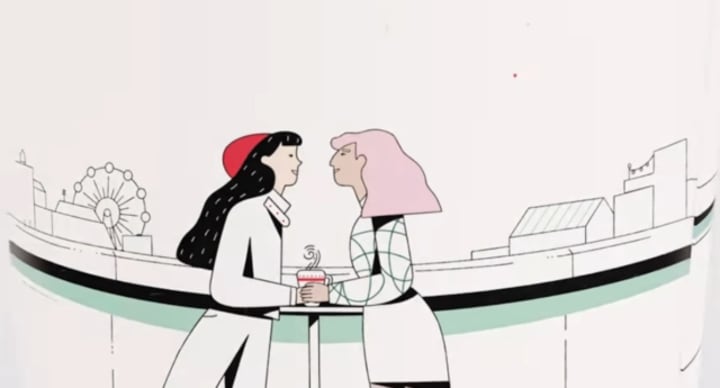 After last years debacle with Starbucks' holiday red cups, the coffeehouse chain gave consumers the opportunity to DIY this time around. The intricate details to each cup, with the ability to design it according to your doodling delight, was a new take on holiday cheer. Yet shoppers felt another source of warmth that didn't come from their brûlée latte.
One illustration introduces a meek lesbian couple in a backdrop of a city skyline. With the opportunity to build your own fantasy scenario with these staple characters as the centerpiece, we can all agree the company got the cue. Starbucks' Vice President (at the time) Jeffrey Fields noted before its launch that customers want to be able to create their own stories, stating, "In the past we have told stories with our holiday cup designs [...] This year, we wanted to usher in the holidays with a purity of design that welcomes all of our stories."
The most famed line of Star Wars would have to be "No, I am your father...," so imagine the joy to say it two times! The essence of this commercial is not in the music, any special characters, or graphics, just the one-on-one connection between a young boy and his dads. Campbell's campaign titled "Made for Real, Real Life" is a reflection of the changing times in a modern America.
Calvin Klein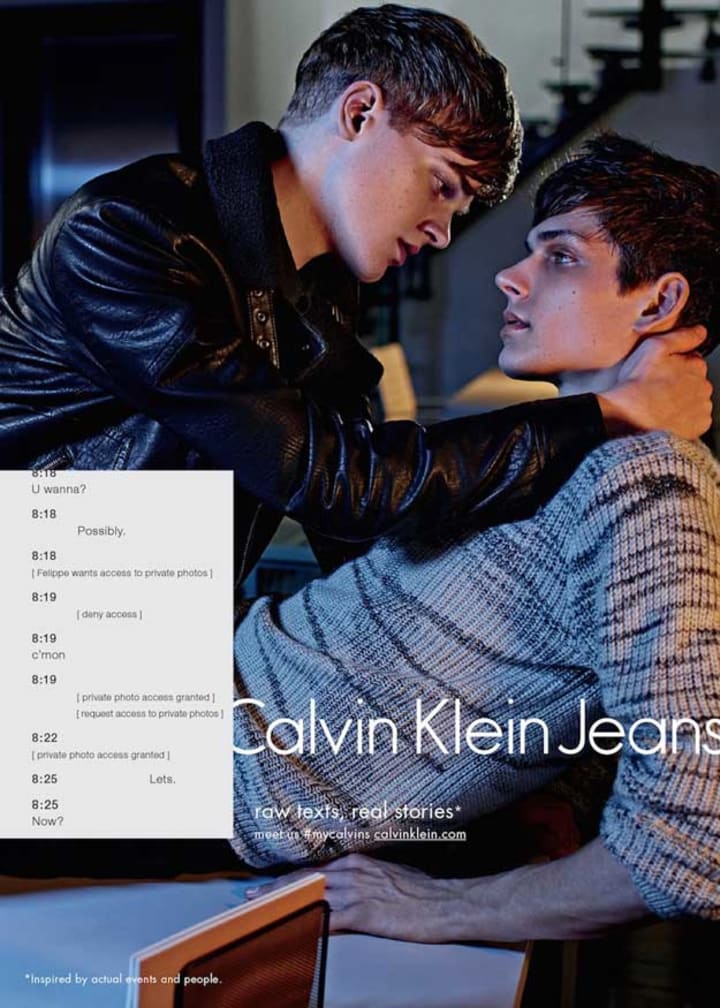 Longtime fashion retailer Calvin Klein is no stranger to ruffling feathers with their advertising, and their #MyCalvins campaign was no different. Their tagline "raw texts, real stories" was noted to be "inspired by actual events and people," presenting stories of lust and yearning through a young, wild, and free viewpoint that parallels today's culture of hook-ups. These unspoken strangers' exchange of nudes before meeting up demonstrates that the gay community mimics behaviors of their counterpart's, and flirtation and desire is universal.
The saying goes "Home is where the heart is," and Nordstrom illustrates why in their "Homecoming" commercial for the holidays. As if the cute puppy in the window doesn't already warm your heart, the breathtaking greeting of the character's other half sure will. The holidays are never complete without the ones you love, and love knows no gender.
IKEA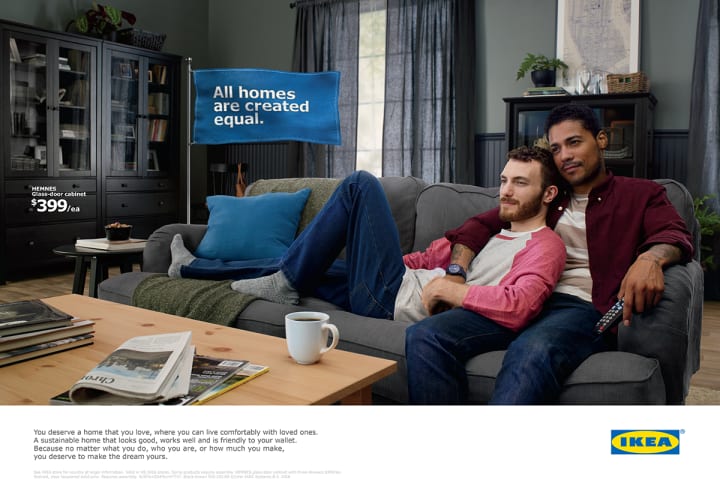 The human rights we so passionately fight for have one common basis:equality, and this idea was the premise of Ikea's "All Homes Are Created Equal" campaign. Sweden, as one of the early predecessors of same-sex rights being labelled as "gay-friendly Sweden," hit the ball out of the park with their 2016 print ad. We have advanced from a time of "shacking up" to gay weddings, which guides the messages of today's advertisements. Not only does the furniture retail company make your home DIY projects an ease, but their all-encompassing endorsements put their buyers at ease too.
#TheNewUs campaign also symbolizes a new America, advanced by multiplicity and togetherness. With accolades that highlight the company's performance, safety, and design, Chevy recognizes that their product is not the only thing changing with time. The long standing automobile company is sophisticated in fine-tuning their ideas with the ever-changing population. Their overall message is, "While what it means to be a family hasn't changed, what a family looks like has."
Visa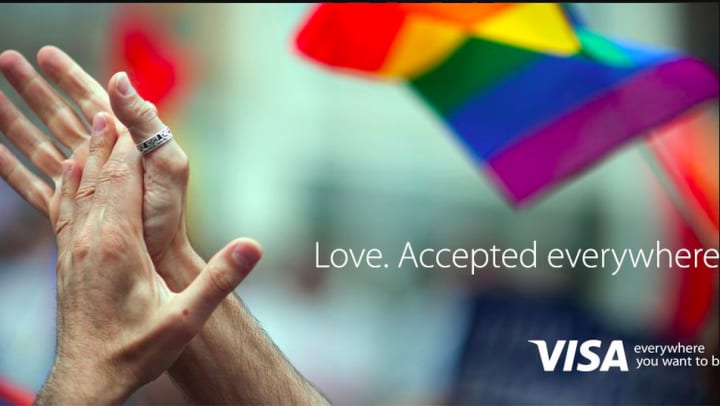 Though the creditors ad was created in spirit of Lesbian, Gay, Bisexual, and Transgender Pride Month, it does not take away from its significance. Such a short, yet impactful statement, Visa's "Love. Accepted everywhere" became a spinoff for their slogan "Visa. Accepted everywhere." The simplicity of the image, coupled with the brilliance of the pride colors flushed in the background, gives consumers a feeling of comfort, much like when using their services. Pride month is a great opportunity for couples to celebrate new marriage laws, but also for brands to distinguish themselves.
A reoccurring theme in many of these advertisements is change. Though the wholesome snack company hasn't changed much of their recipes, boasting that, "We've had a few different looks and a few different names. But through it all, we've stayed wholesome and delicious—for nearly 90 years." Their outlook on a traditional family dynamic has drastically changed. In the early stages of the biscuit company, many inhabitants were still fighting for basic human rights, such as interracial marriage. So, to see them include such a diverse cast of families demonstrates that they are quite brand-conscious.
Tiffany & Co.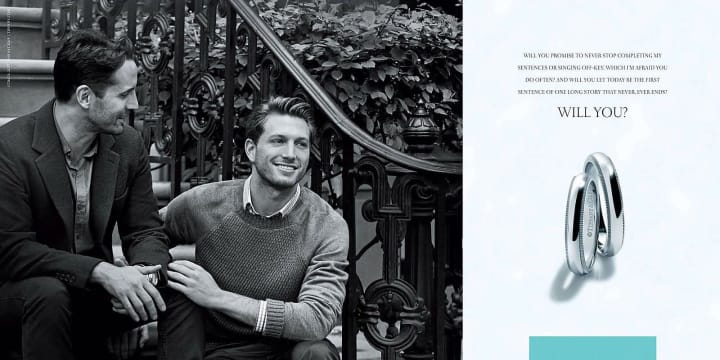 The luxury jewelry company may make you change your mind about the phrase, "Diamonds are a girl's best friend." Their same-sex ad tells a story deeper than the couple; it speaks volumes on the commonalities of relationships on a basic level. We all create memorable moments with the ones we love, and Tiffany has aided in the start of new beginnings, along with new beliefs. Those wedding bells ring at gay weddings too!
It is imperative for brands, now more than ever, to express inclusivity in their marketing. In fact, YouGov's research demonstrates that lesbian, gay, bisexual, and transgender consumers in the US, UK, and Germany want to see more LGBT people in advertising. Though same-sex couples date back far into our history, people seem to have discomfort with the idea of rights for the community, let alone seeing them in our day-to-day advertising.
Ray Dalio's entrepreneurial philosophy is a great rule of thumb for brands wanting to expand their reach while gaining consumer's trust. His belief that, "In order to be successful in the markets or be successful as an entrepreneur, one has to be an independent thinker who bets against the consensus..." These brands have exhibited that the reward is much greater than the risk.
lgbtq
About the author
I can conquer the world with a little mascara and bomb ass hair! Writer| Dreamer| Winner
Reader insights
Be the first to share your insights about this piece.
Add your insights