Boston's 'Straight Pride' Has Arrived
The event at the center of controversy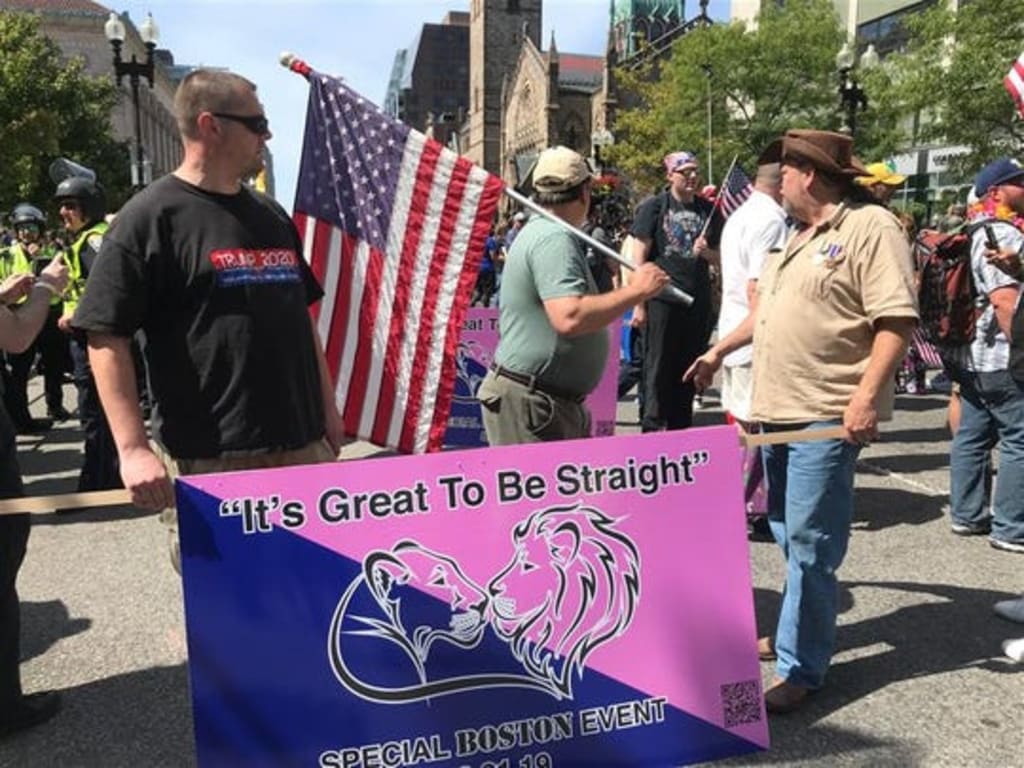 Despite actor Brad Pitt threatening to sue the organizers, backlash, and controversy, Boston's so-called "Straight Pride" took place Saturday. I wrote an article a month ago condemning this event and even wrote an open letter to straight people, well, most who felt like they needed an event to celebrate their sexuality. To read that article and my open letter to straight people, you can click the link below:
As far as this ridiculous event is concerned, it expected around 1,000 people and was led by three conservative men who make up a group called Super Fun Happy America. Most straight people feel like they're feeling "oppressed" and "persecuted" for being who they are. My friend and I had a conversation about this topic and we both agreed that they're doing this for attention. To me, this so-called "Straight Pride" is a complete mockery towards LGBT rights and that community. I never understood what their motivation was for doing this. They knew that it would cause controversy and didn't care about the criticism from people who heavily opposed the event when it first came to light.
Straight people aren't being fired, losing their homes, or persecuted for being who they are. In reality, "Straight Pride" is celebrated every day. As I've stated in one of my articles during Pride Month, LGBT people have been fighting for their rights and equality for decades. They have experienced being disowned by their parents and friends, fired from their jobs, being denied services, not having their unions recognized, and so on. This is still happening everywhere today and unfortunately, hundreds and thousands of LGBT people over the years have been either killed or took their own lives because of one's bigotry and ignorance. Straight people are accepted by everyone and you didn't have to tell your friends about it.
I was reading more of an article about the "Straight Pride" event that took place in Boston, and according to Super Fun Happy America, their motto was "It's great to be straight" and called on their supporters to "fight against heterophobia in our modern society." I've never heard of this term or knew it existed before today, but Merriam-Webster's definition of heterophobia is as follows:
heterophobia noun
het·​ero·​pho·​bia | \ ˌhe-tə-rə-ˈfō-bē-ə \
plural heterophobias
Definition of heterophobia
: irrational fear of, aversion to, or discrimination against heterosexual people
I find this term just comical, because no one should be afraid of straight, or even gay, lesbian, or transgender people. They have a right to have an event to celebrate being straight, but again, I believe that they were doing it for attention and to cause a huge firestorm on social media. I have many friends who are straight and accept them for who they are. My message to all straight people is love and treat everyone with dignity, compassion, and respect. Love is the strongest weapon you'll need to use in everyday life. There's already so much negativity and tension going on right now, but always remember that love and positivity are beneficial to our lives.
If you like the articles I've written and like my content, feel free to send me a small one-off tip, that's located towards the end of every article. Your support is greatly appreciated. Your tip not only helps me, but also helps other Vocal content creators create outstanding content. Be sure to support them and read their articles. Also, I encourage everyone to join Vocal+, a premium membership for Vocal content creators like me to write better stories, connect with creators, and a lot more. So, be sure to sign up for that membership and support your favorite Vocal content creators.