Book Review: The Stars Undying by Emery Robin
A spectacular queer space opera debut recasting the fates of Cleopatra, Julius Caesar, and Mark Antony among the stars.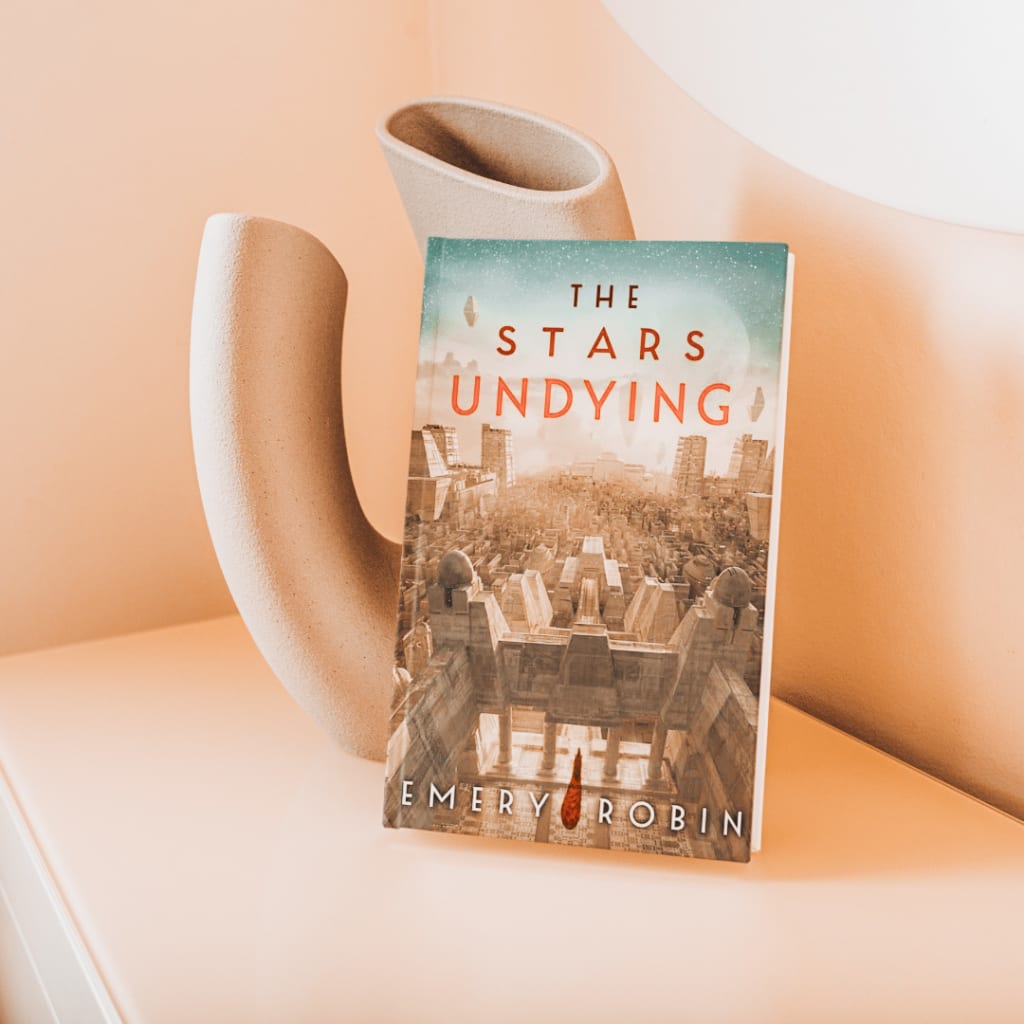 Princess Altagracia has lost everything. After a bloody civil war, her twin sister has claimed not just the crown of their planet Szayet but the Pearl of its prophecy, a computer that contains the immortal soul of their god. Stripped of her birthright, Altagracia prepares to flee the planet - just as Matheus Ceirran, Commander of the interstellar Empire of Ceiao, arrives in deadly pursuit. Princess Altagracia sees an opportunity to win back her planet, her god, and her throne . . . if she can win over the Commander and his distrustful right-hand officer, Anita.

But talking her way into Commander Matheus's good graces, and his bed, is only the beginning. Dealing with the most powerful man in the galaxy is almost as dangerous as war, and Altagracia is quickly torn between Matheus and the wishes of the machine god that whispers in her ear.

For Szayet's sake, and her own, Altagracia will need to become more than a princess with a silver tongue. She will have to become a queen as history has never seen before - even if it breaks an empire.
GENRE: Science Fiction Romance / Space Opera
PURCHASE LINKS: Amazon | Barnes & Noble | Books-a-Million | IndieBound
ABOUT THE AUTHOR: Emery Robin is a paralegal, recovering Californian, and sometime student of propaganda and art history living in New York City. Robin is represented by Isabel Kaufman of Fox Literary, and has most recently been published in Reckoning, edited by Arkady Martine, and previously under other names on Tor.com and in Spark: A Creative Anthology.
Review & Recommended Listening
When I started writing a scifi retelling of the sinking of the Titanic, I thought I must be nuts for crossing genres like that and the story wouldn't be well-received. So I actually set it aside... only to discover The Stars Undying a few months later. I was really excited, not only because of the genre twisting that I've found so rare, but also since I've developed quite an interest on these characters after reading an amazing historical fantasy book set in Ancient Rome and Egypt. (A story for another time, to not hijack this review. But for the curious, see The Shards of Heaven trilogy by Michael Livingston!)
Anyway, this novel did not disappoint! Sure, scifi can be a hit or miss for some people, but Star Wars actually got me interested in writing and reading fiction so this was a definite hit for me. The worldbuilding's superb, and it was exciting to see different-but-the-same versions of the empires of old. I'm not even as familiar with Cleopatra's era as I am with her daughter, but one doesn't need to be an expert to appreciate the story that unfolds and the creativity that's gone into fleshing out the worlds and the cultures and the reimagined versions of these famous historical figures! That said, I'm planning a reread in the near future after a serious history refresh, because I'm sure my reading experience will be richer that way.
To be honest, it's really hard to stay coherent and spoiler-free when I've just so thoroughly enjoyed this! But, yes. Love history? Love this particular point in history? Don't think scifi's off-putting? Looking for queer rep? Wanting a fresh spin on historical events you think you already know? Look no further.
My Rating: ⭐️⭐️⭐️⭐️⭐️
Recommended Listening: As I mentioned in my open call for books to review, I'll now be adding a song to my reviews! It'll be one that either sums up the book for me, what I'd imagine in a trailer were it a movie, something that I associate with the story or one of the characters for whatever reason… or maybe even an original inspired by it 😉
I won't just survive

Oh, you will see me thrive

Can't write my story

I'm beyond the archetype

I won't just conform

No matter how you shake my core

'Cause my roots, they run deep, oh
About the Creator
Filipino author, singer-songwriter and theatre actress. Loves writing fantasy short stories, composing songs for books, and reading SFF and YA. Also writes romance, horror and scifi. Married and based in the UK. www.mariesinadjan.com
Reader insights
Be the first to share your insights about this piece.
Add your insights