Book Review: Catherine Gray's 'The Unexpected Joy of Being Single'
Spoiler: you're already whole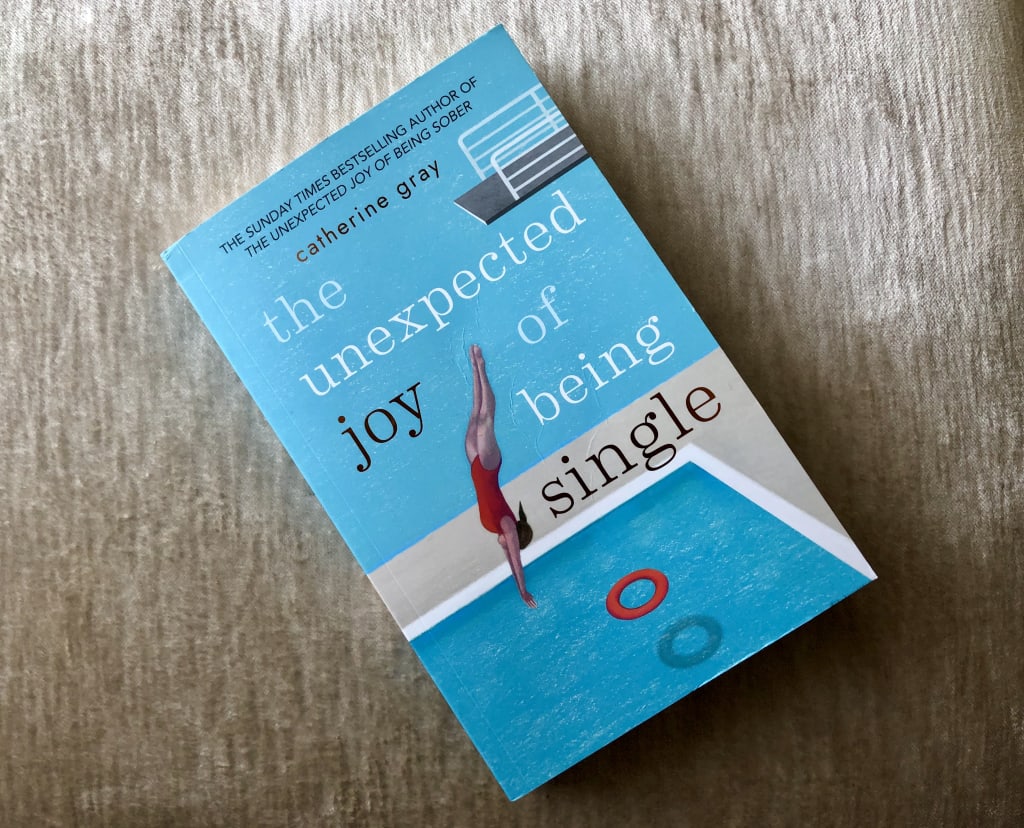 Over half of 25-44 year olds are now single, thus making it the norm. However, single-shame is highly prevalent, with many worrying that they are the 'last ones left on the shelf' or 'all the good ones are gone." The Unexpected Joy of Being Single is a refreshing book that explores this single stigma. While doing so, Catherine Gray redefines a person who is single as someone who is complete on their own, and not lacking in any way. Her book helps to make a long overdue cultural shift in the way single people are perceived (and most importantly: how they perceive themselves). She is here to help us locate and luxuriate in some single joy.
Through this deeply personal book, Gray depicts her journey from being a self-proclaimed "love addict" to becoming someone who is proud of (and content with) her singlehood. The idea began when she decided to take a whole year off dating, which was inspired by the 'Learn to be Lonely' essay written by Elizabeth Gilbert. Gilbert rightfully pointed out that "We all have to learn how to walk into a party or restaurant alone. Otherwise, we will be willing to walk in with ANYBODY (or worse, walk out with anybody)."
Gray wittily shares anecdotes from her past dating life, as well as what she discovered during her year off. These stories aim to aid readers to locate their own "single sanity," and so they do. Her brave and candid nature shine through as she writes about cheating, obsessively checking her phone, using men as a source of self-esteem, and devouring articles on 'how to keep him interested in you'. Gray leads by example, as she shows her readers how to re-love songs that were previously associated with exes, and her revelation that friends and relatives can be soulmates too. This form of honest writing can also be found in her previous best-seller, The Unexpected Joy of Being Sober. In her similarly titled, The Unexpected Joy of Being Single, Gray connects the dots by drawing parallels between her alcohol addiction and her love addiction.
In addition to generously oversharing about her own personal life, Gray provides her audience with evidence and statistics that support her points. She spoke to various experts including psychotherapists and neuroscientists, in order to uncover the reasons behind the global single revolution, and much more. Through this book she critically explores the ways in which the media peddles us romantic fantasies, whether it is songs, films, or fairytales. Interestingly, the possible role that capitalism may play is also touched upon, and the myth that married people are much happier is debunked.
Moreover, Gray has managed to point out various observations that make one rethink their own views on relationships, no matter what their relationship status may be. The author raises important questions, such as those pertaining to self-identity, and the dangers of co-dependance. Therefore, you do not need to be single in order to be able to enjoy this brilliantly written book. She beautifully conveys that once you feel whole and secure by yourself, a romantic partner becomes a choice, rather than a necessity.
I have learnt that being single is all about perspective. Once you realize that you are single by choice, it can be quite an empowering feeling. This is because you acknowledge your standards, set boundaries, and realize that you do not need to settle for anything less than what you deserve. You shouldn't be settling just for the sake of having somebody.
The Unexpected Joy of Being Single highlights the fact that we no longer need to dreadfully cling to the idea that marriage and children is the only version of a happily ever after.
The Unexpected Joy of Being Single
Aster, January 2019
Paperback, 272 Pages
About the Creator
When I'm not oversharing my thoughts on the internet, you will find me devouring chocolate, making good use of my Netflix account, or asking strangers if I can pet their dogs.
Reader insights
Be the first to share your insights about this piece.
Add your insights