Bags and Shoes
One merlot, two merlots, three merlots, four …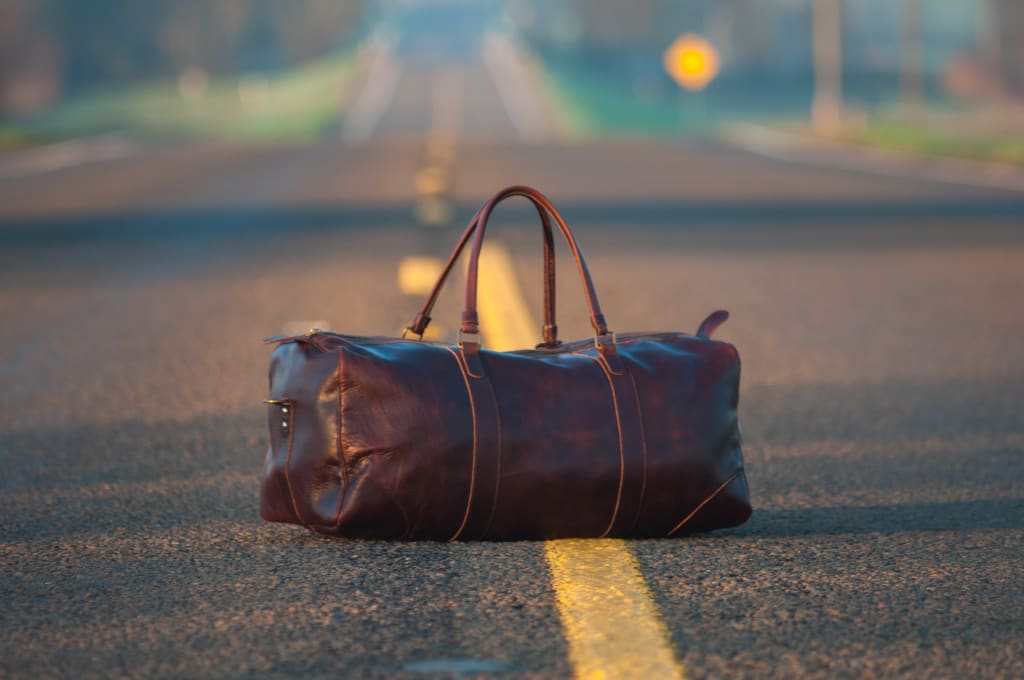 Special thanks to photographer, Jed Owen, for use of his stock photo from Unsplash.
Ready and willing, an oversized, dark bag hovers on the open edge of a helicopter's side entrance. Two men wrestle, then continue to punch each other in the face. A gun slips from the pilot's hand. Bloody knuckles and swollen jaw, the passenger takes his final shots – POW, POW, POW!!!! He scrams to control the helicopter as it spirals towards the LA highway, taking down with it a seedy man and his troubled partner-gone-wrong.
As the helicopter nose dives, the fat bag is thrown into the sky. Tumbling towards the landscape, it lands in an overgrown weedy ditch along the highway. Patiently, it waits.
Hours later, an Angelino spots the bag sitting in the dry weedy overgrowth. It takes him a bit of time, but he finally discovers its exact location. He signals and an Escalade meets him. As cartel members, they know this stretch of the 101. Be it drugs or money, this bag could be worth thousands, even millions. Adjusting the radio knob, an announcer declares …
"Today on the 101, a stolen helicopter spiraled out of control and took out ten people. The pilot was found dead by gunshot wounds prior to crashing, warned the Fire Marshall. More on this developing story as it unfolds, Dan Simons reporting, KTPO 107.5FM."
Inside a janky building in Torrance, a drug lord sits behind his desk with a mountain of snow distracting him. With a rolled $100 bill, he snorts line after line after line. Muscling past the armed bouncers, the Angelino tosses the bag towards his manic boss. Enraged, "Where's the rest of my money, cabron?" Just then, he fires his golden pistol and overturns his desk. Heart pounding, the Angelino grabs the bag, shoots the others with his Glock, and makes his way to the Escalade. Swerving out of the area, he drives 80 mph. Meanwhile, the radio blares …
"Today $100,000 was stolen nearby from Republic Bank on Wilshire Boulevard in Beverly Hills. Four masked gunmen stormed the bank, collected a large bag of unmarked bills then robbed several pieces of gold jewelry from the customers. Shots fired killed two masked men, three customers and two guards. Anyone with information, please call our hotline at 310-555-5555."
The Angelino parks on a side street in Compton. He knocks on a dark car window, speaks to a man, passes him the bag, and collects three ladies. Trafficking isn't only for drugs. A pimp rifles through the bag, keeps the jewelry and zips up the bag. Sirens flashing, the pimp sees a cop car in his rearview window. After weaving through LA traffic, the pimp arrives at Malibu HIIT Gym. Shoving past the attendants and toward the men's changing room, he frantically places his bag in locker #19. Undetected, he escapes through an open window in a shower stall with diminishing hopes of returning. Damn cops!
A selection of fancy wines lives in an underground cellar: Santa Barbara cabernets, merlots from Upstate New York, rosés from Provence, French burgundies, Italian prosecco, French Champagnes, Italian pinot grigios, Santa Ynez pinot noirs, Spanish tempranillos, Italian chiantis, Australian shiraz, on and on. Which will be the lucky bottle chosen for tonight? Each vies for attention, each hesitates with expectation, each tries to outdo his neighbor – This is LA after all – always showy, affluent and competitive.
Sophie, twenty-seven, wonders what will become of her life. She wants intimacy, but she's guarded. Are there people out there that can like her just as she is? In her phone's calendar, she sees the name Jack, her date for tonight. In the past, she would tally her date's shortcomings and advantages. The truth is how can she expect perfection when she herself acts shallow? Since moving to LA, she's become thick-skinned even emotionally detached. On dates, she worries that guys dislike her, so she pretends she's something she's not. Tonight, she decides to be more genuine and transparent, more emotionally available and less guarded.
Jack, thirty-five, deliberates about his date tonight with Sophie. His friend, Kevin, set them up to meet at Il Bistro. He's hesitant. After being briefed, he makes an entry in his phone for Sophie: educated, fun to be around, attractive (all positives), judgmental, material, like all of the others? (all negatives). He does this often … going back and forth in his head, Mr. Wishy-Washy. He is still alone after all these years, possibly because of his shortcomings: intimacy, commitment, closeness. He's unsure he can handle these requirements, when placed upon him. Perhaps tonight will be different. Who's his ideal person? Someone who likes him genuinely, truly, without all the glitter. What Sophie doesn't know is that Jack comes from money … he just doesn't lead with this foot. He wears off-putting clothes to test his date, and to see if they look beyond the material. Will she pass?
Dave, forty-six, exits the shower then towels off in the gym changing room. He opens locker #19, dons his slacks, new shirt and dinner jacket, freshens his hair, splashes on some cologne, leaves his gym clothes behind then grabs his bags. Dapper, he heads towards the restaurant. Il Bistro has received four-and-a half stars out stars on Yelp, he's heard. It has been a while since Dave, a business owner, has met anyone new. Jenna and Dave were an item for ten years then one day she passed. Once widowed, he collected all of her belongings and gave them to charity. If only he could delete all of the lingering memories in his head, he could be truly present. He's dated a few friends of friends, but nothing remarkable transpired. Bumble, Tinder, all the dating apps, nada. Older and wiser, life-savvy and inwardly secure, he's hopeful about tonight. He exits his Lyft, then he places his belongings under the table. Nervously, he waits for Allison, trying to quiet his expectations. He's ready to close the chapter on his late wife, and to choose a new partner; so, with one decision, he drops his ego at the door, and embraces this new experience.
Allison, forty-five, is in her Uber on the way to the restaurant. She's a writer, but in truth she's an OnlyFans celebrity. She has over 250,000 followers and uses the personal connections as fodder for her writing. She is pecking away at her goals, one by one. Twice divorced and saddled with debt, she helps her disabled mom in a nursing home. Long term care is expensive at $15,000 per month. She's looking forward to meeting someone new… filled with anticipation and hope. She types "Dave" in her phone calendar and writes, "excited about this one." She remembers to write her before-and-after comments after every date. Exiting in a form-fitting dress and a fresh attitude, she's ready to start her future.
At a nearby table, Sophie sits looking sexy: styled hair, low-cut dress, high heels. She offers her audience a peek; however, she doesn't disclose all of her goods. She fidgets, wondering if she'll be stood up again. He's twenty minutes late. The day got ahead of him. He arrives looking a bit low rent: scuffed shoes, a distracting tie and a stained jacket, but all in all a great smile. They greet, then confirm that she's Sophie and that he's Jack. She thinks that he's attractive, but a fashion victim. She spent over $250 preparing for this date and he shows up in last season's clothes and late … seriously, how rude!
Dave secures a table with a beautiful sea-side view. He takes a bottle of Damiani 2011 Merlot from upstate New York from his work satchel. Merlots are his favorite: tart cranberry, tangy cherry, dry and tasty gifts from the wine gods. This time, this meeting will be like no other – he's a new man – a better 2.0 version of himself. His motivational tapes, coaching sessions and strength training are working in his favor. The music is soft and romantic, the lighting is ambient, and the restaurant is three-quarters full. He decides tonight anything is possible.
Sophie and Jack fumble, both nervous. They sit back, order drinks and appetizers. Il Bistro has a killer Yelp rating. Filling the room with chatter … she begins, two siblings, parents married, college, then relocating to LA. Optimally, she's here to pursue her dream of owning a wellness studio. He reconciles, "OK, something to work with here. She's alright." Now it's his turn … he's an only child, parents divorced, mom passed last year, college, works in publishing, dreams of travel. Sizing each other up, he notices her down-to-earth wholesomeness and she wonders why he dresses so poorly. He looks to see if LA has turned her into a material girl. She contemplates, "Hmmmm?"
Allison arrives and Dave stands. Manners never go out of style. Both surprised, they smile widely. She realizes that her accountant was right about Dave, and she's happy she went forward with tonight. Vitello Gorgonzola and Scampi Diavola e Polenta pair nicely with generous glasses of merlot. Who knew Dave was such a wine afficionado? The night plays on and each laugh at one another's stories. They learn that they have lots in common: summers in Santa Cruz, dogs over cats, a love of Fellini movies, raspberries over blueberries. One merlot, two merlots, three merlots, four … He says she looks beautiful in Italian. A new language – It's one of the great features of Dave 2.0.
Jack and Sophie dine and unwind a bit with alcohol, the social lubricant. The check comes and they both reach for it. "Next time" he winks. Their meetup ends with a warm embrace, a kiss and an "I'll call you."
Allison watches the young couple at the next table. Casually listening, she sees herself in Sophie. At a younger age, she wanted to please men. Always waiting and wondering and doing everything she could to see if they liked her. Without return phone calls, without follow-up contact after long outings, she'd always wonder … why? Tonight, Allison realized that dating wasn't about if the guy liked her … No, it was about if she liked the guy. This was the new Allison, one with experience under her belt. She put herself first.
With great food, good conversation and endless laughter, Allison and Dave notice they have shut the place down. Dave really likes her and thinks now he's ready. No longer does he need to compare every woman to his long, lost wife. In honest, Allison doesn't do love triangles – no one likes being compared to someone who's already passed. Giddy and hopeful, they embrace and end the night with a long kiss.
After exchanging numbers, Dave mistakenly places his gym bag in Allison's Uber. Feeling confident, she arrives at her place and the driver reminds her to take her bag. In her apartment she opens the mistaken bag and discovers $100,000! ... Wow! She sits giddy and amazed. Definitely a gift from the universe, she decides – $25,000 will go towards a must needed trip around the world, $50,000 towards her mother's care, $5,000 towards a new office setup, and the final $20,000 will be squirreled away towards her savings account. They text a few times, then she phones Dave the following week. The lost bag is never discussed.
With excitement about all of her future tomorrows, Allison types "He is the perfect guy," as the first line of her new novel – with that – she thanks the universe for placing an amazing person in her path.
***Special thanks to photographer, Jed Owen (photo #1, bag), for use of his free photo from stock photo site Unsplash.