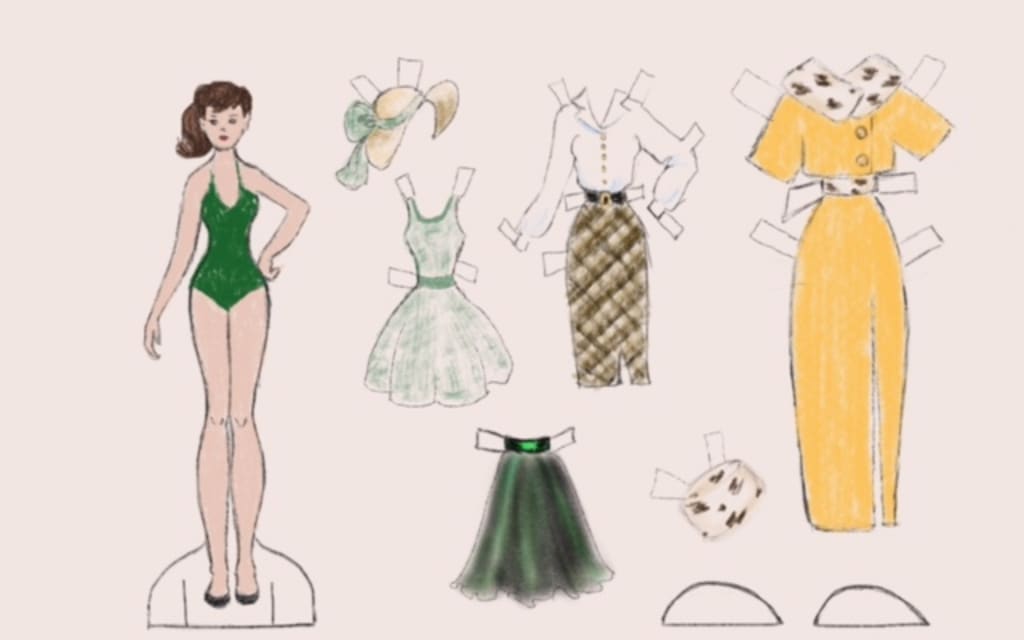 Illustrated by D Rogers
I turned twelve the year I lost my best friend.
I met Anna when I was six, and she was eight, and we had just moved into the small suburb north of the city the rest of our family lived in.
Nearly every house on our block had kids in grade school, which meant there was always someone to play with. It was the 50s and it seemed like the neighborhood was designed for raising families. Our lawn was lush and green, perfect for practicing somersaults and roundoffs, running through the hose, and later, after supper, for games of kick-the-can and hide-and-seek. The sidewalk that ran out to the street from our porch was straight and even, as if it were made specifically for hopscotch. And the wide front porch was poured cement, as smooth and cold as marble, the perfect setting for the endless jacks tournaments we hosted on hot afternoons. Anna was not my only friend. There were six little girls, not counting me, who lived on my block who were within three years of each other in age. As I said, there was always someone outside to play with. Someone to jump rope with, or ride bikes or roller skate with, but Anna was my best friend. My favorite friend.
I was a quiet kid, and I preferred staying inside with a book, or with my imagination and colored pencils and a new piece of paper. Anna and I had that in common, the love of escaping into an imaginary world of our own making. Most of the time we played with paper dolls. I had some store-bought paper dolls at home, like the Lennon Sisters or Annette Funicello, but the dolls we played with were the ones we drew ourselves. We spent hours and hours drawing and coloring the dolls onto heavy paper, and meticulously cutting them out, then designing their clothes and cutting them out, with tabs so that they would stay on. A couple of years before I lost her, we had designed a doll, then traced her over and over so that we each had thirteen identically shaped dolls so they could share the same clothes. Each doll's name began with a different letter of the alphabet, and each had a different hairstyle, hair color, and style of swimsuit. When we had completed designing a ball gown for each doll, we held a pageant, like the Miss America pageant, and asked the other neighborhood girls to be the judges. We wrote screenplays of our favorite mystery books for the dolls to act out, and we designed the costumes and built the sets.
So far it sounds like the idyllic childhood, right? But of course I haven't told you everything. I haven't told you about the yardwork Anna had to do during the day while I was riding my bike or playing tetherball, how she had to break up the hard clay soil of the corner of their backyard to plant their garden. Or how she had to mow the rest of the yard, trim the shrubbery, pull the bindweed and Texas tacks that grew up in the gravel driveway. I haven't told you the part about Anna's sister, who had a pretty pink bedroom with a big canopy bed and white lace curtains and dozens of collector's dolls, all while Anna was sleeping in a corner of the unfinished basement on an army cot, the "walls" fashioned from army blankets hung from ropes strung between posts. I haven't told you about Anna's father, who was an amateur photographer, and who kept a darkroom in the basement, who used to ask me all the time if he could take my picture, but because I was so shy, I always told him "No, thank you." When I look back on that time I wonder how I could have missed the signs, but we were children! We never questioned anything going on around us. At least I didn't. As children we take things at face value. Anna never complained. Her mother never complained. Her sister certainly never complained. We accepted the time we had together and simply enjoyed it.
When Anna turned 13, her father gave her a three-speed bike. After that, they used to go on biking trips together, sometimes for a couple of hours and sometimes for a day or two. Her father was an avid cyclist and used to race in amateur races, including the Pikes Peak race. I missed my friend but we were too old to be playing with paper dolls, and school was starting to keep us both a lot busier anyway. Also she was in junior high school now and I was still in grade school, so the gap in our age was making a bigger difference now than it did when we were just little girls.
A few weeks before my twelfth birthday, I saw a taxi pull up in front of Anna's house. A few minutes later Anna came out carrying a small suitcase. She climbed into the backseat of the cab wearing a flowered dress, and a white hat and gloves. I started yelling her name and jumping up and down beside the curb but the cab drove right past me and Anna wouldn't look at me.
I ran to Anna's house and rang the bell. Anna's mother answered the door and when I asked where Anna was going, and when would she be back, she told me that Anna was going to New Mexico to live with her "real" mother and that she was not coming back. Then she closed the door in my face.
I saw Anna one time after that day. The following summer Anna came back "on vacation," but she was not the same girl I grew up with. No, New Mexico had stomped the "little girl" right out of her and left a sneering, sarcastic, hard-edged hull with smeared mascara and a pack of Marlboro's in the pocket of her cutoff jeans.
And she still wouldn't look at me.