All the colors of kindness
My Hometown Hero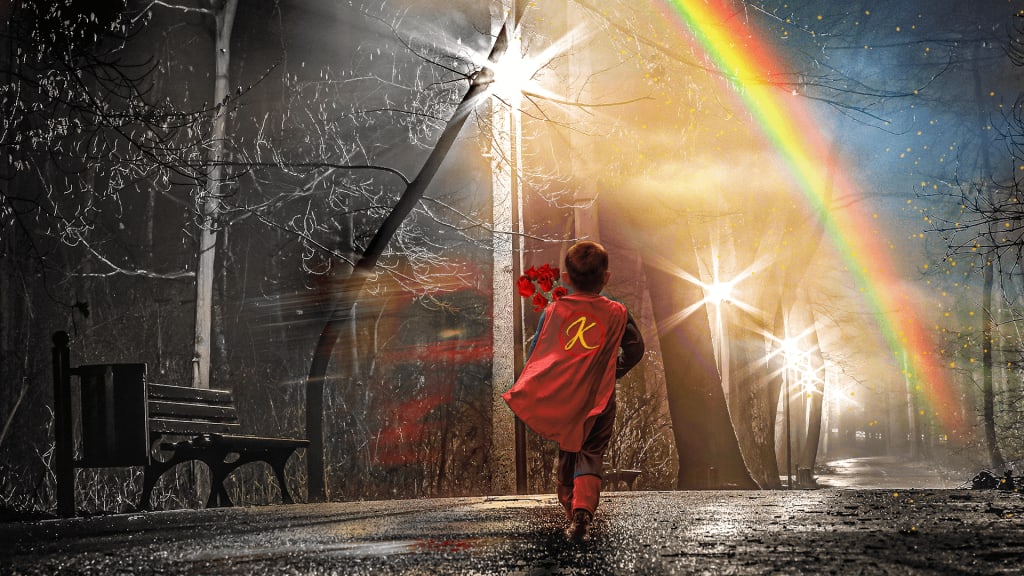 To err on the side of kindness is never a mistake
Hometown Heroes
Heroes come in many different shapes and sizes. Mine is a 6'3", 200 pound gentle giant who just happens to be my husband. He probably wouldn't characterize himself as a "hero". After all, he doesn't routinely run into burning buildings to rescue people or perform life saving operations. To my knowledge, he's saved only one life - mine - and I probably don't say it enough, but I owe him a debt of gratitude a lifetime cannot repay..
My hubby lives by a simple credo that contains just two words - be kind - and in the 26 years I've been married to him, he has never been anything but kind. I, on the other hand, am judgmental, aggressive and moody. He always teases me that I see everything in black and white while he looks at the world and marvels at all of the shades of grey – shades of grey, which sadly, I have never been able to see, or frankly, understand.
I want to say that I have changed over our years together, that his positivity has made me a better person, but I'm not sure that's altogether true. It strikes me that some people are born with a sunny disposition and a smile and it's those people - people like my husband - who should be lauded.
The world is full of people who are ruthless in their treatment of others, bullying, being hurtful, judgmental and who go out of their way to make other people feel bad because they themselves are unhappy. In our society, these are the people who get all of the attention while the people who go out of their way to be positive and happy are often overlooked. I commend all of the unsung heroes, like my husband, who want to make the world a better place through positivity and kindness.
So a shout out to all of the unsung heroes who always have a ready smile despite living a diminished life in a seemingly endless pandemic. A big thank you to those who are always ready with a kind word and who refrain from making vitriolic comments and judgmental accusations on the Internet. And a very big thank you goes out to everyone who understands and accepts that the world is home to us all, no matter the political stripe or the religious belief we hold.
We're all facing huge challenges in these troubling times. My husband has struggled with his business during the pandemic while being caregiver to a sick wife and trying to marshal some semblance of order among three strong-willed adult sons. But with all of that on his plate, he never complains. According to him, complaining only makes a bad situation worse and, from my experience, that's true. It certainly does nothing to ease the anxiety and depression that most of us currently face.
Each year, I make a resolution that I will be a better person and I know that if I follow my husband's lead, someday I will get there. Now, more than ever with the division that exists in our country, we all need to consciously change our behavior. Remember that everyone has feelings and that unkind words and behaviors can hurt just as much or more than physical abuse.
Also remember that no one is in a good place right now. The pandemic, the economic issues, and the negativity that proliferates social media have taken a toll on everyone. Ask yourself whether you want to be a part of that or do your part to make things better.
So why not seek out your hometown heroes for whom kindness is a cornerstone of life and learn by the examples they set. Only then can we as a society, establish new norms for civility and set the stage for a better future world.
Reader insights
Be the first to share your insights about this piece.
Add your insights