A Quick Guide on New York City's Most Fashionable And Entertaining Streets
The city that never sleeps has it's day time and it's night time crowd. It gives you the best of both worlds while not having to go very far. Have you visited these Manhattan neighborhoods yet? Read below to find out.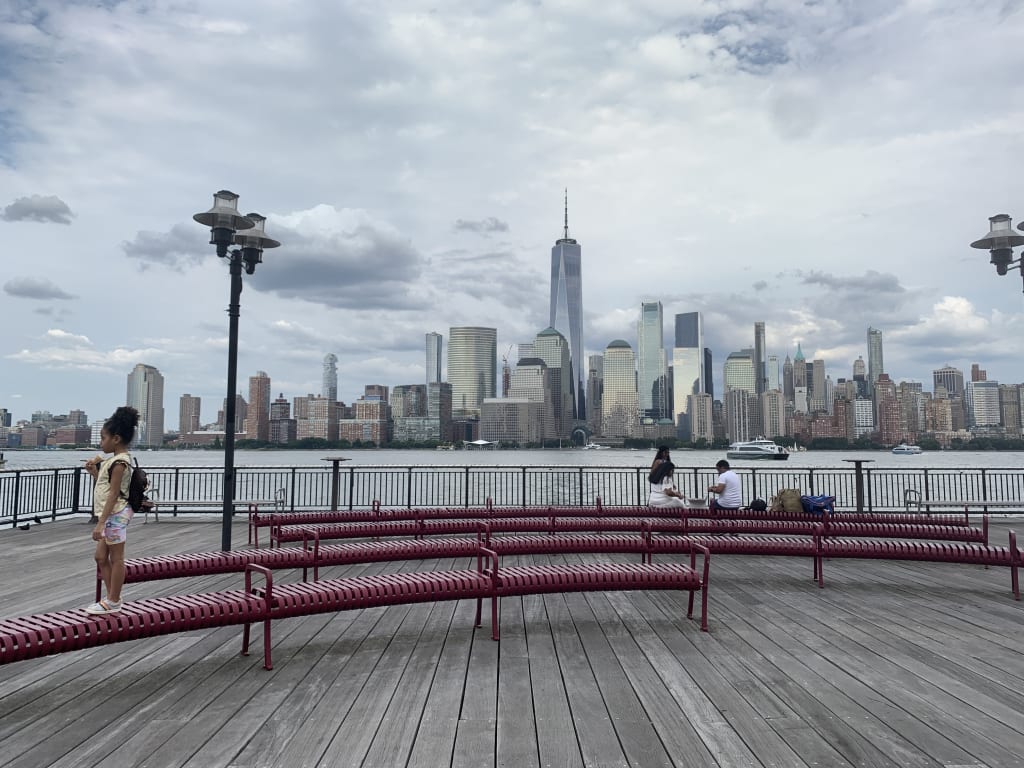 A view of NYC via the Jersey City side, featuring my daughter.
New York City has its many perks including being the city that never sleeps. This is the part of my hometown I miss most since I moved to Jersey City two years ago. Nothing ever closes in NYC and there is a 24 hour store for everything. Meanwhile, only 20 miles across the water in Jersey City, you are lucky to find a bodega open at 9pm. Because of NYC's late nights and early mornings, shopping and nightlife are two of our biggest attractions. I used to work in Gap on Fifth Avenue and the tourists used to go crazy over the sweatshirts with the Gap logo across it. Gap was/is considered high end in Europe so our store was always busy and crowded. I used to love engaging in conversation with the customer, learning where they are from and what shocks them the most about New York City. I met two eighteen year old girls from Alaska, leaving their state for the first time for one of their birthdays. I was elated to guide them to some cool spots and add to their first adventure in this fun, exciting, new city. Even though the outer five boroughs are receiving more attention, Manhattan is still the main attraction.
Manhattan attracts native New Yorkers from all five boroughs and tourists from other states and internationally. People come from all over to see some of the world's tallest buildings, main attractions, and some of the biggest shopping stores the Western Hemisphere has to offer. When I was a freshman in High School, I began to explore Manhattan with the rest of my teenage companions learning the main and side streets, the places to be and where to avoid. We explored from downtown to midtown to uptown. Almost 20 years later, I have my favorite NYC neighborhoods to shop, explore, and have a good time.
When it comes to shopping some people have a purpose and specific vision while others shop randomly without a set goal in mind. Daytime shopping often turns to dinner dates and lounges. Manhattan is famous for daytime chill spots to turn into nightclub party scenes. Manhattan has plenty of shopping and entertainment sections, below are some I find worthy to highlight.
SoHo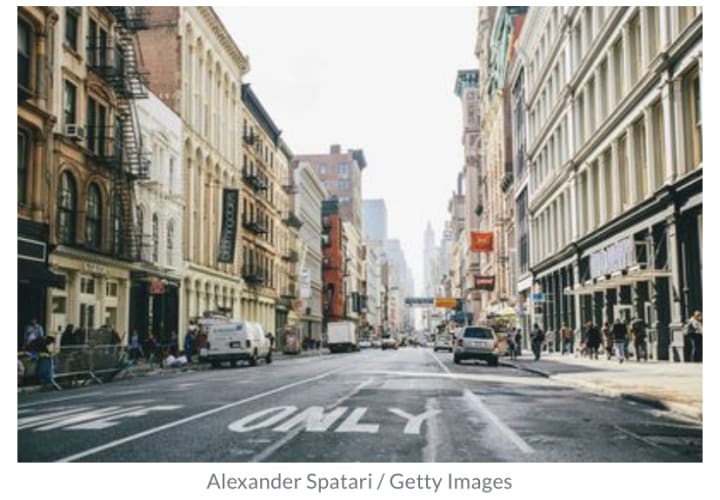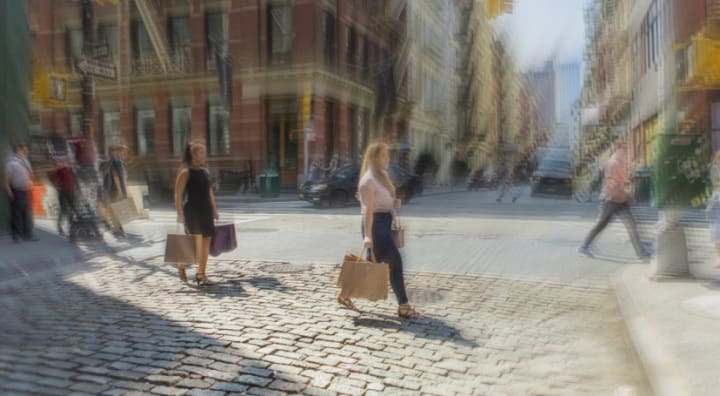 SoHo literally means south of Houston Street and most of the main stores can be found along Broadway. It's a convenient, jam packed, trendy shopping area of lower Manhattan that hosts Fashion Week. Filled with cobblestone roads, delicious restaurants, and sheik, trendy stores, SoHo is my favorite place to shop. It covers everything from high end to sporty, affordable, and eclectic. There's the Guess Store, Aeropostale, Steve Madden, Top Shop, the Converse Store and Uniqlo to name a few. Mystique Boutique is my favorite store to shop in this area. Their affordable prices and cute styles for all occasions make it hard not to like.
SoHo's side streets and alleyways house some of the most high end, expensive art in NYC. SoHo also has some of the finest art galleries in New York City. During the summer, SoHo is enjoyable to walk and sightsee especially if you feel like getting glammed up. It is full of artists, creativity, sophisticated cocktail bars and edgy lounges. The Museum of Ice Cream is also located in SoHo if you're looking for some treats. A few different subway lines will get you into SoHo. The D/F trains to Broadway-Lafayette, the N/R train to Prince Street, and the 6 train to Bleeker Street. What will you discover there?
Canal Street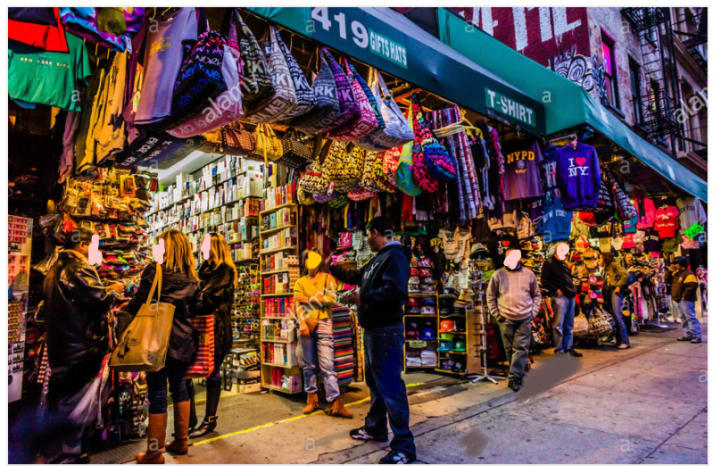 Canal Street is another street shopping strip in the lower section of Manhattan. Canal Street begins in SoHo, but it stretches all the way to the lower east side. When New Yorkers refer to Canal Street we are most likely referring to the east side section. Canal Street was another one of my teenage hang out spots because it was where you bought all the knock offs of high end brands. It was also where I got some extra ear piercings. Canal Street is very close to Chinatown, so their Chinese food, fresh fish, and produce are some of the best.
A lot of the street vendors sell their merchandise right out on the sidewalks giving you the one of a kind New York City experience. Once I got over my knock off phase, I would only return to Canal Street to buy my produce. Canal Street has some of the cheapest, freshest produce and produce not found in your local supermarket. Fresh fish and seafood is also a big seller on Canal Street so once you're finished with a day of shopping, you have some nutritious, on-the-go options to choose from.
There are several different subway lines that bring you to Canal Street, but each one where leave you at a different point. If you're looking for the east side of Canal, the J/N/Q/R/6 trains will get you there. West side of Canal would be the A/1 lines.
Delancey Street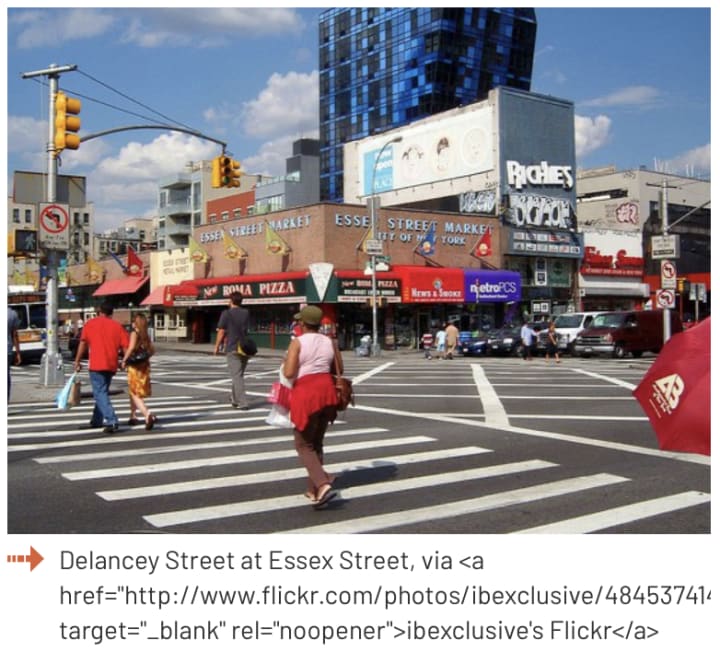 I mention Delancey Street because it is underrated and not as visited by tourists and visitors as other shopping locations. This may be because Delancey Street is more bargain shopping, nightlife, and full of hustle. Another outside shopping strip, this street is filled with discounted, trendy clothing stores. Richie's is my favorite store on Delancey and where I shop for all my winter coats. If you're a visitor who comes from hot weather and underestimated our cold weather, Richie's is the perfect spot for you.
Delancey Street has the Williamsburg Bridge that connects Brooklyn to the Lower East Side. The night view of Brooklyn from hotel and bar rooftops make dinner and lounge experiences unforgettable, romantic and chill. Hotel Chantelle is a three floor restaurant and nightclub where the rooftop has the most perfect view right off Delancey Street. The DL is another Delancey Street hotspot and has a very well known nightlife reputation.
Delancey Street is the main attraction, but it's the side streets and small walkways that make it great for restaurant and bar hopping. There are great venues right next door to each other all up and down the streets! Pianos, The Flower Shop, and Rooftop 3 are to name a few more. The J/Z train to Delancey Street and the F/M train to either Essex Street or 2nd Avenue are the only trains that get you to the Lower East Side.
14th Street-Union Square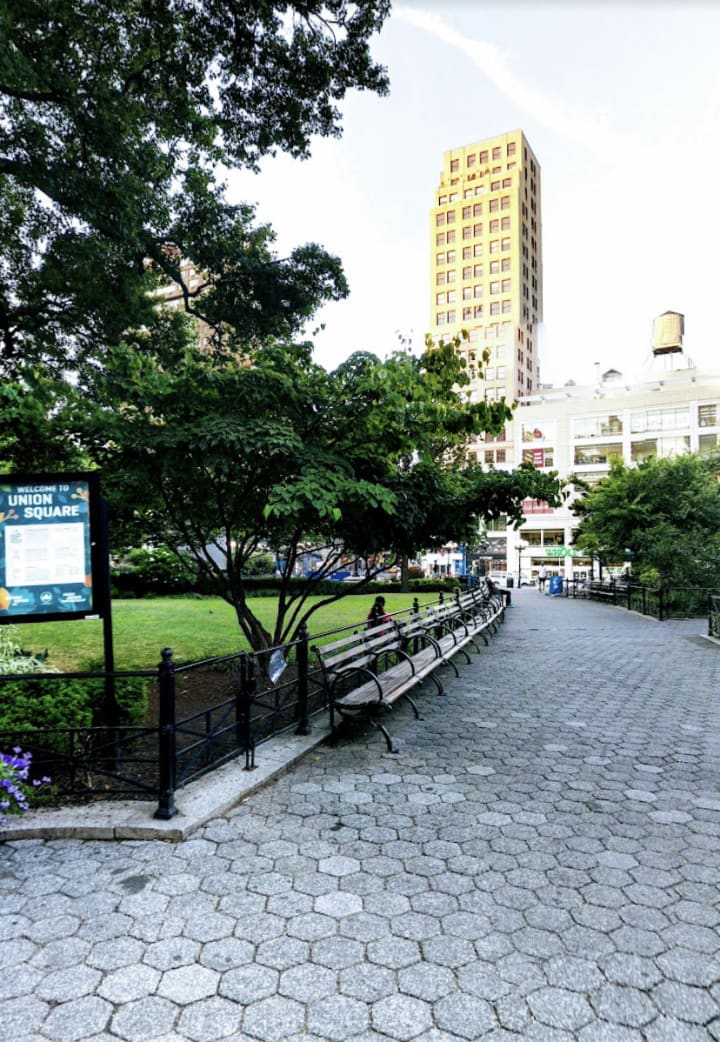 Union Square is another favorite shopping area of mine. Not only does it house Union Square Park, but also one of the biggest Whole Foods with an upstairs seating area and microwaves to heat food up for the public. 14th Street is extremely diverse with a little bit of everything. It is the junction where the east side and west side meet. 14th Street from 8th Avenue all the way to Union Square are filled with eateries, clothing stores, toy stores, party stores, costume stores, smoke shops, book stores, banks, gyms, and much, much more. There is also a movie theater allowing for much needed rest breaks in between shopping and strolling. Nordstrom Racks and Burlington Coat Factory are my favorite stores in Union Square, even though DSW comes very close. There's also Best Buy, Forever 21, and the Lego Store if you have children. You love makeup and costumes? Ricky's on 14th Street provides you with your Halloween looks and makeup needs all year round.
Union Square Park is a fun place that brings many people together. This park is where all the chess players come. Some players sit there all day awaiting potential challengers or for their game appointments to arrive. If you feel you are a good chess player and loves challenges, check out this park for some tough opponents. Union Square Park also welcomes skaters and bikers of all kinds due to the unique railing and stairs throughout the area. And would it even be a NYC park if you could not find a psychic in it? You may find one or two lingering around and who knows, it could be exactly what you asked for.
Any train to 14th Street will leave you close enough to walk in any direction and find exactly what you're looking for. Google maps on your phone would also help point you in the direction you desire to go. If you happen to take the F/M train to 14th Street, there will be Pinkberry right there at the corner of 6th Ave. Oh how I wish there were more of them around; frozen yogurt topped with chocolate and fruits, my type of snack. The A/C/E trains leave you at 14th St and 8th Ave., the 1/2/3 trains at 14th Street and 7th Ave., then the L/N/Q/R/4/5/6 trains to 14th Street-Union Square.
34th Street-Manhattan Mall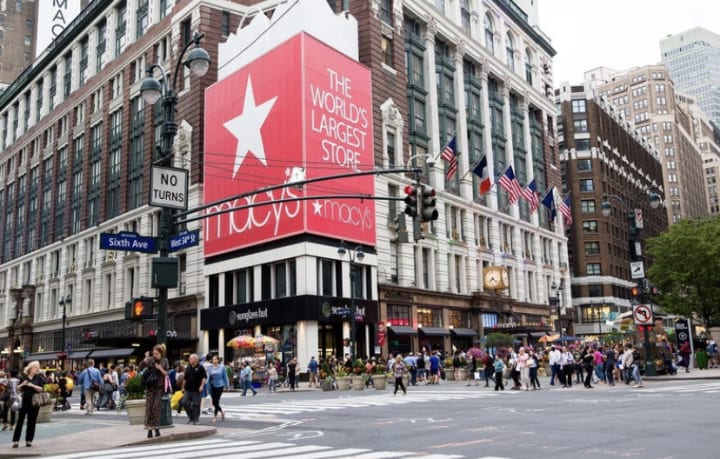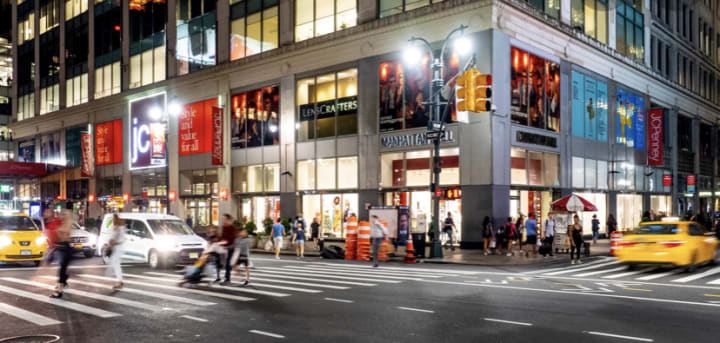 34th Street is one of the biggest tourist shopping attractions NYC has to offer. The movie Miracle on 34th Street was based on the largest Macy's in the world located here in New York City. Eight floors of everything you can think of. If you shop at Macy's, do you really need to shop anywhere else? My grandmother has spent 8 hours in this Macy's looking through all the racks for the best deals. Even though Macy's is the main attractor of 34th Street, it is not the only one.
34th Street has the indoor Manhattan Mall. This was another favorite teenage place for me not only because my train went straight there, but also because it is a one stop shop. One of my favorite stores as a teen was Strawberry's and that store still stands strong in the mall today. Afaze is an accessory store that is loved by everyone and found in the mall as well. Outside of the mall, you can find Express, H&M, Aldo, the Levi store and Victoria Secret amongst many others. If you have teens who love trends, Journeys is the store for them.
This shopping area is very busy and crowded at all times of the day. Some streets are closed off with seating and tables to provide well needed rests between long walks and store browsing. Food is never scarce when walking any streets of NYC and 34th Street is no different. From street carts and fast food to sit down restaurants, 34th Street has it all. Let's not forget the Manhattan Mall's food court. Who doesn't love a mall food court?!?
The main trains that bring you to 34th Street are the B/D/F/M/N/Q/R lines. Some exits will even lead you right into the mall starting your journey right away. You have not seen NYC until you have visited 34th Street, so what are you waiting for?
42nd Street-Times Square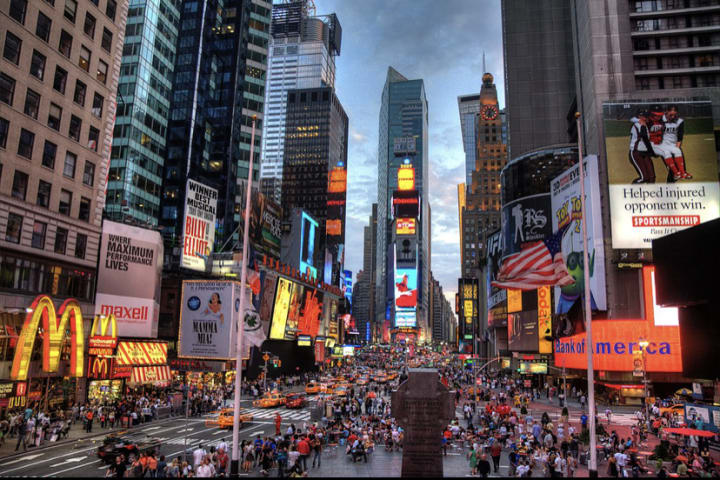 Times Square makes everyone list because it is the reason people visit New York. Whether it's for a Broadway show or see the New Year's ball drop, Times Square is the center of New York's attention. As a native New Yorker, I tend to avoid Times Square due to the extreme crowdedness. There is no walking room, standing room, breathing room, or thinking room, but the tourists, families, and children seem to love it. The gargantuan billboards and bright lights keep Times Square constantly moving and hustling 24 hours a day, seven days a week. H&M and Forever 21 used to close at 2am pre-Covid, but now at 10pm. Times Square has evolved and changed many times since it was named Times Square in 1904.
It used to have the biggest Toys 'R' Us that had a Ferris wheel and three floors of every toy, video game and play thing you could think of. Gigantic Lego displays, Jurassic World, and a car zone was just a few other attractions that inhibited the space until the store's closure in 2015. ESPN Zone was another fun zone for adults and children that had arcades and big screen TVs that showcased all the sport games. It also served the best wings and things. I think it was when this place closed it's doors in 2010 my visits to Times Square diminished. The biggest McDonald's that once stood in Times Square as well recently closed in 2020 citing reasons unrelated to Covid.
Times Square is also famous for its street artists and performers, Broadway plays, and is a major center to the world's entertainment industry. You could get your portrait painted, your name glamorized and custom made, and spray art done right before your eyes. Then get caught up in some movie or MTV shoot happening around the corner! There are comedy clubs, the Madame Toussaint Wax Museum, Ripley's Believe or Not, Dave and Buster's, and Dallas BBQ's. Looking for a family style restaurant to sit down and eat? Carmine's is the number 1 Italian restaurant in Times Square. Shopping, entertainment, restaurants, street vendors, performers, and actors/actresses all fill the streets of Times Square making your visit entertaining always. The best part for absolutely everyone? Every train goes to Times Square making it the most accessible part of the city.
86th Street and Lexington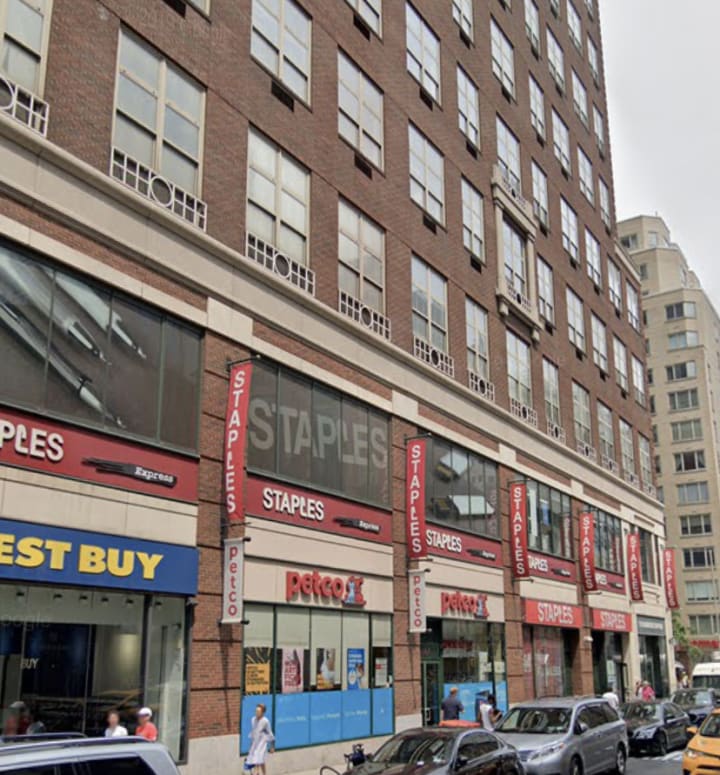 86th and Lex makes my list because I am an animal lover and this is where you can find Petco. This Petco has many different variations of animals and aquatic life. One of my office locations is near here so I go into this Petco every time I am there. From fish to plants for your aquarium to chinchillas and rabbits this Petco has it all. It also offers grooming and training services for your domesticated companions. All your cat and dog needs as well as reptiles, amphibians, and arachnids. If you need a place to keep a child entertained for a few, this Petco is a nice alternative.
This area also has a Best Buy, H&M, Steve Madden and the famous Shake Shack if you're craving freshly made burgers and fries. The 4/5/6 trains to 86th Street will leave in the heart of these stores while the new 2nd Avenue Q line to 86th Street will leave you walking distance away. Your walk from 2nd Ave to Lexington will be filled with stores like Sephora, Ulta, Gap, Papaya Dog, a supermarket and a billiards room.
125th Street-Harlem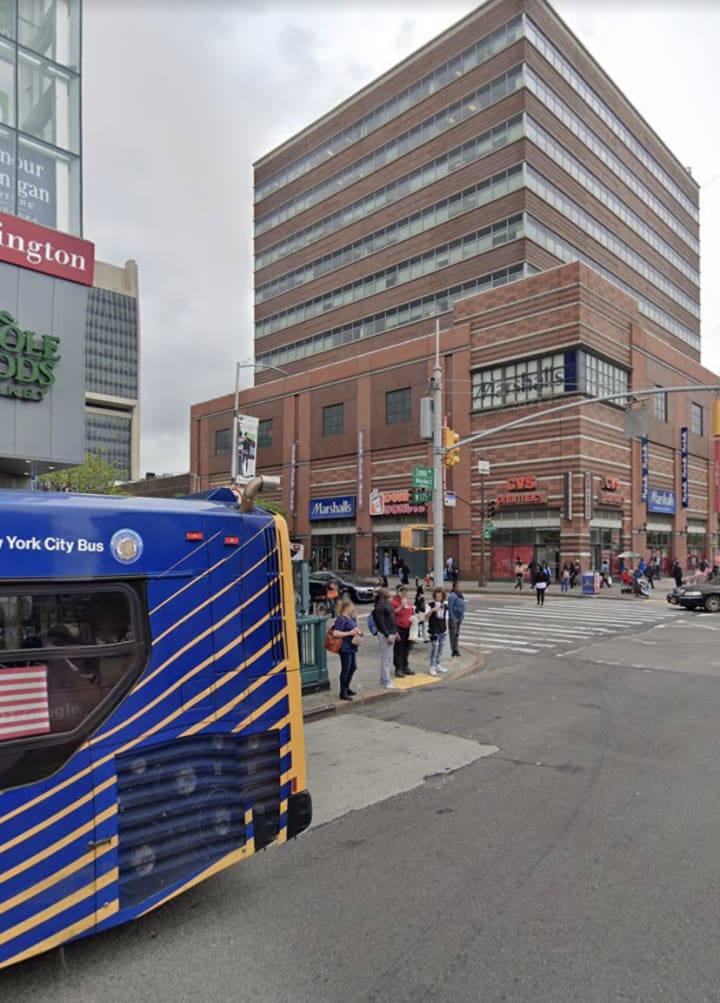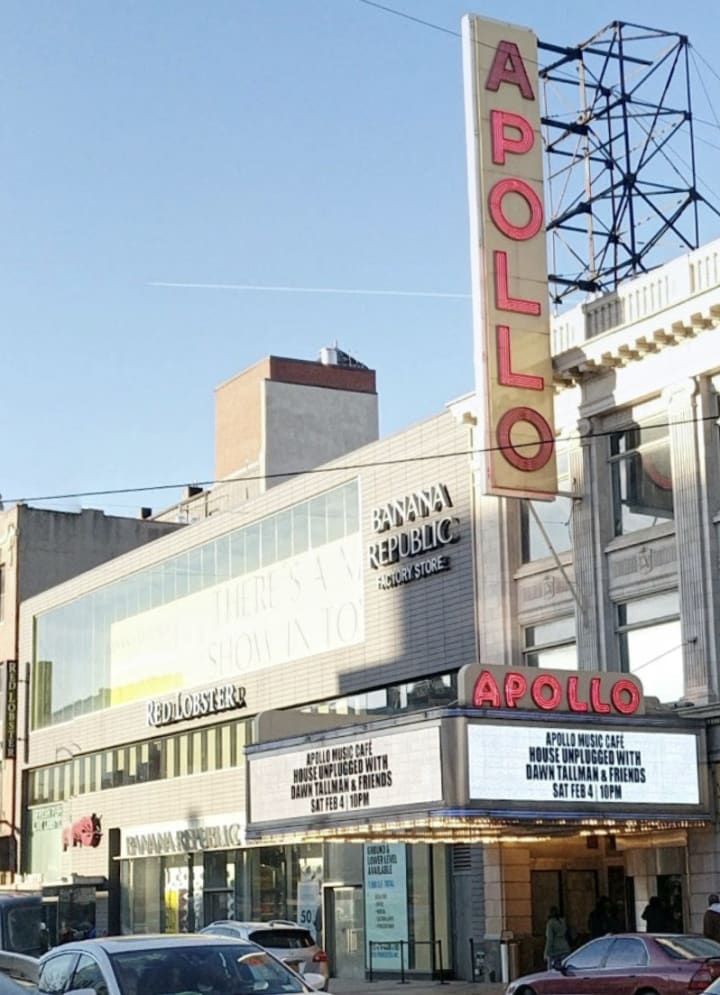 I love Harlem. I lived in Harlem from 2010-2014 and I adapted so well being away from my hometown of Brooklyn. Traveling from Harlem to any part of lower Manhattan is a 20 minute train ride and that's all it took to get to work. Harlem is filled with so much Black culture, Black art, and Black history, it is what makes 125th Street so special, beautiful, and rich.
125th Street has changed over time undergoing many different adaptations and gentrifications, but the shopping stores never left. In fact, there is a new shopping center right on the corner of Lenox Avenue featuring A Whole Foods and Burlington Coat Factory. The Apollo on the east side of 125th still attracts celebrities and aspiring artists. Not only does 125th have an H&M, DSW, and Gap, but also a Carter's, Jimmy Jazz, and the famous House of Hoops by Footlocker. Looking for some dope, trendy sneakers? House of Hoops will not disappoint you.
Soul Food buffets and dining, Caribbean restaurants, and American dining are just a select few eateries to choose from in Harlem. The famous Sylvia's, soul food restaurant is one of the best there is and frequented by many celebrities including Barack Obama. It is temporarily closed due to renovations, but is reopening mid-October 2021. If you're always looking to support your black businesses or you don't know where to start, 125th Street is a great place to do so.
You can take the 2/3 train to 125th Street and that leaves you in the center of all the street shops on Lenox Avenue. You can also take the A/B/C/D trains to 125th Street and St. Nicholas, another focal point of the area. The 1 train to 125th Street drops you all the way up on Broadway, leaving you with a nice stroll down the street to the shops. 125th Street does stretch all the way from the west side to the east side allowing you to also take the 4/5/6 trains to 125th Street and Lexington: Spanish Harlem.
These highlighted shopping areas are not the only ones NYC has to offer, just a select few that are worth mentioning. NYC also has the famous Fifth Avenue when you're feeling fancy that includes Salvatore Ferragamo and Saks Fifth Avenue. The Garment District located between 33rd and 42nd streets between 6th and 7th Avenue, specializes in gowns and fabrics, if you're a designer, going to prom, or a wedding. The Flatiron-23rd section of Manhattan om 6th Avenue is where the new Harry Potter store and The Friends exhibit are located. The Oculus, which is the new World Trade Center, is a mall with independently owned kiosks, the Apple Store, Montblac, Longines, Sugarfina, and much more. West 4th is another area to check out, but this area has different kind of shops. You can find a clothes boutique here and there, but this area includes a lot of adult stores. If you're looking to get into some fun with your partner, get a spontaneous tattoo or piercing, this is the place to be.
Even though Manhattan is New York City's main attraction, the other boroughs are slowly gaining their shine especially Brooklyn. Brooklyn is a very big borough and can take you an hour to get from one side to another, driving. Brooklyn holds a special place in my heart because it is my hometown and where I lived for 32 years. Stay tuned for my next article featuring the hotspots in Brooklyn before it became on everyone's radar and what's new, fun, and attractive now.
Liked what I had to say? Please give the little heart a click to like it.
Are you also into cliffhangers, plot twists, and unpredictability? Then I am your author.
Click here to learn more about me.
Click here for my complete writing profile.
Your reads are appreciated more than you'll ever know. Thank you.
travel
trends
shopping
entertainment
A mom looking to express and lose herself in some imagination.
Facebook: @TinaChrisTheBookkeeper
Instagram @TinaChris_thewriter
Want to join Vocal+? Use this link to get started https://vocal.media/vocal-plus?via=christina-defeo
Receive stories by Christina DeFeo in

your feed