A New Kind of Cure
Custom Hospital Gowns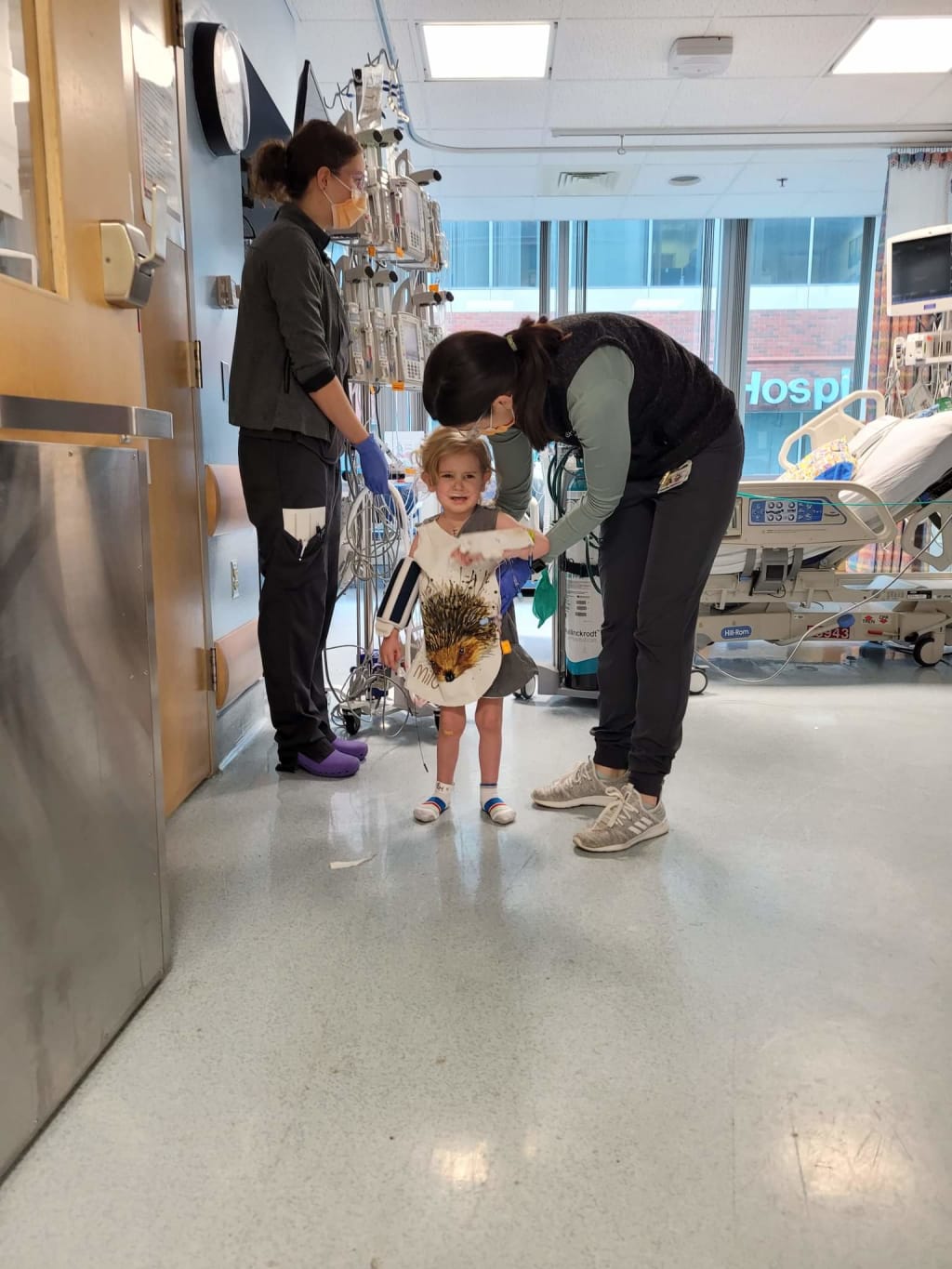 One of our rockstar hospital gown recipients!
Creating happiness is something that I've not only done for myself through sewing and embroidery, but something that I have been able to do for children and families worldwide.
I make custom, personalized, homemade hospital gowns for children with chronic and life-threatening illnesses through a nonprofit organization called Gracie's Gowns that I started over 9 years ago. In that time I have personally worked on over 6,000 hospital gowns that have been mailed/delivered in person to specific children, in addition to NICU smocks, surgical caps, reusable face masks, g-tube covers, chemo bag covers, and so much more to hospitals and clinics in various countries as well!
It is a passion that started simply from realizing how sterile, plain, and one-size-fits-no-one hospital gowns really were, and that in fact it almost makes you feel more miserable and sick and resentful to wear a gown that is provided by a hospital. You lose all sense of individuality and start to feel yourself being viewed as nothing more than a case number, diagnosis, or heck, even a hospital room number...rather than a person with thoughts, feelings, dreams, and concerns.
The children and families that receive a gown from me know that the diagnosis isn't going to get better immediately just by dawning their gown, they know the procedures and surgeries are still going to hurt, they know that the outcome itself won't change...but their spirits are renewed with a sense of hope and even just a small element of control despite it all. They get a choice in what they wear, because they're functional and practical for medical providers as well. They get to show off a part of who they are despite the illness.
If they want to be an entomologist or astronaut when they grow-up, we'll make the gown from fabrics that highlight those interests. If there isn't a fabric already available, we'll embroider their favorite character, hobby, or just something special that shows off their personalities in addition to including their first name on it. Each gown becomes not only a part of their story, but a part of who they are in many ways too. It's a new kind of cure, one that reaches farther than any medicine could and can literally change the entire outlook of a hospital admission in a matter of seconds.
For me...I get to be a special part of it all, the behind the scenes inspiration for their new found hope, the person who gets to reignite their dreams beyond the next course of chemo, the bit of kindness in a dark situation. Not many people get to play a role like that in someone's life. I've had the opportunity to continue making gowns for several children as they've outgrown them, I get to watch them grow-up and fulfill those dreams they only whispered about sitting in a hospital bed, I witnessed their hardest, darkest moments and cried with them, and celebrated all their triumphs at milestones statistically speaking they should never have met.
It's an honor and brings me such joy to personally have touched so many lives through the last nine years, to open my heart, creativity, and talent without second guessing whether or not it was going to work out and whether or not it would make a difference in the end. It has been the best thing that has happened in and to my life and without this nonprofit and the creative outlet it has provided me, I honestly don't know that I would personally have survived some of the hardest battles of my own life. Knowing that there are children fighting for their lives every day that I have had the chance to meet in person, and work with distantly, reminded me in my two life-threatening medial moments with sepsis that I could be just as strong and beat it. It sounds cliché, I know, but they inspire me every day to look on the brighter side in the dark times too!