A Labor of Love
Sending my daughter out into the world with warmth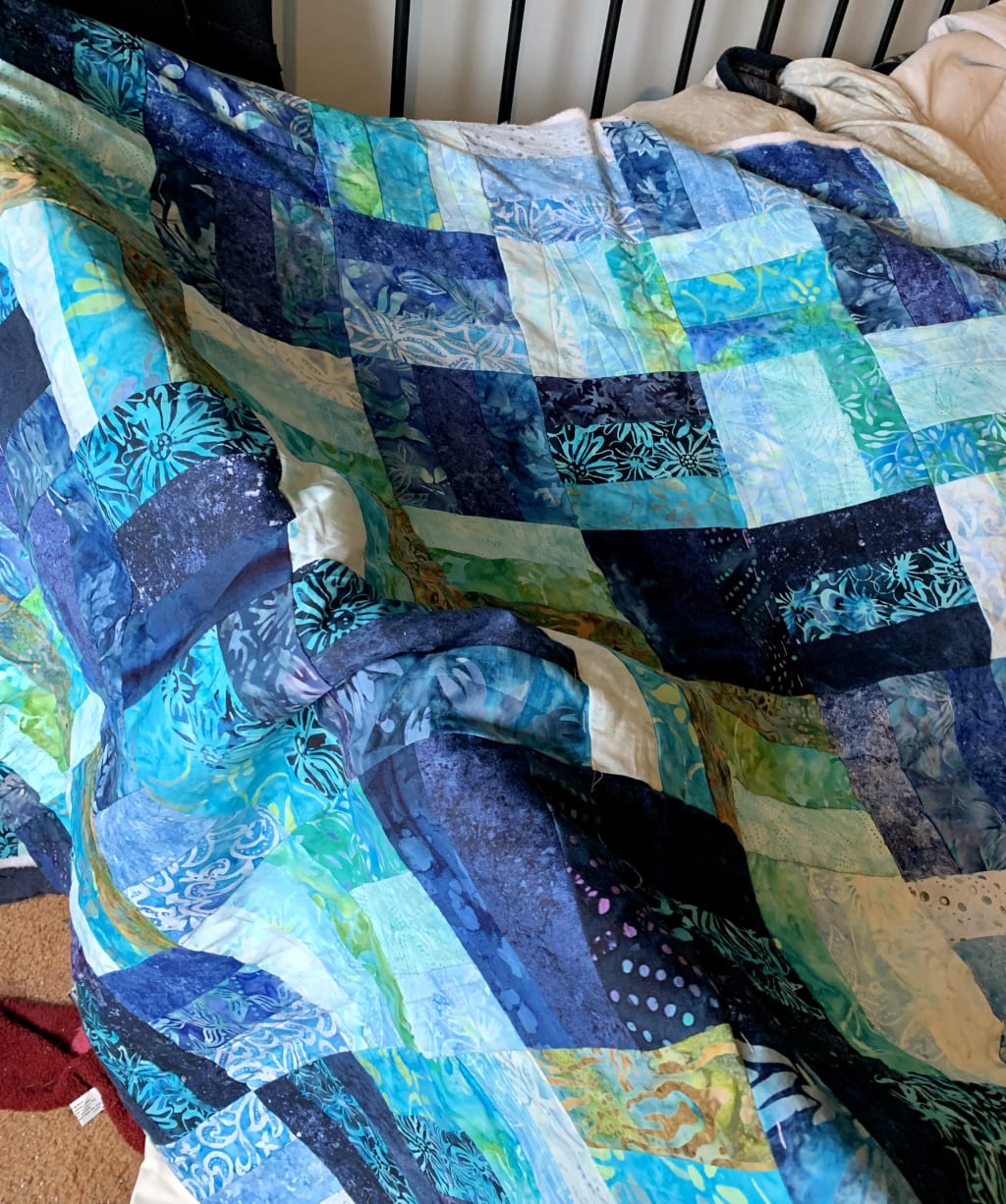 This is the quilt before the binding was applied
I have always needed a creative outlet. Ever since I was a child, coloring outside the lines, and creating new ones has been the thing I use to get me past the stress of everyday living. I never seem to stick to the same medium, but I usually work with a medium until I get bored, and then when I move to the next thing, I do that for a while. After a while I come back around.
I started sewing in junior high, taking sewing and needlecraft classes. I made my first quilt in 8th grade, and my mom bought me the fabric to make a full sized quilt for my bed after that. My mom helped me learn how to sew, and she gave me her old sewing machine. It was a 1974 Kenmore, and it reached a point where I was taking it to the shop every month for servicing. The store owner told me he was fine with fixing it every month, or he could take it in on trade for a new machine. I taught my own daughter to sew, and we even taught a 4H group how to sew. At some point, I had about 5 sewing machines, because I needed some I could teach on (most were ancient) and some of my own with different functions. It's always important to have the right tools for the job.
My daughter was never embarrassed to wear home-made clothes. She would say "Hand-made, not home-made" and as her passions took her in other directions, I made banquet dresses and leotards and comfy Christmas pajamas. Her friends were often surprised to hear that I made her clothes. I even made 40 leotards for her gym one Christmas! I have made various quilts over the years, but none have been more of a labor of love than the quilt I am making for my daughter's college graduation.
My little girl is all grown up, and she is getting her degree in business. I wanted to make her a gift that would always remind her of how much she is loved, and hopefully remind her of all the times she worked with me to sew something, or watched me working on something. It will be a surprise, because although she helped me pick out the fabrics years ago, I'm sure she thought I would never finish it. Many times, I thought I would never finish it! Life gets in the way, and I only worked on it when she wasn't home. I got involved in all different types of jewelry making, and paper cutting, and for a long time my sewing machine just languished in a corner. I finally got around to working on it when her graduation started nearing.
I used batik fabrics, in varying shades of blue, in a rail fence pattern. I wanted to make it sort of random, because batik is not a very exact pattern, and she is a free spirit, with many different roads to choose from. The blue shades are tranquil, and relaxing, and there is enough green and brown to make it earthy, to remind her that she should stay grounded. I started with strips, then I sewed those together and cut those into blocks. There is some pattern, but it isn't strict, I find the variance pleasing, I hope she will too.
Truthfully, with each cut of my Fiskars scissors, and every stitch, it has been a labor of love, even basting the layers while she was at work, so she wouldn't see the finished quilt top. I am sending my baby out into the world with something to keep her warm.
love
About the author
I am a crafter and business person, a horse rider and a mom, not necessarily in that order!
Reader insights
Be the first to share your insights about this piece.
Add your insights