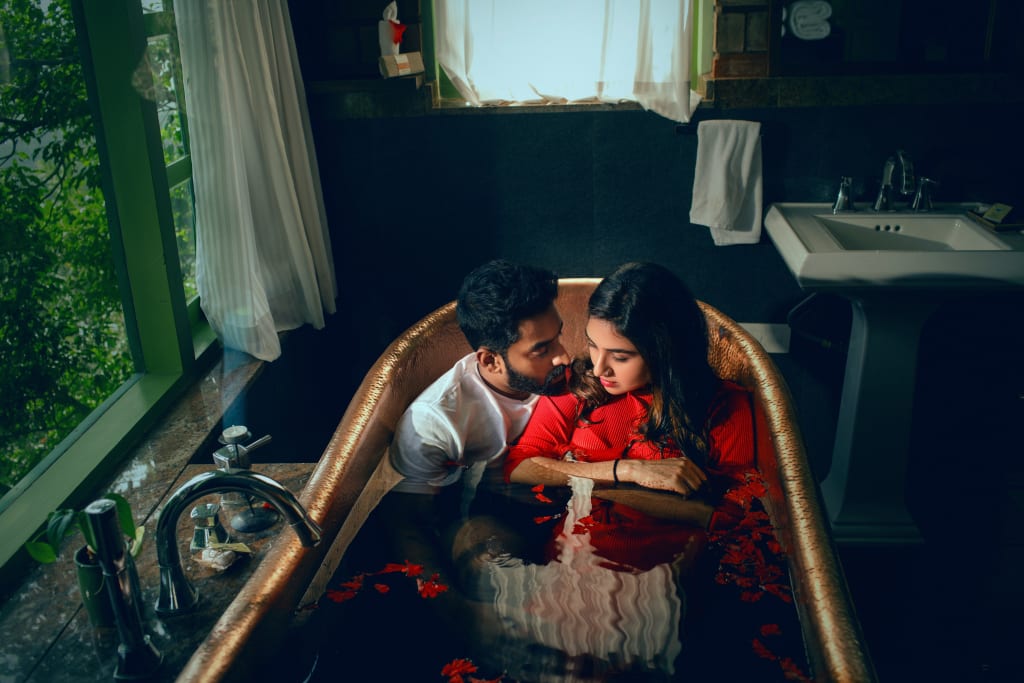 It's not the same thing you want when it comes to romance for men. Receiving flowers or being taken out to a fancy dinner is not something they particularly enjoy. However, they still require a touch of romanticism to make them feel valued and cherished. It just so happens that text messages are really effective for this. You only need to send him one of these passionate texts to make him feel desired.
You can still be romantic even though men don't always experience it the same way that women do. They worked hard to figure out how to make you feel romantic, therefore you ought to return the favor.
Men are just as emotional as women
Did you know men actually have the same emotional capacity as women? Some studies suggest they are more emotional and feel it at a deeper level than we do. But why can't you tell that they're so emotional, then?
It's because women are, in that way, far more expressive.
Although the precise source of this is unknown, it is believed to be related to how humans evolved. Leaders have to be men. If they appeared weak, their authority as leaders was called into question.
Therefore, regardless how powerful they were, males learnt to suppress their feelings.
romantic SMS messages that will make him grin all day long
Due of their high level of passion, men value romantic gestures equally as much—if not more—than women do. The issue is that they don't like to ask for them or feel compelled to express their preferences. If you want to be amorous with him, it can be problematic.
Thankfully, we have a good understanding of what attracts guys to romance and what they don't particularly appreciate.
Try out some of these romantic text messages for him that will make him smile all day as the ideal method to test the waters with your partner.
1. Can't stop thinking about last night 😉 Can't wait to do it again.
2. You're the only man I could ever want.
3. You're my favorite person in the world.
4. Just the thought of you makes me smile.
5. I'm practically addicted to you. I can't get enough.
6. You satisfy my needs in every single way.
7. I'm grateful to be able to call you mine.
8. The other girls must be so jealous I get to have you to myself.
9. I've been thinking about your sweet ass all day 😉
10. You make me feel so safe whenever I'm with you.
11. Babe, there's no one else out there for me.
12. I honestly admire so much about you.
13. You work so hard and that's a huge turn-on for me.
14. I appreciate everything you do for me.
15. You've taught me so many things in our relationship, and I can't thank you enough for all of it.
16. You make me so proud to call you my man.
17. No matter what we have to go through, just know that I'll never give up.
18. You have a way of making me feel so comfortable whenever I'm with you.
19. I can't even describe how happy you make me.
20. You feel like home to me.
21. I just love how it feels to be loved by you.
22. I want to continue learning and growing with you in my life.
23. Just the sound of your voice is enough to get my heart going crazy.
24. Sometimes I have to stop myself from thinking about your hands on me just so I can get my work done.
25. After I met you, my days just become so much brighter, so much happier.
26. I hope you have a fantastic day. You really deserve it.
27. I just don't get how you can work so hard and still be as amazing of a partner as you are.
28. Your ambition is your sexiest quality.
29. I love how much you make me laugh. Your sense of humor is one of a kind.
30. I don't think I could ever find someone like you, no matter how hard I try.
31. Even when my life feels crappy, I smile knowing at least I still have you.
32. Good morning, handsome! I hope you have a kick-ass day that treats you right!
33. You make me feel really good about myself and that's something nobody has been able to do before.
34. As cliché as it may sound, you really are the light in my life.
35. I've got a special surprise waiting for you when you get home. You deserve it 😉
36. I still can't believe I get to spend every single day knowing you're mine.
37. Nothing makes me happier than seeing you relaxed and comfortable.
38. To me, you'll always be an inspiration.
39. There is no other man I'd rather be spending my life with.
40. I just love you.
When it comes to romance, guys aren't too difficult to win over. The secret is to truly treat them romantically. Many of us are unaware of how much guys adore and desire romantic romance. You'll notice the change once you give these sweet text messages to him and the other suggestions we covered a try.
Reader insights
Be the first to share your insights about this piece.
Add your insights