A corner for goblins and men
Creating a place where existence can depart reality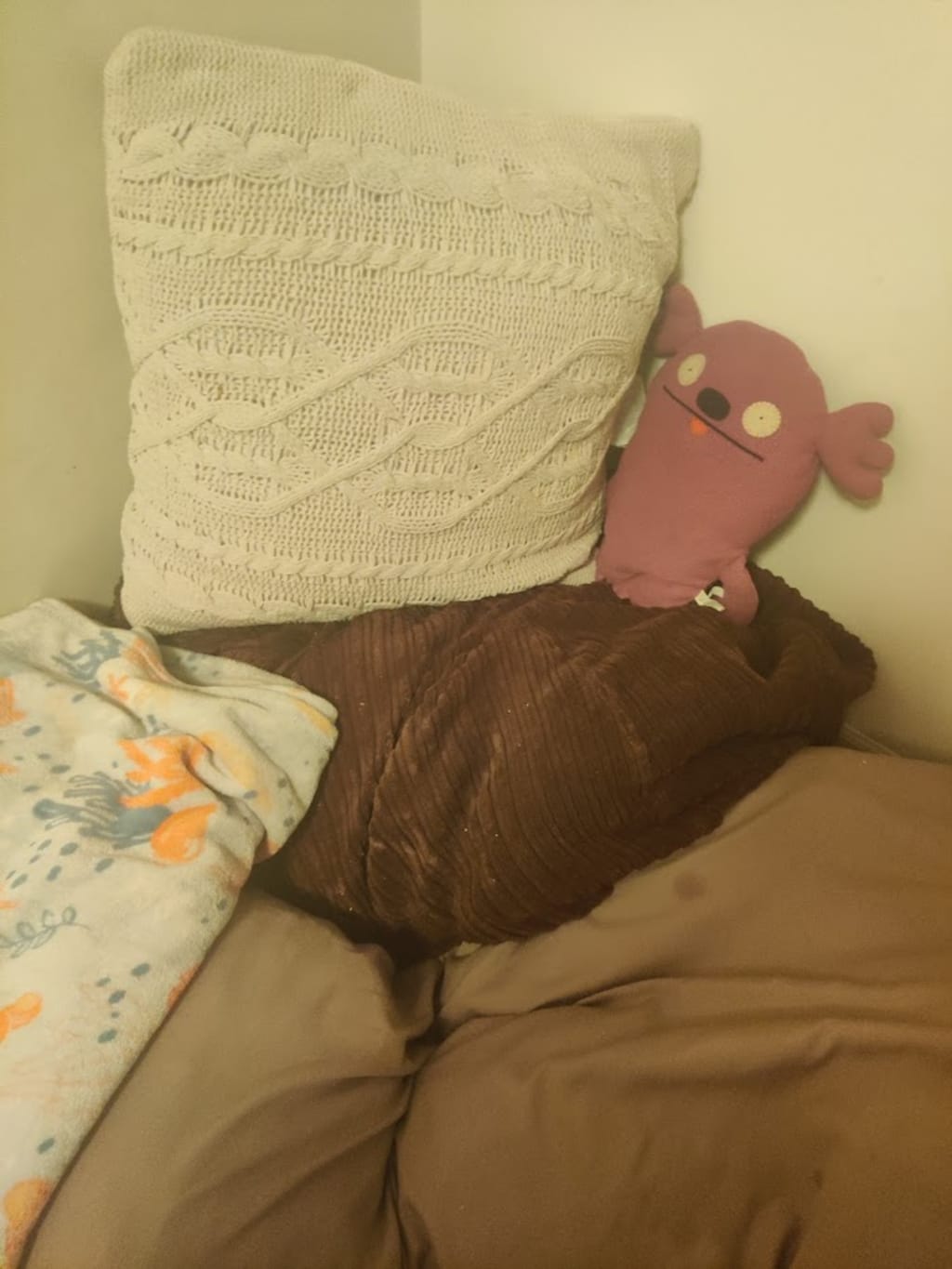 Mr. Kasoogi enjoys some relaxation in the Goblin corner
One of the first conversations me and my partner ever had was over text on their way to help move my sister's family in to the house we now all share. My partner was my sister's friend and we had met twice before this text exchange, but we did not know each other very well and had not interacted overmuch on those two meetings. We had started talking because I had reached the house first and we were simply coordinating plans for the day, and over the course of this conversation they asked me if the new house had any good "Goblin hiding spots." My partner often refers to themself as a goblin and tucking themself into small, secluded corners to get a few minutes of alone time gives them a feeling of safety and control over their surroundings. Not one to disappoint or give up the chance to be a bit of a showman, I began filming and sending a series of short video tours of potential hiding spots for one of such tendencies throughout the house. This whistlestop tour included tucked away corners of rooms, the downstairs half bathroom, and most importantly the sizeable walk in closet attached to what would be my new bedroom.
Now at the time of sending this I had no idea that over the next two months me and this person would begin dating, experience some serious shared trauma, move in together, and find ourselves in a fast developed committed relationship spawned entirely within a global pandemic. Fitting the contents of two lives into one space is never easy, but I allow myself the concession to say our circumstances were particularly hectic, and in this unique and difficult situation the necessity of creating room even with lack of space was particularly high priority. With this in mind, one day while frantically attempting to organize the disaster area of two lives dumped into one room, I stepped into the walk in closet and began reimagining the space.
I pushed boxes of old, unread comics collected with the allowances of my childhood to corners more fitting the cobwebs they occupied in my mind, put boxes of memories and relics from life before quarantine up on shelves where they could be more easily forgotten, and, in the far corner of the closet, I took the twin sized mattress that makes up the inside of a "Cordaroy's" bean bag chair I had received 5 years prior (and sat on very little in the last 4) and tucked it into the space. I laid down blankets and dragged a box over to function as a table. I had very little to truly build a space with, but I believe it was the care and energy I put into the conception of this space that made it special. When my partner woke up from the nap that had been occupying them for the time of my amateur foray into interior design, I introduced them to "the goblin corner". They fell in love instantly.
The goblin corner has become a full second room in our space in the house, making our bedroom feel more like a small apartment than a single room. It is a place we can go to be loud when the other needs quiet, to cut out light when the other wants to be active. It is a space that feels truly secluded; it allows thought and emotion beyond the perception of housemates or the outside world. We have slept there, cried there- we have even once had the occasion to use it as a guest room. The opportunity in a space that is at times cramped and crowded to depart to a place that can be entirely closed off and claimed for one person has been entirely invaluable to the forming and upkeep of our cohabitation, and the times where we are able to retreat there together and be wrapped in a space we completely control, separated from the world by two partitions, is time I would never be able to communicate the value of adequately in this medium. It is truly a sacred space in our lives and one of my greatest achievements of creation with few resources and little time.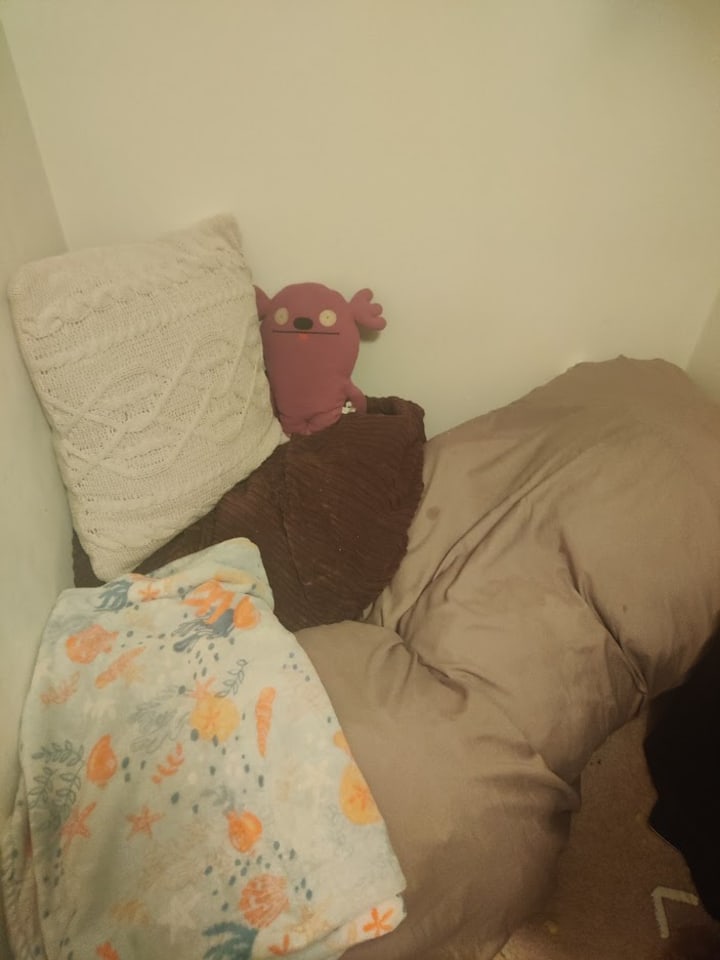 In the ensuing months, as life has gotten more complex, so has our space. For one, our closet now also houses the food and water for our kitten, and that has made completely closing the door more difficult. We also were able to purchase a couple accessories for the space, including a power bar to allow electronics to be charged or brought in and a big cozy pillow to make lounging easier. We also began using the liner for the Cordaroy to store extra clothing and made that into a bit of an expansion. Through all of this the spirit of the space has not changed and we still spend time there frequently. If you have the opportunity, I encourage you, find some space to reimagine. You don't need a lot to truly take ownership over your space, and nothing compares to taking residence in a place you have made entirely your own.