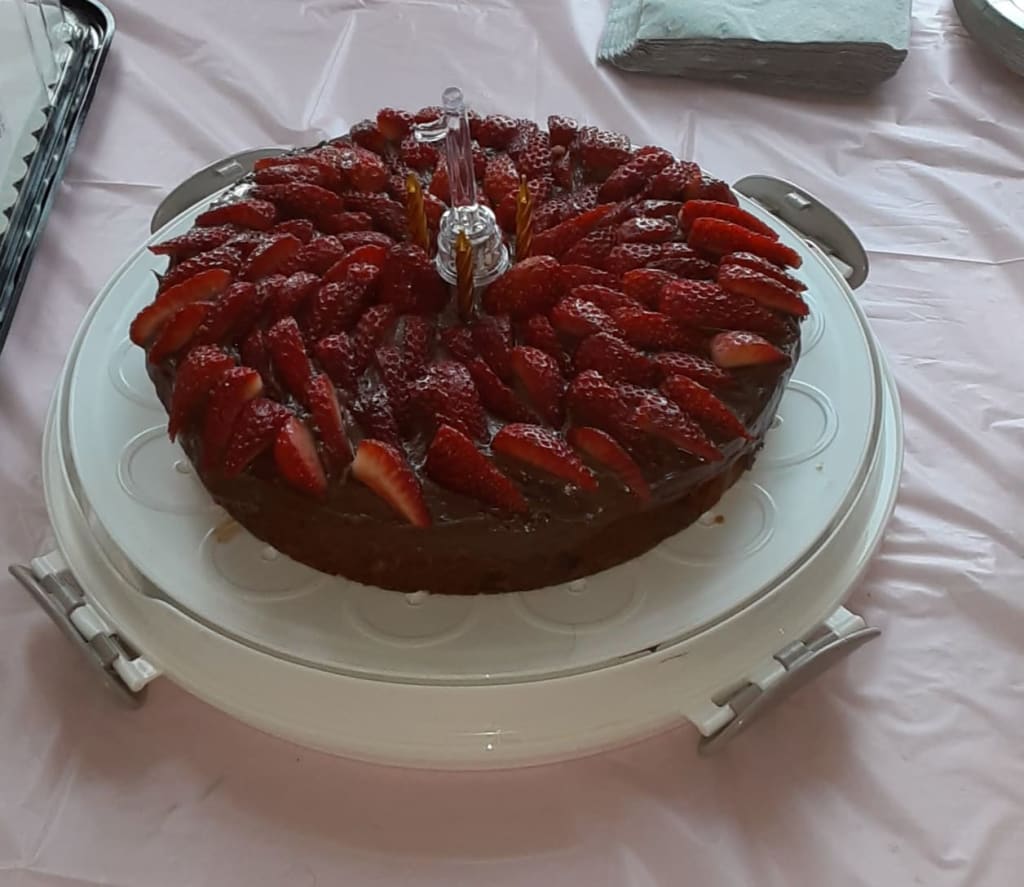 My peace is hard to find. I am going through a lot, and it is not often I get time to do anything that brings me peace. I am out completely on my own for the first time, and being ADHD and autistic that has been a huge struggle for me. Pair that with me having a one year old who is being endangered by DCYF and my narcissistic ex, going to school, working a ton, and fighting to get custody back because DCYF discriminated against me for having disabilities, well, I do not have a lot of peace.
I do have two things that help to bring me peace, though- even if I don't get to do it a lot. The things that I love are cooking/baking, and writing poetry. I have always been a bit of an over-sharer (thanks neurodivergence and trauma), so I am very big on sharing a piece of me with everyone I meet. One of my favorite and best ways to do that is through cooking, baking, or writing. My writing has my heart and soul in it, as many will see the more I put my stories and poetry on here. Each story, each poem, I share a piece of my soul; a piece of my heart. Many people can see how that is possible for writing, but many would never think of cooking or baking the same way- how can someone possibly share a piece of them in their food you may ask!
Well, I am weird, and my cooking and baking definitely shows that. I love to add my own personal flair to every dish! I am not as big a fan of cooking for myself, but when I am cooking with others in mind I excel. I have been working pretty hard to be able to even do basic cooking, because my mom never let me in her kitchen when I was growing up- something about me destroying her clean, orderly kitchen, or burning the house down or something (Ha. Ha. Thanks ma), but what are you gonna do? So, when I moved out on my own, it was a big struggle to cook.
My microwave has been my best friend most days, I won't lie. But it seems to be somewhat second nature for me to create delicious foods; once I go in and look at what I have, I run on pure instinct, and it seems to work very well as long as I don't stop to doubt myself! My favorite is cooking and baking for my little girl. I only get to see her three times a week, so I always try to give her the best of me whenever I get to see her, and that includes the best of my cooking! Her favorites so far that I made are pork papaya banana pancakes (lactose free, because she is lactose intolerant), bacon corn tortilla and protein spaghetti stir fry, and her birthday cake for her very first birthday (Don't ask me how it has already been a year, I can't believe it either)! Her birthday cake is my favorite too, and the only one I can eat because I was raised vegetarian and can't eat a lot of the foods I make for Amariana. I made sugar-free (too young for sugar!) lactose-free apple pie banana flavored cake, with sugar-free chocolate frosting, and strawberry slices on top, and it was a huge hit! Everyone tried a slice, and nobody could even tell it was sugar-free because it was still sweet and delicious! I made the recipe myself, and I was super nervous about it because I didn't want to mess up her first cake, but once I began working on it, it came easily to me, and came out amazing. The process of baking, or cooking, or even prepping things to cook later, are all really peaceful and fun for me. It makes me wish my mom had let me in the kitchen all these years- maybe I would have gotten even better by now. But alas, I guess we will never know.
When I am cooking, prepping, baking, and writing- especially poetry- I get into this hyper-focused zone of serenity, and it is the most wonderful feeling in the world to me behind cuddling my little Amari! I have been an avid writer since I was four, and while I may have gotten a late start at twenty one with cooking and baking, I have grown to love it very quickly. I have made anything from cheesecake, to quiche, fried eggs to pork pancakes. Cakes and pies, and anything in between! It has been such a great learning experience, and it has shown me that I truly do have what it takes to be on my own, and to raise my baby girl. If I can learn something this quickly that I had never done before, and learn to do really well with lactose-free, cooking real meat, and cooking totally sugar-free this quickly, while in the throes of court and school and work, and raising my daughter directly and from down the street despite it breaking my heart, I know I can handle whatever life throws at me! I know I am strong, and resourceful, and cooking is a great way for me to show it. I absolutely love making amazing concoctions out of the weirdest items I find at the end of the month! I can turn things you would never think of into amazing creations, and it feels amazing when people try my food, and actually love it. I often have to avoid telling them what is in it before they try it, because otherwise they won't be willing to eat it, but I have never had someone not absolutely love my creations, even after they realize what is in it!
I can't wait for my daughter to have more than four teeth, so I can show her the amazing world of food I have found! I also can't wait for her to be old enough to show her my love for words, and read her my work and have her actually understand it all. She already has a strong love of books, just like me, so I can't wait to share writing with her. I hope one day to be able to cook, bake, prep, and write with my daughter, as equals. That will be my true peace. That is my end goal for the future. To live in peace with Amariana.