90 day fiancé Season 9 star Thaís & Patrick Give Birth To A Cute Daughter Aleesi
Baby Aleesi Ramone Mendes, the daughter of Thas Ramone and Patrick Mendes, was born after a grueling 23-hour labor.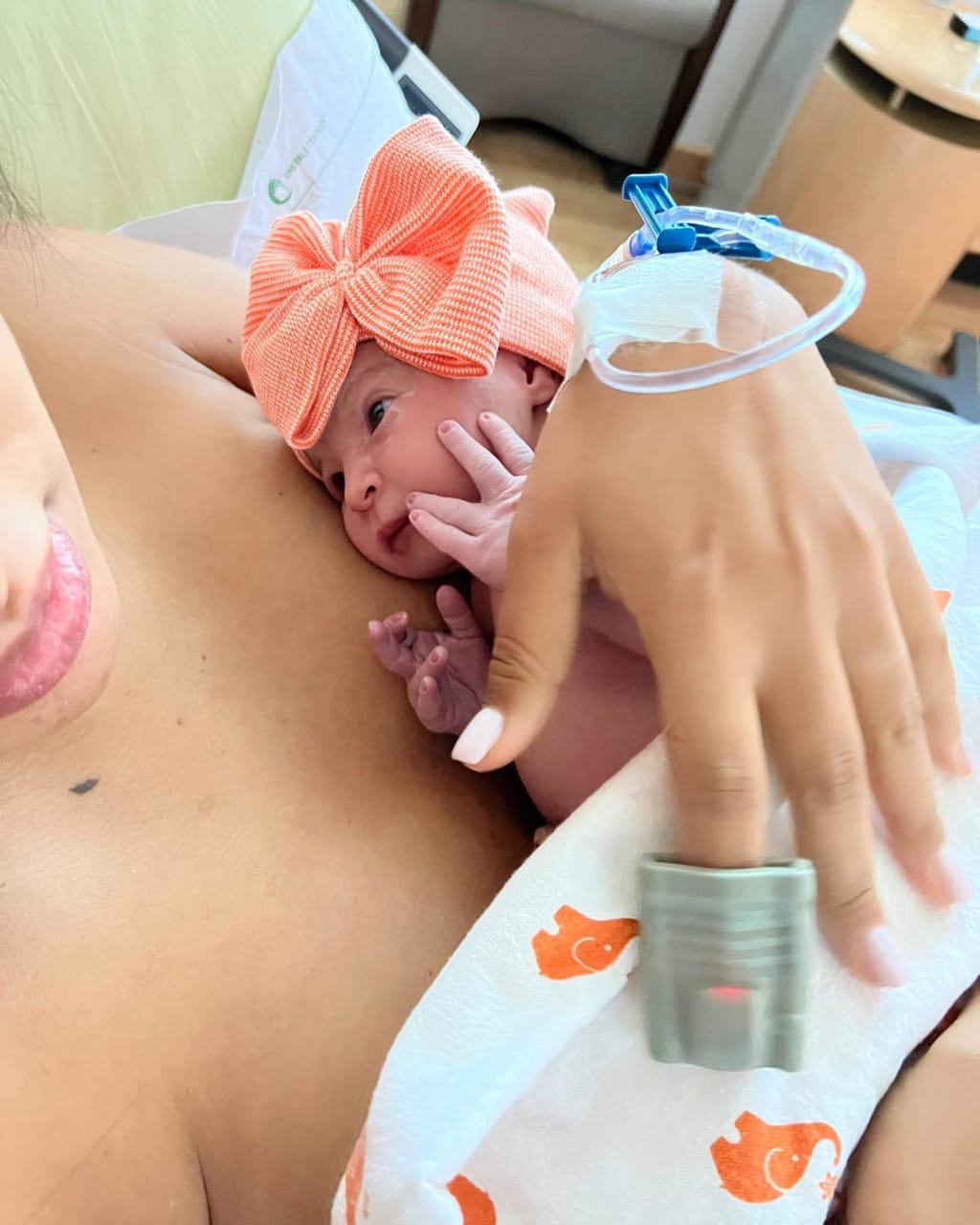 thaisramoniee instagram
November 15, Patrick Mendes and Thaís Ramone became first-time parents to a daughter whom they called Aleesi Ramone Mendes. This little girl was their first child together. The most current season of 90 Day Fiancé introduced viewers to Patrick and Thaís when Thaís uprooted her life in Brazil to join Patrick in Texas. During this season, viewers got to know Patrick and Thaís.
During their journey together of ninety days, the pair encountered a number of challenges, the most significant of which were Thaís' father's lack of support for their union, Patrick's brother's turbulent relationship with the couple, and trust concerns resulting from Patrick's previous infidelity. In spite of the challenges and challenges they had, they were able to be married in February 2022, and they made the announcement that they were expecting shortly after that at the 90 Day Fiancé Tell-All.
According to Us Weekly, the couple, who are first-time parents, welcomed their daughter Aleesi on November 15, weighing in at 6 pounds and 4 ounces. After the birth of their daughter, Patrick and Thais issued a joint statement in which they said, "We are filled with love for our newborn girl, Aleesi! We were both really anxious leading up to the arrival of our first child, but we feel so grateful to have been given a healthy baby girl who is just beautiful in every aspect.
Since Aleesi was born, Thaís has been quite active on her Instagram Story and feed, and she has shared frequent updates from the hospital while she is there.
Thaís Ramone of 90 Day Fiancé has stated that she experienced a panic attack during her epidural.
In one of her updates, Thaís wrote that she had been in labor for 23 hours and that she was feeling quite anxious about getting an epidural. The text that Thas composed read, "Friends, you said that the epidural was wonderful. I feel like I need to inform you that I had a minor panic episode because of this haha."
Thaís , Patrick, and the baby are all doing well despite the fact that Thaís ' labor was quite protracted and taxing. The Instagram Story that Thas posted had a number of congratulatory comments from fans, family members, and fellow 90 Day Fiancé co-star Kara Bass. Additionally, Thaís shared a video of her first meal as a new mother, which was takeaway sushi from the hospital.
Additionally, a carousel of photographs and videos showcasing Baby Aleesi can be found on her parents' Instagram grid, along with the remark "Hiii everyone. Take a look at this adorable little cupid. Whom do people most often mistake me for?
The new parents look like they are having an amazing time after the arrival of their child. The challenges that the pair had throughout their season of 90 Day Fiancé appear to be a distant memory at this point. However, the subject of Patrick's brother John Mendes continues to be one of the most pressing concerns for supporters. There is no doubt that fans are curious as to whether or not John still resides with the couple and how his interaction with Thaís has developed after the show's conclusion.
Throughout the entirety of the ninth season of 90 Day Fiancé and during the shooting of the Tell All, John was a contentious and troubling character. He was exciting to see, but his actions have divided the audience's opinions. Some viewers have described John as poisonous, while others have said that they enjoy seeing him in the episode of 90 Day Fiancé called "Pillow Talk."
Although Patrick and Thaís were not the most well-known pair when they first featured on 90 Day Fiancé, Thaís has amassed quite a fanbase in the time since their season aired on the show. Fans are showing an increased interest in seeing the first-time parents navigate their relationship with their newly acquired uncle John.
It's possible that the family may make an appearance on an upcoming episode of 90 Day Fiancé: Happily Ever After. Given that more and more couples featured on TLC's 90 Day Fiancé are having children, the network might want to consider developing a new spin-off that focuses on these families. Fans of the ninth season of 90 Day Fiancé should also keep an eye out for the newest addition to the TLC family, as Kara and Guillermo Rojer are expecting their first child in late November.
About the Creator
I'm 24

,

I'm Just In Love with the 90 day fiancé and different stories + the possibility of a better future for myself | Join My

Facebook Group

we are over 21k people | visit our website

hotseatmag.com
Reader insights
Be the first to share your insights about this piece.
Add your insights