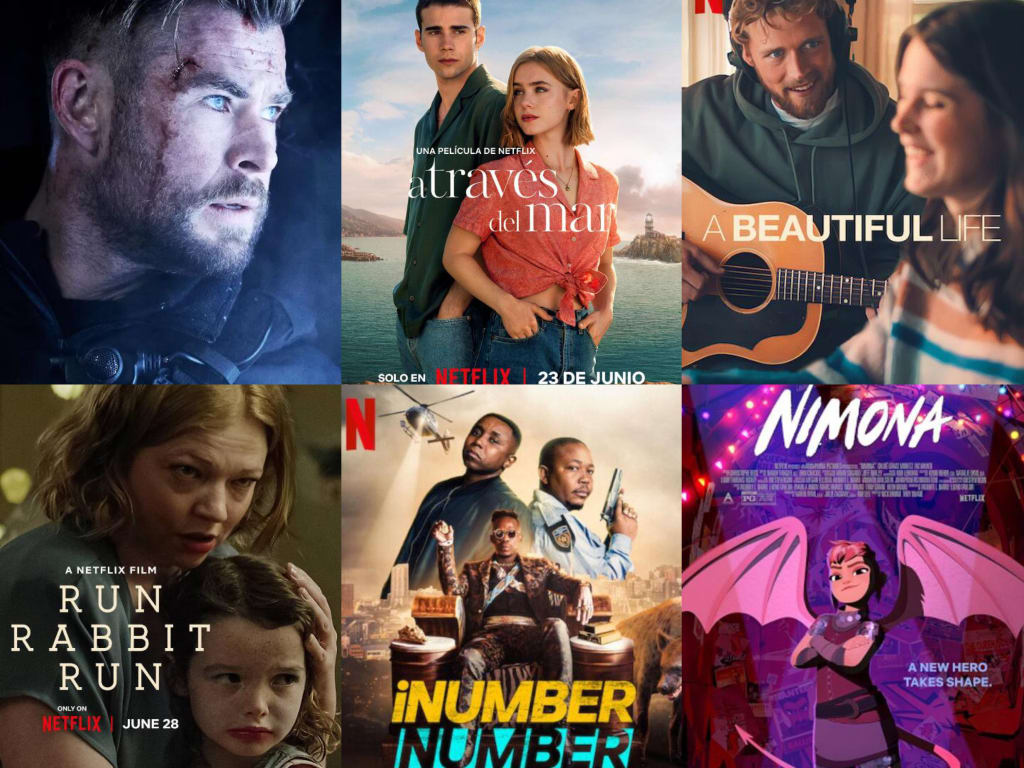 As always, there will be some new movies coming to **Netflix in June,** and some videos leaving as well. Here's a list of the top seven new movies to watch, maybe some movies will be your favorites.
A Beautiful Life
**Available on: **June 1 | **Director:** Mehdi Avaz
Netflix is kicking off June 2023 with A Beautiful Life, a feel-good story about a fisherman who dreams of becoming a singer. It's a classic rags-to-riches story that doubles as a romance since the wannabe singer will get entangled with the music producer helping him reach stardom.
You Do You
**Available on:** June 9 | **Director: **Cemal Alpan
Tapping on the anti-work concerns of Gen Z, You Do You is a new comedy about a young woman who has to quit her bohemian life and find a blue-collar job after being evicted from her building. But, of course, working from nine to five is not anyone's dream, so when faced with the hardships of life, Merve (Ahsen Eroğlu) will also come up with a backup plan: create a revolutionary dating app where people meet in masks before deciding to take their relationship to the next level. The Turkish-language movie looks like the perfect story to laugh about the everyday struggles of work while also remembering there's more to life than shifts.
Extraction 2
**Available on:** June 16 | **Director: **Sam Hargrave
In 2020, Extraction had the biggest premiere in Netflix's history. So, of course, the streamer was quick to announce a sequel bringing Chris Hemsworth back to fight bad guys, blow things up, and maybe beat down some children. In the sequel, Hemsworth's black ops mercenary is tasked with another deadly mission, this time rescuing the family of a ruthless Georgian gangster from the prison.
Through My Window: Across the Sea
**Available on:** June 23 | **Director:** Marçal Forés
Through My Window: Across the Sea is the sequel to 2022's hit Spanish erotic romance Through My Window, based on the novel of the same name by Ariana Godoy. The first movie followed Julio Peña as Ares and Clara Galle as Raquel as the couple bonded thanks to a pirated Wi-Fi connection, starting an intense romance. Now, in the sequel, Ares and Raquel will face new challenges after being forced to keep a long-distance relationship that threatens to split them apart. The sequel promises to raise the temperature with steamy scenes, and with so much at stake, fans will surely be glad to re-encounter these characters.
iNumber Number: Jozi Gold
**Available on: **June 23 | **Director: **Donovan Marsh
Ten years after the iNumber Number thriller series introduced the world to the urban landscapes of South Africa, series creator Donovan Marsh is back to write and direct a movie sequel for Netflix. The movie brings back the cop duo Chili (S'dumo Mtshali) and Shoes (Presley Chweneyagae) as they fight against a powerful crime lord known as Hyena Man (Bongile Mantsai). Just like the original series, iNumber Number: Jozi Gold is expected to bring the action to classic locations of Johannesburg, the biggest city in South Africa.
Run Rabbit Run
**Available on: **June 28 | **Director: **Daina Reid
After many years stuck in development hell, Nimona is finally being released. Based on a graphic novel by ND Stevenson, Nimona tells the story of a young agent of chaos who allies with a former knight to dominate the world in a medieval setting. The titular character has shapeshifting abilities Stevenson used to explore gender-fluidity and transsexuality, which turned Nimona into an LGBTQ+ icon. That's why we were quite excited to learn Blue Sky Studios (The Ice Age, Rio) was developing an adaptation.
Referral: Important Tips to Download Netflix Movies for Offline Viewing with 1080p Quality.
Reader insights
Be the first to share your insights about this piece.
Add your insights