7 Best Answers to Trending Argument, 'JIDE/ANITA'
What's the right answer?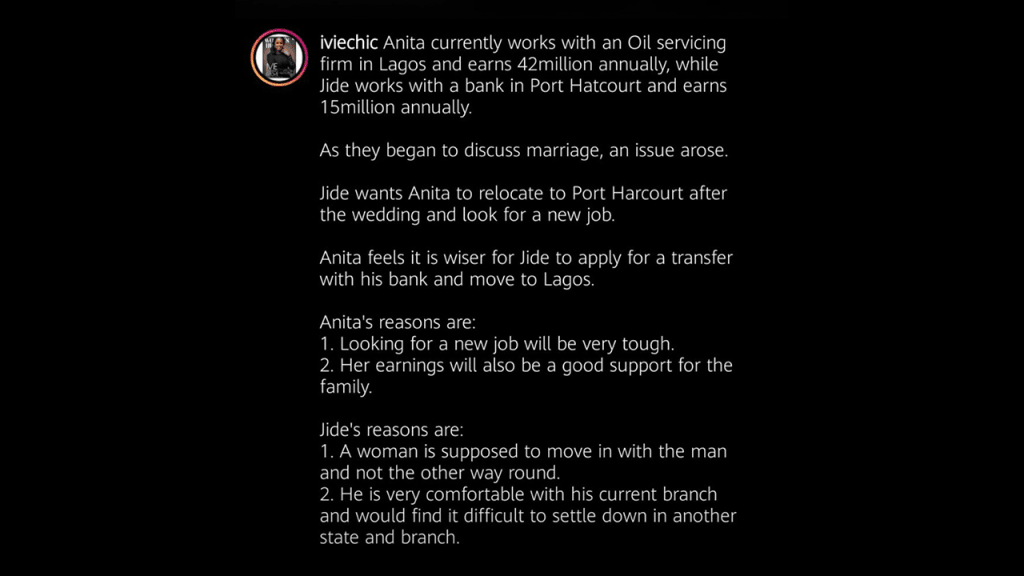 What's the right answer?
This is what Twitter and Instagram have been trying to find out throughout today and yesterday.
If you don't know anything about the Jide/Anita argument, don't worry, I've got you covered. That's why I'm here (and why you should be following my Facebook page 😉)
Yesterday, 2 trends started going on Twitter: one trend was Jide, the other was Anita. When you clicked on either, the same picture came up, it was this picture and the picture posed a question that has Nigerians everywhere divided.
The post reads:
Anita currently works with an Oil servicing firm in Lagos and earns 42 million annually, while Jide works with a bank in Port Harcourt and earns 15 million annually.

As they began to discuss marriage, an issue arose.

Jide wants Anita to relocated to Port Harcourt after the wedding and look for a new job.

Anita feels it is wiser for Jide to apply for a transfer with his bank and move to Lagos.

Anita's reasons are:

1. Looking for a new job will be very tough.

2. Her earnings will also be a good support for the family.

Jide's reasons are:

1. A woman is supposed to move in with the man and not the other way around.

2. He is very comfortable with his current branch and would find it difficult to settle down in another state and branch.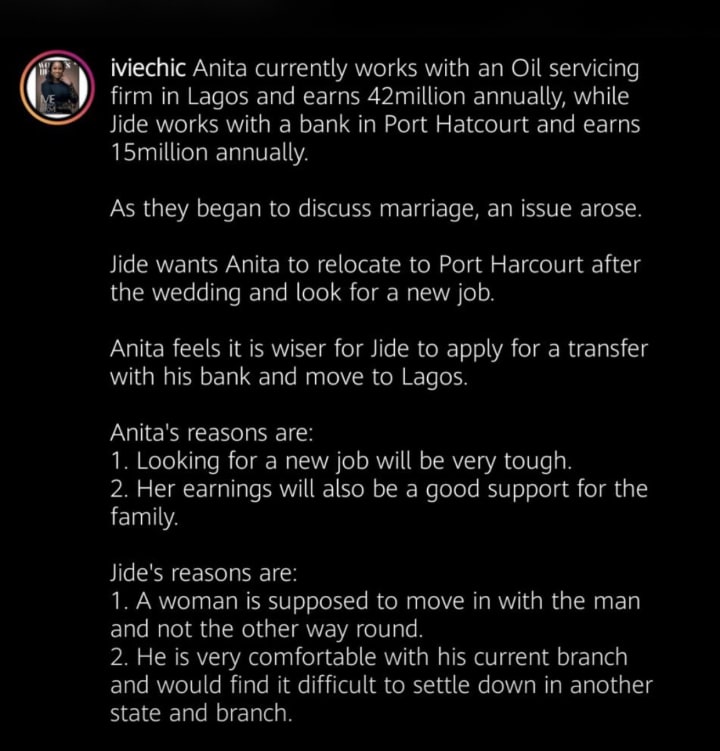 So now the question on everybody's lips is: Whose Side Are You On?
The competition has been fierce and so today, I'm going to show you the 10 best responses the argument has gotten.
Are you ready? Then let's go.
**Be sure to like and follow my Facebook page so you don't miss out on any new and interesting stories I post every single day.
1.
The first person we have is this jokster that's looking for his own Anita. Please, if you know of any Anita you can give Ifeanyi, there is his Twitter handle below, help a brother out! 😂
2.
This user feels like Jide clearly doesn't know what N42 million is. He's saying that Jide should make the move because it's a lot of money and Anita could even hook him up with another job. Better still, he could also start a business.
3.
This user thinks that Jide should move but not stay in the same apartment as Anita because it is that sense of freedom that makes a man.
4.
This user thinks Anita should consider moving because the man is the head of the house. Furthermore, the day that Anita throws it back in Jide's face that she earns more than him, that's the day we will see why Jide isn't foolish.
5.
This Twitter user also thinks the same thing. That Jide moving might make Anita become proud.
6.
This next user understands what the last 2 users are saying but feels like if that's the case, where he doesn't want her to feel superior, then he should simply end the relationship.
7.
Finally, this user feels like there's no need for them to butt heads. There's a middle ground they can't see and that's the weekend.
Now it's up to you: who do you think should move? Cast your vote and let your voice be heard.
If you want to elaborate, you can let us know your thoughts by leaving a comment on my Facebook post.
Don't forget to like my page so you don't miss out on any new and interesting stories I know you'll love.
To catch up on other interesting posts I'm sure you'll love, click here.
Until next time, have a wonderful rest of your day!