30-11-2016
The Balck Book Code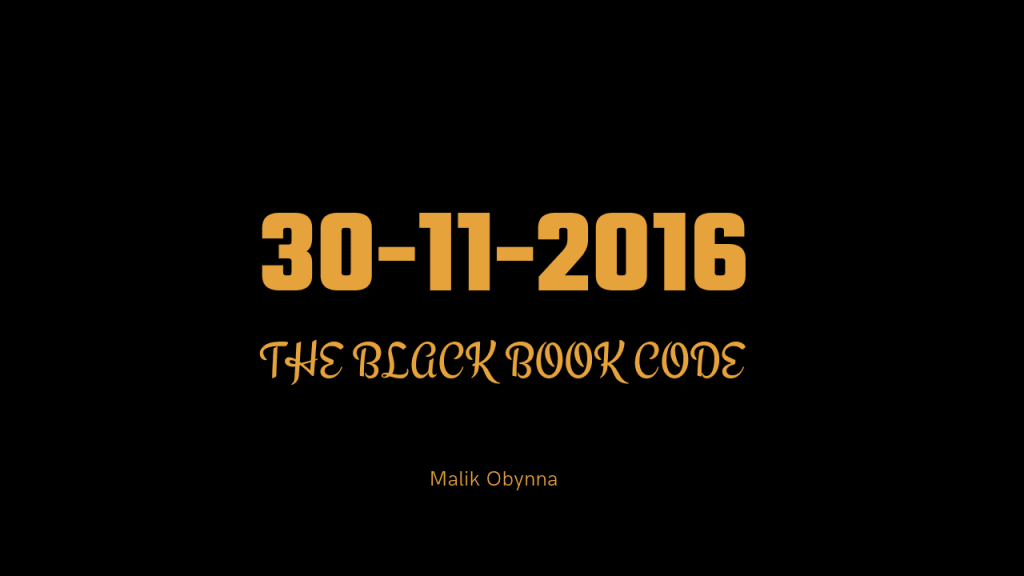 The Bread of Sorrow
Aunty Vero's scolds resounded across my room walls. My room—my sanctuary; the only place I was me and felt at pseudo-peace in this world.
The abuse was traumatic, but worse, coming from a relative. If I didn't die in her house, nothing, I believe, would kill me elsewhere!
My skin got thick from the barrage of insults hurled at me at the slightest provocations. She called me a witch more times than she called me my name.
Could I have afforded it if wishes were horses? My most substantial thought couldn't bring my late parents back to life. I became engulfed with nostalgia, reliving in the beautiful days that held memories of affection: those days when we went camping, running about with hands spread out like eagles soaring across the sky in limitless freedom. I capered about like a cavorting gazelle, enthused with my parents' unconditional love. In hindsight, my high-spiritedness was caged within those walls of misery. I couldn't sing out loud anymore, for my soul became timid!
Endure? I tried hard and knew things would get better, but when and how? Though my lively imaginations and positive memories assured me of sanity, my dark tunnel seemed to offer no light at its end. Sleep eluded me. Death avoided me. Dusk heightened my desire to join mum and dad every night, but dawn filtered into my room, rays of hope through the cracks of my wall. The possibility of beholding a new day eroded my lids with blisters of tears, but I blinked them off, knowing this was no time for a pity party! I must not let her see my tears!
Ma Dami Mothered Me!
"Never let her see you cry," Ma Dami, a motherly friend who was in her mid-seventies, once advised. She was a well-meaning friend whose words I took seriously. Ma augmented whatever I was given at home—making sure I was never in shortage of my needs.
"I wish I can take you out of that house to come to live with me, but she's your relative, and I'm just a stranger." She once said in dismay.
Ma Dami had my pity. She had everything but a child to call her mother. She met me in need of a mother, and we happily embraced the privilege of being family. I fondly called her 'Ma'. Like a child to her, I owed her my life!
Accuser of the Brethren
'The venoms of her scoldings, which hurt like the viper's strikes, will never again precipitate tears from my eyes. Thank God, I've outgrown her physical torture, or so it feels,' I thought.
But making mistakes is human, more so when the person involved is a doer. Corrected errors in life make for a better personality. But in her house, perfection was a requirement that I humanly lacked. That house sapped me of all human emotions—love, hate, joy, sadness; you name it. I walked about like a robot!
______________________________________
Ma Dami and I often met in church and a few times at her place. I liked going to church because I got to see her more. On this particular day, I met her absence at the fellowship. It was unlike her. Ma wontedly informed me of her itinerary, and she didn't mention travelling anytime soon.
______________________________________
"Nwaka! Go to the grocery on High Street and buy me some fruits. Stay there for ages or never return if you like; I'll skin you alive, should my spat spittle dry off before your return. Better hurry up, you nitwit!"
"Okay, aunty" Overjoyed that an opportunity to check on Ma had shown up, I bolted out of the house like a flash of travelling lightning.
Knock-knock, I tapped on the gate. "Uncle Okon, good afternoon; Ma, dey for house?" I asked in Nigerian pidgin.
"Ah, Nwaka, something happen o. Ma bin faint yesterday; so dem rusham go hospito. But dem fit com back today shaa."
"Okay, uncle; thank you."
I said a quick prayer for her as I took brisk strides to run the errand, to avert the wrath of the thunder looming at home.
The Perfect Plot
Ma Dami remained in the hospital for weeks. Uncle Okon said she wasn't getting better. I sent my regards repeatedly and prayed incessantly. For the most part, I wished I could see her.
So much had happened and was still happening. I knew Ma's advice would have gone a long way to pave my path. My aunty graduated from calling me a witch into calling me a Devil. I became responsible for whatever went wrong at home.
Her hostility intensified when I passed my examinations, and her daughter didn't. I wasn't a witch and knew my guilt. My fault was moving in with someone who didn't deserve me. That was my predicament.
______________________________________
On my way to the market one afternoon, I bumped into Ma's right-hand man who gave me a fill-in and offered to take me to the hospital.
"Oh! Uncle Joe, thank you, sir; I'll do as you've said."
______________________________________
Alone at home and having done all my chores, I was good to go to the market. I came up with the idea to have Ma's maid shop for me to accord me a visit to the hospital and to spend more time with Ma. All worked as planned.
Ma Dami looked tired but tried smiling and talking. "Don't talk; your presence is my present. I've missed you so much, mummy." We hugged, and I availed myself of her comforting warmth and tactile skin again. Her limbs trembled, but her grace was steady.
"Guess what, mum. I aced all my papers, and my school offered me a part-payment scholarship…."
"'Great! You're not one to disappoint me, my daughter!' 'I've always believed in you.'"
"Thank you, mummy, but … she wasn't ready to pay for my university education."
"No worries; that'll be taken care of."
I relished every moment I spent with her. We had a little more chat, and she involuntarily dozed off. Then, I knelt by her bed and said a prayer before leaving.
Throes of Woes
"So you now move about with men? Worse is you now bring them home! I will clip your grown wings today. Not in this house—you cannot be a prostitute here. Look at this good-for-nothing that I'm trying to add value to her life. Oh! You're leaving this house today," she ranted. She had a plan of throwing me out of her house; hence, she treated my explanation and pleas as impenetrable as the water washed off a duck's back. She saw me alight from Joe's car.
It was past twilight, yet I had nowhere to go. When I got weary of my burden and dog-tired of roaming the streets, fate settled me into an abandoned building at the outskirt of town. At dawn, I went back to the hospital, and a nurse informed me that Ma Dami had been transferred to another hospital because she relapsed from her state of recovery.
Day in, day out, I checked to see if Ma had returned, but the gate was locked. Days grew into weeks and months with no word from Ma. I gave up trying and looked for ways to survive.
______________________________________
Life on the street was precarious. I found a bevy of girls who, like me, were circumstantially out of homes. Hardly knowing what the next moment would present, our lives were like suspense in movies. For heightened survival instincts, we imbibed the wolf mentality and operated as a team. We lived close-knit and watched each other's backs.
______________________________________
From a distance, I saw the light in Ma's house. Elated, I ran to bang on her gate, calling uncle Okon.
"Who are you, and what do you want?"
'Has Ma changed her gateman?' I thought. "Sorry, please, I'm looking for Ma Dami. I'm like a daughter to her." I almost mumbled.
I was measured with disdain as though I was the filthiest creature on earth. Granted, I hadn't taken my bath for two days, but I had a change of clothes on that occasion.
"Wait here," the stranger ordered and went inside.
I waited for what seemed like ages before a dark, mid-aged woman came out.
"Young lady, did you say you're looking for Ma Dami?" She asked.
"Good evening, ma. Yes, I am."
"What's your name?"
"Nwaka, ma. Yes, Nwakamma."
"Come with me," she said to me, after a moment of sympathetic gaze.
When I found out that Ma Dami had passed away, I couldn't hold back my tears this time: the last time I wailed like this was almost ten years ago when a ghastly accident claimed the lives of my parents. I wept for what felt like an eternity. Exhausted, I slept off before I realized it.
The Little Black Book is Mine
"'Nwaka!' 'Nwaka!' 'Wake up; it's getting late,'" the woman jostled me.
I woke and beheld a little black book, which she held. The book was unique, and its cover and use were akin to what I now know the Moleskine branded books to be.
This book belonged to Ma, and it was sacred to her. Seeing it with this woman reminded me of a resentful past. It felt like a repeat of what happened to my parents' precious possessions. How, like vultures devouring carcasses, folks shared their belongings and placed me under the mercy of a mean relative. Could they have done the same with Ma's properties?
But far from my fear, she was given the book to pass on to me.
"Ma Dami said you'd figure out how to unlock it and know what to do with your findings." She handed it to me.
"Thank you, ma," I muttered and left immediately.
I got back to the abandoned building where I stayed with my new family. I met them fast asleep. Mary, the closest one to me, could outwit a pig in a snoring contest. I went to my corner and laid on the bare floor but was wide awake. Involuntarily, my mind replayed the day's events, and I tried everything that came to mind to unlock the book but couldn't.
In my restlessness, the lady's words began to return to me. I recalled her saying she didn't know the original owner of the house. The deceased's family sold the house to her and shared the proceeds to quell the dispute over her properties. One of Ma's relatives, according to her, placed the book and the forwarding message with her knowing that I'll come to look for Ma Dami; more so, they didn't know how else to reach me. It was almost six months after Ma drew her last breath.
My Name in Gold
The first time I saw Ma Dami writing into this Black Book, I was amazed at her commitment to the rote that it made me hone my prowess as a penwoman.
Swayed by curiosity, I had asked, "So what have you been writing, mum?"
"One day, you'll find out, my child." she smiled at me and closed the book. As I pondered, a cool breeze caressed me; then, I sat up and tried 30-11-2016. Eureka! That became the day, Ma aforesaid.
That code was the day I met Ma Dami! Each flipped page of my heritage seemed to open my closed dam to let out tears: tears of joy, this time, which washed off the years stolen by cankerworms! I was the child whom Ma never had yet genuinely loved. The last page was what made me almost lose my mind. My name, *Nwakamma, was penned in gold!
______________________________________
Asides from the house and the cars, cash in the bank was about fourteen thousand pounds—approximately twenty thousand dollars.
______________________________________
I, a broken orphan, became the heiress to Ma Dami's fortunes in London where I now reside—untold mystery, conveyed in a Little Black Book!
________________________________________________________________________________________________________
● Nwakamma — Child is better than anything. (African—Igbo language).