'The Menu' Movie Review
Food, Glorious Food!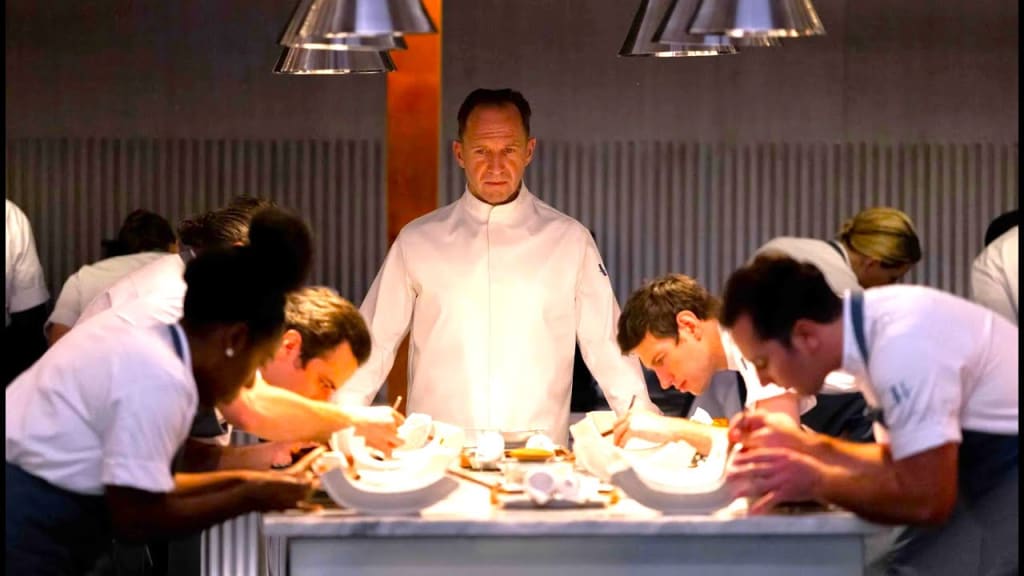 The Menu is a new horror-comedy from, I kid you not, two writers for The Onion. Hawthorne is a an exclusive, upscale restaurant run by the tyrannical, yet charismatic Chef Julian Slowik (Ralph Fiennes). Young couple Tyler (Nicholas Hoult) and Margot (Anya Taylor-Joy) are among the guests for a very special menu, which also includes food critic Lillian (Janet McTeer) and her editor Ted (Paul Adelstein), wealthy older couple Richard (Reed Birney) and Anne (Judith Light), a trio of young entrepreneurs (Rob Yang, Arturo Castro, Mark St. Cyr), and movie star-turned-amateur foodie George Diaz (John Leguizamo) and his assistant Felicity (Aimee Carrero). But Chef Slowik has more nefarious plans for his guests this time, and it doesn't take long for Margot to sense danger.
The trailers for this film really downplayed the comedy of this horror-comedy, and I'm a little conflicted on how I feel about that. On the one hand, it might have given some people the wrong impression, but then again, it made the funny parts more of a fun surprise. The Menu is a really great time! If you're a foodie (which I'm not), or you know foodies (which I do), you'll find it especially amusing. My favorite movie from last year was a cool little drama called Pig that was about a former gourmet chef. That's about where the similarities between the two films end, but one scene from Pig in particular addresses The Menu's primary subject of satire: pretentious food snobs and the nonsense "dishes" they flock to. At what point does food stop being food? It's essentially become just another form of modern art, and we all know that pretentious hipsters will bend over backwards to "analyze" it to sound smart. It makes for some wonderfully hateable characters (though never to a point that they are unenjoyable) and some solid social commentary.
This is a remarkable ensemble cast. Nicholas Hoult is such a weasely dork in this movie, and his character arc concludes with a comically bleak resolution. John Leguizamo plays it almost entirely straight here, and he's among the most sympathetic characters here. The true stars of the film are, of course, Ralph Fiennes and Anya Taylor-Joy. Fiennes plays a sort of hybrid of Gordon Ramsey and Hannibal Lecter (although, oddly enough, not English), and his ability to be sophisticated, funny, and truly chilling all at once is sublime. Fiennes's commanding presence and self-importance are perfectly foiled by Anya Taylor-Joy's character's complete refusal to put up with any and all bullsh*t. She's downright hilarious, despite being the least ridiculous person in the entire movie, and her banter with Hoult is especially entertaining
Like I said, this movie was written by two former writers for The Onion, Seth Reiss and Will Tracy. This is a really sly and witty script, and it does a great job of keeping the viewer guessing. I love the way Chef Slowik's history and goals are gradually revealed and the ways everybody is connected. I will say that the ending, while funny, is a little far fetched. I don't know if I buy the lack of resistance to the eventual finale. But that's a very minor gripe. Finally, I want to give props to composer Colin Stetson for the outstanding score. There are so many different moods throughout this film, and he manages to capture all of them perfectly.
The Menu succeeds in its merging of acidic satire and psychological horror, making an altogether very enjoyable experience. Its stacked cast is put to perfect use, with Fiennes, Taylor-Joy, and Hoult delivering especially memorable performances, and the razor-sharp script will hopefully lead to more feature gigs for writers Tracy and Reiss. It may not be for everyone's tastes, but it's sure to delight those with an appetite for the sinister and the absurd.
SCORE: 4.5/5
TRIGGER WARNING: suicide
About the Creator
I'm an actor and director of stage and screen. But I also dabble in standup, and on this site, horror movie criticism. I'm just a guy who loves horror movies, and I like to share that love with the world.
Reader insights
Be the first to share your insights about this piece.
Add your insights