'Terrifier 2' Movie Review
The Art of the Kill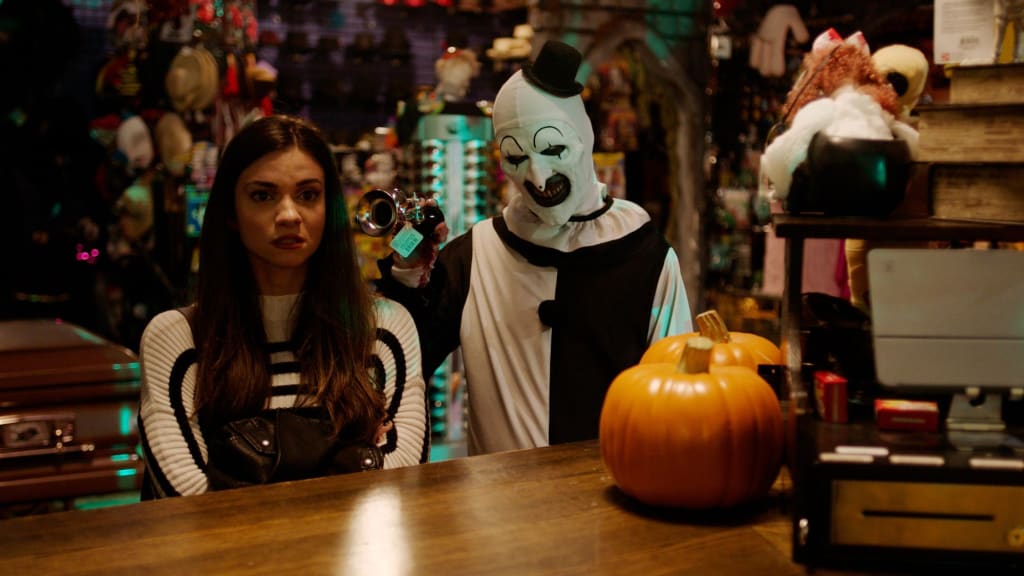 Art the Clown is back in Terrifier 2! This time around, Art (David Howard Thornton) has been brought back to life by dark magic following the events of the first movie. A young woman named Sienna (Lauren LaVera), still struggling with the tragic death of her father years prior, is plagued by nightmares about the infamous Miles County Clown. But when Art begins stalking her and her awkward younger brother, Jonathan (Elliott Fullam) on Halloween night, she'll have to figure out a way to defeat the killer clown and discover the supposed link between the killer and her family.
Writer/director Damien Leone debuted the character of Art the Clown in his 2008 short film The 9th Circle, then played by Mike Giannelli. Giannelli played Art in another short, and then in Leone's horror anthology All Hallow's Eve. But it was in 2018's Terrifier that Art truly became a sensation. Then-unknown David Howard Thornton took over the role and brought an extra special comic menace to the character with his rubber face and eccentric physicality. The first Terrifier was an instant cult favorite, particularly because of one especially nasty kill, which was brought to life with outstanding practical gore effects. It's not a horror landmark by any stretch, but it's a fun little grindhouse gem. Terrifier 2, on the other hand, is truly an achievement. This is a balls-to-the-wall sequel that throws practically everything at the wall, and 99% of it sticks. At nearly 2 and a half hours, it's quite possibly the most epic and ambitious slasher film in decades. Damien Leone not only wrote and directed the film, he was the editor, the sound designer, and he worked on both the digital and practical effects. I'm honestly in awe of this man, and I can't wait to see what he creates next, including (fingers crossed) Terrifier 3.
I truly can't say enough good things about Thornton's performance. He and Leone spent a lot of time developing the character and coming up with new and creative kills, and they outdid themselves this time around. While it's incredibly easy to make a killer clown creepy, it's equally as difficult to make one distinct, and Art is destined to go down in history. We've also got a very solid ensemble of potential victims, yet another aspect of the slasher subgenre that Terrifier 2 excels at. Lauren LaVera makes a great final girl, and she completely owns the absurdity of so many of these scenarios, including a very amusing musical dream sequence. Elliott Fullam is so believably awkward and offbeat that I honestly took a little while to warm up to him, but it was really a testament to how perfect he was for the role. Sarah Voigt plays their exasperated single mother, and I absolutely loved her. It's an archetype that is pretty much expected at this point, but Voigt acts the part so well that I never felt like I was just being shown the same thing I've always been given. There are also a couple of nice cameos, one of which appears in a mid-credits scene, and I have to admit that they got a smile out of me.
This is easily one of the goriest movies I've seen in recent years. It's funny to me that the same year Rob Zombie made a kids' movie, Terrifier 2 comes along and out-shocks his entire filmography. Art's sheer delight in tormenting people is so ghoulishly entertaining that you can't help but chuckle at times, but only after you've done quite a bit of wincing. This also wouldn't have been possible without the outstanding gore effects, most of which were entirely practical. But another thing that distinguishes this movie from most modern slashers is the way it involves the supernatural. While the first Terrifier implied that there was something demonic about Art, Terrifier 2 introduces even more divine elements, not just with Art, but with Sienna and her deceased father, as well. This does two great things. For one, it just makes me crave a third film that much more, because it does a great job of planting seeds and leaving us wanting more. It also evokes the surreal nature of a lot of Italian horror, like the works of Dario Argento and Lucio Fulci, and Leone is clearly a huge fan. Not only do I just generally love seeing people pay homage to movies like these, but it further emphasizes how ambitious Leone and company were when they made this movie, and they deserve high praise for this.
Terrifier 2 is a glorious celebration of grisly excess. David Howard Thornton continues to both endear and disturb as Art the Clown, and Damien Leone juggles multiple hats behind the camera with aplomb. It's one of the most impressive (and unabashedly brutal) slashers in years, and I can't wait to see what's next for Art.
SCORE: 5/5
TRIGGER WARNING: discussion of suicide.
About the Creator
I'm an actor and director of stage and screen. But I also dabble in standup, and on this site, horror movie criticism. I'm just a guy who loves horror movies, and I like to share that love with the world.
Reader insights
Be the first to share your insights about this piece.
Add your insights