Scary Tales Publishing's 'Monster Mash-Ups' Is Pure Creature Feature Nostalgia
A Virtual Smörgåsbord of Monsters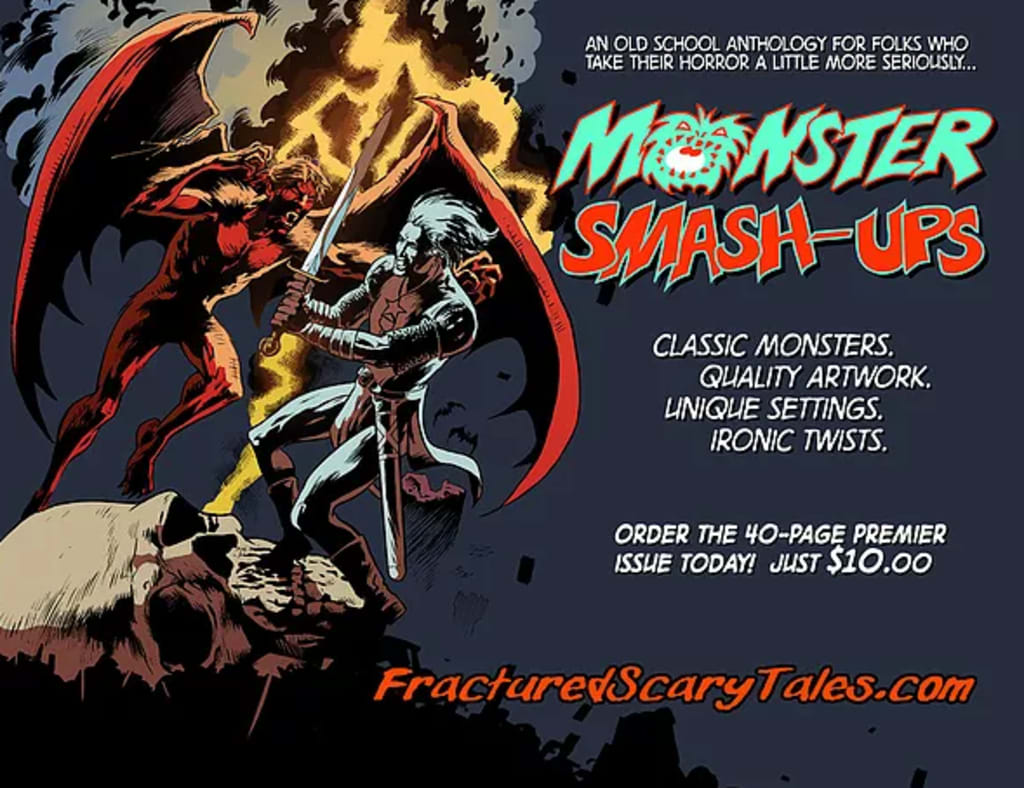 The age of black and white creature features is dead.
At least that's what the CGI-laden blockbusters of today would have you believe. As moviegoers, we do get the rare treat of a purely practical monstrosity, but to see them come to life on the big screen is a rarity. What if the silver screen wasn't our only outlet to relive the golden age of monster cinema?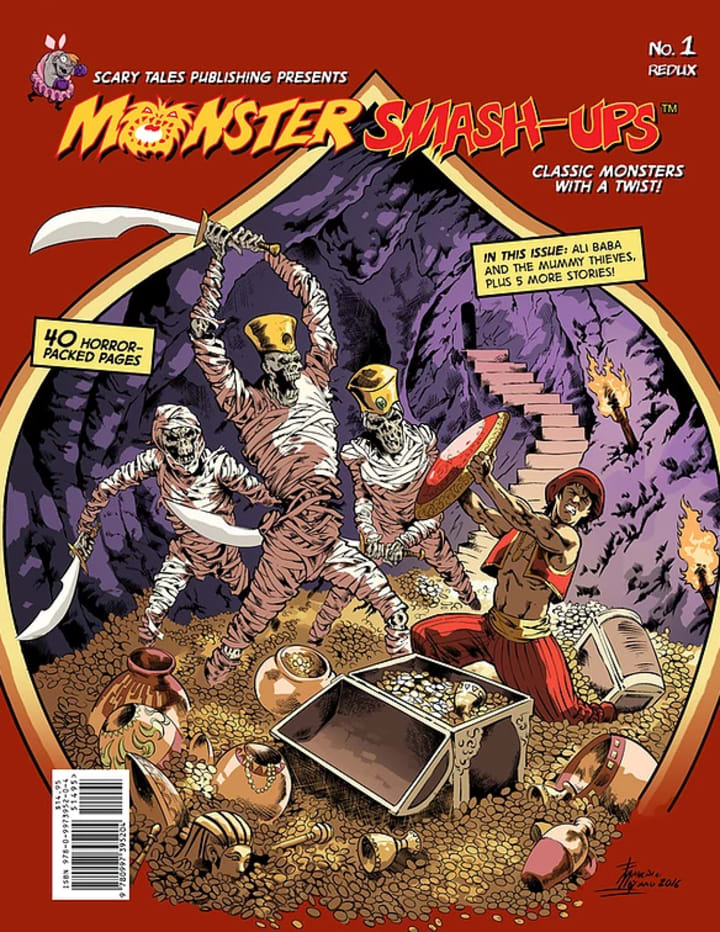 That was a question Kevin M. Glover answered when he shifted his creative focus to Scary Tales Publishing, and the Monster Smash-Ups anthology series. The magic of the Universal Monsters may never resurface in the modern creations of Hollywood, but the talents of Glover, a team of commissioned artists, and the occasional guest storyteller have ensured that they will live on in print.
Monster Smash-Ups is a vessel of nostalgia for children of the 40s and 50s. It may not perfectly capture the magic of seeing Lawrence Talbot transform into the Wolf Man for the first time, but the delightful stories contained within are homages to that awe and wonder. Instead of trying to recreate and rehash, Glover borrows from the original properties to build his own twisted horrors. Many of which have a twist befitting of modern cinema.
No two issues of Monster Smash-Ups are alike as Glover digs deep into the resource of classic (and historical) characters to weave fantastical situations that are both absurd and intriguing. You may have never contemplated what would happen if Sir Percival, the pious knight of King Arthur's Knights of the Round Table, came face-to-face with Dracula, but at some point, Glover did. Rather than merely consider the consequences of such a meeting, he brought it to life on the black and white pages of Monster Smash-Ups No. 1.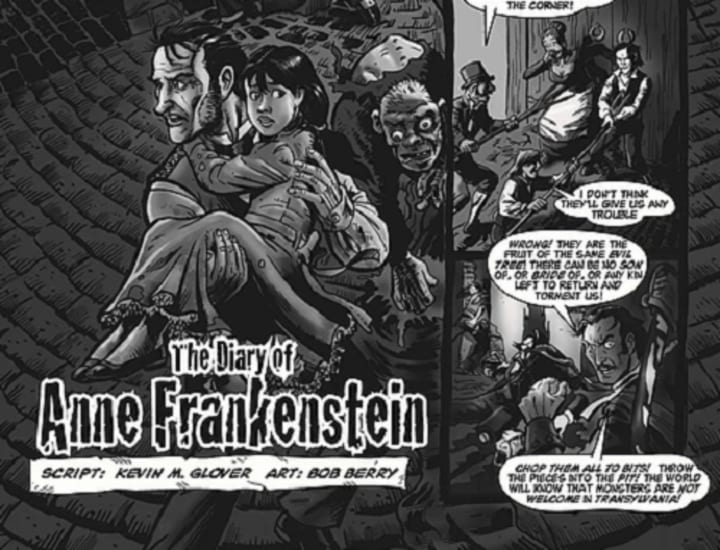 Each story benefits from brevity as Glover gets right to the point. The setup is brief, because he knows exactly why the reader is there—the monsters. There were a few stories that may leave readers wanting more, but as a whole, keeping them short and sweet is best for the series.
The combination of black and white print—which comes courtesy of featured artists like Jethro Morales and Dave Youkovich—and Glover's outlandish stories create a perfect storm of creature feature nostalgia. If not for the occasional use of more modern mediums like Law and Order and Gilligan's Island, it would be easy to mistake these anthologies for the vintage works that released in the era where monsters reigned supreme.
In a way, that winds up being Monster Smash-Up's most significant drawback. The writing, art style, characters, and themes all cater to a very specific audience. They call out to the horror hounds that grew up watching these classic monsters terrorize audiences, and the kin they passed their obsessions down to through movies like Monster Squad. To someone that loves monsters, it's the perfect anthology that is clearly crafted by a mind formed by early-era monster flicks. For readers that grew up fearing the phantoms of slasher movies, and became accustomed to gallons of blood at a young age, the nostalgia may not connect.
Thankfully, the thrill of the Universal Monsters, and the creature features that spawned during successive generations hasn't been completely lost. As Universal's Halloween Horror Nights has proven for several years, Frankenstein's Monster, Dracula, The Wolf Man, and The Mummy are still icons in the horror community.
We may have to face facts that we will never see the completed Dark Universe, and the classic monsters of horror movie's past may never again see the spotlight of Hollywood. Thanks to Glover, and his talented crew of cover artists and designers, however, we at least have an outlet to satiate those pangs of nostalgia for the classic monsters of movies past.
Other Works from Scary Tales Publishing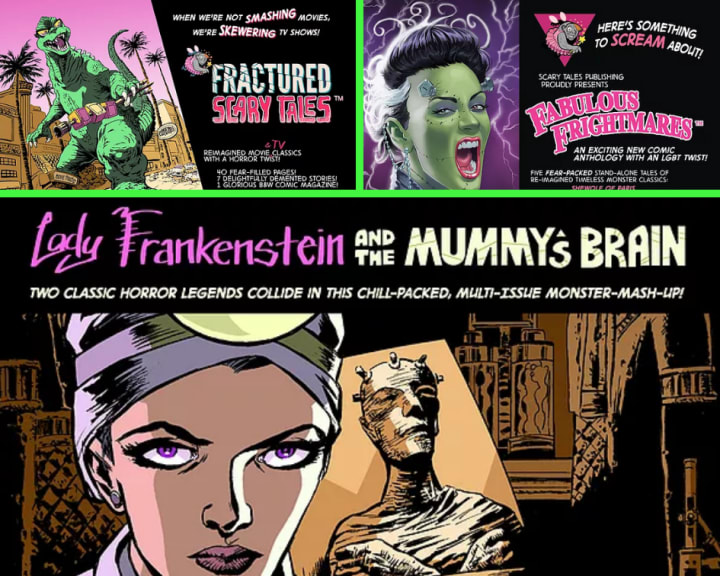 Along with Monster Mash-Ups, Scary Tale Publishing also releases:
Supered-Up Monster Kids
Fractured Scary Tales
Lady Frankenstein and the Mummy's Brain
Fabulous Frightmares
Want to collaborate with Glover? Reach out with your idea to see if it's a fit for Scary Tales Publishing.
About the Creator
Writer | Avid Gamer | Horror Enthusiast | A Voice for All Industries
Writing and building communities are my passions
Featured on all corners of the Internet
Reader insights
Be the first to share your insights about this piece.
Add your insights