Scariest Shows on Netflix Right Now
Looking for thrills and chills? Check out the scariest shows on Netflix right now.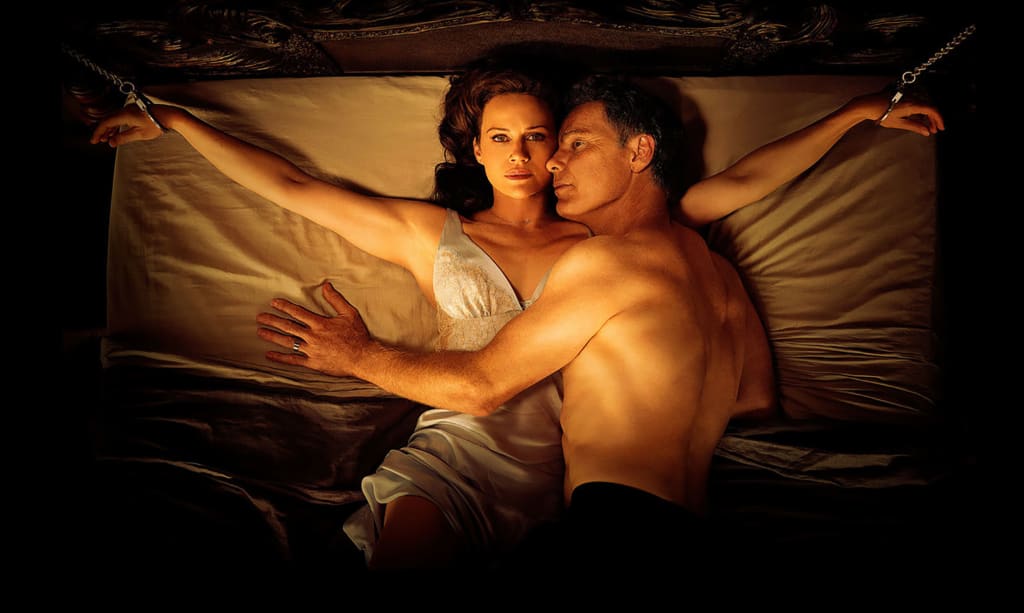 Netflix is the new cable, but unlike cable, there's plenty of cool shows to choose from right at your fingertips. For those of us who adore having a spooky movie on at any given moment, nothing is quite as awesome as a Netflix horror movie night.
The problem with Netflix is also its selling point — there's just so many options to choose from. If you want to get seriously spooked, then you better tune into the scariest shows on Netflix right now.
To make things easier, we decided to weed out the lame horror shows from the seriously scary. Here are our picks for the most terrifying shows you can check out on Netflix, and what makes them so scary.
There are few Netflix Originals that are capable of being quite as disturbing as Gerald's Game. The entire show series starts when a woman wakes up handcuffed to a bed, with her husband dying of a heart attack on top of her.
That alone is pretty disturbing, but it gets even scarier when you realize she's totally alone and desperate for help, help that's never really coming. For people who love watching disturbing stuff, this is one of the scariest shows on Netflix right now — or ever, really.
If you're a fan of old concepts given new life with a fresh new design, this will top your chart of the coolest must watch Netflix Originals out right now.
It's really hard to have a list of the scariest shows on Netflix right now without talking about one of the most terrifying shows on TV. American Horror Story has won award after award, and has become one of the most heavily watched horror shows in recent years.
Every season of American Horror Story has a different theme, different characters, and different kinds of haunting. Regardless of what scares you, there will be a season that will chill you to the bone — and that's what makes American Horror Story definitely worth a binge watch.
Inspired by the slasher films of the same name, Scream was developed by MTV as a new foray into the world of horror. In this series, you get to see a group of teenagers that fall prey to a serial killer. Now, it's up to a young woman to figure out who's the killer — and stop him before he murders again.
Though Scream might not be one of the scariest shows on Netflix right now, in terms of psychology, there's something about the sheer gore and old school horror that makes it a must-see.
Come on, you knew Stranger Things would make the list! This remake of an 80s classic brings a little bit of nostalgia, a lotta bit of conspiracy theory, and a touch of a darker edge to create one of the best horror shows currently in production.
Government agents, corrupt secrets, and panicked parents in an oddly realistic world makes Stranger Things a great movie with a lot of eerie undertones. What's most impressive about Stranger Things is the way the actors just don't seem like actors; they're a bit too real for a TV show.
If you love a dash of realism in your horror, Stranger Things is one of the scariest shows on Netflix right now...primarily because you would probably act the same way if these things happened in your neighborhood.
If you're looking for a seriously dark comedy with a little bit of jump stare fun in there, you should definitely check out Little Evil. While it's not one of the scariest shows on Netflix right now, it is fun and scary enough to deserve a space on this list.
Little Evil is a very clever, very witty take on The Omen, with the same premise but with hilariously different results. If you thought your kiddo was Satan spawn, then you might want to see what happens on Little Evil.
Though it has its cute moments, we want to point out that Little Evil is definitely not a show that's geared towards kids. (If you want to see a list of the best Netflix kids shows, that might be a better place to find content for children.)
Black Mirror isn't necessarily horror, per se. It's speculative fiction that gives us a very eerie glimpse into a future where technology has become a lot darker of an element than it already is currently. Many of the episodes actually are somewhat predictive — with real-life examples having emerged shortly after they air.
However, that in and of itself is what makes Black Mirror such a terrifying series. If you really get worried about the direction that Facebook is heading, then Black Mirror is definitely one of the scariest shows on Netflix right now.
Ever wonder what life would be like if so-called "crazy" people were actually seeing and hearing things that were there? That's what the entire concept of Crazyhead is about — and yes, it's definitely one of the more twisted series on Netflix simply because of that.
In Crazyhead, the people who are seeing things are legitimately seeing real demons. However, they also have mental illnesses that make people think they're just hallucinating. It's trippy, and to a point, scary...if only because it makes you wonder a little bit more.
It's really hard to imagine a Netflix show that could hold a candle to one of the greatest horror films of all time — but this precursor to Psycho manages to do it very well. This psychology-heavy thriller makes you learn to like Norman Bates, and gives you a good backstory to how he became an unhinged murderer.
Though it originally aired on A&E, most people have watched it on Netflix. Bates Motel both makes you appreciate Norman, and makes you wonder if something like this could really happen to a guy. That's what makes Bates Motel one of the scariest shows on Netflix right now — as well as one of the most poignant.
While this might not be one of the scariest shows on Netflix right now in terms of blood or ghosts, it is one of the most terrifying out there — simply because the events depicted in this series are real. Rated as one of the best true crime shows on Netflix, Killer in the Family takes a look at real murders caused by domestic violence.
Topics in this series include finding out signs you're a killer in the making, major murder cases that shocked entire cities, as well as what the aftermath of the murders were like. If you have a weak stomach, Killer in the Family might be too intense. But, if you love true crime investigations, this might just be your new favorite thing to binge watch.
About the Creator
Ossiana Tepfenhart is a writer based out of New Jersey. This is her work account. She loves gifts and tips, so if you like something, tip her!
Reader insights
Be the first to share your insights about this piece.
Add your insights