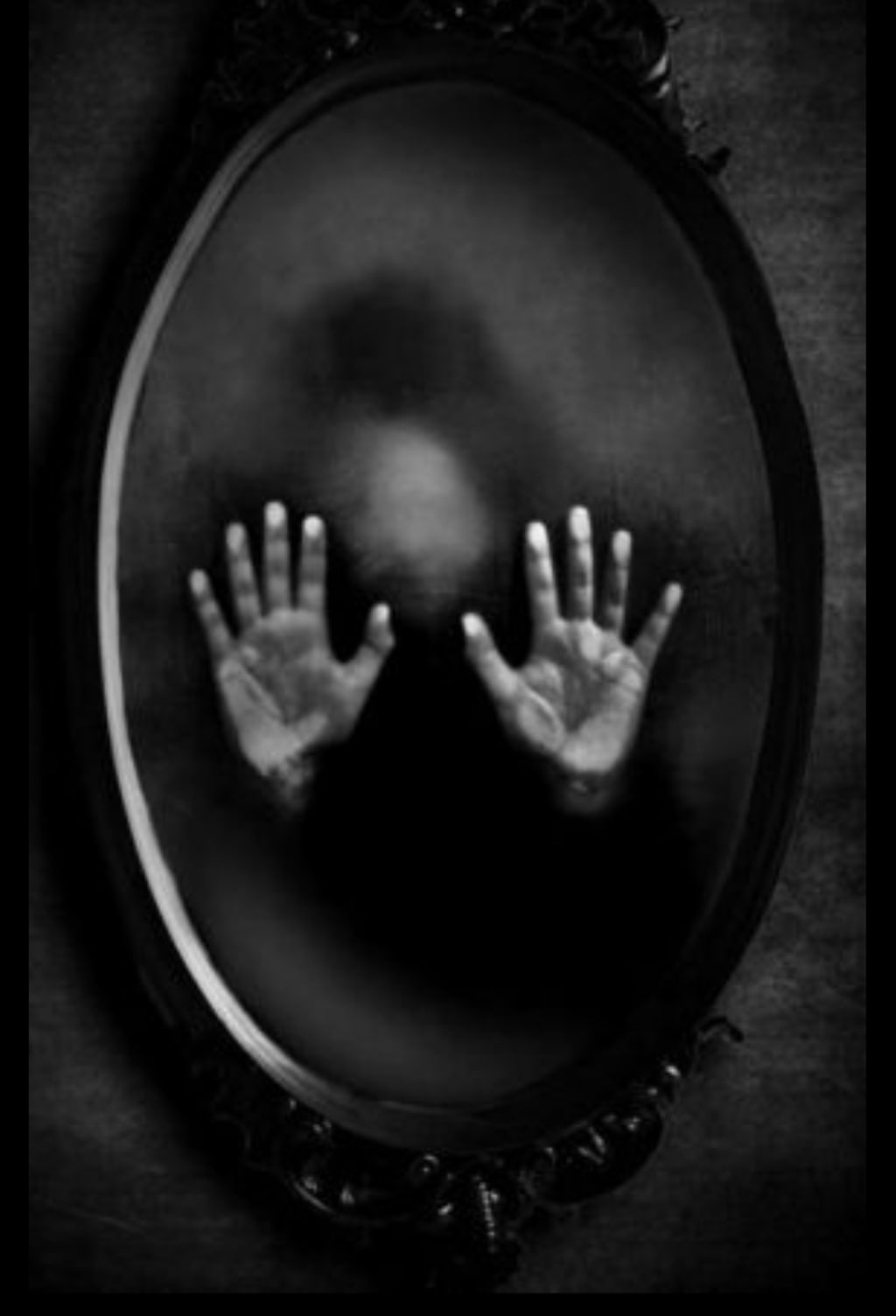 The mirror showed a reflection that wasn't my own. It was me, but there was something warped, and that was not me. I narrow my eyes and peer into the narrowing eyes of my deformed reflection. I was off, and while I could see it in my reflection, no one else could see it. At least no one acknowledges it.
Getting out of bed has become a chore. A chore I hate. After fifteen to twenty minutes of lying awake, staring at the ceiling and wishing I hadn't woken up, I finally shift to the side of the bed, legs dangling down the four foot high drop to the floor.

Another five minutes of not wanting to move.

I am up and head to the bathroom. I pee then wash my hands. I see that twisted image staring back at me. He mocks me as I brush my teeth. He mocks me when I clean my ears. He mocks me any time I pass by his home, peering at me with those piercing dead eyes.
I try my best to forget him throughout the day. But then a mirror pops up in the wild, and I see him again. Whatever I am doing is no longer at the forefront of my thoughts. Instead, his repulsive demeanor glares in my mind's eye, and I always pause. I stutter and stop, both physically and mentally, before switching to pushing that thought out of my mind. Now I have to readjust in order to finish my task.
Any reflection large enough causes this distress and makes my life harder. People must not see it, but if I try to tell them, whatever possible explanation I could fathom to explain the monstrosity would make me look insane. I have enough problems. Real problems. Not some silly imaginary one.
Friends and family don't see it. Maybe they do and just don't know how to help. Either way, I am alone in this fight against the deformed me staring at me at every chance. Sometimes, when I am feeling embarrassed or low for any reason, I can feel his eyes on me. I once again freeze, but now I look for his eyes and always find more than I can take. I then have to flee the situation, making up random nonsense to get out of life.
I often find myself sitting in the dark, all reflective surfaces covered in some fashion, staring into the abyss.

"Whoever fights monsters should see to it that in the process, he does not become a monster. And if you gaze long enough into an abyss, the abyss will gaze back into you." ~ Friedrich Nietzsche

I ponder what is actually gazing back, changing me, making that part a disgusting image I see even with no mirrors. I find myself mentally fighting an enemy that is part of me. And it is taxing because I always seem to barely get free of the grasp of the infinite darkness. I sometimes cry myself to sleep, fearing that sight in the bathroom mirror in the morning. I want to get away. I need to get away.
The next morning, I get up, with a pep in my step, and head to the bathroom. While the light is still off, I hurry and throw a towel over the mirror. Then the light comes on, and I am alone. I take a needed shower, having already removed the shaving mirror from its holder, and get some solace in solitude. I enjoy the hot water rinsing the grime off of me. Almost like a bit of the monstrosity is being washed away.
Several long minutes in the shower, and I come out feeling like a brand new man. I dry off and clean my ears and brush my hair without the help of a mirror. This day feels different from the previous days. Happier? Maybe, but either way, I was looking up for once. Life wasn't a curse, and I almost forgot about my shadow-like enemy that waits for me in any reflection.
The mirror is revealed, and I was shocked into inaction. My reflection was even worse than I remembered, and it infuriated me. I ran at the mirror, raising my fists over my head. Slipping on the tile, I fall face first into the sink. I try to pull my arms down to break my fall, but instead, they smash into the mirror, shattering it. At first it seemed a great achievement, but when I finally sit up from the fall, I notice the stinging in my forearms is more dire than I first thought. I once thought I had a few shards of glass in my arms, and now I know my wrists and forearms are covered with deep lacerations, the blood pooling under me.
I now lie here, knowing the abyss has won. Whatever it had been, it had beaten me. I am rambling as the blood pours out of my arms, stealing my energy. My eyes get heavy, and I know this will be the last time I close them.

Reader insights
Outstanding
Excellent work. Looking forward to reading more!
Top insights
Excellent storytelling

Original narrative & well developed characters

Heartfelt and relatable

The story invoked strong personal emotions

On-point and relevant

Writing reflected the title & theme
Easy to read and follow

Well-structured & engaging content

Expert insights and opinions

Arguments were carefully researched and presented

Compelling and original writing

Creative use of language & vocab

Eye opening

Niche topic & fresh perspectives
Add your insights