A Haunting in Venice - A Movie Review
'A Haunting in Venice' boasts a talented ensemble.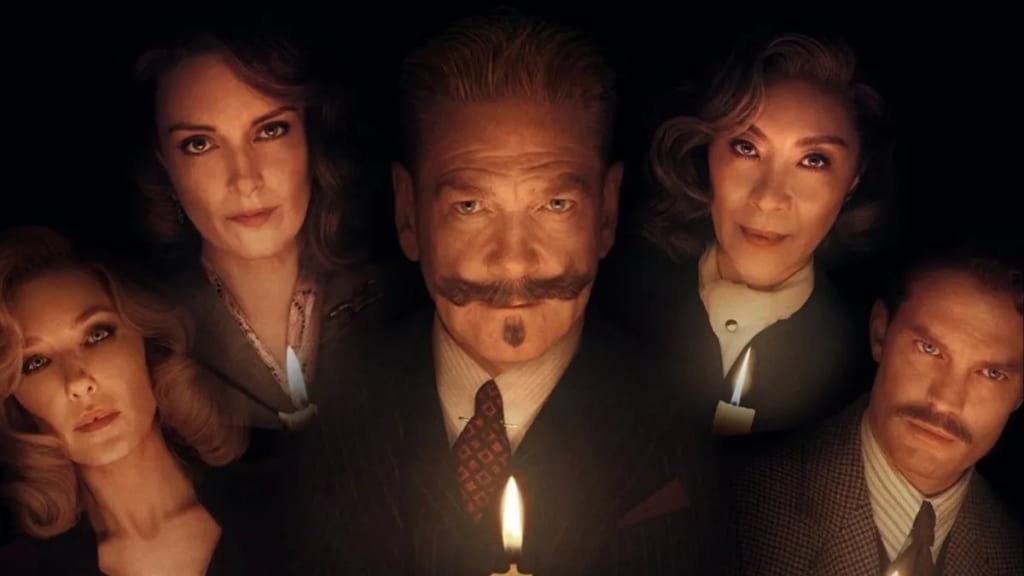 We cannot hide from our ghosts - whether real or not.
A Haunting in Venice is a 2023 film based on Agatha Christie's 1969 novel 'Hallowe'en Party.' Hercule Poirot is now retired living in post-World War II Venice. On Halloween night, Poirot reluctantly attends a seance in an old mansion. When one of the guests is murdered, the former detective finds himself in another case.
The trailer for A Haunting in Venice hooked me to see the film. I thought the film was experimenting with a horror angle which would have given the film a break from its usual detective narrative. However, the film took a different route, returning to its usual Hercule Poirot mysteries which left me with mixed feelings.
Similar to the last Hercule Poirot movies, A Haunting in Venice boasts a talented ensemble cast led by Kenneth Branagh. Tina Fey, Jamie Dornan, Jude Hill, Dylan Corbett-Bader, Kelly Reilly, Emma Laird, and Michelle Yeoh are exceptional as their characters but lack dynamics.
Michelle Yeoh delivers a stellar performance as Mrs. Reynolds, the mysterious medium. It's too bad she's not in the story longer. Who knew that Tina Fey was an incredible dramatic actress? Fey's career has derived from comedies so this film was a satisfying test for her. Sometimes her role worked while other times it was forced.
Jude Hill is a remarkable child actor. I was taken aback by his performance. It was so sweet to see the child looking out for their parent. The film's script doesn't quite delve into character development. There are not enough interactions between the characters. It feels like a missed opportunity to ignore exploring the lives of these intriguing individuals.
I have only seen one of the recent Hercule Poirot films, Death on the Nile. Before seeing it, I saw another film adaptation so I didn't notice anything significantly different about the latest installment. The story followed the usual detective dynamics and lacked depth.
The film wasn't trying to disguise who the killer was, falling on lazy writing. I stopped taking the film seriously when it was so blatantly obvious who the killer was. Who remarks to a detective that they should lock a door for someone's safety?
The trailer for A Haunting in Venice fascinated me because it set this film up as a horror movie, adding more substance to its layers. Kenneth Branagh ignored the horror angle and continued with the familiar and overdone mystery-detective angle and ignored new creative opportunities to enhance this film.
One notable example that is left unresolved is when Poroit sees a young ghost girl. This subplot is barely touched upon. The paranormal elements feel more like a backdrop than the central focus. The eerie occurrences are intriguing but are not enough to send shivers down your spine.
The film's decision to lean more toward a mystery rather than horror was disappointing. The film overdoes it with jump scares like birds cawing or other sudden loud noises.
The acting and direction aside, the film is set in the picturesque backdrop of Venice. The city is the perfect setting for the story, especially on Halloween night. Viewers have talked about the cinematography which was different from the previous films.
In my opinion, the new technical dynamics created something different. I wasn't a fan of the shaky cam when Poirot is walking through a hall, but the cinematography enhances the ambiance.
A Haunting in Venice fell short to me but that's just my opinion. Mysteries have the same dynamics and this film attempts a different style. See A Haunting in Venice while it's in theaters.
About the Creator
Writing has been my passion since I was 11 years old. I love creating stories from fiction, poetry, fanfiction. I enjoy writing movie reviews. I would love to become a creative writing teacher and leave the world inspiring minds.
Reader insights
Be the first to share your insights about this piece.
Add your insights