10 Shocking Stephen King Stories
Small doses of the Master of Horror that pack a punch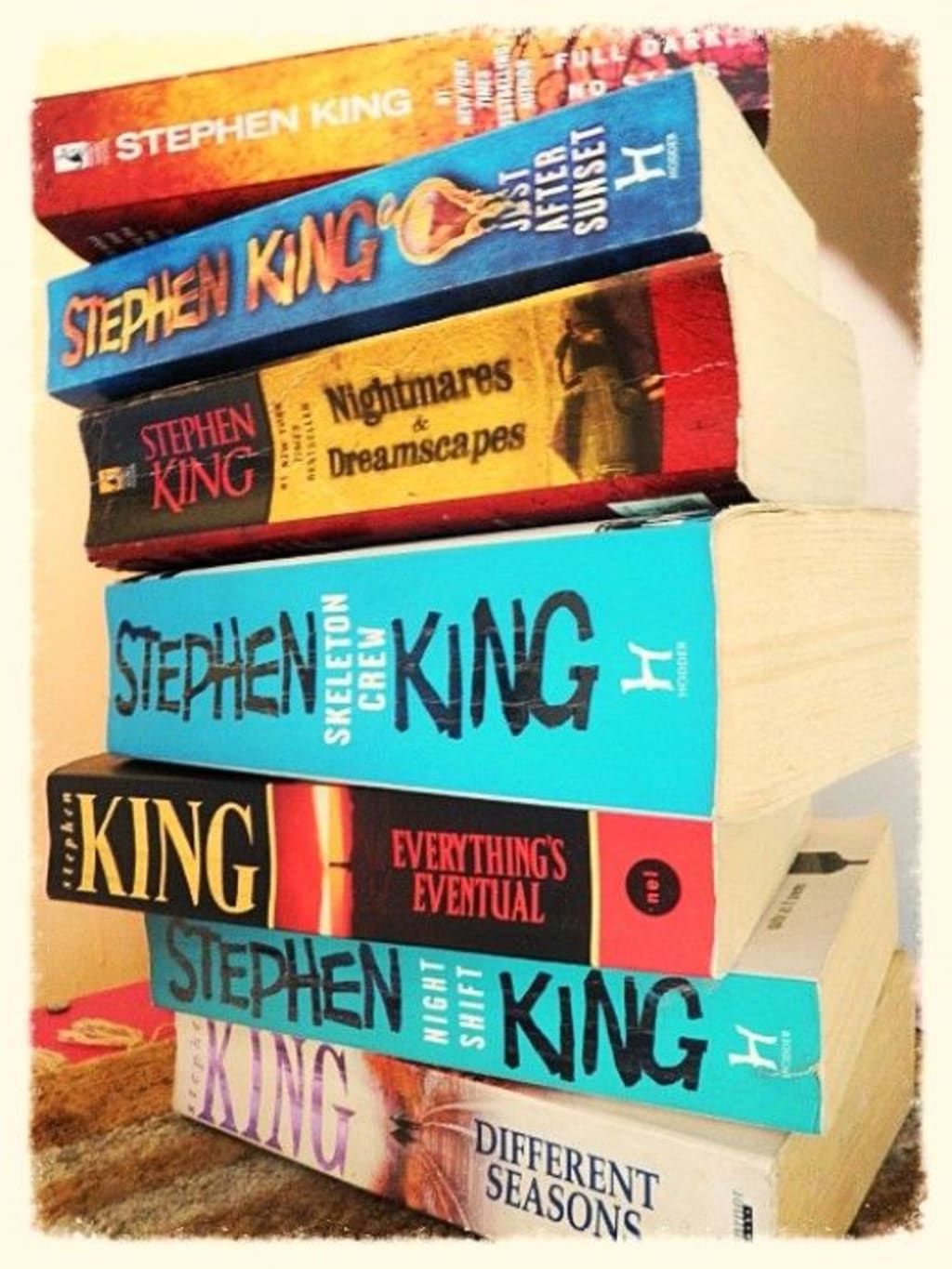 I'm going to say something a smidge controversial: I like Stephen King better in brief.
Sure, there's no denying his brilliance in epics like The Stand or IT. But my most satisfying King reads have been more focused: Pet Sematary, Carrie, Misery, even Bag of Bones, which is not short, but feels weightless next to some of his other works.
I'm also not a be-all end-all King fan. Some of his stuff just doesn't do it for me, and I'm not one to keep reading when a book loses me. But it seems anyone who reads a lot of Stephen King's work has varying opinions on which books they like the most. For an author that addresses everything from coming-of-age stories to vampires taking over a town to killer clowns to the end of the world, the fan base is bound to shift from book to book. But no matter what, his ideas are always fascinating. I'm never sorry I started a King book, even if I don't finish it.
In this pandemic, I've been itching to read but finding it hard to concentrate (a very real side effect of the PTSD of this whole pandemic nightmare.) So I turned back to where King got his start: Short stories.
Indeed, his short pieces often pack the most devastating punches. They also serve as a great jumping off point for the new King reader, a great way to revisit the iconic author when you're on a tight schedule, or just a way to indulge in great storytelling.
I have not read all of King's short stories, but I've read enough to pick the ones that had the most profound effect on me. This is by no means any kind of academic list or attempt to say these stories are the absolute best. Like all art, it's subject to interpretation. The list below provides some great short tales with a variety of styles and subject matters. They also hit you in the gut, which King is excellent at doing.
I have purposefully left out anything that could be considered a novella. We're just going for the quick reads this time.
10) Sorry, Right Number (Nightmares and Dreamscapes)
In this gem, King doesn't just give us his trademark suspense and relatable characters; he challenges us to imagine the piece as a film. Sorry, Right Number is a screenplay, requiring the reader to clearly imagine the piece as King sees it, from angles to line deliveries to suspenseful tricks of the camera. Zoom in on Katie, a mom of four who misses her college-aged daughter terribly. One evening, as her children bicker in the living room over getting to watch a film version adapted from her husband's horror novel, Katie receives a phone call. The sound on the other end is nothing but sobbing. Having a premonition that it's "one of her own," she enlists her husband to help her figure out who the caller is. But she never could have guessed the answer. Utterly vivid, suspenseful, and heartbreaking.
Read it if: You want some suspense and a unique reading experience, but could do without the gore.
9) The Road Virus Heads North (Everything's Eventual)
This completely bizarre tale could probably only work in the hands of King. A washed up writer (a common character in many of King's stories), visits a garage sale and buys a painting entitled "The Road Virus Heads North." Captivated by its subject, a blonde man with fangs driving a Pontiac, the writer puts the painting in the car and begins to make the long drive home. Unfortunately for him, this painting is far more than he bargained for.
Read it if: You like a taste of horror, want some suspense, and enjoy the bizarre.
8) Autopsy Room Four (Everything's Eventual)
King states in his epilogue that every horror writer experiments at some point with the idea of premature burial, so he felt he might as well follow suit. His version, however, takes place in an autopsy room; a man is unable to move or communicate and assumed to be dead. Around him, he can hear and feel the various medical professionals (some more professional than others) commenting on every inch of his body, knowing that at any moment he could be cut open to determine the cause of death...except he's not dead. It's an excruciating tale but has an extremely satisfying payoff.
Read it if: You like a your horror tension served with a side of humor.
7) Survivor Type (Skeleton Crew)
Washed up on a desert island, Richard Pine keeps a journal. In it, he describes the lengths he goes to survive. This isn't "Castaway," friends. Be prepared.
Read it if: You admire a good gross-out, but also if you want to admire King's brilliant writing style as he highlights a man slipping into madness.
5) The Dune (The Bazzar of Bad Dreams)
This short and sweet thrill is about a retired Supreme Court judge named Harvey Beecher. Since he was a child, Harvey has traveled to an island a few miles off the coast of his hometown, where a mysterious sand dune spells out the names of people who are going to die within a month. After his most recent visit, Harvey calls his lawyer. Another example of King's delightful, gore-free storytelling prowess.
Read it if: You're feeling more like a thriller than a horror tale.
4) Popsy (Nightmares and Dreamscapes)
King excels at writing both child and villainous characters, and in this one, he brings us both. A predatory man who owes money to an underground crime unit captures children and sends them "down the river." In front of a shopping mall one afternoon, the man picks up a sickly looking boy. The boy protests that he's waiting for his Popsy to pick him up as the preadator lures him into his van. As he drives, the predator beings to suspect there is something very wrong with this kid.
Read it if: You love a good "gotcha" for a bad guy, have a vivid imagination, and enjoy a unique brand of suspense.
4) The Lawnmower Man (Skeleton Crew)
If you've seen the ridiculous 1980s film, put it out of your head. This short, simple, and imginative story is just about a man named Harold who calls a lawn mowing company. What he gets is...more complicated.
Read it if: You like bizzarre turns of fate and delightfully fun horror imagery.
3) The Man in the Black Suit (Everyone's Eventual)
This piece illustrates just how infinite King's talent for terror really is. This twisted tale won King the O. Henry prize for short fiction. As he has done so often throughout his career, King writes a compelling child character, 9-year-old Gary, whose brother has recently died from an allergy to a bee sting. Still haunted by grief and trauma, he and his family attempt to make the best of their circumstances. When Gary heads off by himself to go fishing one day, he meets a man in a black suit. He is certain, from the man's fiery eyes and terrifying presence, that he has met the devil.
Read it if: You admire brilliant, full-bodied storytelling and love a tale of foreboding dread.
2) Children of the Corn (Night Shift)
Deeply overshadowed by the campy film and franchise that resulted, the original King short story keeps this well-known title much more simple...and far more terrifying. Burt and Vicky are a bickering couple on a road trip through Iowa. As their argument escalates, a child runs out of the highway-side cornfields and in front of their car. As they walk through the corn to find an adult in the nearby town of Gatlin, they stumble upon the unthinkable: A town of dangerous religious zealots, consisting entirely of children worshipping the invisible "He who walks behind the rows."
Read it if: You're looking for true, King-style, gut-punch, gory horror
1) The Jaunt (Skeleton Crew)
The Jaunt is a masterpiece of short story literature, combining the perfect dose of science fiction with a horrific premise and ending. Many years in the future, Mark Oates has gathered his wife and two children for a journey to Mars. The technology has been developed so earthlings can quickly get there through a transportation system called The Jaunt. A quick breath of gas knocks you unconscious, and when you wake up, not even a full second later, you've arrived. As they prepare to take their first family Jaunt, Mark unveils the fascinating, ominous tale of how the system came to be, which terrifies his young children. They take the Jaunt anyway. And the results will send shivers up your spine.
Read if: You're a fan of the Twilight Zone, space and time travel stories, and terrifying endings that'll haunt you well into the night.
Happy reading!