Wrath of Man (2021) Movie Review
Action / Crime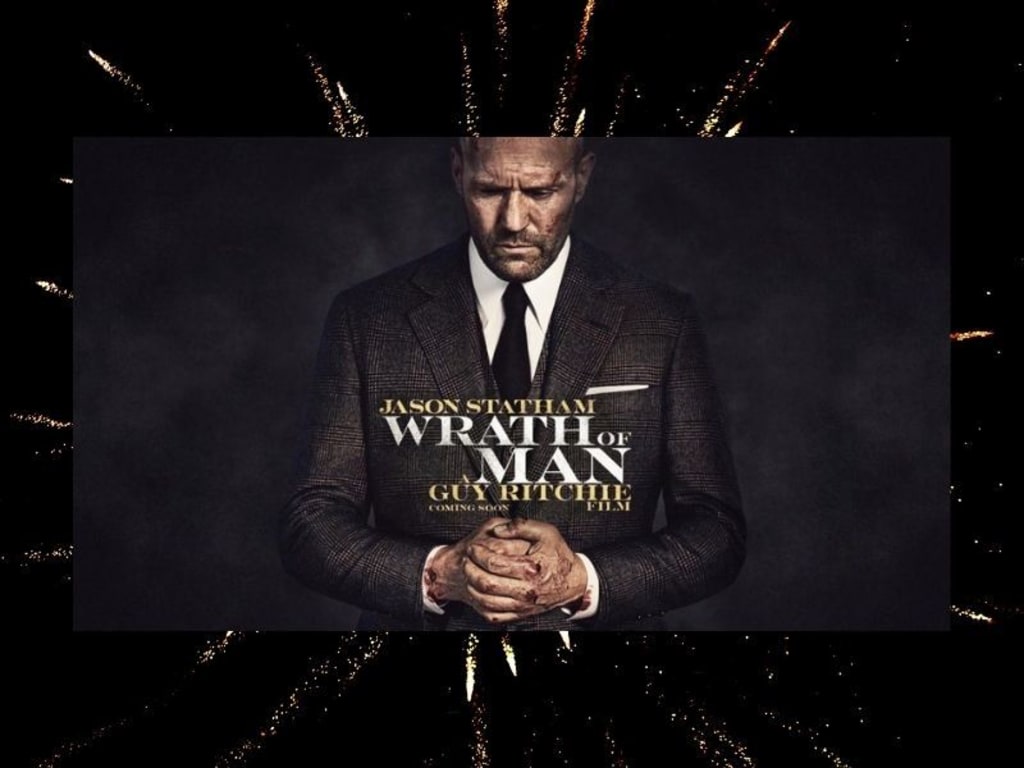 67% Rotten Tomatoes | 7.1/10 IMDb
Guy Ritchie's directorial venture, "Wrath of Man," is a hard-hitting, dark, and brutal crime thriller that showcases Jason Statham at his meanest. The movie is a far cry from Ritchie's previous works, which were characterized by a light-hearted, jumpy, and busy tone. Instead, Ritchie presents a neo-noir film, filled with tough and violent men, with H, the main character, being the darkest of them all. Adapted from the 2004 French film "Le Convoyeur," "Wrath of Man" is a time-shifting crime thriller that keeps the viewers on the edge of their seats with its unpredictable plot twists and turns.
H, whose name is one letter removed from "Hell," is a socially inept and surly character who barely passes his driving and shooting tests. However, despite his apparent lack of social skills and experience, he gets hired by Fortico, an armored car company in Los Angeles, as a rookie. Fortico has been struggling with low morale after a previous heist resulted in a bloody public shootout, killing multiple people, including two Fortico guards. H's co-workers call him "H," which is reminiscent of a Kafka character, a nearly nameless cog in a societal machine.
The movie suggests that H could belong to any of the groups in the movie, including gangsters, former combat veterans, security guards, and cops. The film keeps the audience guessing about H's true identity, whether he is an inside man for armored car robbers or a hero with a code and sense of duty. Ritchie and co-screenwriters Ivan Atkinson and Marn Davies expertly use narrative shifts to reveal H's identity gradually. Each narrative shift, announced by a white-on-black chapter title, widens the movie's focus, offering new insights into H's character and his motivations.
Despite the numerous plot twists, the movie never loses its focus, and each action contributes to H's mission. Every one of H's actions, no matter how seemingly ill-advised, serves a purpose. Whether he is baiting a coworker at a bar, threatening another employee at gunpoint to get answers, or staring intently at the wall of ID badges where Fortico employees clock in and out, H is always in control. His cell phone's ring tone is a sample from Wagner's "Ride of the Valkyries," which serves as an indication of his ruthless and brutal nature. H is driven by a sense of duty rather than raw emotions, and he takes a Clint Eastwood-like approach to the role of the hero, being more of a horror-movie stalker than anything else.
The film also includes a vast cast of supporting characters, each with their own unique traits and characteristics. Ritchie expertly manages to distribute the audience's attention among this roster of men, making sure that each character is given their moment in the spotlight. Ritchie's direction is meticulous, and the movie's visual style is brooding and dark, with the action scenes being raw and brutal.
The film's cast is led by Jason Statham, who delivers a solid performance as H, displaying his range as an actor. Holt McCallany plays Bullet, H's supervisor, who is caught up in the intrigue surrounding H's identity. Josh Hartnett plays Boy Sweat Dave, H's partner, who is paralyzed with fear during a heist. Scott Eastwood, son of the legendary actor Clint Eastwood, plays Jan, a snotty psycho. The film's supporting cast also includes Jeffrey Donovan, Laz Alonso, and Eddie Marsan, all of whom deliver excellent performances.
Overall, "Wrath of Man", focusing on the lead character, H, played by Jason Statham, and the film's style and tone. The review describes the movie as a time-shifting neo-noir crime thriller, filled with tough and violent men, and compares it to classic films like "The Killing" and "The Killers". The reviewer praises the movie's direction, acting, and storytelling, while highlighting the mystery surrounding H's true identity and motivations. The content also touches upon the movie's themes of greed, bloodlust, and duty, and makes references to other films and directors for context.
Reader insights
Be the first to share your insights about this piece.
Add your insights