Words on Bathroom Walls - A Movie Review
'Words on Bathroom Walls' establishes a chance of hope for any struggling viewer.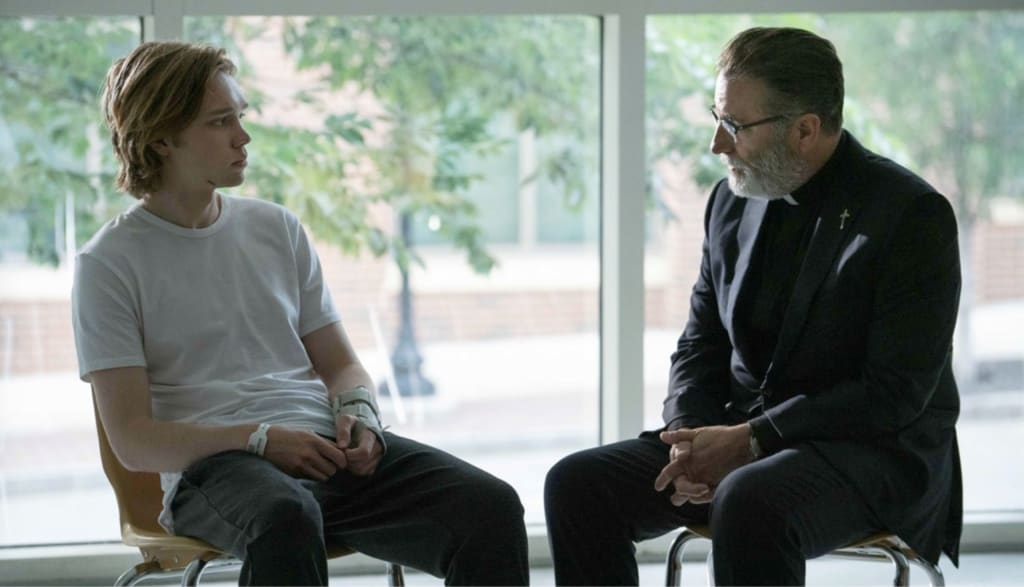 Never hide from mental illness. It's okay to let people in.
Premiering in theaters in 2020, Words on Bathroom Walls is about a high school senior who is diagnosed with Schizophrenia. Adam struggles to comprehend his disease. Moving to a private school where he meets new people, he's afraid to talk about his mental illness which gradually gets worse.
Words on Bathroom Walls is a film about mental health that we've needed for the longest time. This is an important film. It has depth. Supplying a chance to demonstrate Schizophrenia in a positive light, Words on Bathroom Walls establishes a chance of hope for any struggling viewer.
Bearing honest emotions and a genuine depiction, Charlie Plummer was fantastic as Adam. My favorite part about his role is his earnest connection to his love to cook. Battling against his mental health, Adam learns the value of not being ashamed of his illness.
The people in your life - family, friends, or anybody are supplemental in your journey. Maya was my favorite character. If you recognize Taylor Russell, she had a big part in the Escape Room films.
Adam and Maya's friendship really spoke to me. Other than their humorous sarcastic comments, their interactions stand as an example of the benefits of friendship. In contrast to Adam's battle with mental health, Maya is also struggling. Russell was extraordinary in her character's journey, learning a lesson of her own.
Molly Parker and Walton Goggins star as Adam's parents. At times I had mixed opinions about their decisions and behavior towards Adam's situation. Mental illness never affects one person. That line spoke to me.
As the film progresses, we see the deterioration of their character the more Adam slips away from their help. Eventually, Paul (Goggins) grew on me. He writes a significant letter that made me tear up.
You never know who you'll find to talk to. Father Patrick (Andy Garcia) was one of my favorite characters. Helping Adam in any way he can, even if religion doesn't play a factor, Garcia was remarkable in his dictation of this role. Their conversations were fun.
Thor Freudenthal conquered excellent presentation of mental illness. Although it is explained, Schizophrenia is given visual representation. AnnaSophia Robb, Devon Bostick, and Lobo Sebastion played as figures in Adam's mind.
Visually, the camera angles and editing match Adam's mind as he becomes more and more detached from reality. The dance scene was my favorite scene, examining disjointed visuals that made you feel overwhelmed. We get into the character's mind.
We need more films that discuss Schizophrenia or any other types of mental illness. Recently, Fear of Rain, a 2021 film is a story about a young girl who has Schizophrenia. She suspects her neighbor has kidnapped someone. This thriller storyline takes away from learning more about mental illness.
Words on Bathroom Walls is a break from this overused thriller trope to properly discuss Schizophrenia. It's just a film that discusses Schizophrenia without tackling it with a horror angle or in a negative light. It's the truth.
You have to let people in. Nobody ever knows the battles anyone faces. Your journey to fight mental health is never fought alone. Sometimes it won't go in the direction that you want it to, but eventually, we'll come to understand how to live with it.
Words on Bathroom Walls is so important. This film touched me. I'm surprised that it's not talked about more. For anyone struggling or has struggled in the past with mental illness, I highly recommend that you watch Words on Bathroom Walls.
humanity
About the author
Writing has been my passion since I was 11 years old. I love creating stories from fiction, poetry, fanfiction. I enjoy writing movie reviews. I would love to become a creative writing teacher and leave the world inspiring minds.
Reader insights
Be the first to share your insights about this piece.
Add your insights