When Were the Teens Really Teens?
The real ages of teen characters in movies and tv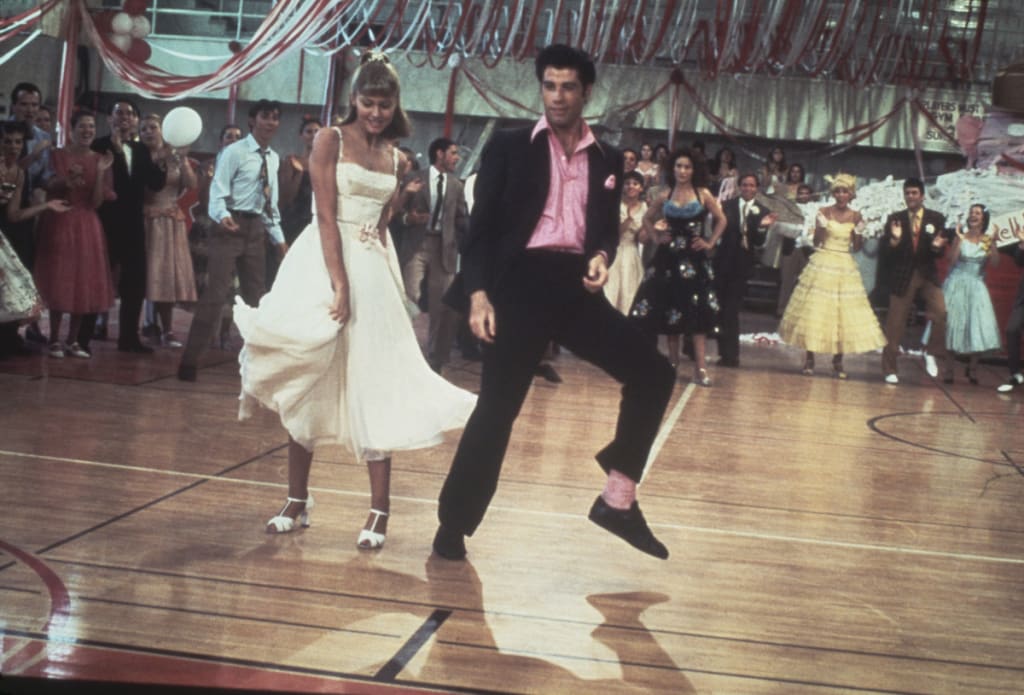 Co-written by Deb Gilbert
When Olivia Newton John died this week at the age of 73, some quick math revealed something that was already apparent at the time: When the singer and actress filmed the classic musical film "Grease," released in 1978, she was already a solid decade past her high school years. This has not been uncommon in films, when teenagers rarely look or sound like the teens you know or see every day. But sometimes the age difference is more glaring, and other times the teens are actually teens. Let's take a look at examples supposed teens in teen roles over the years and see how some of the age differences are shocking to the point of absurd.
"Grease" (1978)
We might as start with the inspiration for this article. "Grease" is of course the film that made John Travolta and Olivia Newton John major stars. Set in the 1950s, the film, based on a hit musical, involves two groups of teens, the T-Birds and the Pink Ladies over the course of their senior year, finding romance, racing cars, going to the prom, and graduating. But how many of them were really teens? I remember watching the film when it came on cable TV and thinking, "These kids don't look like my babysitter (I was 8 and my babysitter was 16 or 17, an actual teen), they look like my mom." That's because they actually were closer to my mom's age than that of a teen at the time. At the time of filming, the "teen" members of the cast were: Stockard Channing (34), Jamie Donnelly (31), Michael Tucci (31), Olivia Newton John (29), Jeff Conaway (28), Barry Pearl (28), Didi Conn (27), John Travolta (24), Dinah Manoff (21), Kelly Ward.
"The Breakfast Club" (1985)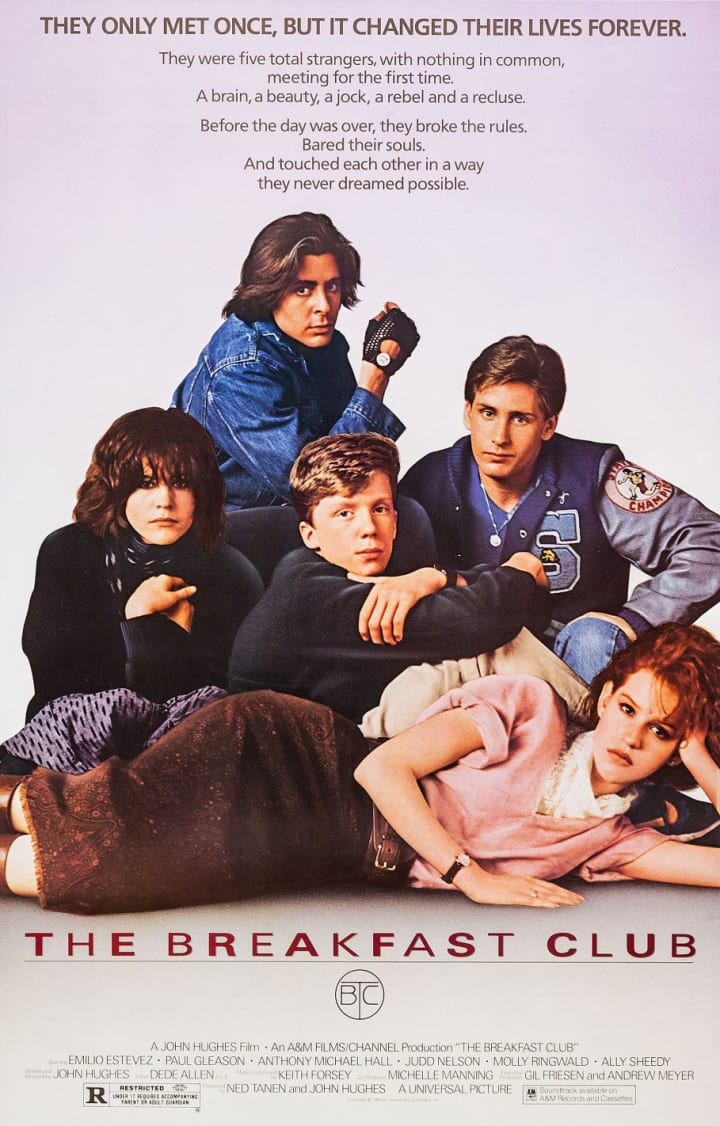 One of the most iconic films of the 1980s, this is one of the definitive films of Generation X, which has gone on to be a film cherished by high school misfits of subsequent generations. Some say it's one of the most accurate high school films ever made. But how accurate were the ages of the film's 5 "Brat Pack" stars? Not bad, since 2 of the stars were high school age, and at least none were in their 30s. Judd Nelson (25), Ally Sheedy (23), Emilio Estevez (23), Molly Ringwald (17), Anthony Michael Hall (17).
"Ferris Bueller's Day Off" (1986)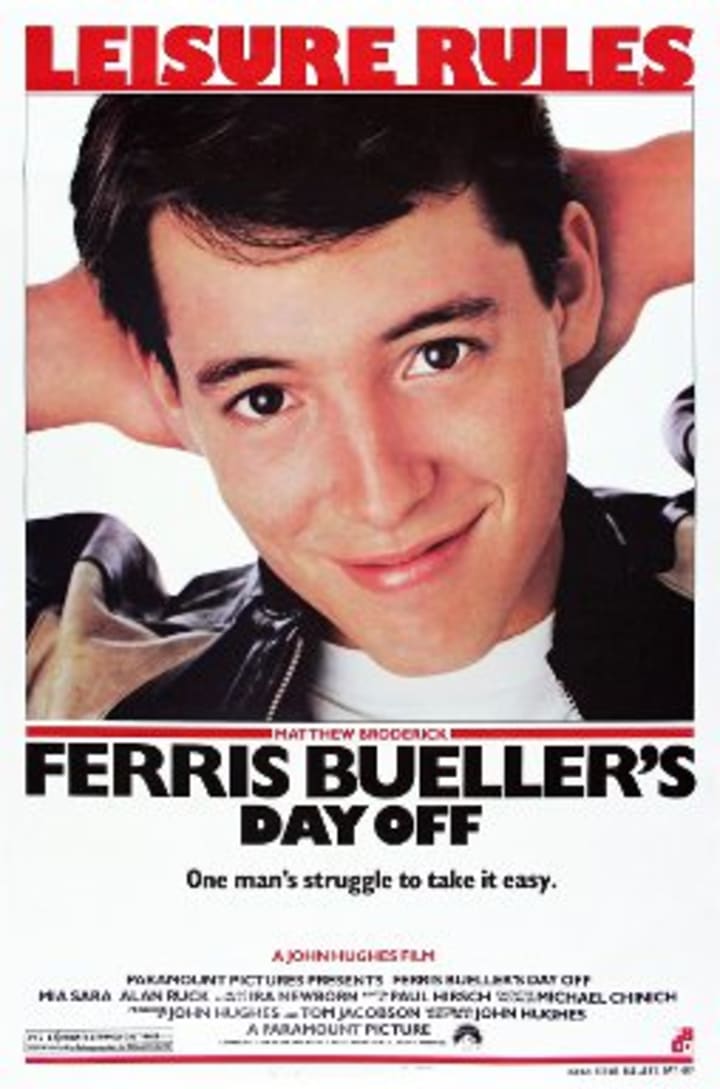 Another iconic film of the 1980s, this film continued writer/director John Hughes rise to dominance of 1980s teen and family comedies. The story may not have been realistic, but it did capture every teen's dream of what the perfect day of skipping school could be, with the perfect girlfriend or boyfriend, and the perfect best friend. Except, with one exception, the actors weren't really teens. Alan Ruck 30, Jennifer Grey 26, Matthew Broderick 24, Mia Sera (19).
"Heathers" (1989)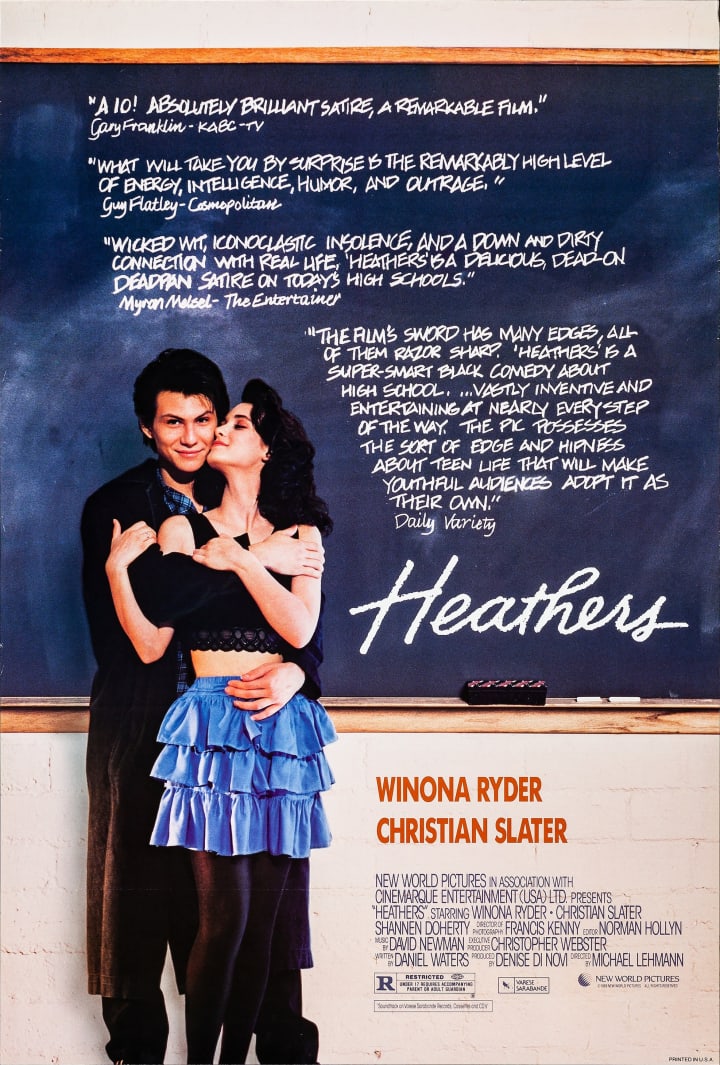 This film continued the rise of Winona Ryder as stars, making both of them teen idols for Gen X. Also starring Shannen Doherty of "Beverly Hills 90210," this dark comedy shows what could happen if high school outcasts had their revenge on the popular kids. And Winona and Shannen actually were high school age. Lisanne Falk 25, Kim Walker 21, Christian Slater 20, Shannen Doherty, 18, Winona Ryder 17,
"Welcome Back, Kotter" (1975-1979)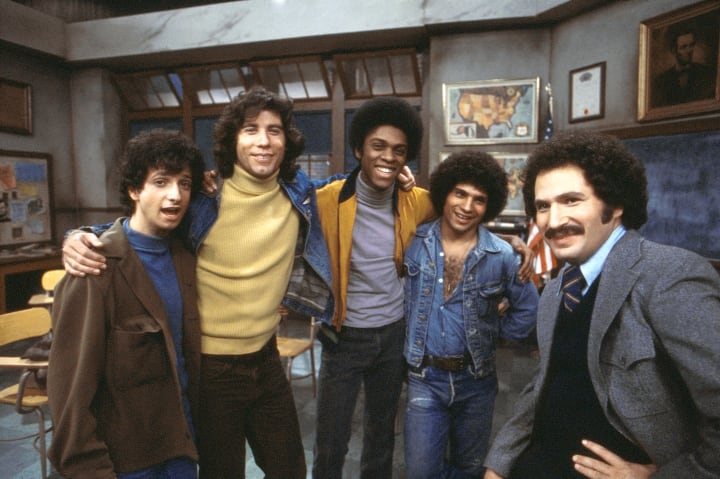 This is the show that made John Travolta a teen idol, while "Grease" and "Saturday Night Fever" made him a superstar. Set in a Brooklyn high school, the show shows how gifted and funny teacher Mr. Kotter tries to teach his class of underachievers, "The Sweathogs," leading by example, because when he was their age he was a Sweathog himself. Not surprisingly, as with "Grease" these were not teens playing high school kids. Not even close. It was, however, one of the most diverse casts on tv at the time. Ages of the cast when the series started: Ron Pallilo 26, Robert Hegyes 25, Stephen Shortridge 24, Lawrence Hilton-Jacobs 22, John Travolta 21.
"Happy Days" (1974-1984)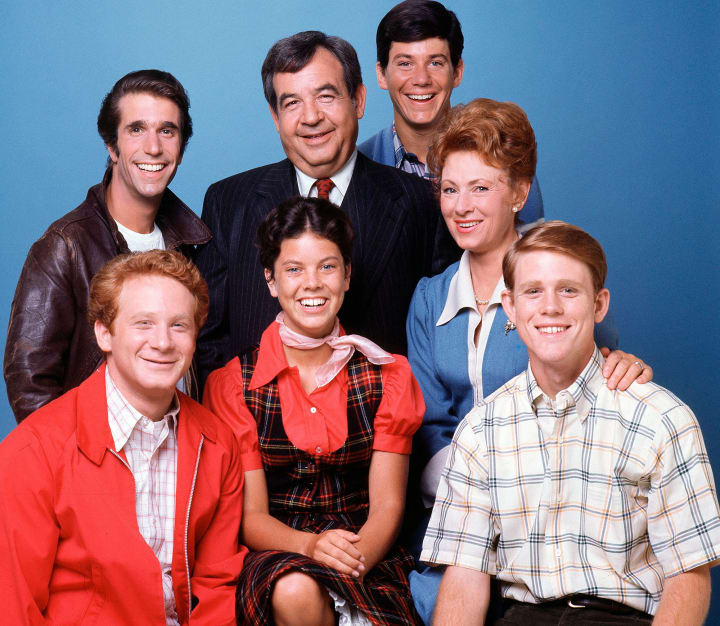 Inspired by the hit George Lucas film, "American Graffiti," which also starred Ron Howard, "Happy Days" was a juggernaut of a show that spun-off several other hit series, namely "Laverne and Shirely" and "Mork and Mindy." Set in Milwaukee in the 1950s and 60s, the show was initially about high schooler Richie Cunningham, his family, and his friends at school. Some of the young members of the cast, like Erin Moran and Scott Baio, were clearly young when they first appeared on the show, but were the teens ever actually teens? When the show began, some were. Cindy Williams 27, Anson Williams 25, Don Most 21, Lynda Goodriend 21, Ron Howard 20, Linda Purl 19, Ted McGinley 16, Erin Moran 14, Scott Baio 14, Cathy Silvers 13.
"Beverly Hills, 90210" (1990-2000)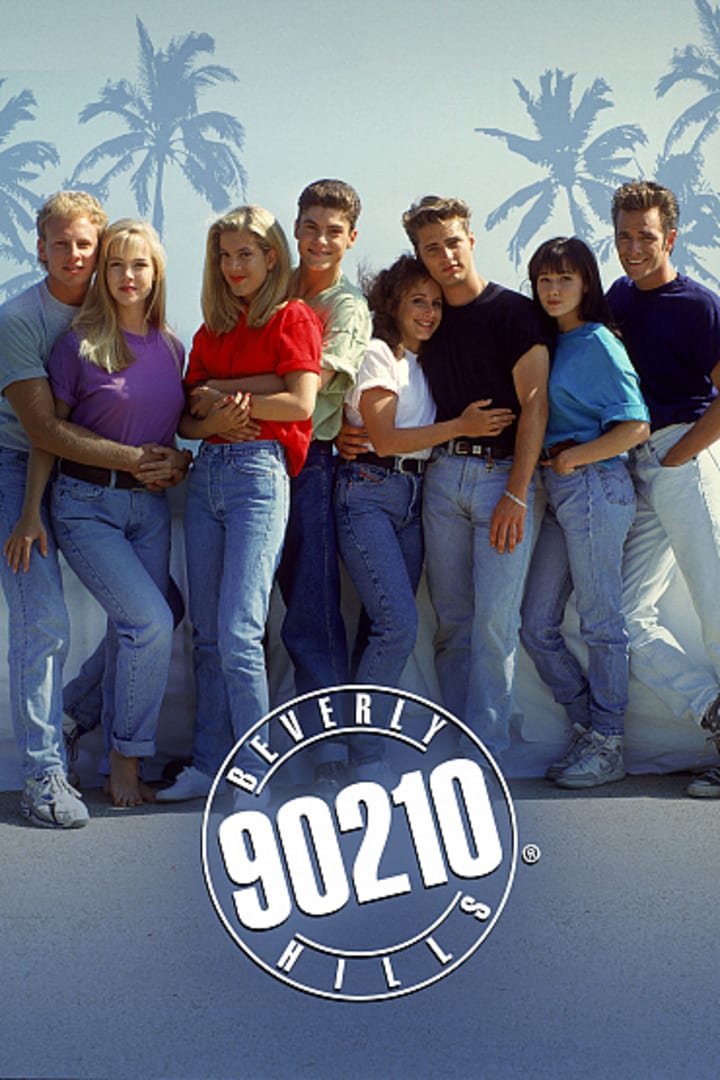 This iconic show about a group of high school friends in one of the richest zip codes in America made major stars out of the cast, especially Shannen Doherty, who had just appeared in "Heathers" and Luke Perry. Some of them were even actually high-school age when the show started. Gabrielle Carteris 29, Ian Ziering 26, Luke Perry 24, Jason Priestly 21, Shannen Doherty 18, Jennie Garth 18, Tori Spelling 17, Brian Austin Green 17, Tiffani Amber Thiessen 16.
"Head of the Class" (1986-1991)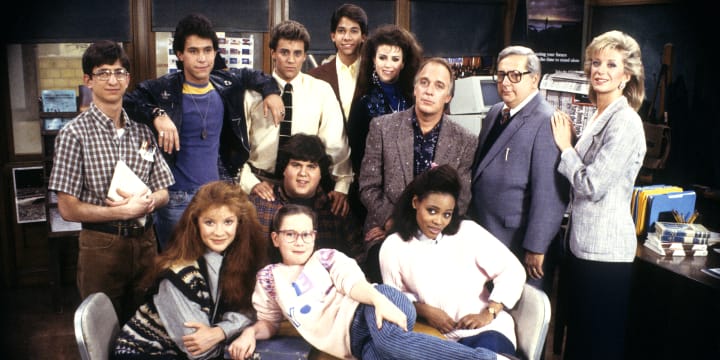 This series was essentially the reverse of "Welcome Back Kotter" in that instead of being about a class full of underachievers in Brooklyn, it was Honors Program students in Manhattan. The teacher for most of the series was Howard Hesseman of "WKRP in Cincinnati" fame, but for the last season it was Scottish actor/comedian Billy Connolly, in his first major role in America. The kids didn't go on to be big stars, but they did include Robin Givens, who went on to some fame, particularly when married to boxer Mike Tyson. Dan Frischman 27, Tony O'Dell 26, Robin Givens 22, Kimberly Russell 22, Dan Schneider 20, Leslie Bega 19, Khrystyne Haje 18, Vallely 11.
"Square Pegs" (1982-83)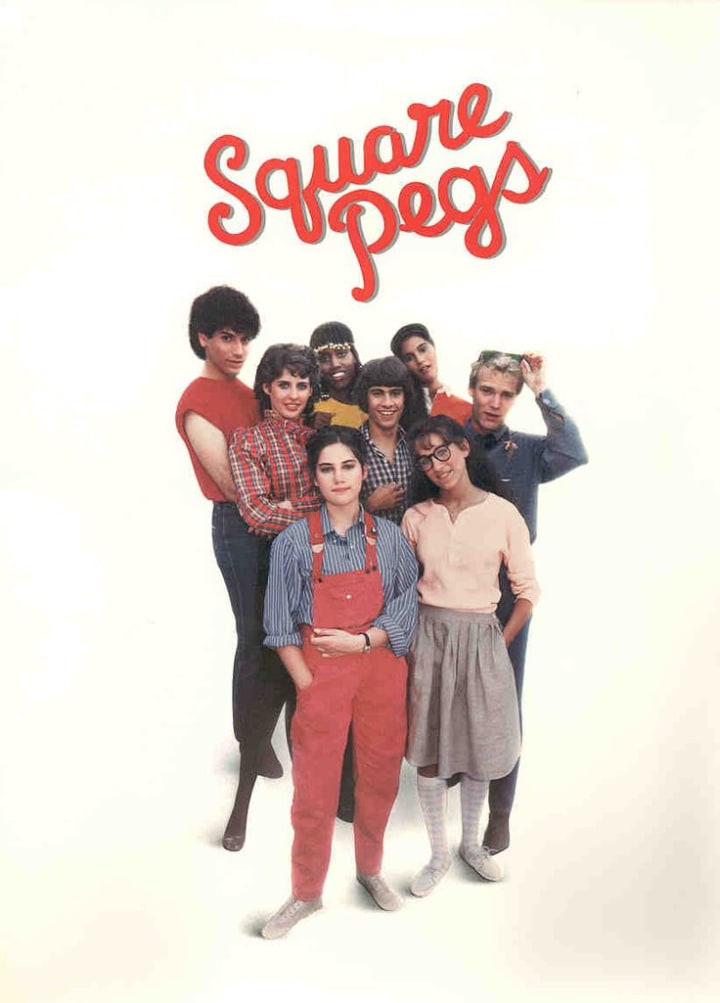 This short-lived series introduced America to Sarah Jessica Parker as one of the two main characters, misfit girls trying to fit in in a suburban high school. It predates "The Breakfast Club" and the other major John Hughes teen movies, but it has a similar feel, showing high school not as an idyllic place or a place full of wild antics, but as a place where teens struggle with everything from the next big test to peer pressure to the embarrassment of acne and braces. In the interest of realism, about half of the teen roles were played by high school-age teens. Claudette Wells 29, Merrick Butrick 23, Jon Caliri 22, Tracy Nelson 19, Jami Gertz 18, Sarah Jessica Parker 17, Amy Linker 16, John Femia 16,
"Back to the Future" (1985)
This may not seem a teen film, but keep in mind that aside from star Michael J. Fox, who had already been playing teen Alex P. Keaton on "Family Ties" for 3 years and Elizabeth Shue, who was seen the year as high school love interest the year before in "The Karate Kid," several cast members were playing both adult and teen roles in the same film. But were any of them actually teens? NO. In fact, Fox was older than both of the actors playing his parents! Michael J. Fox 24, Thomas F. Wilson 24, Lea Thompson 23, Elisabeth Shue 22, Crispin Glover 21
"Rebel Without a Cause" (1955)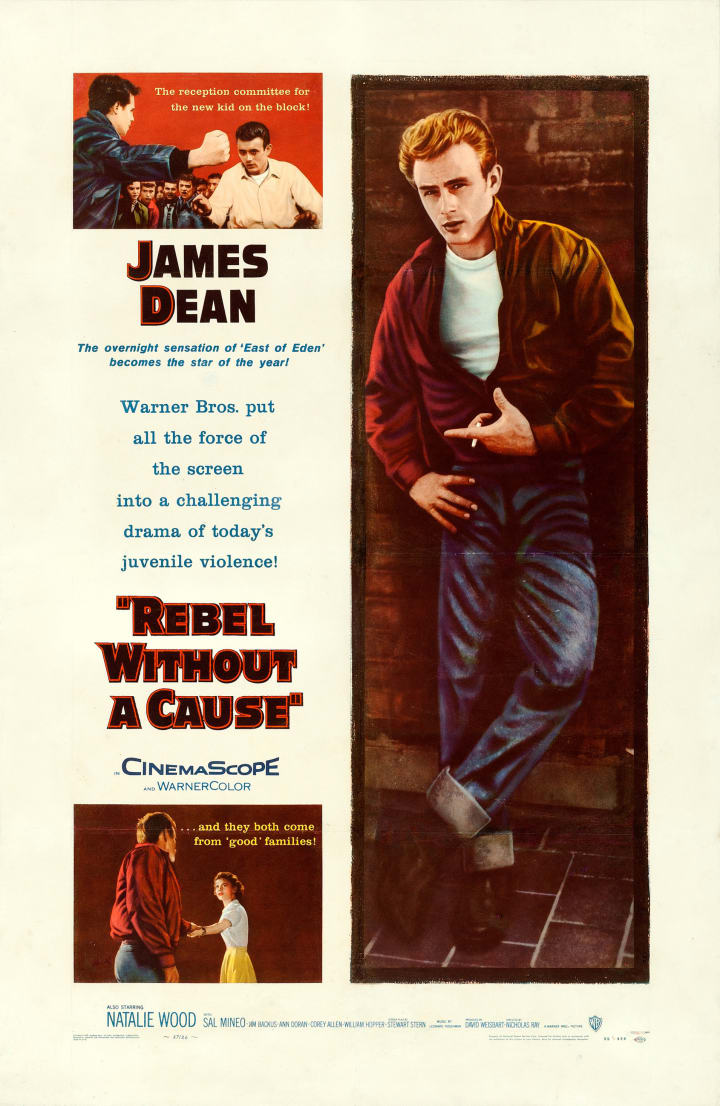 This film, one of only 3 he starred in, made James Dean a Hollywood icon. Seemingly about a troubled teen who is trying to adjust to a new school after his behavior got him kicked out of his previous one, the film features several actors who were on their way to becoming legends, but most of them seemed a bit older than the roles they played. That's because they were James Dean 24, Jack Grinnage 24, Corey Allen 21, Dennis Hopper 19, Natalie Wood 17, Sal Mineo 16.
"Fast Times at Ridgemont High" (1982)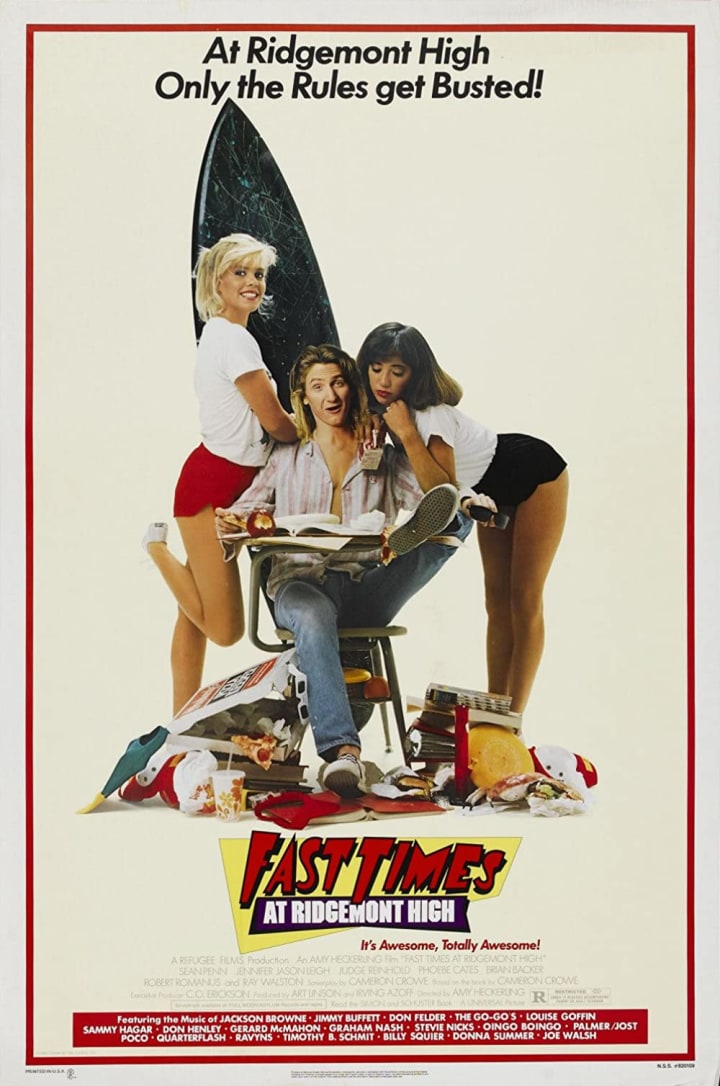 Another iconic 80s film, this high-school movie launched the film career of writer-director Cameron Crowe (he only directed this film, it was directed by Amy Heckerling) as well as many members of the cast, who went on to have very prominent careers. The film gives a very realistic portrayal of high school, as it should, given that Crowe wrote the screenplay based on his 1981 book, which chronicled a year he spent in a San Diego high school. Crowe wasn't a teen then, but were the actors in the film teens? Only Nicolas Cage and Phoebe Cates, but aren't they always exceptional? Robert Romanus 26, Judge Reinhold 25, Brian Backer 25, Sean Penn 22, Jennifer Jason Leigh 22, Amanda Wyss 22, Eric Stoltz 21, Forest Whitaker 20, Anthony Edwards 20, Phoebe Cates 19, Nicolas Cage 17.
"West Side Story" (1961)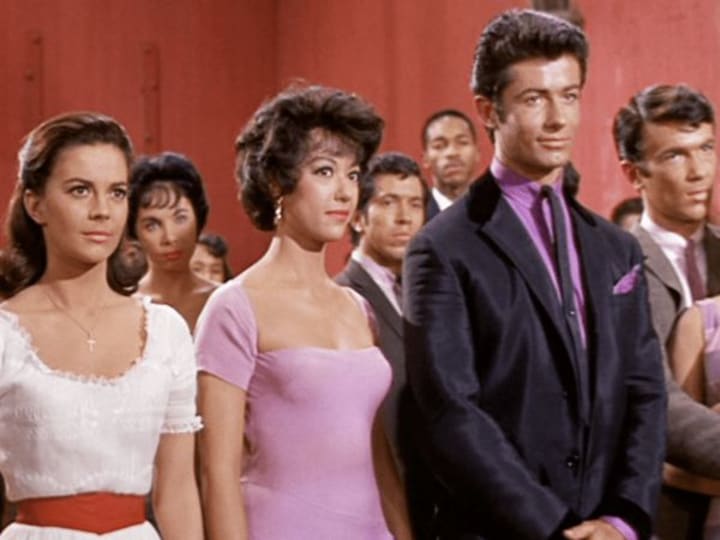 Musicals by their nature seem to be unrealistic things. In normal everyday life, sane people don't just burst into song. And older movies tend to be the worst at not casting teen performers in teen roles. So where does this legendary musical about rival teen gangs stack up? Well, as a film, it's a classic. As far as casting teens as teens, precisely none. Rita Moreno 30, George Chakiris 27, Russ Tamblyn 27, Tony Mordente 26, Tucker Smith 25, Natalie Wood 23, Richard Beymer 23, Eliot Feld 21.
vintage
tv
pop culture
movie
About the author
Gene Lass has been a writer for more than 25 years writing and editing numerous non-fiction books including the Senior Dummies line of books and five books of poetry. His short story, "Fence Sitter" was nominated for Best of the Net 2020.
Reader insights
Outstanding
Excellent work. Looking forward to reading more!
Top insights
Expert insights and opinions

Arguments were carefully researched and presented

Easy to read and follow

Well-structured & engaging content

Eye opening

Niche topic & fresh perspectives
Compelling and original writing

Creative use of language & vocab

On-point and relevant

Writing reflected the title & theme

Heartfelt and relatable

The story invoked strong personal emotions

Excellent storytelling

Original narrative & well developed characters
Add your insights