What's Happening with Mindy and Zach on 'Married at First Sight'?
Mindy and Zach got off to a great start, but things have changed.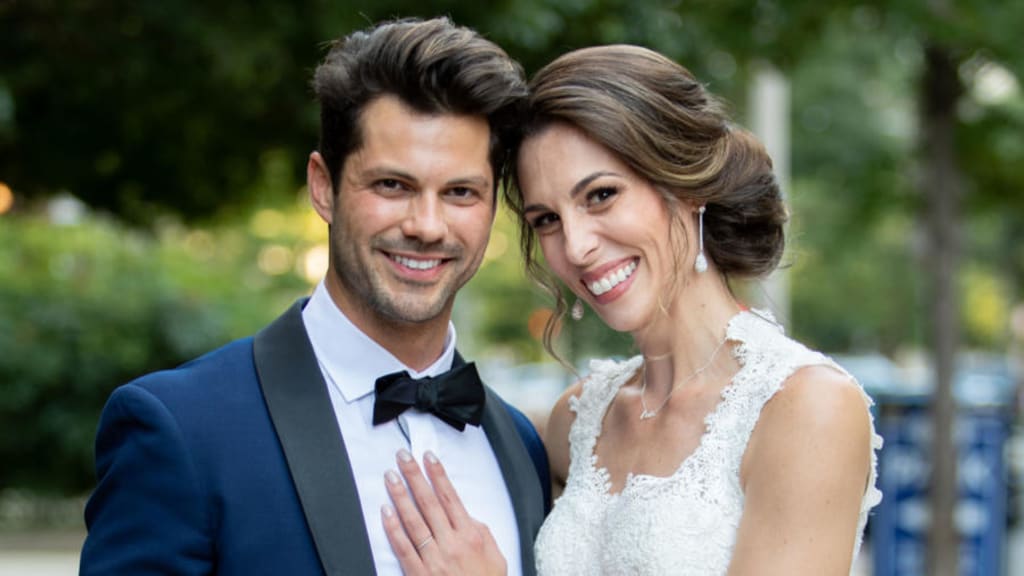 Viewers of Married at First Sight are wondering if any of the five couples will stay married. So far, some of the couples have problems. Some of the problems started before their honeymoon, and some of them occurred while on their honeymoons. Fans are accusing the three experts of having made mistakes in matching the couples.
There is trouble in Taylor and Brandon's marriage as well as in Meka and Michael's marriage. Recently, there is a big red flag for Mindy Shiben and Zach Justice's marriage.
Mindy and Zach
One of the experts, Dr. Viviana Coles said Mindy and Zach were matched because they both have very active lifestyles and entrepreneurial spirits. Mindy is a 34-year-old figure skating coach, and Zach is a 32-year-old fitness professional.
When Mindy and Zach met and married at the altar, there seems to have been some sparks between them. They also seemed to be very happy and excited that the experts had matched them. Viewers of the popular reality show had a lot of hope for this couple who at first appeared so suitable for each other. Then the tables turned for the newlyweds, and they are now struggling to save their marriage.
Mindy and Zach have a communication problem. Mindy questions Zach and he has a tough time answering her questions. Often his answers don't fit the questions she is asking. Mindy accuses Zach to be talking in circles without really saying anything. Mindy seems to be interrogating Zach instead of trying to get to know him. Her series of questions have been "What have you felt about me? Where do I fit in? Do you worry that you're coming across the right way to me?"
Then when Zach hesitantly answers Mindy's questions, she doesn't like what she hears. She told him that he doesn't express himself as well as she does. She compares herself to him by saying she is an open book while her husband is hard to read.
One of the biggest concerns Mindy has is that she said Zach has told her three times that he is not attracted to her. According to Mindy, the first time Zach made that remark was right after their wedding. The third time was when they were on their honeymoon in Panama.
Mindy concludes that while she will try to do whatever she can to make the marriage work, she is hurt by Zach's remarks. She added, "I don't think I'm an unattractive person or anything, but my husband doesn't think I'm attractive, and it hurts." Mindy says she wishes her husband would get to know her before concluding that he is not attracted to her. She thinks Zach owes her an apology for hurting her by his remarks about her.
Team Mindy or Team Zach?
According to Twitter, one person tweeted, "Zach shouldn't have said what he said to Mindy, but Mindy is also being too pushy trying to force something with him. Grilling him about his attraction level isn't going to make him attracted to her. Instead, it is pushing him away."
Others think Zach is too much into himself and signed up for the show to promote his career as a fitness professional.
Bonding in Panama
Even though Mindy and Zach are struggling with their communication, they did try to bond while on their honeymoon. During a day away from the resort, they explored the local culture. The honeymooners got along well and seemed to bond instead of questioning each other. At the end of their tour of Panama, Zach told his wife his favorite part of the day was spending it with her.
Will the couple's marriage improve or will it get worse? Tune in to see what happens on Married at First Sight on Lifetime on Wednesdays at 8 PM.