Villainess Review: Kate Kelsey (Good Wife's Guide to Murder)
A famous podcaster becomes the prime suspect in her husband's murder in this 2023 Tubi film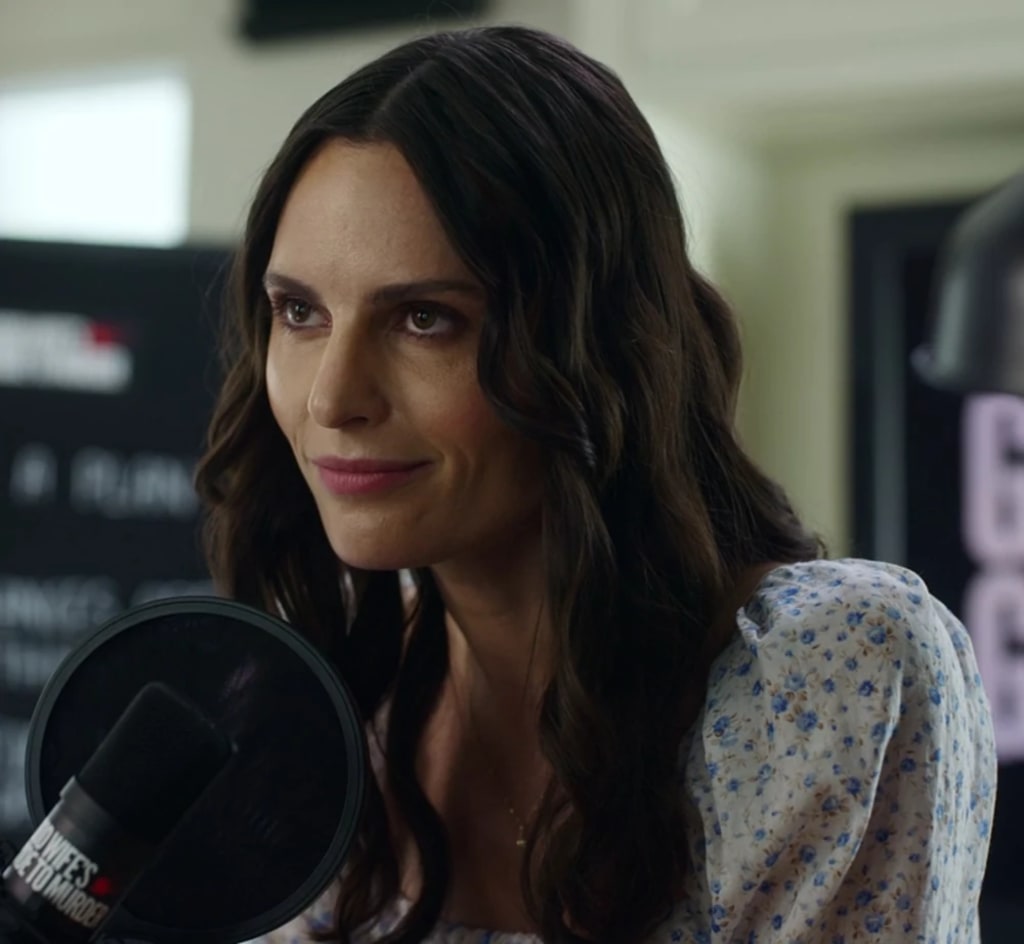 Nola Martin as Kate Kelsey
Tubi's penchant for releasing their Lifetime-esque films vastly increased in 2022, and I'm glad to see that they're not wasting time with this trend in 2023. On January 14, Lifetime aired the true crime film, How to Murder Your Husband: The Nancy Brophy Story, a retelling of Nancy Brophy's murderous plot against her longtime husband. Shortly before this, Tubi gave us this film: Good Wife's Guide to Murder.
The film centered on Kate Kelsey, who was the host of a podcast under that same aformentioned title. The opening featured Kate detailing a wife's murderous plot that involved her husband's peanut allergy, but following the scene, Kate spends some time actually criticizing the murderess for not following through with Kate's 10 rules to avoid getting caught. As we see, "podcaster" is just one of a number of hats Kate wears. She is also the co-owner of a restaurant named Mendaville with her husband, Matt Kelsey. All appears to be well with Kate; loving marriage, good friends in the form of Lenore and Peter Thompson, and her professional life is just amazing.
Then, tragedy strikes.
Matt's found murdered inside his and Kate's home, and it leads to an investigation that sees Kate as the prime suspect because, "it's always the spouse." Lenore, a police sergeant, does work on the case, though Kate goes on her own investigation, which results in Kate learning that Matt was stepping out on her. She does encounter one mistresses, Lisa, who worked for Matt and was revealed as the person who left the following three-word warning to Kate: "Open your eyes." So Kate does suspect Lisa, but she does have an alibi, as did Kate beforehand.
The dueling investigations also feature a few other (potential) setbacks: for one, Kate's verbal encounter with another employee, a revelation that Matt had been helping out Peter financially, as Peter had gambling problems, and worst of all, a hooded figure bludgeoning Lisa to death inside Mendaville. Things get turned up even more when it's uncovered that Matt actually had another mistress: Lenore. Wow! In the eyes of Kate (and probably a few others who watched this), Lenore moved all the way up the suspect list, and that led to Kate meeting with Lenore at her studio and confronting her about the affair, as well as the belief that Lenore killed Matt.
In Kate's summation, Matt wanted to end things with Lenore, leading Lenore to go from dedicated cop to scorned villainess by killing not only Matt, but Lisa as well. Lenore admitted to the affair, portraying herself and Matt as being in unhappy marriages, but she denied everything else. Afterwards, Lenore accused Kate of killing Matt, coming after she had been Kate's prime supporter, and that led to a climactic chase which actually ended with Lenore falling off a ladder and to her death. Months pass, and we see Kate hosting a special podcast in honor of Matt, but as a lot of us (myself included) saw, the dedication ended up being a confession, one that got less and less cryptic. So Kate did it all along; she found out about the affair, and set her plan in motion to kill Matt, but she had to follow all ten of her rules.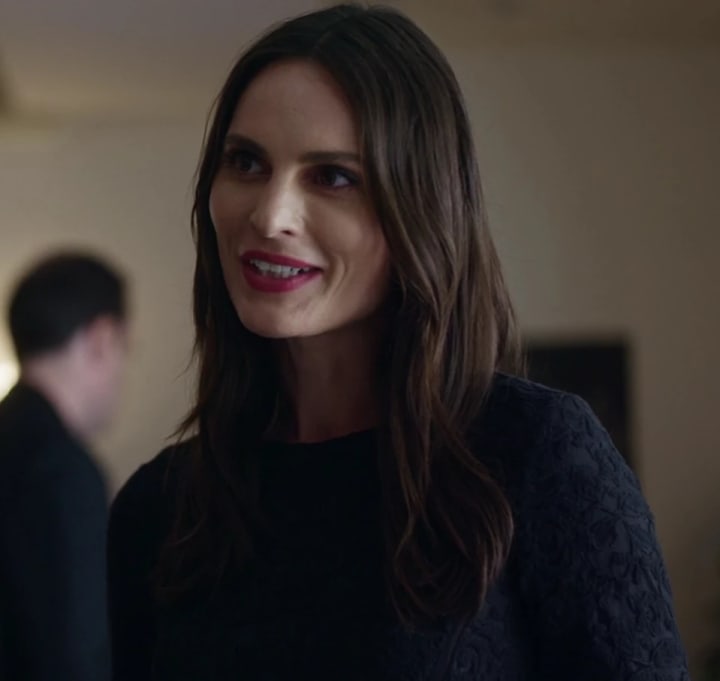 Kate portrayed the happy wife to Matt in public, and left that night while Peter was jogging (the alibi she created). Hours later, Kate returned in her evil hoodie and bludgeoned Matt to death, and after the murder, she portrayed the grieving wife, got Lenore and others on her side, and worked enough with the police on the investigation. Kate later killed Lisa after their meeting, and she actually killed Lenore during that pursuit. So that's that. Kate eliminated three people and was getting away with it, making a proud boast before deleting the video and breaking the fourth wall with a wink to the viewing audience.
Good Wife's Guide to Murder was released on Tubi on January 6, 2023, and featured Nola Martin as the film's central protagonist/villainess, Kate Kelsey. Something told me that this film would have the protagonist turn out to be the villainess; for one, the title and plot, alone, opened the door for that. Secondly, I had watched Lifetime's The Podcast Murders a few months prior, and that film's main protagonist turned out to be the main villainess, so recent history was on my side. Kate was deliciously conniving, manipulative, and fiendish, with a tad bit of a bloodthirsty persona. Of course, I have to mention this: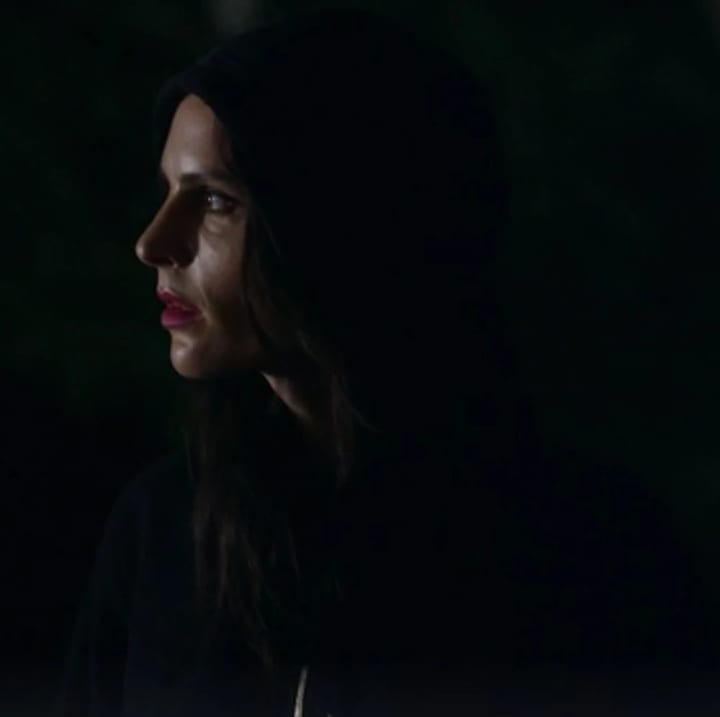 How nice of Nola Martin to don the "hoodie of evil" as her character details her murderous actions in the final moments. Martin acted out every fragment of Kate's personality very well; first off, she portrayed Kate's "loving wife" demeanor and her "dogged investigator" role brilliantly. The moment that Kate confronted Lenore was an exciting one, as it was Martin portraying Kate as a woman in danger from a possibly evil romantic rival in the form of Lenore. However, when Kate is revealed as the true killer, that was absolutely amazing acting from Martin. She excelled when it came to Kate's boasting, and the flashback scenes show Martin shine while acting out Kate's villainous and bloodthirsty persona. Nola Martin truly delivered with this deliciously wicked role, and the film overall was just thrilling and awesome!
Nola Martin has recently appeared in a number of holiday telefilms, and regarding her other appearances, she's done episode of Designated Survivor and Netflix's Ginny and Georgia. This isn't Martin's first villainous role; she played villainess Rita Scarlata on ABC's short-lived series, Conviction.
If you like this story and review, click the heart and subscribe button, and feel free to comment below! Tips and pledges would be greatly appreciated, but only if you want to do so!
Check out Kate Kelsey's profile on Villainous Beauties Wiki!
About the Creator
Born on March 18, 1985. I am an avid fan of sports and wrestling, and I've been a fan of female villains since the age of eight. Also love movies--especially comedy and horror--and among my favorite TV shows are The Simpsons and Family Guy
Reader insights
Be the first to share your insights about this piece.
Add your insights