TWL: The FULL List of Horror Movies To Watch on Movie Night
Organized and Updated Regularly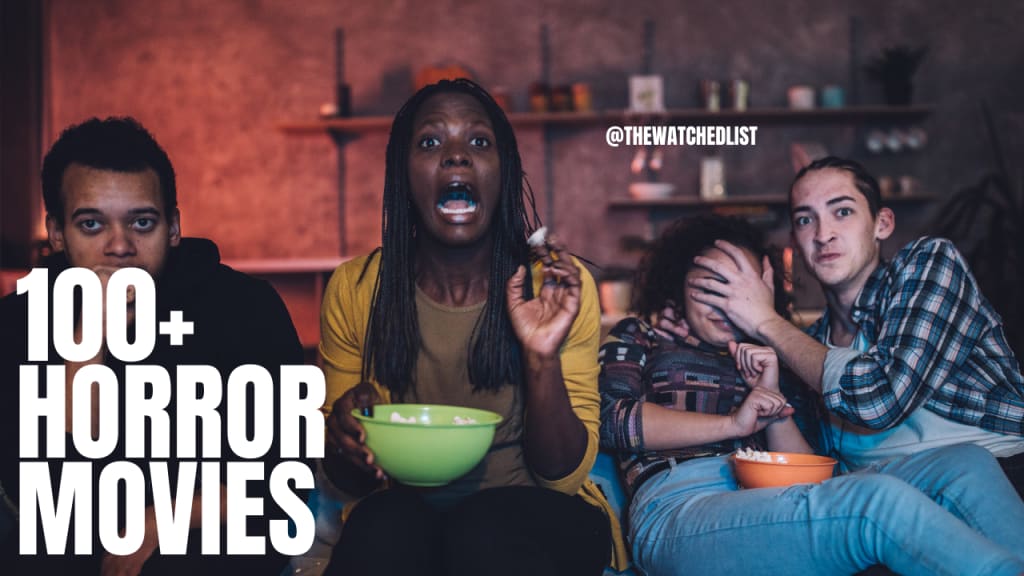 Hey, Watchers!
Movie Nights have just gotten even better! Because I have created an entire lIst of horror movies!
You can find exactly what you're looking for by looking through one of the following categories:
End of the World Horror
Supernatural Horror
Gory Horror
Horror Thriller
Comedic Horror
Zombie Horror
Horror Based on True Events
Disturbing Horror
Disclaimer: Some of these movies may not be suitable for younger audiences. When in doubt, look up movie ratings and read descriptions before watching!
End of the World Horror
The Crazies (2010)
The Happening (2008)
Cloverfield (2008), 10 Cloverfield Lane (2016), Cloverfield Paradox (2018)
Awake (2021)
The Mist (2007)
A Quiet Place Film Series
Bird Box (2018)
The Silence (2019)
Supernatural Horror
Incantation (2018)
Paranormal Activity Film Series
Grave Encounters 1 & 2 (2011/2012)
Mr. Harrigans Phone (2022)
The Manor (2021)
The Fourth Kind (2009)
It Follows (2015)
In The Tall Grass (2019)
The Omen Film Series
Hereditary (2018)
Countdown (2019)
Devil (2010)
30 Days of Night (2007)
The Descent (2005)
Smile (2022)
Veronica (2017)
Sinister Film Series
Wish Upon (2017)
The Forest (2016)
CAM (2018)
As Above So Below (2014)
The Blair Witch Project (1999)
Shutter (2008)
The Taking of Deborah Logan (2014)
The Black Phone (2022)
Insidious Film Series
Devil's Due (2014)
Candyman Film Series
One Missed Call (2008)
The Ritual (2017)
Gory Horror
Hostel Movie Series
Green Inferno (2013)
Joy Ride Film Series
Terrifier Film Series
X (2022) and Pearl (2022)
Cabin Fever (2002)
My Bloody Valentine (2009)
The Hills Have Eyes (1977 & 2006)
I Spit On Your Grave Film Series
Texas Chainsaw Massacre Film Series
Wrong Turn Film Series
Are You Scared (2006)
Final Destination Film Series
The Hills Run Red (2009)
V/H/S Film Series
Evil Dead Film Series
SAW Film Series
Horror Thriller
Life (2017)
Don't Breathe Film Series
Alive (2018)
ATM (2012)
The Belko Experiment (2016)
The Ruins (2008)
Us (2019)
Brightburn (2019)
The Last House on the Left (2009)
Midsommar (2019)
No Vacancy Film Series
Child's Play Film Series
You Should Have Left (2020)
Orphan (2009) & Orphan: First Kill (2022)
Gerald's Game (2017)
Deep Blue Sea Film Series
Nope (2022)
Martyrs (2018)
Jeepers Creepers Film Series
Knock At The Cabin Door (2023)
Run (2020)
Scream Film Series
Get Out (2017)
The Purge Film Series
Frozen (2010)
Comedic Horror
The Visit (2015)
M3GAN (2023)
Ready or Not (2019)
Bodies Bodies Bodies (2005)
Freaky (2020)
Happy Death Day 1 & 2 (2017/2019)
Fresh (2022)
Trick'r Treat (2007)
Barbarian (2022)
The Fear Street Trilogy
Tusk (2014)
The Babysitter (2017)
Teeth (2007)
Zombie Horror
I Am Legend (2007)
World War Z (2013)
Army of the Dead (2021)
Contracted (2013)
28 Weeks Later (2007)
Resident Evil Film Series
Little Monsters (2019)
Train to Busan (2016)
Quarantine Film Series
Zombieland 1 & 2 (2009/2019)
REC Film Series
Horror Based on True Events
Girl in the Basement (2021)
Silent Hill (2006)
The Exorcist Film Series
Silent House (2011)
Winchester (2018)
The Exorcism of Emily Rose (2005)
The Conjuring Film Series
The Devil Inside (2012)
The Possession (2012)
The Strangers (2008)
The Sacrament (2013)
Things Heard & Seen (2021)
Annabelle Film Series
The Amityville Horror Film Series
The Craigslist Killer (2011)
The Haunting in Connecticut (2009)
Eden (2012)
Disturbing Horror
The Girl Next Door (2007)
Megan is Missing (2011)
A Serbian Film (2010)
Begotten (2006)
The Poughkeepsie Tapes (2009)
If you're not a part of the TikTok WatchedList community, make sure you head over there and check it out. Not only do we talk about movies and tv, but we have lots of fun on live nights, with look-alike challenges, and so much more.
Thanks again, and see you very soon!
About the Creator
Storytelling is one of my favorite things to do. Some may know me as The Watched List on TikTok, while others see me as a creative writer. Here, you get to see both worlds!
Reader insights
Be the first to share your insights about this piece.
Add your insights