Tim Curry is A God!
You cannot change my mind about this. I've sadly never been able to meet him, and despite trying to save up, I've never been able to afford to buy his autograph from trusted places either. I hope one day, to have a piece of paper, with my real name (I write under a fake name on here) on it, with his autograph. Imagine how amazing that would be!
I have been a fan of Tim Curry for as long as I can remember. I grew up watching the likes of The Wild Thornberrys, Barbie in The Nutcracker and Home Alone 2. As I got older, of course, I watched The Rocky Horror Picture Show, and fell even more in love with this God amongst men. No one could convince me he was Darkness, in the 1985 film 'Legend'. I mean, his voice (more on that later) gave it away, but I refused to believe it.
He is absolutely incredible in everything; stage and screen. And as for his singing… wow. Honestly, have you heard him sing in anything other than Rocky Horror? I promise you, YouTube him singing - you will NOT be disappointed. I'll put a link to him singing 'Baby Love', originally performed by The Supremes. Generally, I'm not a big fan of covers (Elvis' music career aside), but my goodness, if he doesn't give you goosebumps when you listen to him sing this, then I have to question your taste and stuff.
Tim actually has a couple of albums out, and I frequently revisit them, and fall in love with his music all over again. He began singing at a young age, in the Church where his father was a minister. I'd love to go back in time and see that. A young Tim, singing away, with no idea of the wonderful career he has ahead of him.
Staying with his voice for a moment, he must be one of the only people who you can recognise just from hearing him speak. The only others I can think of are Elvis and Alan Rickman. But yeah, even when Tim speaks, it's sexy. It sounds sexy. I mean, the man has always just oozed sexiness. And no, I don't fancy him, I can just appreciate actual God-like beauty and talent.
I just assume that everyone knows who he is, but (very) occasionally, someone will have no idea who I'm talking about and I secretly love it, because I get to talk about him and make loads of viewing suggestions. It's a little annoying when they realise that they did know who he was though; because I have to shut up. Although, I assume if you've clicked on this, you know who he is. But anyway, now, let's take a little look at his film career; just a few of the highlights.
Before we start, this is obvious, but I feel like it has to be said. These aren't put in any order. I have personal favourites, of course, but here I'm just looking at some of the roles he's played. I'm not saying certain roles are better or worse than others. I've just picked out a handful of films I've been watching recently.
Clue – 1985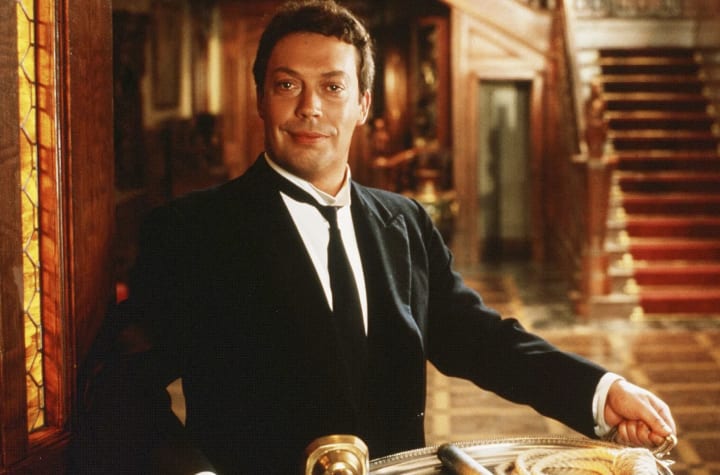 This film was based on the board game Cluedo, where Tim portrays Wadsworth, a 'Butler' of sorts (don't want to spoil anything for those who haven't watched it). It's not award winning or a film that's going to change your life in any way, it's just one of those easy watches that makes you laugh. The final few scenes are hilarious. Tim is absolutely wonderful as Wadsworth, and I cannot imagine anyone else playing that role. His run that he does – it just warms my heart.
Have you ever noticed that you cannot stop smiling when you're watching him?
Home Alone 2 – 1992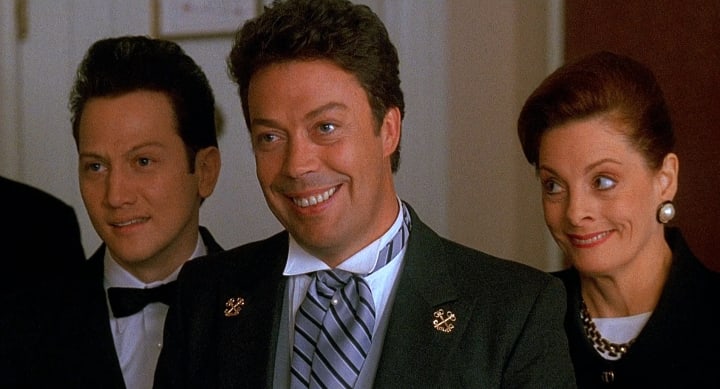 Who hasn't watched this movie? Let's be honest. It's one of the musts at Christmas. The second Home Alone is my favourite, because I think it's funnier, the story is better and of course, the second one has Tim Curry, playing the Concierge.
His facial expressions and comic timing are everything in this movie. And who can't laugh at the moment where the film Kevin is playing, implies that Tim's character has been 'smooching' with everyone, including someone called Cliff… and there just happens to be someone there by that same name. In fact, I think that may actually be my favourite scene in that film. Well, that and the face Tim pulls when the credit card that Kevin has been using comes up as stollen.
The Rocky Horror Picture Show - 1975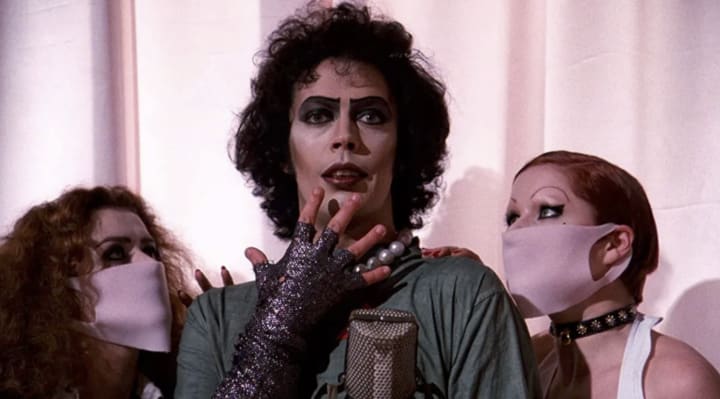 Okay, so I couldn't pass up on the opportunity to mention this film. It's one of my favourite films, and has been, for a very long time (see, what I did there?). I know Tim mentioned that he didn't want to be type-cast because of this film, and I'm sure it must annoy him when people bang on about TRHPS. But I highly doubt he'll ever read this, so I'm going to talk about it.
I'm actually not a big musical fan, in fact, most musicals do my head in, but Rocky Horror is different. My Masters in writing probably has me reading far too much into the film, but I'm going with it. I relate to Dr Frank N Furter a lot. I'm not a 'Sweet Transvestite', nor am I from another planet, but I am lonely. And to me, Frank really comes across as someone who is deeply lonely, and trying to just find someone to love him. First Eddie, then Columbia, then Rocky. And who knows how many before them? I just want to give him a big hug and be like 'same, Frank, same. Here, I'll be your friend. I'll love you.'
Towards the end of the film, Tim sings a song called 'I'm Going Home'. This song sees my soul. If it doesn't make you cry, then you've never been through what he's describing in the song. I'll link the song below. This isn't the film version, but I think it's best to see/hear it away from the make-up and clothes; especially if it's your first time hearing it. Just let the song speak for itself.
There are some great messages throughout the film - 'Don't dream it, be it' and 'give yourself over, to absolute pleasure'. Two mottos I think we should all aspire to live by. The film was very ahead of its time, and Tim was just sensational as Frank. No one could ever hope to come close to him. Like this piece is entitled - Tim Curry is a God.
Muppet Treasure Island – 1996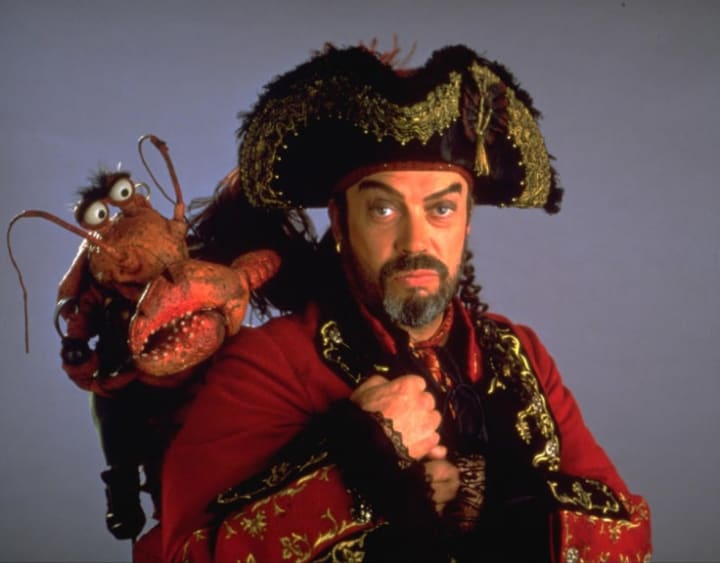 To me, this is one of Tim's most relaxed roles. Yes, he's playing your classic children's villain, but he just seems so at ease. He even speaks fondly of his time filming, saying it was one of his happiest times on set. It just goes to show how vast his talents are. When you compare Long John Silver, to the likes of the Concierge, Pennywise and Dr Frank N Furter, they're all very different. Tim can portray such a variety of characters, with seemingly no effort; thus proving how talented he is.
OH, and he also sang his songs LIVE! Usually, in films like that, actors mime along when filming, to songs they've already sang, but Tim did it all live. I automatically gain more respect for actors that do that. Like Meryl Streep in Mamma Mia.
I was quite surprised to learn that Tim went through a period of alcoholism. I've had people in my own family suffer with alcohol abuse, and to see someone as talented and successful as him, admit to something like that, kind of made me warm to him even more. He got back on his feet and continued to work – which I think is incredible. He is noted to have said 'I think once you've had a really serious failure, nothing can ever be as bad as that again.' He also continued to say 'So you might as well just go for it, because they can't make you feel any worse than they did before.' I certainly took that on-board. I take failures very personally, because I was always brought up in the mind-set that if you fail at something, then you're a failure and what's the point of you? Obviously, as I've grown up, I realise that everyone fails sometimes, and you need to fail, in order to grow. And I find strength from Tim with his words there and how he got back into acting and even now, after a suffering a stroke in 2012, he is still doing voice acting, going to conventions and best of all… singing!
I have always, and will continue to, absolutely adore Tim Curry. The man behind all his roles. The incredibly soulful singer and the man with a wicked sense of humour. He really is a God amongst men. One of England's finest. Now and forever.
celebrities
About the author
Reader insights
Nice work
Very well written. Keep up the good work!
Top insights
Easy to read and follow

Well-structured & engaging content

Heartfelt and relatable

The story invoked strong personal emotions

Masterful proofreading

Zero grammar & spelling mistakes
Add your insights