The Wonder of Circus
Discover childlike wonder and a world of delight at Denver Circus Collective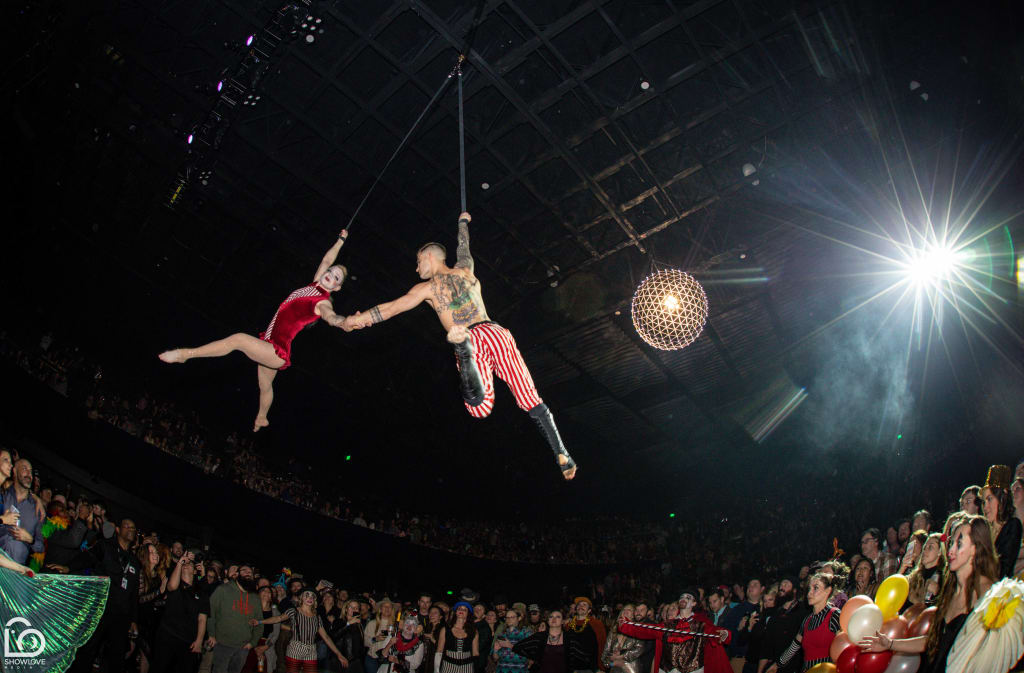 As a child, our sense of adventure is unhindered by fear. Do you remember the feeling of the wind whooshing over you as you were pushed on the swings? Rolling down hills and landing in a giggling heap at the bottom? Jumping, cartwheeling, and climbing trees? Life as an adult leaves little time for these small joys. Over time we gain trepidation over new experiences, fear of getting hurt, of looking silly. Day to day stress prevents us from taking time to just enjoy the world around us. If you had asked me two years ago the last time I had felt a childlike sense of freedom, I wouldn't have had an answer for you. But I've found a place that lets me feel that exhilaration — along with accomplishment, inspiration, and community. It's the Circus.
I, much like you might be, was surprised to discover a weird little circus bubble exists in most cities around the world. All of the circus studios I've visited are inclusive places, bubbling over with talented individuals and unmatched community. Instructors, performers, and students mingle with no distinction, learning from and supporting one another. In a time when we are overloaded with stress, confined and constrained, we need a slice of playful liberation like the circus more than ever.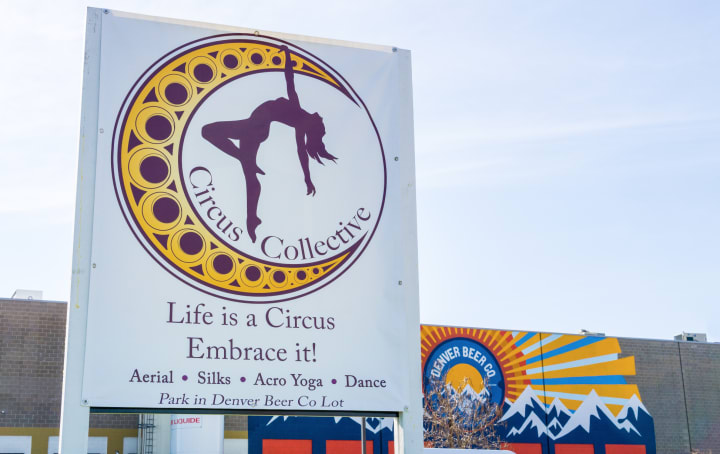 Second Home
My 'home' circus studio is Denver Circus Collective. Tucked away in an unassuming warehouse, next to Denver Beer Company, is the place I spend the most time aside from my home. Every time I walk through the doors I feel like whatever is weighing on me is lifted, knowing I will soon be flying, spinning, and dropping toward the ground from the safety of my happy place.
"Our mission is to build authentic community through movement and art. Become part of the Circus Collective community. Learn new skills and make new friends in our classes. Bring people together to make memories in our space. Entertain and delight your guests with our professional performers."
This particular studio isn't just my happy place though, it serves a community of athletes, artists, neuro-atypical students, and children. It has helped people recover from spinal injuries, PTSD, depression. All of whom now — as I write from the COVID-19 lockdown — are sorely missing their favorite place to move and create.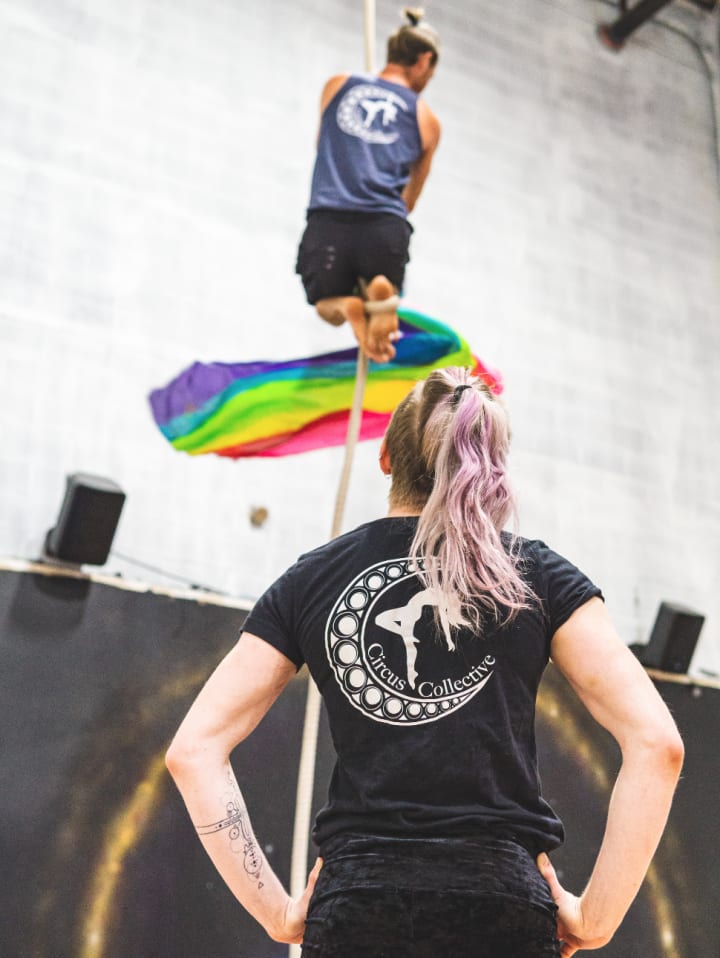 Intermission
Like much of the world right now, everything in the circus is on hiatus. One of the biggest circus organizations in the world — Cirque du Soleil has been forced to lay off 90% of its workforce, and locally, one Denver circus studio (of only a handful) has already closed its doors this year. Along with teaching the classes I attend, the professionals at the collective also perform regularly. They bring entertainment and joy to private parties, fundraisers, and festivals. They help people to celebrate on the happiest of occasions and will liven up any event. This too is paused. Usually, the students and instructors would be busily rehearsing for the bi-annual Circus Collective showcase, which gives amateur aerialists the chance to perform in front of a real, and quite large, audience. The Spring Showcase — which was penciled in for May 8th and 9th — has ground to a halt.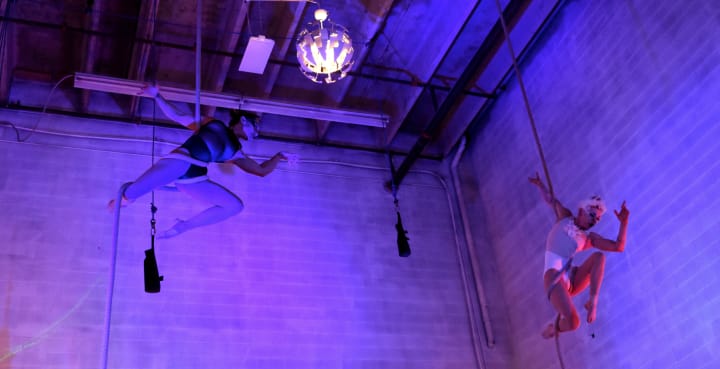 Step into the Circus Collective on a normal day, however, and you'll find contortionists stretching on the padded floors; aerialists spinning from steel rings, trapeze, rope, and silks; gymnasts springing across the studio; fire performers throwing flames in the parking lot. Wherever you go, the circus brings together the curious and the astonishing. It emanates a certain kind of magic, and Denver Circus Collective is no exception.
Reopen. Reawaken.
A sad realization I've had this week, as I daydreamed about getting back in the air, is that the places that will suffer most from the effects of this pandemic are the ones we need to hold onto most. They are the small businesses who put care and love into every creation, they are the passion projects that are barely afloat at the best of times, they are the non-profits who can't afford to lose donations. These are businesses full of people who put a smile on your face as much as you do theirs. My tiny local coffee shop with the baristas who know my order; the indie pet store my dog pulls me into whenever we walk by; and my circus studio — a safe place for many to be themselves, and to be active in body and mind.
For now, we can support these businesses from afar — buying gift cards, prepaying for services, and donating where possible. When the dust settles, and whatever passes for normality after COVID resumes, I'll be leaving my worries at ground level to get back in the air. If you're looking for an activity that will make you feel truly alive, come and find me at Denver Circus Collective. I'll be there, along with a community that will lift you up in every sense of the word.
About the Creator
Copywriter with an affinity for food, rooftops, travel, and circus. Instagram: @laurenrosebaer
Reader insights
Be the first to share your insights about this piece.
Add your insights