The Wild Side of Caravaggio, the Killer Painter Who Died in Strange Circumstances
Caravaggio lived with a brush in one hand and a sword in another.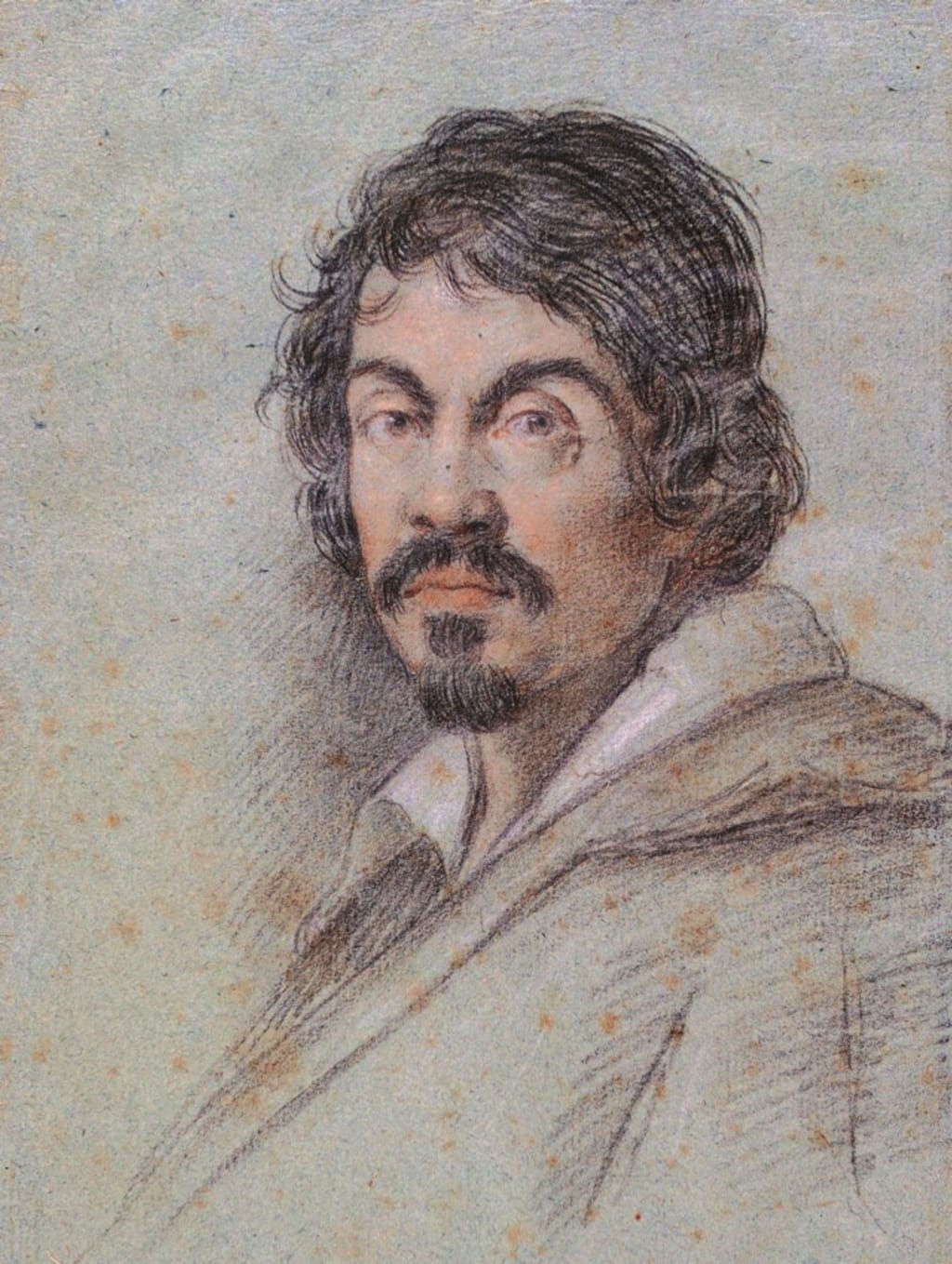 Ottavio Leoni, Public domain, via Wikimedia Commons
Who was Caravaggio?

What was Caravaggio's style?

Why did the painter die?
Michelangelo Merisi Da Caravaggio stood out for his artistic talent and controversial private life.
A mad genius tormented homosexual, violent artist.
The "bad boy of the Baroque" accumulated a thick rap sheet: arrested for carrying a sword without a permit on May 4, 1598; sued for hitting a man with a cane in 1600; accused of insulting and attacking another man with a sword in 1601; implicated in an assault on a waiter after serving him artichokes in a tavern in 1604; arrested for throwing stones at a policeman that same year, etc.
And finally, on May 28, 1606, sentenced to death for killing and mutilating a man during a fight in the Campo Marzio area (Rome).
Who was Caravaggio?
Born in Milan, Caravaggio learned the art of the brush in a school of Mannerist painting when the Renaissance was living in its last days.
The young painter acquired his peculiar tenebrist style after wandering through the back streets of the cities of northern Italy.
But it was in Rome where he established himself as the Baroque genius.
In 1592, Caravaggio arrived in the Eternal City wearing clothes on his back. Or not even that.
A persistent rumor claimed that, as just a child, in Milan, he had killed a playmate after a tantrum.
And his family had sent him away as far away as possible.
He did not find his first roof over his head until he began working as a "painter of flowers and fruits" in Giuseppe Cesari's workshop, Pope Clement VIII's favorite.
But he soon left that workshop tired of painting vines and fruits.
He wanted to paint humans, if possible dirty, ragged, and full of details.
If anything can define Caravaggio's work, it is precisely that struggle between light and darkness that seems to have prevailed in his own life, as well as his ability to mix the sacred with the profane through characters that radiate misery.
And that was the kind of people who used to swarm around him.
Rome's most famous painter
With the help of the painter Prospero Orsi, he entered the elite art world. He became one of the stars of the Counter-Reformation, the Catholic movement used to counteract the Protestant Reformation.
Cardinal Francesco Maria del Monte bet on Caravaggio and gave him the opportunity of a lifetime: to paint one of the hoods of the church of St. Louis of the French.
Here Caravaggio began to represent religious figures as street people, with their physical deformities and ill-featured when necessary.
Elderly, filthy, public women, street children: the Milanese painter made a street chronicle of the period using his religious paintings.
All of this got embellished with light and shadow to emphasize the theatrical drama of the compositions.
The presence of lightly clad men of low social standing in his paintings has given rise to speculation about the painter's possible homosexuality.
There were accusations against him due to his close relationship with the adolescent Cecco.
Who posed in some of his most controversial works.
One of the last biographers of the Italian, Andrew Graham-Dixon, prefers to define Caravaggio as "omnisexual" in his work "A Sacred and Profane Life" (Taurus, 2011); that is, interested in both men and women and at the same time disinterested in both.
A stormy life
The painter was violent and led a group of friends, more like a street gang.
If the quarrelsome Caravaggio was spared from spending the rest of his life in jail, it was because he had significant friends, and he was lucky that his antics did not lead to death until May 1606.
During a game of pallacorda (a kind of primitive tennis), Caravaggio got into a confrontation with Ranuccio Tomassoni, a ("young man of much panache"), which could only mean this context that he had Spanish ancestry.
Moreover, his father was an aristocrat well related to Pope Paul V.
Whether it was over a matter of honor, a woman, or overdue debt, Caravaggio did not hesitate to knock the young aristocrat down and mutilate his penis as he let out "an anger-filled guffaw."
However, the incision was not precise: instead of castrating him, he severed an artery and caused his death shortly.
Exile
The painter had not wanted to kill Tomassoni, but the affair was so scandalous that Pope Paul V, whose portrait Caravaggio had just painted, sentenced the artist to death while he fled.
One of the painter's friends was seriously wounded by Tomassoni's cronies and imprisoned.
The Italian painter fled to Naples and, in fact, spent the rest of his life looking around every corner and avoiding the authorities.
Again, he was saved from prison by his contacts in high places, the Colonna family, who allowed him to continue his artistic career.
He traveled to the island of Malta from Naples, where he was named a Knight of the Order of Malta.
His quarrelsome behavior caused him problems, and he was expelled from the order and forced to flee the island of Crusaders.
While his painting became increasingly tenebrous, the persecution against the Italians intensified.
He had accumulated too many enemies.
In Naples, he was the victim of an attack at the Osteria del Cerriglio that left his face disfigured and his spirits even more unhinged.
Some even gave him up for dead.
He slept armed and believed that everyone was whispering against him.
His last work, The Martyrdom of St. Ursula, is perhaps the darkest and gloomiest of his collection, reflecting his depression in those days.
Death
In the last summer of his life, in 1610, Caravaggio finally received permission to return to Rome with his meager possessions in tow, thanks to a papal pardon on his person (some authors maintain that he had not yet fully granted permission).
However, while stopping at Porto Ercole, he was briefly imprisoned by a Spanish guard who mistook him for another individual, and the ship carrying him set sail for Rome without him.
His health suffered because of that chain of catastrophic misfortunes and his malavita.
In addition, the painter probably suffered from saturnism, the so-called disease of painters who are not very careful with hygiene.
His heart did not resist the desperate attempt to reach the ship leaving for Rome.
"Arrived at a place on the beach, he threw himself on the ground. Without human help, in a few days he died badly, as badly as he had lived".
Why did the painter die?
It gets suspected that he may have died of malaria in his youth.
As well as the wounds he had suffered in Naples.
Another hypothesis is that he died of sunstroke (he rode under the scorching July sun); and that the Spaniards in Naples hid the circumstances of his death to keep the paintings that the painter had with him.
What paintings were they?
There were at least three.
Two dedicated to St. John and one to the Magdalene, although of the three, we only know today where the St. John the Baptist is in the Borghese Gallery in Rome.
Caravaggio's Legacy
Caravaggio's folk depictions of religious figures were innovative in showing biblical characters in a non-idealized manner through signs of aging and misery and contemporary clothing.
That humanized the divine, making it more accessible to the average viewer.
In this way, Caravaggio's work represented a type of spiritual populism.
The bare, dirty feet of Caravaggio's figures linked the artist's works with church teachings that emphasized the poverty of Christ.
Despite this alignment with current dogma, these depictions attracted some of Caravaggio's harshest criticism.
The chiaroscuro technique got not introduced by Caravaggio, but he was the first painter to incorporate it as a dominant stylistic element, darkening shades.
And using defined rays of light to emphasize the image's narrative.
The style became prevalent in his later work and became the hallmark in his more mature works.
Caravaggio's artistic legacies are invaluable.
His mastery of chiaroscuro has been studied, imitated, and applauded far and wide.
His figure is one of the most disputed of his time.
Everything about him has been controversial, from a painting that stood out in his time to his sexual orientation, not to mention his problems with the law.
His life, like his work, is a succession of chiaroscuro.
Sources:
https://www.abc.es
https://es.wikipedia.org
https://lamenteesmaravillosa.com
https://elpais.com
https://www.semana.com
https://www.elestudiodelpintor.com
art
About the author
I live in a house next to a river in the middle of the forest. I like horror stories whose main objective is to entertain, and my favorite writer is Stephen King. However, my passion is writing crime fiction.
Reader insights
Be the first to share your insights about this piece.
Add your insights