The ultimate summer anime list
15 anime to watch this summer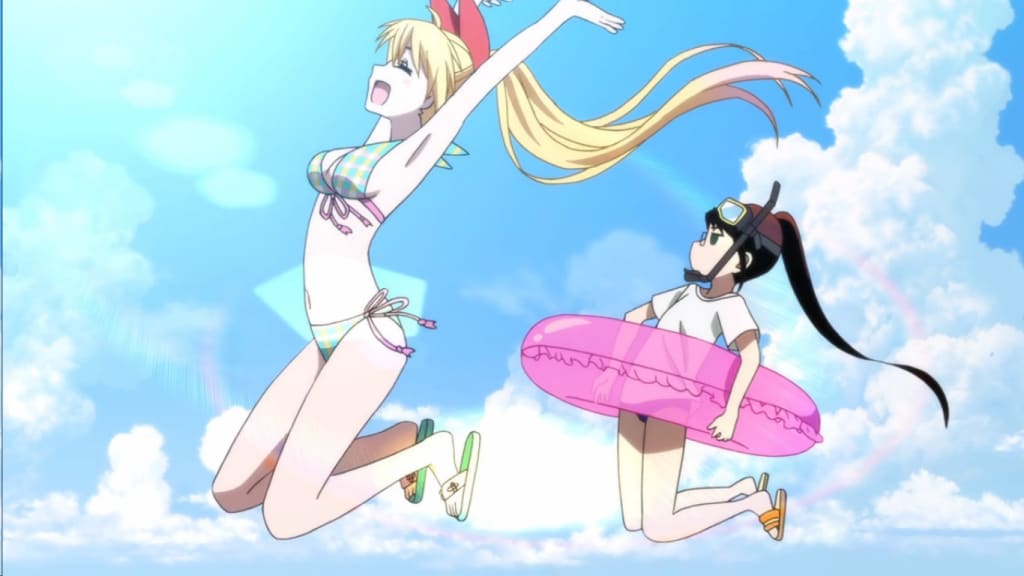 Going into the summer months I wanted to create a list of binge-worthy anime!! I hope this helps you find a show that brings you some entertainment this summer!! These aren't in any order, I only recommend anime I have watched and loved, and are not a particular genre. Just wanted to make a list so you can have some new animes for the summer. Let's begin!!
15. K-on!!
Storyline: K-ON is about 5 high school girls who become friends through the Light Music Club. Yui the lead guitarist, Tsumugi the keyboardist, Mio the bassist, Azusa the rhythm guitarist, and Ritsu the drummer. K-ON is the story of 5 aspiring musicians and their journey through high school together.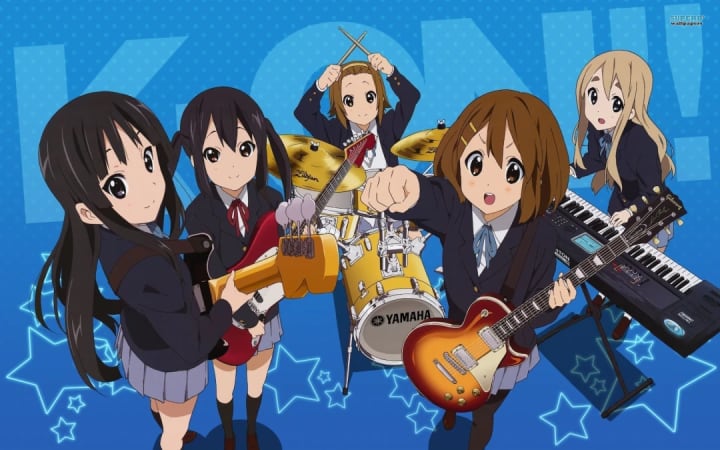 Info: 14 episodes in season 1, 27 episodes in season 2, and a movie
Genre: Comedy, Drama
My Review: I loved this show! Let's be honest we have all sat around with our friends and talked about how we should start a band, but never actually do. Well if you have, this show is 100% for you! Very unique characters, which I am always a sucker for. Not a super exciting storyline, but still very entertaining and cute. You will find yourself connecting with the band and almost feeling as if you are one of the members. Cheering them on every step of the way. The animation style is one of my favorites, it just makes you feel happy looking at it. The music wasn't my favorite, but the cute performances made it fun to watch. This is a great anime to watch with friends as well!
14. Maid Sama!
Storyline: Seika High School, once an all-boys school notorious for its wild students and for generally being a terrifying place for girls, has recently become a co-ed school. With the female population still a minority and living in fear of the over-the-top antics of the males, Misaki Ayuzawa takes it into her own hands to reform the school and allow the girls to feel safe in the rough environment. Training, studying, and even becoming the first female student council president of the school, Misaki has gained a reputation among the male student body as an uptight, boy-hating dictator and as a shining hope for the teachers and fellow female students. However, despite her tough-as-nails appearance, she secretly works part-time at a café to support her family. Unfortunately, her hard-earned reputation is threatened when the popular, attractive, and somewhat impassive Takumi Usui takes an interest in her after discovering her in a uniform after school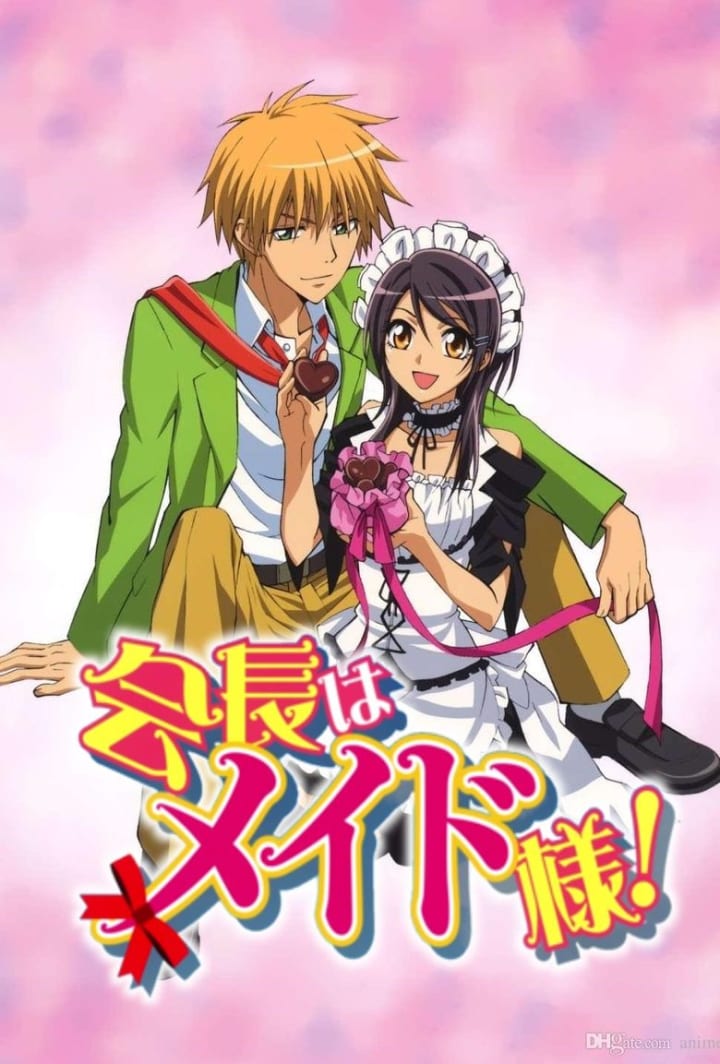 Info: 26 episodes
Genre: Comedy, Romance
My Review: If you need a heart-pounding show this is for you. Heads up you will binge through. I love seeing strong female leads, Who aren't afraid to take the world head-on, and this was such a fun twist. From beginning to end there was so much character development, lots of humor, and entertaining characters. I feel like this should be a staple anime everyone watches at least once.
13. Tanaka-Kun is always listless
Storyline: This unconventional, surrealist comedy follows an exhausted high school boy who, despite multiple attempts from his friends, still manages to spectacularly... sleep. Much to the chagrin of the energetic (at times bossy) Ohta, Tanaka is often found in a blissful state of lethargy, possessing the ability to doze off in any situation, especially in midsentence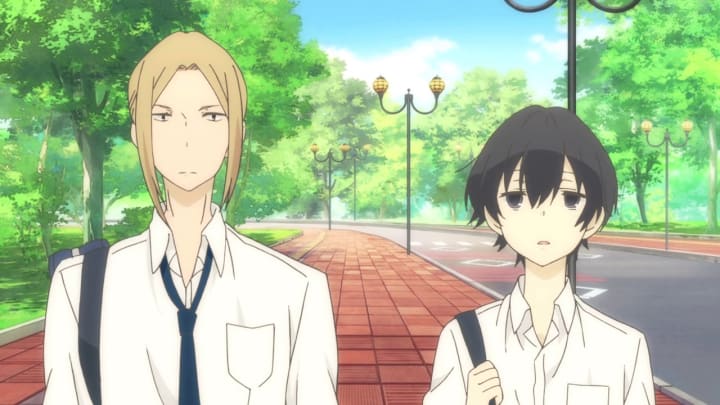 Info: 12 episodes
Genre: Comedy
My Review: Have you ever not wanted to do anything. I mean anything. Well, Tanaka-Kun is on a mission to live his life not doing anything, and he is finding out that it is easier said than done. This was a very lighthearted anime that should have been longer. I loved the friendship between Tanaka and his best friend Ohta. Simple and funny stories in each episode. If you are stressed or just need to relax this is a great show to do just that. Just relax.
12. FREE!
Storyline: Free! revolves around members of a high school boy's swimming team. Four boys-Haruka, Makoto, Nagisa, and Rin, all participated in a swimming tournament shortly before graduating from elementary school and later parted ways. Years later, they reunite when Rin challenges Haruka to a race and wins. Nagisa decides to get Haruka and Makoto back swimming together and add a recruit named Rei to form the Iwatobi High School Swimming Club.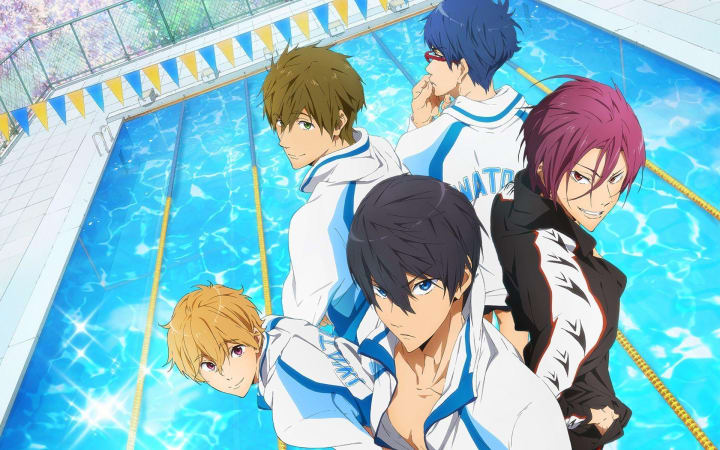 Info: Free! Iwatobi swim club has 12 episodes, Free! Eternal summer has 13 episodes, Free! Dive into the future has 12 episodes and 2 movies as well.
Genre: Comedy, Drama
My Review: Did I watch this show as a joke, yes. Did I actually enjoy it, also yes. This show honestly surprised me, and I know what you're thinking, "Isn't this just a push of shirtless guys having man-crushes on each other" Well maybe yeah. But it is also very funny and shockingly entertaining. It definitely gives summer vibes and makes me want to swim, and maybe also just watch men who swim. No shame. Side note - If you need a laugh watch 50% off on youtube. You will laugh so hard you will crack a rib!
11. Rent-A-Girlfriend
Storyline: Japan is weird. You can rent dads, mothers, children, and even a girlfriend. When Kazuya's love rejects him, he is just as desperate to try the service. Good for him, the girlfriend he hires is very cute, but he wants to hide his relationship from his acquaintance. Too bad his new girlfriend goes to his university, their grandmothers are good friends, and they are neighbors. Kazuya also finds out that his new girlfriend is not as sweet as in the real life. How will their romance turn out?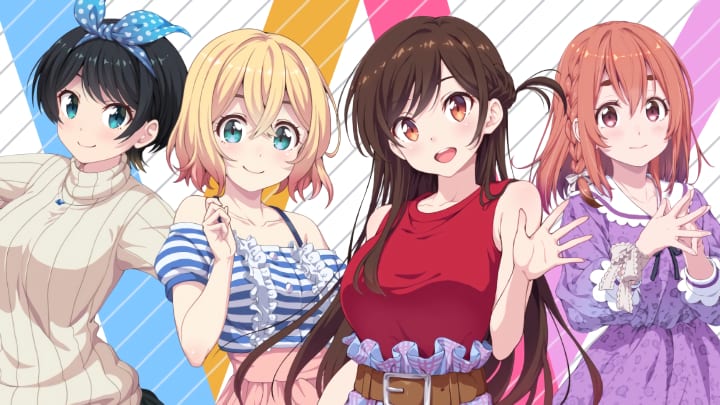 Info: Season 1 has 12 episodes, Season 2 will be out July 2022
Genre: Comedy, Drama, Romance
My Review: I will not lie this show was frustrating. I was yelling at the screen at one point. The main character is whining and desperate but also a good guy so you kinda root for him. The real main character in my opinion is Chizuru Mizuhara. Headstrong and independent, she really carries her own as a rented girlfriend. But the storyline, Oh my. Whoever wrote this made it so addicting that when you start watching it you will not be able to put it down for a second. I cannot wait for season 2 and to see how everything plays out.
10. Fruits Basket 2019
Storyline: After a family tragedy turns her life upside down, 16-year-old high schooler Tohru Honda takes matters into her own hands and moves out...into a tent. Unfortunately for her, she pitches her new home on private land belonging to the mysterious Souma clan, and it isn't long before the owners discover her secret. But, as Tohru quickly finds out when the family offers to take her in, the Soumas have a secret of their own--when hugged by the opposite sex, they turn into the animals of the Chinese Zodiac.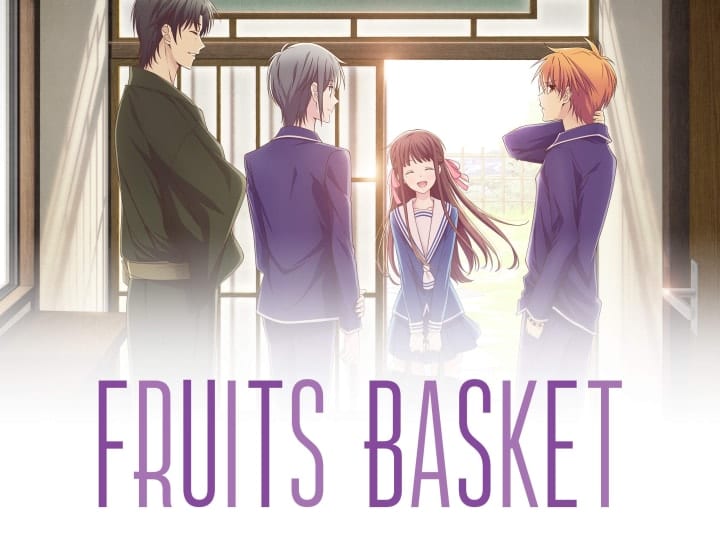 Info: Season 1 has 26 episodes, Season 2 has 13
Genre: Comedy, Drama, Romance
My Review: With a beautiful and dramatic story, this show will hook anyone watching. You will laugh and cry and scream at the screen. There was an original version of this show in 2001 that did not follow the manga and got canceled. The 2019 reboot however nailed the story. The characters are not only funny but relatable. With everyone having a Chinese zodiac it's fun to see which character is yours. One of the best storylines but more importantly a perfect ending that completes the show perfectly.
9. The ways of a househusband
Storyline: "Immortal Tatsu," the legendary yakuza who single-handedly defeated a rival gang with a lead pipe, is a name known to strike fear in both hardened police officers and vicious criminals. Soon after his sudden disappearance, he resurfaces with a slight change in profession. Now equipped with an apron, Tatsu has given up violence and is trying to make an honest living as a househusband. While adapting to mundane household tasks, Tatsu finds that being a househusband has its challenges, from the battlefield known as supermarket sales to failures in the kitchen. Despite living peacefully, misunderstandings seem to follow him left and right. Gokushufudou follows the daily life of the comically serious ex-yakuza as he leaves behind his dangerous previous life to become a stay-at-home husband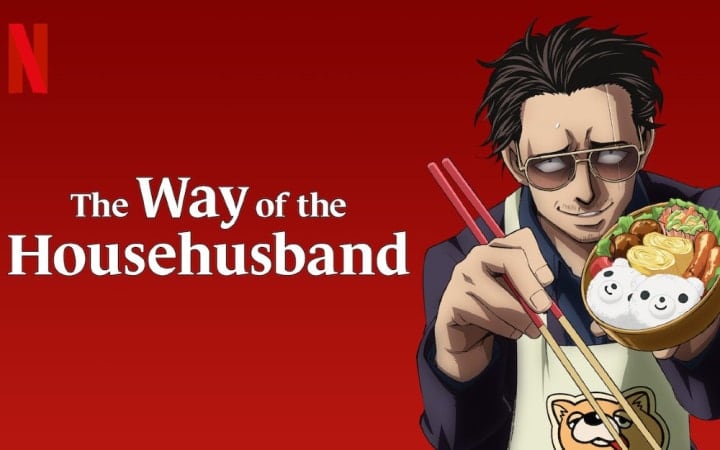 Info: Season 1 has 26 episodes
Genre: Comedy
My Review: I have never laughed harder at a show than this!! It is hysterical! Perfectly timed comedy with amazing writing. Everyone wants a second chance at life and in this case, Tatsu got a fresh start. That doesn't mean his old life doesn't bleed into his new life. Maybe you didn't leave a gang but we can all relate to trying to start over but falling back into old habits and running into old relationships, causing us to remember all the cringy things we used to do.
8. School Rumble
Storyline: Clumsy sixteen-year-old Tenma Tsukamoto is in love. The object of her desire, the strange and silent Oji Karasuma, has no idea she exists. seventeen-year-old delinquent Kenji Harima is also in love. The object of his desire, Tenma Tsukamoto, has no idea he exists. Both resolve to confess their feelings to the person they admire, but every time they try, they chicken out or something interrupts them. The series focuses on the antics of Tenma and Harima, as well as their friends, classmates, and family, all of whom seem caught up in comical love troubles of their own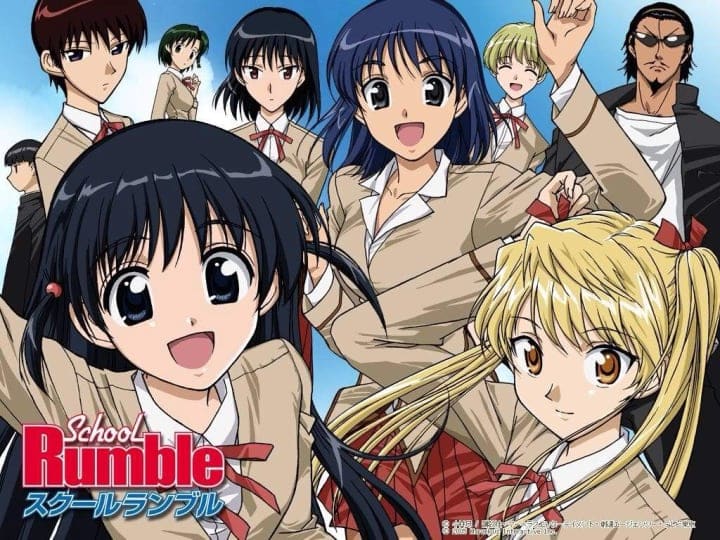 Info: School rumble has 26 episodes, School rumble second term has 26 episodes
Genre: Comedy, Drama
My Review: This might be one of the best shows ever written. Between the quirky characters and relatable situations, this is a great anime for beginners. There is no downside to this anime. I have rewatched this show multiple times and still can't get enough. There is a character for everyone to relate to and even episodes without any of the main characters. If you enjoy a slice-of-life comedy with random dramatic stories this show is for you.
7. Ore Monogatari!! (My love story!!)
Storyline: Takeo is a giant brutish-looking fellow with a sweet and kind demeanor. However, most girls aren't interested in him but in his best friend Makoto, who is handsome and charming. Takeo doesn't mind this and accepts it as a matter of course... till one day when he meets Rinko Yamato, a girl who is immediately drawn to Takeo and wants to be with him. This sets off a chain reaction in which other girls try to get with Takeo too. Can Takeo and Rinko manage to stay together?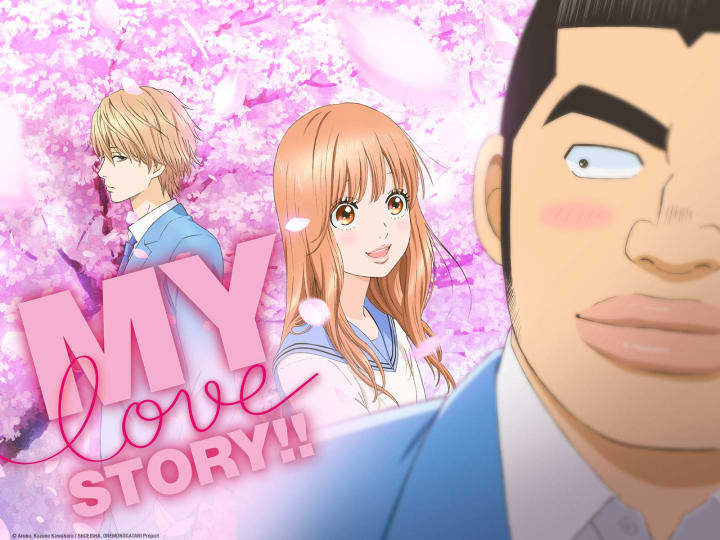 Info: 24 episodes
Genre: Comedy, Drama, Romance
My Review: If you don't believe the perfect couple exists I dare you to watch this show! They are not only adorable but so relatable when you are in your first relationship. I was screaming the whole show. For people getting into anime, I highly recommend this one. The relatable story, has a great number of unique characters, one of my favorite art styles! I could go on and on about all the amazing qualities of this show but you should just watch it!
6. The devil is a part-timer
Storyline: Hilarity and fun ensues when Satan ends up in modern-day Japan without any magic to return, and starts working part-time in a fast-food joint.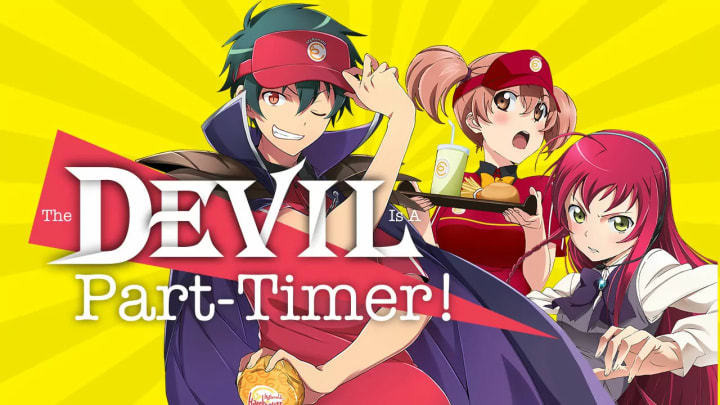 Info: 13 episodes
Genre: Action, Comedy
My Review: One of the most creative story concepts ever! I am pretty almost everyone has worked at a fast food place before and struggled to cover basic bills. Well, this takes that relatable reality and adds a fun twist. I wish this show had another season. Very funny and relatable.
5. Lucky Star
Storyline: Having fun in school, doing homework together, cooking and eating, playing video games, and watching anime. All those little things make up the daily life of the anime and chocolate-loving Izumi Konata and her friends. Sometimes relaxing but more than often simply funny.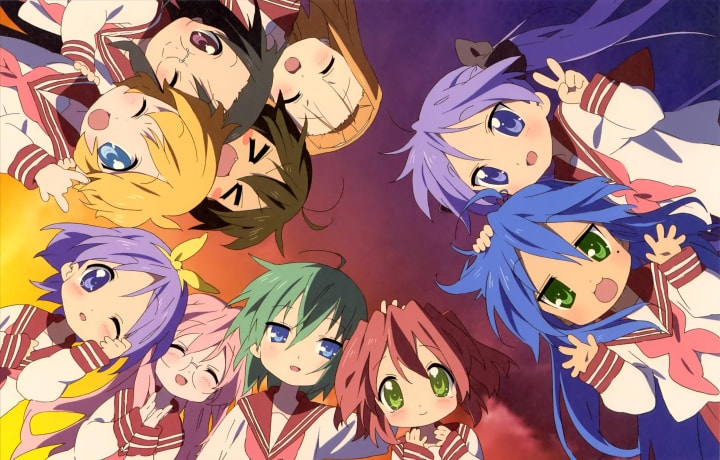 Info: 12 episodes
Genre: Slice of life, Comedy
My Review: One of the cutest and funniest anime out there. With a wide variety of characters, there is sure to be one you connect with. Sometimes I think an anime needs to have a complex story or planned out perfect humor but in fact, the weird day-to-day of a student can be hilarious. Also, I just absolutely adore the art style!
4. Squid girl
Storyline: Squid Girl the Japanese anime is about a squid girl from the ocean who has come to the land from the depths of the sea to conquer humanity for its pollution of the ocean. Unfortunately, she ruins the first house she uses as an invasion base and has to work to pay for repairs. Of course, she can't overcome the Aizawa sisters who manage the house, so who knows whether she can subjugate humankind.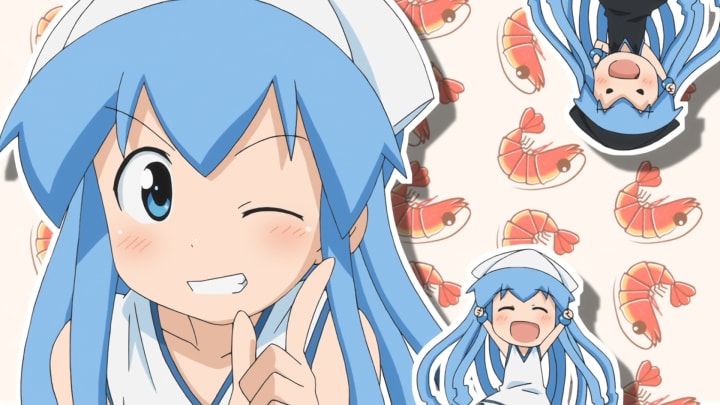 Info: Season 1 has 12 episodes, and season 2 has 12 episodes
Genre: Slice of life, Comedy
My Review: This show was very weird. I am not sure who came up with the idea but it was very entertaining. Again super cute animation but also very quirky characters. I laughed throughout and enjoyed the light-hearted and weird storyline of a squid girl living among us.
3. Azumanga Daioh
Storyline: An animated series based on the four-panel manga of the same name, Azumanga Daioh is a whimsical, hilarious, and very cute look at the lives of an eclectic group of high school girls and their teachers at a Tokyo high school. As the series progresses, small bits of their lives are shown, slowly painting a bigger picture as the cast shares the ups and downs of high school life, revolving around a close-knit friendship and a lot of silliness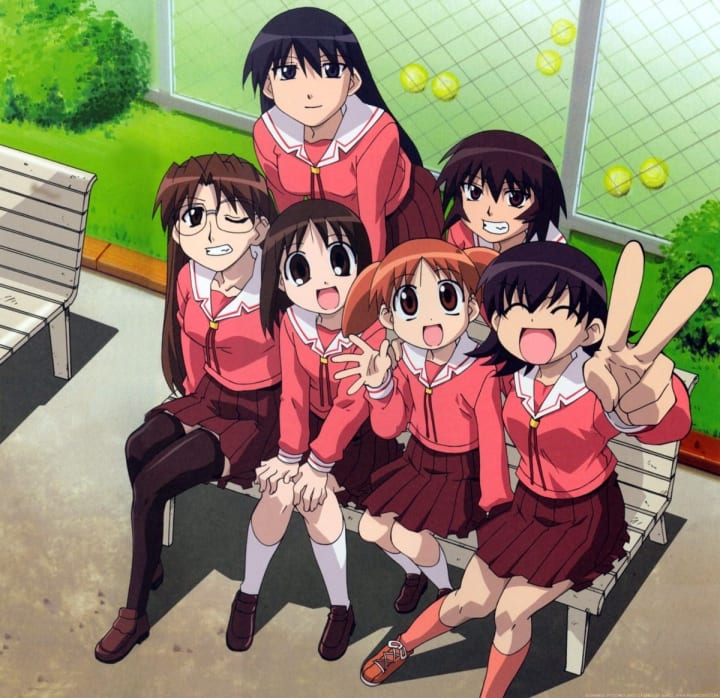 Info: 26 episodes
Genre: Slice of life, Comedy
My Review: I don't know how to explain this show to someone who hasn't seen it. All I can say is it is amazing and you need to watch it right now. I love the characters and humor in this show! Whoever wrote it knew exactly what they were doing!
2. Tsuritama
Storyline: Four individuals' adventures on an island while fishing; Yuki, who is terrible at communicating and hence never made any real friends, Haru who attempts to teach Yuki fishing, Natsuki an irritable local and Akira who initially watches everyone from a distance.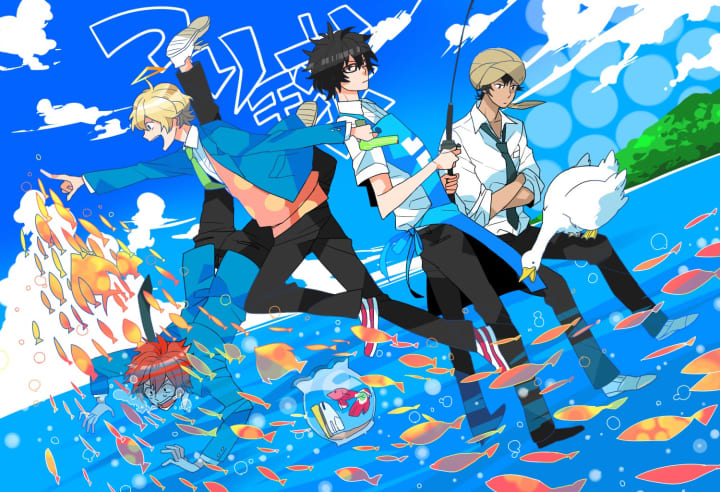 Info: 12 episodes
Genre: Sci-Fi, Comedy
My Review: I don't understand how this anime wasn't more popular. I was obsessed with it when I first saw it. Talk about capturing summer in only 12 episodes. The characters captured my heart and the story kept me curious and on edge the whole show. I laughed and cried... Make sure to add this to your summer watch list, It is a must-see!
1. Spy X Family
Storyline: A spy known only as Twilight needs a family as part of his undercover mission, so he quickly marries a city hall worker and adopts a child and dog. Unknown to him, his family has secrets of their own: his wife Yor is an undercover assassin, his daughter Anya is a runaway psychic who can read minds, and his dog was from a laboratory that gave him the power to tell the future. All these four subjects must bond together as a family to manage their affairs and be together as best as they can.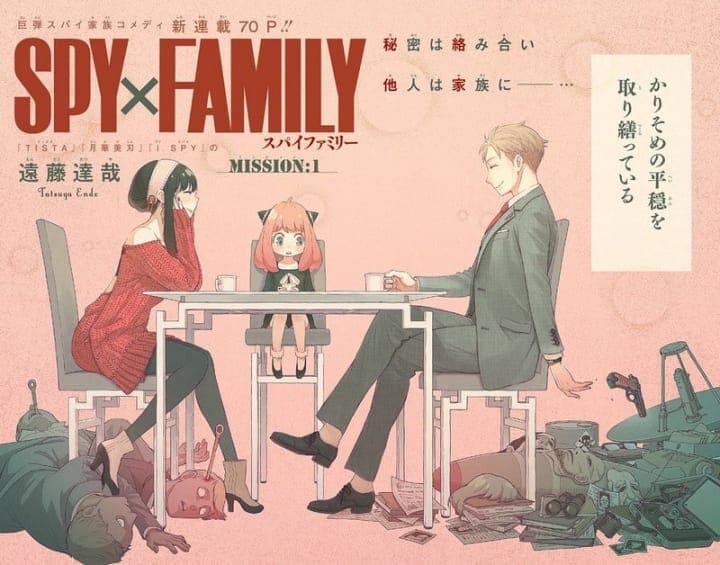 Info: Currently airing
Genre: Action, Comedy
My Review: This will be a staple anime. Currently airing and is one of the most incredible things I have ever seen. Yes, the story is a little ridiculous which is what makes this show amazing!! The characters are unique and fun. The storyline is serious and hilarious. Epic fight scenes mixed into the humor of a beginning family. I could not recommend this show enough for both seasoned and beginning anime watchers.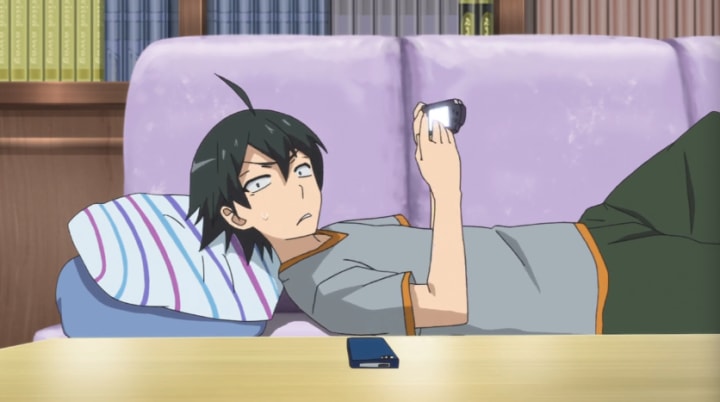 I hope you were able to find a new anime to watch this summer! Don't forget to also go outside and have fun!
What anime would you have added to the list? Comment below
About the Creator
✨Anime Blogger✨
I watch too much anime and would love to turn it into a creative outlet!
Blogging about anime topics, giving honest reviews, and staying up to date with all things anime
Reader insights
Outstanding
Excellent work. Looking forward to reading more!
Top insights
Compelling and original writing

Creative use of language & vocab

Easy to read and follow

Well-structured & engaging content

Expert insights and opinions

Arguments were carefully researched and presented
Eye opening

Niche topic & fresh perspectives

Heartfelt and relatable

The story invoked strong personal emotions

Masterful proofreading

Zero grammar & spelling mistakes

On-point and relevant

Writing reflected the title & theme
Add your insights