The Ultimate Guide to Selling Comics on eBay
With the success of the MCU, comics sales can turn into a fun and lucrative side gig.

An Array of Valuable Comics
I have always been a collector of comics.
I like the art, especially the vintage stuff, and the stories presented can be much more impactful than they are given credit for. Comics have touched on hot button social issues of the time in a way that resonates with everyone. So, why wouldn't I, or you, want to create a side economy based upon collecting and selling comics? You get to hold pieces of history in your hands and fulfill the wishes of that fanboy that never really leaves a collector.
Making the transition to a dealer of comics, well that is a different story. Having delved into the world of selling comics, I would like to share my method. The reasons for this are two-fold:
If you are thinking of pursuing this business, I hope that my method can give you some ideas as to how you'd like to proceed.
The second is to offer links and information on valuable resources that can help you on this journey.
The areas that I will be covering in this blog include:
Materials Needed Before Starting
Prospecting
Selling and Buying Your Items
Shipping
Customer Service
Valuable Resources
1) Materials Needed to Start Your Business
There are many materials that go into the running and maintenance of a proper online comic business. Not all are necessities, but I like to try and leave the customer with a feeling that I care about the condition of the item they are receiving. The best way to do this is to actually care about it!
Backing Boards and Mylar Sleeves
These are essential to any proper comic business and people will notice when you go the extra mile to take care of their item. I like to have everything I ship boarded and bagged. When you go out to purchase these items, make sure that you take note of the sizes that you will need. There are a large variety based mainly on the era the comic came out. They include:
Widest to accommodate old and weathered comics
Wide enough to handle comics mainly from the 50s to the 70s. These are my preferred.
Sleekest size but doesn't fit weathered bronze/silver age comic books
The main difference in all of these is the size as older and more weathered books are wider. When purchasing the backing boards, make sure that you opt for acid free cardboard. If not, your comics may deteriorate faster than expected.
I like to go the extra mile and package all of my comics in bubble wrap as I ship them out. It also does not hurt that I have free access to all the bubble wrap I could want at my place of employment.
Tip: Ask around where you live and find a business that deals with a lot of excess packaging waste.
There is a good chance you will be able to have some set aside or they will let you come in and grab what you need, saving you valuable overhead.
Scrap cardboard is also great for shoring up your packages as you ship them out. It will help prevent crush and bend damage, something that is very common when shipping comics. This is another item that you could ask around at your local stores to see if you can score some for free.
If you can't source it for free, there are specially created comic shipping boxes that are sturdy and fit comics perfectly.
Don't go cheap!
That is my first part of advice when it comes to envelopes. You obviously don't want to break the bank, but I can tell you from first-hand experience that cheap envelopes will act in just that manner when shipping. Purchase sturdy envelopes or padded shipping envelopes. Reinforced manilla envelopes are spacious and sturdy, if you have the proper packaging materials at hand.
You will need one of these two things if you are going to sell your comics online. When buying a camera make sure it has the proper mega-pixel rating to give crisp images that do not blur when zooming in. Scanners tend to create a higher quality image and will most like come bundled with the next item that I recommend.
Is a printer necessary to sell comics online?
No, but it sure is useful!
It can be used to print shipping labels if selling on eBay, which also includes a discount for using its shipping service. USPS loves pre-paid postage, and so do I! I have also recently used it to print promotional stickers that I put on every envelope which includes my logo and web address for my blog. I have even put them on the sleeves that cover my comics for a little extra advertising.
I recommend a printer/scanner/copier, preferably Wi-Fi enabled.
2. Prospecting Inventory
Your inventory is your business and this is never more true than when running an online comic business. Comic collectors are a finicky lot and they will notice the difference between a Fine comic and Mint comic. When they do, they will let you know.
Tip: To avoid complaints make sure you are honest when you post comics for sale and remember that old sales rule "Under Promise, Over Deliver."
There are many places you can source comics from and I will go through some that I have used to build up my inventory.
That is how this all started. I am a comic geek, so when I started this venture I was already sitting on a collection of about 1000 comics. Most were not valuable but some were, and that is where I started.
Take some time to look up your books. Start with older books which tend to be more valuable and then move on to No. 1's and first appearances. I like to use GoCollect as my website of choice to look up current comic values. It is based upon recent eBay sales of graded comics, but will give you a good feel of how well and how much a comic is selling for.
I love the thrill of the hunt when it comes to buying comics on eBay. If you do your due diligence and research which books are hot at any given moment, you can really stumble upon some gold nuggets out there in auction land. I like to utilize Sell My Comics as a good way to get a feel for what is currently doing well in the market. After you have done your research you will want to get out into the cyber jungle and start hunting.
Buying comics in large lots has been my tactic for a while and I have found some good ways to get comics at below market value. When you are searching, search using generic terms such as "old comic books" or "assorted comic lot."
Why?
Because people that are listing comics with these terms tend to not know the value of what they are selling. If they did, they would break up the lot and use the actual titles and issue numbers. A majority of these will not be worth anything, but if you know what you're looking for, you can find that diamond in the rough.
Though this will not give you as many options as eBay, there are a couple of advantages to purchasing comics in this manner. You won't have to pay shipping and you will be able to physically see the comics before purchasing. There is also no risk of your items getting damaged during shipping. Using the same reasoning as purchasing on eBay, if the seller is using a generic name for the items for sale, you may be able to score some great comics at a fantastic price.
These two locations have long been the idealized area to find that copy of Amazing Fantasy #15 for a buck and come out the other end a rich man. Stories like this are few and far between, but I find garage and estate sales a fun place to hunt for treasure.
I recently had a good experience where I found X-Men 98,99,105 and Wolverine #1 from the mini-series in fantastic shape from an ex-comic store owner. At 10 dollars an issue, they were a steal that I will surely profit from. I have already sold Wolverine #1 for $31.00, and I will easily make my money back and then some.
Tip: Never underestimate the power of local treasure hunting.
It never hurts to check out the thrift or antique stores in your area to see if there are some overlooked classics in stock. Usually, antique stores will drive a harder bargain though they tend to have a higher chance of carrying comics. Thrift stores are definitely hit or miss as most people have realized they can make some sort of money off of their old collection and tend not to donate it.
3. Selling and Buying Your Comics
It is folly to just expect to throw some comics online in a couple of jumbled pictures and get top dollar for them.
You are asking to get back exactly what you put in, which is not much.
Instead you should be ready to present your item in a professional and attention-grabbing manner. The folks who are sloppy eBayers are the ones that you can get your inventory from at a low price.
Don't be that person.
Here are some ground rules that I use when Selling or Buying comics.
A picture is worth a thousand words.
Take good photos!
When you are listing your comics, quality photos make or break a sale. If a buyer is able to get a good look at the item they seek to purchase, that person is much more likely to bid. Make sure that you take many photos and document any damage to the book. If you have a scanner then use it! There is no surer image for judging front and back cover quality than a scanned image.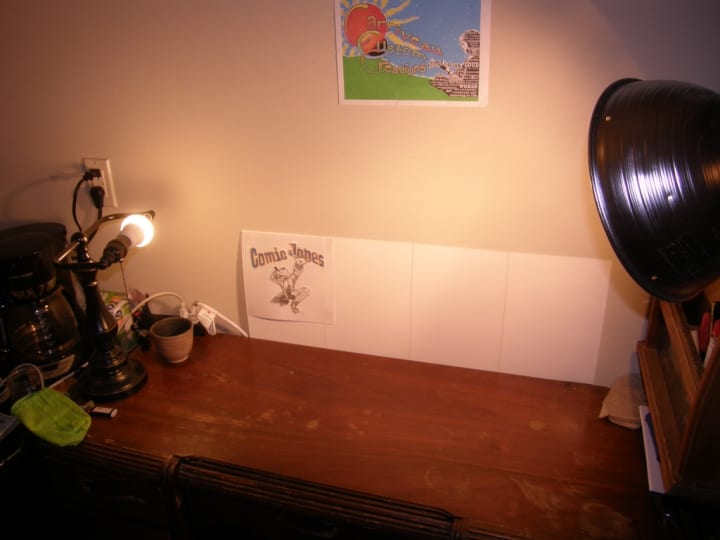 Tip: I have set up an area in my home with ample lighting in order to take clear, crisp photos. It has proper back lighting to illuminate the subject.
If you have to ability, use a high-resolution camera that will allow buyers to take full advantage of the zoom feature on eBay.
Answer: Everything!
As I stated in the prospecting section earlier, poorly named comic lots are the ones that I make money off of buying, not selling.
Be clear as to what you are offering and make sure your keywords are in the title. Selling Amazing Spider-Man #1? Then call it that. Don't name it "old comic."
Have a bunch of old comics?
Do some research to find the era they are from and then name it as such. Silver Age Avengers is a better name than Old Comics. Get the names of the most popular characters into the listing title and use the eBay search feature to help your listing go faster.
If the cover is not attached, include that in the description or a photo. If you have the dreaded missing Marvel Value Stamp, tell the person in your description.
If you are straight up with your customers, they will turn into return customers because they can trust you.
If you don't know the grade, don't lie, just say you are not a professional but the book is in good or bad shape. I will usually look through each book to make sure it is not missing any coupons so I can at least tell the buyer whether it is complete or not. The same goes for detached covers, tape, or loose centerfolds. Be honest so the customer is not surprised by the condition of the book.
4. Shipping
This is the eternal struggle of every business, how to balance profits vs. overhead. When it comes to shipping, it is best to venture on the side of protection as opposed to cutting corners to get low costs.
I've suffered from this first hand.
I purchased some standard business envelopes as opposed to shipping envelopes to save money. This backfired and resulted in multiple damaged comics arrived to disappointed customers. I now use sturdier envelopes that I reinforce with shipping tape to make sure that they do not tear open while in transit.
I am fortunate to have access to unlimited bubble wrap, cardboard and shipping packaging with which to protect my wears. This is something you could ask around about to see if you could get your hands on some extra packaging. When I ship, I like to take a sturdy envelope and reinforce it with cardboard cut to a size that is slightly larger than the comic to prevent crushing and bending. In between the two cardboard pieces are sandwiched the comic, wrapped in bubble wrap.
The end result?
A strong, well packaged, nice looking comic.
Pre-paid postage is the best.
eBay has a great feature that allows you to print postage off right from the website. This will save you time and money, and you get a discount on your postage when you do this, saving you money. When you go to the post office, you can just drop off your package and go, instead of waiting in line. Everyone wins, as the postal workers love pre-paid postage and as I described, so should you.
* Warning! * DO NOT ship comics as "media mail!" Comics are not covered by this shipping method and it is subject to postal inspection. If it gets inspected, the proper postage will be applied and it will arrive to the customer with postage due! This has happened to me twice recently and has left a bad taste in my mouth in relation to that seller. * Warning! *
5. Customer Service
A) Respond as a professional.
What does this mean? If someone has a concern, give them your full attention and respond quickly and truthfully.
Nothing will anger a customer more quickly than having to wait days for a response. They will rightfully view this as a slight and think that their concern, and more importantly their sale, is not important. This will lead to negative feedback and drive away sales. When that happens, then your burgeoning business will be in trouble.
If you can get your name out in a creative way, you should do so. I have recently started putting stickers with my logo and web address onto each envelope as a way to get folks to check out what Comic Jones is all about.
After this blog post is published, folks that buy my comics will also have access to what I hope is a value-added post about a shared interest, comics.
If you have a Facebook page for your business, get that on the packaging. Something that I've been meaning to do is include a half page flyer in each package that talks about my business and upcoming sales to get folks interested.
Asking a customer about their experience shows them that you care about their business and also gives your great insight into what you may need to work on. Perhaps your packaging was inadequate but the customer was just going to let it be. If you ask, you will get this information and allow you to remedy the issue before it becomes a future problem. Following up will also allow you to create what could be a lasting relationship with a repeat customer.
6. Valuable Resources
Nobody builds a business on their own. I have read and researched using multiple sources and I still utilize them to this day.
GoCollect Comic Price Guide—This is my go-to comic price guide. It aggregates the sales of graded comics on eBay and gives you a view as to what your book is selling for. Standard price guides are good, but you need to view your book through the glasses of what the market will pay, not what you should get.
Sell My Comics—A fantastic website that gives all sorts of great tips on selling comics. My favorite resources are the hot book lists that appear on the site. This gives you the ability to keep in mind the hidden gems you can find while prospecting.
Location Rebel—This site has absolutely nothing to do with comics, but it is a great motivator when it comes to getting your business going. From productivity hacks to writing tips, the information provided will help keep you in the right mind state to move forward towards your dreams.
This comic selling path is filled with ups and downs. You may spend a certain amount on a book expecting gold, only to sell it off for half the price. Through due diligence and hard work, those times will be in the minority. It feels pretty good to turn around one book from a lot and pay it off with interest.
About the Creator
Writer of many things who likes politics, comics, and vintage video games. When not writing, Peter likes spending time with his beautiful partner Angelica, and our two daughters.
Reader insights
Be the first to share your insights about this piece.
Add your insights