The Hunger Games: The Ballad of Songbirds and Snakes (A Film Review)
The prequel to a blockbuster franchise sheds new light on the origin story of the epic villain that everyone loves to hate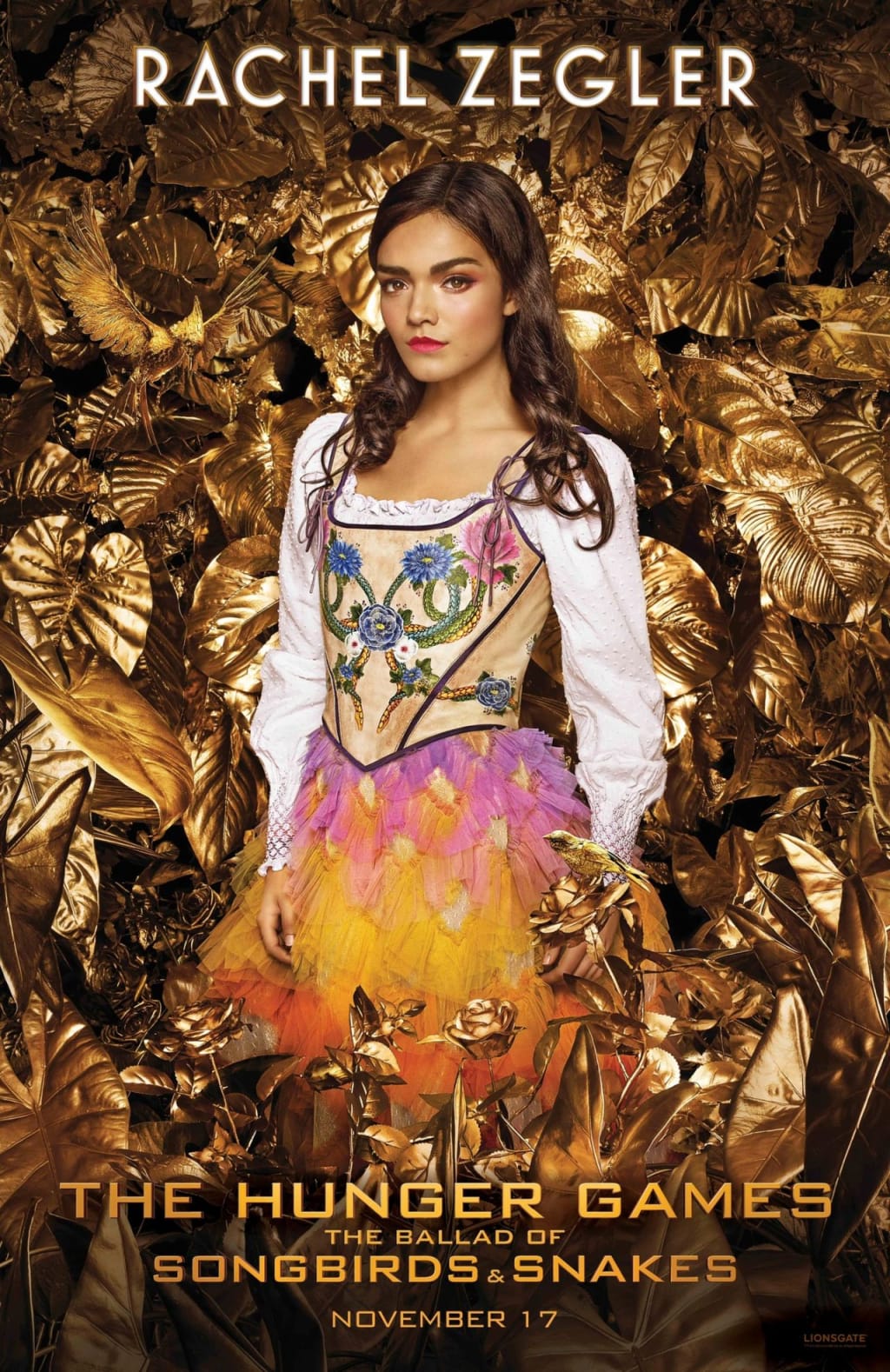 Character poster for Rachel Zegler's character of Lucy Gray Baird, the female protagonist of the Hunger Games: The Ballad of Songbirds and Snakes film
WARNING: includes minor spoilers for The Hunger Games: The Ballad of Songbirds and Snakes (both book and film)
Cast: Tom Blyth, Rachel Zegler, Peter Dinklage, Hunter Schafer, Josh Andres Rivera, Jason Schwartzman and Viola Davis
Directed by: Francis Lawrence
Runtime: 157 minutes
Rating: M (for mature audiences, with mild violence and disturbing themes)
Based on: The Ballad of Songbirds and Snakes (2020) by Suzanne Collins (serves as a prequel to the Hunger Games film and book franchise)
Release date: November 16 (Australia), November 17 (United States)
If you're a Hunger Games superfan like myself, no doubt when you heard this film was coming out, you rushed to your nearest bookstore (or to Kmart or Big W) to grab The Ballad of Songbirds and Snakes, or you ended up buying all of the Hunger Games books. And then you might have proceeded to pull out some old DVDs of the Hunger Games films, or even access your Netflix or Stan subscription to watch the films. All in the name of "doing your homework" for the film. And you're not alone, because that's exactly what I did. Maybe even started listening to Hunger Games music, such as Everybody Wants to Rule the World by Lorde (made for Catching Fire) or Safe and Sound by Taylor Swift ft. The Civil Wars (made for the Hunger Games) or even Jennifer Lawrence's version of The Hanging Tree (from Mockingjay Part 1).
Okay, maybe that's a little extreme. But if you're anything like me, you were absolutely hyped. Maybe got a little sour because of Rachel Zegler's comments against the original Snow White film, or maybe you didn't care about that little slice of immaturity which she, and the Internet, so hilariously displayed after that controversy played out. But that's not the point. You clicked on this article to hear me talk about the new movie, not go on and on about some semi-problematic comment that just so happened to be an opinion that non one liked. I digress.
The Hunger Games: The Ballad of Songbirds and Snakes takes place 65 years before the first Hunger Games film, and opens with a young Coriolanus Snow, and his cousin, Tigris, witnessing Snow's father, the venerable Crassus Snow, die in battle not long after the rebellion in the districts. Ten years later, eighteen-year-old Coriolanus Snow (played by Tom Blyth) is desperate to win back the loyalty and support of the Capitol for his now destitute family. As a student of the Academy, he is recruited as a mentor for the 10th annual Hunger Games by the dean of the Academy, Casca Highbottom (played by Peter Dinklage), alongside his best friend, Sejanus Plinth, and several other Academy students.
During the Reaping, they are assigned their tributes for the Hunger Games, and while his peers receive the "picks of the litter", so to speak, Coriolanus Snow is stuck with the bottom of the barrel, a young female tribute from the lowliest district, District 12. Her name is Lucy Gray Baird (played by Rachel Zegler), and it turns out she's not even from the districts at all. She's what's known as Covey, a musical, nomadic family, and her family happened to accidentally settle in District 12 after they were rounded up by Peacekeepers. Coriolanus Snow isn't thrilled, but he soon realises there's more to her than initial appearances would suggest.
My thoughts: I have nothing but praise for this film. Fantastic from start to finish, and all while remaining faithful to the source material. It's easy to see how much this prequel makes a brilliant segue into the original Hunger Games films and Katniss Everdeen's story, with multiple Easter eggs to the original franchise sprinkled throughout. It's also easy to see what kind of person Coriolanus Snow is destined to become, and it adds more layers than what he reveals himself to have in the final Hunger Games film (Mockingjay Part 2). He's still not a character people can sympathise with, even if Tom Blyth's dashing, blonde-haired, handsome portrayal makes it easy to like the future dastardly president of Panem. And by the end of the film, his rapid descent into evil is darkly evident.
Perhaps Snow was always an unredeemable character. I doubt it could have gone any other way, and if the final climax of the film is to be taken at face value, his later hatred for Katniss Everdeen, and District 12 as a whole, starts right at his introduction to Lucy Gray Baird. Rachel Zegler does a fantastic job as Lucy Gray, from her initial introduction to her fiery musical numbers throughout the film, all the way to the bitter end, where things are revealed to not always be as they seem.
All the supporting characters, such as Josh Andres Rivera and Viola Davis, lend their incredible support to tie together an already cohesive and brilliant film in their respective roles as Sejanus Plinth and Dr Gaul. The Hunger Games themselves take us immediately back to the brutality of the Games, and at its heart, how even the kindest of souls can be transformed into a cold, merciless killer the moment they set foot in the arena. As Dr Gaul poetically points out near the very end of the film, the Hunger Games are there to remind the people of their baser nature, that we all can become mindless, animalistic savages, given the chance.
And that concludes my film review!! Next, I'll be reviewing The Marvels (2023), the latest instalment in the ever-growing Marvel Cinematic Universe, which promises an ever-persistent dose of hilarity, girl power team-ups, and sneaky surprises for the future of the multiverse. Also, I've recently finished the third instalment in the Apocalypse Love Story Trilogy, so head on over to Amazon and get your copy of 2158: A Galaxy Away for paperback and Kindle!! I'm currently working on a standalone book titled Alchemy of Humanity and Divinity, so keep an eye out for that, as it will be releasing on New Year's Day!!
Link for 2158: A Galaxy Away is posted below:
https://www.amazon.com.au/2158-Galaxy-Apocalypse-Story-Trilogy/dp/B0CLXV41Q9/ref=sr_1_2?crid=3DZP4GYWP4EGP&keywords=2158+a+galaxy+away&qid=1700220363&sprefix=2158+a+galax%2Caps%2C2382&sr=8-2
Happy reading!!
About the Creator
Hi!! My name is Taylor.
I'm big on writing about fanfiction, movies, TV and of course my own original stories (mostly fantasy stories, featuring bad-ass female characters)
My Wattpad profile:
https://www.wattpad.com/user/WinterPhoenix123
Reader insights
Be the first to share your insights about this piece.
Add your insights