"The Handmaid's Tale" Season 4: What to Expect
After 20 months, "The Handmaid's Tale" returns with three episodes airing on Hulu.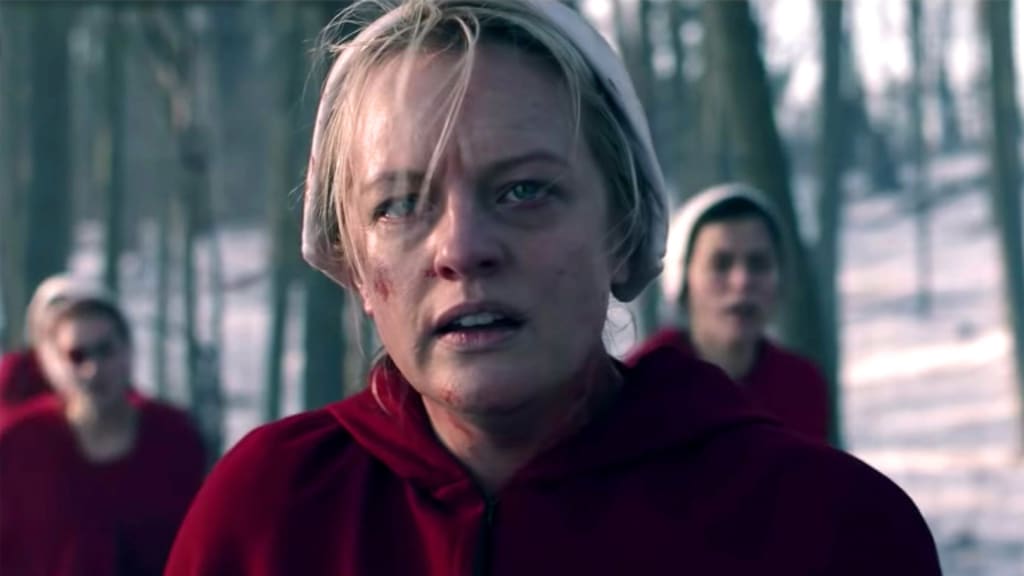 (Photo via YouTube Screenshot)
After a long wait, The Handmaid's Tale returned on Hulu on April 28, 2021 with three episodes airing on Hulu. Back in March 2020, Elisabeth Moss, producer of the series, posted on Instagram that production on Season 4 had to be stopped because of the pandemic. Moss assured fans that the writers were continuing to write from their own homes to be ready to produce the series when it was safe to do so.
What To Know About Season 4
Season 4 will be short like Season 1 with only 10 episodes. Seasons 2 and 3 were longer with 13 episodes. In the first three episodes that are already airing on Hulu, viewers will find out what is happening with the people in Gilead as well as what is going on with those who escaped to Canada. The trailers show some very intense scenes involving June after she was captured.
The Setting
Seasons 1, 2, and 3 were based primarily in Boston. Season 4 is set around Gilead, including Chicago. The show is based in Canada, where people with the children escaped. Commander Fred (Joseph Fiennes) and Serena Joy (Yvonne Strahovski) are still in Canada where they were detained by authorities during the Season 3 finale in 2019.
June In Every Episode
June will have a powerful presence in all ten episodes. Not only is Elisabeth Moss a character in the series, but she is also one of the executive producers of all of the episodes and director of three of them. In fact, Moss directed her character through some intense scenes in the third episode. It was surely enough to give viewers something to ponder over until they see the next episode on Wednesday, May 5.
The new season is all from June's point of view, and what a view it is. Even when she is not physically in every scene, she is mentioned in some way to let viewers know that she is still an important part of the story. Fans can rest assured that no matter how much June is punished, beaten, and tortured, she will still arise strong. She is not going away because "without June, there would no Handmaid's Tale."
Nick Returns
For those who have missed Nick and wondered what happened to him, there is some very good news. Nick, played by Max Minghella, will be back. His scene time was limited in Season 3. Therefore, the writers decided to make up for that and include him in more scenes in Season 4. Fans can expect to see more of Nick in bigger roles as in the one with him and June at the end of the third episode.
In an April 15 trailer, Nick is seen in scenes that make viewers wonder if he is more loyal to June than he is to Gilead.
New Character
If you have already seen the first three episodes that are available on Hulu, you saw a new character who has joined the cast. McKenna Grace plays the part of Mrs. Keyes, a teenaged wife of a much older Commander who rules her farm and household with boldness and confidence.
More Scenes in Canada
Some scenes that took place in Canada were not shown in Season 3. More of them surrounding June's husband Luke (O-T Fagbenle) and her friend Moira (Samira Wiley) will be included in Season 4.
Fans are cautioned not to be surprised to see some of those who are safe and at peace in Canada decide to go back to Gilead because Gilead has stayed within them.
Fred and Serena Joy Waterford are still in Canada where they will have to answer for their crimes. There is some surprising news for Serena Joy that fans will find shocking considering what they have seen in the previous three seasons.
What Cast Members Want For Their Characters
During interviews with cast members, they have revealed what they want for their characters. As a producer, Elisabeth Moss wants to get Hannah out of Gilead for good. Ann Dowd, who plays Aunt Lydia, wants to see a change in her character. In an interview with BAZAAR.com, the actress revealed she believes Aunt Lydia "has to take responsibility for her beliefs and her actions."
Amanda Brugel, who plays Rita, says she wants to have a conversation with the Waterfords after her escape to Canada. She says they will be on an even playing field where there are no roles or hierarchy. Brugel also added that she would love to see Rita gather a group of Gilead refugees to help June escape to Canada for good.
Watch every episode of The Handmaid's Tale on Hulu.

Margaret Minnicks
Margaret Minnicks shares articles with readers all over the world. Topics include celebrities, royal family, movies, television, foods, drinks, health issues, and other interesting things. Thanks in advance for TIPS that are sent my way.
See all posts by Margaret Minnicks →