The Bold and the Beautiful: Zende and Paris may not have a future
The couple seem poised to take their relationship to the next level but may not have staying powerr.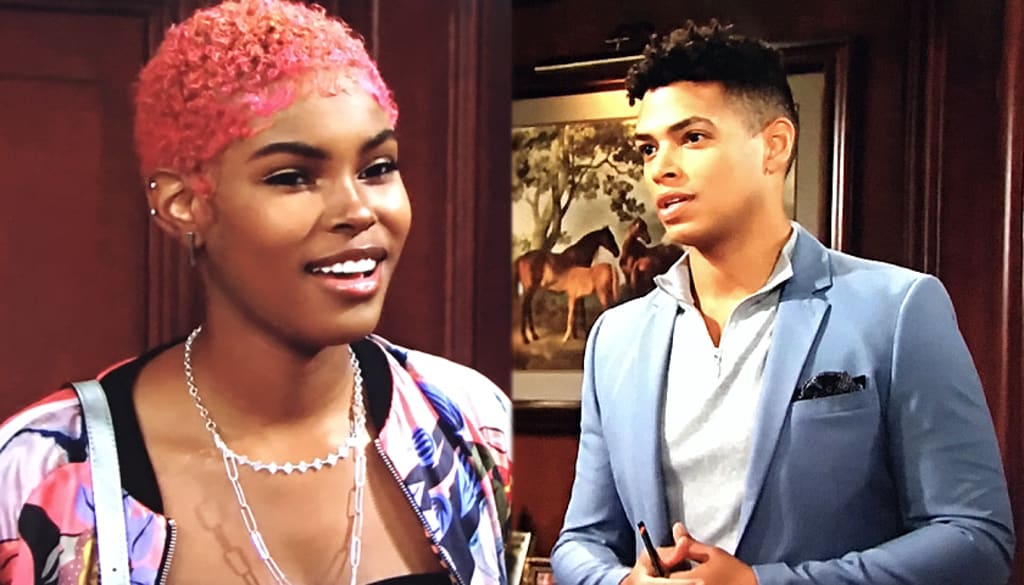 The Bold and the Beautiful viewers are wondering what will happen with one couple who does not get a lot of air time. Zende Forrester Dominguez (Delon de Metz) and Paris Buckingham have been flirting and have shared a few kisses but have not taken their relationship to the next level. The duo spends most of their time at the Forrester Creations office and Quin Forrester ruined their first date. She conspired with Zoe Buckingham and gave her a nutrition powder to pour in Paris's drink. When she went to the Forrester mansion her stomach began to growl. She was so embarrassed she went home and the two have remained on hold ever since.
Spoilers say things are about to heat up between the two but this could be a deception. Their relationship has been at a standstill for quite some time regarding romance, but spoilers say they may soon take some big steps forward. It will not be smooth sailing as they will also find that trouble, might be waiting just around the corner. Paris flirted with Zende on Tuesday while he was working but spoilers suggest she was only trying to distract herself from her crush on Dr. John Finnegan (Tanner Novlin).
Paris also spent time with Thomas Forrester telling him how much he has changed. For whatever reason, the writers have Paris dishing out the compliments excessively. For a few weeks she was gushing over Finn and Steffy and telling them how amazing they are as individuals, as a couple and as parents. By the end of the episode, she shared a steamy kiss with Zende but fans are wondering if it will lead to anything more?
Some viewers believe Thomas might hook up with his former fiancee's sister while other think Paris could make a move on Finn. B&B fans are saying on social media that they are losing interest in the couple and the writers have not invested in their storyline. Even if they enjoy a night of romance it may be too late to save them. A lot will be riding on Paris and how deep her feelings are for Finn. As long as Paris continues living in the home Finn shares with Steffy Forrester (Jacqueline Macinnes Wood) she will be in close quarters with the doctor and possibly continue to daydream about him.
If Paris does finally have a night alone with Zende she might begin fantasizing about Steffy's spouse because right now she is still crushing on him. This could lead to her mistakenly referring to Zende as Finn and this will lead to major problems The writers are not making it clear which direction any of this is heading and fans are trying to figure it all out. B&B viewers are hoping Steffy's spouse will not cheat on her and that the affair will remain in Paris Buckingham's imagination.
Viewers are upset that there are no happy couples on the soap and were hoping Steffy would make it longer with Finn. No one wants to see this couple break up and fans are also wondering what the final outcome will be for Zende and Paris. It looks like there will be heartache and sorrow for a number of romances so B&B viewers need to brace themselves. In addition to Zende and Paris spoilers say trouble is brewing for Steffy and Finn, Hope and Liam and Ridge and Brooke.
On Thursday it looked like Paris and Thomas were making a connection so its not clear which man she will end up with..
celebrities
Cheryl is a poet, freelance writer, published author and former Newspaper columnist. She has degrees in Psycology and Biblical studies. She enjoys sharing natural cures, and Nostalgia related info. Tips are greatly appreciated.
Receive stories by Cheryl E Preston in

your feed