Rawhide Fun Facts
The iconic western still entertains fans today
Clint Eastwood, Paul Brinnegar, Eric Fleming
Just the facts
For those of younger generations, Rawhide might only mean the song that John Belushi and Dan Ackroyd sang in their 1980 hit movie The Blues Brothers. The original theme song was from Rawhide, the American Western television series that aired on CBS on Friday nights, from January 9, 1959, to September 3, 1965. It moved to Tuesday nights from September 14, 1965, until January 4, 1966. The theme song was sung by Frankie Laine and still sends chills down the spine of longtime fans.
The name of the show was originally going to be titled Cattle Drive but Charles Warren the writer made the decision to change it to Rawhide. Fans can continue enjoying episodes on streaming services and on MeTV's western lineup on Saturday afternoons at 2:00 PM EST. There are some interesting facts about the show that not everyone is aware of.
Number 5 out of 30 Westerns on the air
During it's eight-season run Rawhide aired 217 episodes. In 1959 at the height of their popularity there were 30 Westerns on the air. At that time Rawhide came in behind Gunsmoke, which enjoyed a 20 year run, and Bonanza, which aired for 14 years and The Virginian and Wagon Train, both of which were on the air for nine seasons. The Western starred Eric Fleming and Clint Eastwood.
Eric Flemming's tragic end
Fleming who portrayed Gil Favor the trail boss left the series in 1965 and began a movie career, He had a role in The Glass Bottom Boat, and then began working on location in Peru for the movie High Jungle. While filming a scene on the Huallaga River, Fleming's canoe overturned and he was swept away in the rapids and drowned.
Clint Eastwood's love child
Clint Eastwood who portrayed Rowdy Yates, was married to his first wife Maggie Johnson at the time had a baby with Rawhide stuntwoman Roxanne Tunis in 1964. This news was kept under wraps for many years. The duo was romantically involved from 1959 until the mid-1970s. Tunis is the mother of Kimber Eastwood with Clint Eastwood and the Grandmother of Clinton Eastwood Gaddie (a.k.a. Clint Frovarp McCartney).
Roxanne has two great-grandchildren: Clinton Eastwood IV and Penelope McCartney. Clint is said to have given Roxanne millions of dollars during the past 60+ years in return for her silence. To date,, she has never spoken to the media. Although she was a regular extra/stuntwoman on Rawhide Tunis was never credited on the show.
In 1992 Clint Eastwood wore his Rowdy Yates boots in his Oscar-winning film Unforgiven. Some of his other popular movie roles were Play Misty For Me, Dirty Harry, A Fistful of Dollars, The Outlaw Jose Wales, and American Sniper. Eastwood was born on May 30, 1930 and is currently 91 years of age.
Wishbone
Paul Brinegar portrayed the cattle drive cook George Washington Wishbone who is fondly remembered for wearing an apron and ringing the dinner bell. Brinegar had roles in more than 100 Westerns including The Life and Legend of Wyatt Erp, Cattle Empire, and Lancer. Brinegar teamed up again with Clint Eastwood's by portraying a bartender in the film High Plains Drifter. The actor guest-starred in non-western roles in film and on television such as Young Man With A Horn, Pinky, Storm Warning, and Peter Gunn. He also made two appearances on Perry Mason, The actor passed away on March 27, 1995, at the age of 77 due to emphysema.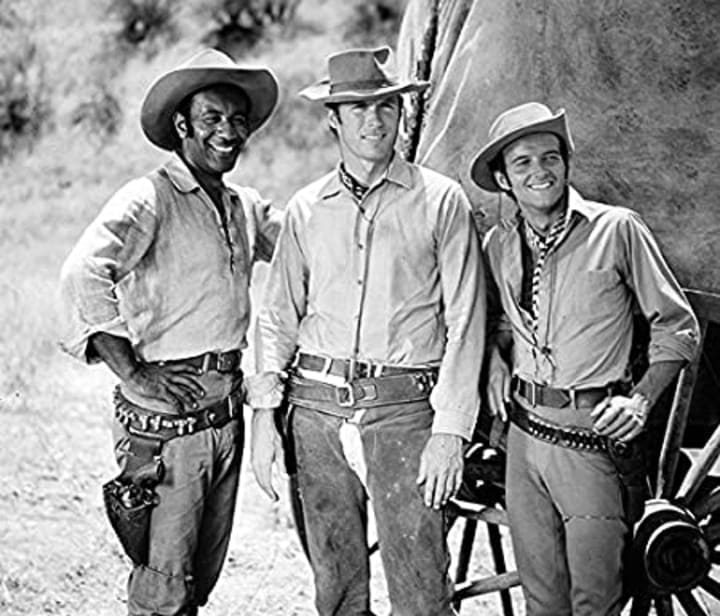 Famous Actors on Rawhide
There were other actors who appeared on Rawhide who went on to successful careers. These include Elizabeth Montgomery, (Bewitched) William Schallert, (Death Valley Days, The Patty Duke Show). Marion Ross (Happy Days). Gavin MacLeod,(The Love Boat) June Lockhart, (Lost In Space) Alan Hale, Jr., (Gilligan's Island) Buddy Ebsen, (The Beverly Hillbillies) Barbara Eden, (I Dream of Jeannie), and Star Trek actors Leonard Nimoy and DeForest Kelley. Raymond St. Jacques made history as Simon Blake the first African American to star on the show. He went on to roles in The Virginian, Falcon Crest, A Different World, and Little House on the Prarie. He also starred in several films including Cotton Comes to Harlem.
.
entertainment
Cheryl is a poet, freelance writer, published author and former Newspaper columnist. She has degrees in Psycology and Biblical studies. She enjoys sharing natural cures, and Nostalgia related info. Tips are greatly appreciated.
Receive stories by Cheryl E Preston in

your feed