'The Bold and the Beautiful' Viewers Wonder Who Brooke Will Sink Her Claws in Next
Now that Ridge is moving on, it's time for his estranged spouse to go after someone else's man yet again.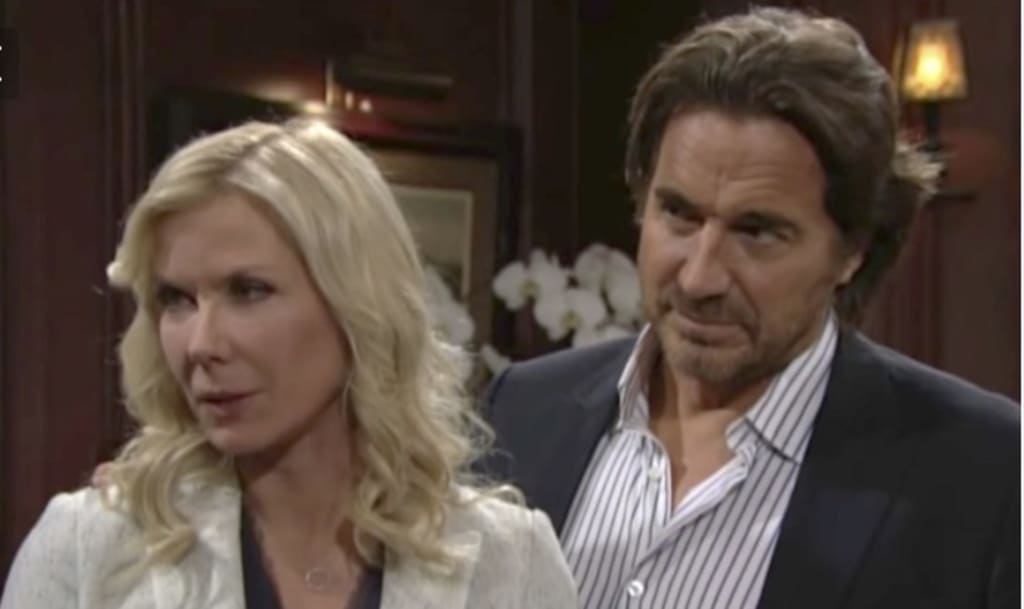 Ridge and Brooke split again
Ridge Forrester recently moved out of the home he shared with his wife Brooke and is now living in the Forrester mansion. Shauna Fuller is residing in his father's guest house on the same property. The two shared a kiss after Thanksgiving dinner and now Quinn is begging her friend for details. Shauna believes if she does not rush Ridge, things might get serious between the two. Longtime viewers of The Bold and the Beautiful know that the relationship between Shauna and Ridge is not going to last, if it ever gets started. In the meantime, this leaves Brooke on the prowl to do what she always does, which is to steal someone else's man. The problem is that there is very small selection for her to choose from.
Ms. Logan ended up with Ridge after taking him from Taylor and she stole Dollar Bill Spencer from her sister Katie. She even was married to Eric Forrester who was the love of Stephanie's life. These men orbit around Brooke like she is a planet and she always falls back on one of them. Right now Ridge is angry that his spouse kept the fact from him that Hope thought she had killed Thomas. He also does not like the fact that his wife was on board with her daughter obtaining joint custody of his grandson. These two things after all the other drama are deal breakers, at least for now.
Whether directly or indirectly, Brooke Logan has a pattern she follows and it always has her going back and forth between the three men she has been married to. Brooke has hurt a lot of people along the way as she went from Ridge to Bill then back to Ridge and on to Dollar Bill again, with Eric in between. The main reason Thomas hates her is because she is the reason his parents are no longer together. Taylor and Katie both were hurt by the actions of Ms. Logan who seems oblivious to all the damage she has caused.
It's possible Brooke will get a new love interest or perhaps Deacon Sharp will be released from prison and they could get together again. With Katie recovering from her transplant surgery, surely her sister would not make a play for Dollar Bill at such a critical time. Brooke might cry on her father in law's shoulder about evil Shauna trying to steal her man, but Quinn would quickly extinguish any sparks that she might try to ignite with Eric. There had been rumors that Dr. Jordan was a possible candidate for Brooke but Vincent Irrizary's character is long gone.
Thorne left town so the only other eligible bachelor's on The Bold and the Beautiful are Bill's sons, Wyatt and Liam, along with Carter's and Justin. There just are not enough men to go around in the Logan. Spencer, Forrester world so someone always ends up hurt and alone. For now, Brooke is angry because she knows Shauna is making a play for her husband and she wants him back. Both Ridge and Flo's mom are living on Eric's property which keeps them in close proximity to each other. "Bridge" will more than likely reunite at some later date but in the meantime viewers are wondering who Brooke will set her sight on until then.
The Bold and the Beautiful may fool the many fans who believe they know Brooke Logan so well. Perhaps she will not be interested in anyone in the near future and may spend her days reflecting on her actions. Brooke might take stock of the choices she has been making and become remorseful. That is not her manner of handling things, but girl can change. Stay tuned to the Genoa City action each weekday afternoon on CBS at 1:30 PM EST. Many viewers believe hurricane Brooke is bout to tear through town again and perhaps they may be correct.