Stranger Things Season 4: Volume 2 - A Netflix Review
The finale of 'Stranger Things' is one epic ride.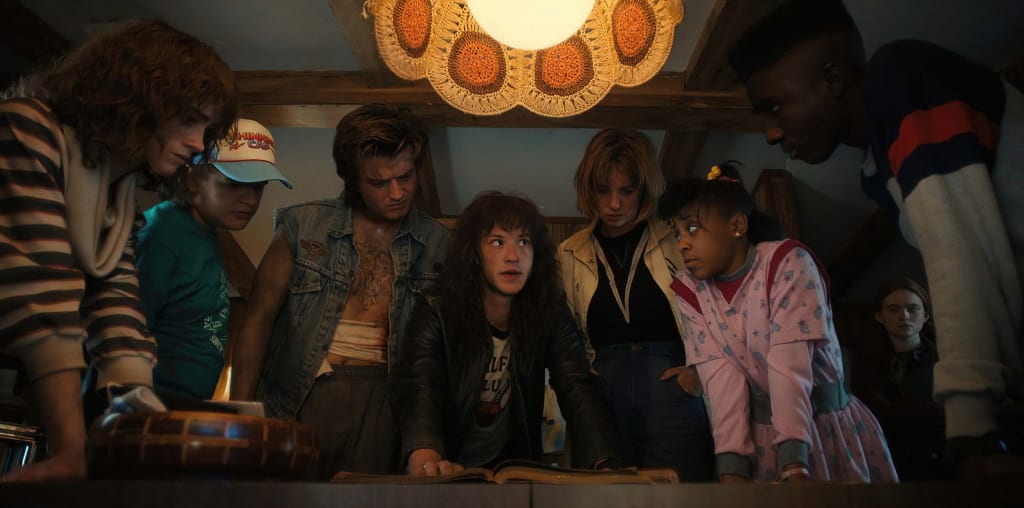 Whatever happens, we stick together in our fight against Vecna.
Season 4: Volume 2 of Stranger Things is a battle against the wicked Vecna. Brewing up plans on how to stop the evil, the group knows that they don't have enough time. Making crucial decisions, they gather supplies preparing for the battle of Hawkins.
Volume 2 of season 4 of Stranger Things was so popular that it caused Netflix to crash! The finale of Stranger Things is one epic ride. Still, I can't help but retain mixed feelings, believing that we could have had more of certain storylines and less of the supernatural which kept repeating.
The cast had to abide in a panicked state throughout most of the finale. I am impressed with everyone's commendable talents. Evoking a range of diverse emotions, the whole cast deserves Emmy's. They have grown so much as actors.
Millie Bobby Brown is an actress of her time. Brown's study of her character's difficult past and her will to fight is a quality that amazes me. El defines what a superhero is by coming to her friends' rescue even when it is not physically possible.
Gaten Matarazzo, Caleb McLaughlin, and Noah Schnapp destroyed me in their gutwrenching emotional performances. I never expected to see a poignant performance from Matarazzo. Dustin's talk with one character, in the end, was close to the heart. That scene was a major highlight for me.
One part of Stranger Things that I've always adored is the study of character interactions. This is a show about friendship. One moment I never thought that I needed was a conversation between Erica and Lucus. And finally, we get a sweet brotherly moment between Will and Jonathan.
Okay, I will admit it. I squeaked in delight at an overdue romantic scene between Joyce and Hopper (Winona Ryder and David Harbour). Harbour did a stupendous job as Hopper this season, living the tough battle with his character.
The Duffer Brothers hyped up the finale. As I said, we had too many supernatural elements and little of other scenarios that needed fleshing out. It was repetitive. Vecna's origin story is repeated again. He already had a full episode that documented his evolution into the Upside World.
There are so many subplots that it takes a while to get back to another character. For example, three characters are trapped on a wall for what feels like thirty minutes while other stories are going on. I will say that the editing for Stranger Things is exceptional. With a wide variety of characters, we follow each story closely.
Speaking of which, special effects incorporated amazing visuals this season. How the upside-down world is crafted was impressive. As the Duffer Brothers said, there are more special effects in the final episode than there are in the whole series.
The finale is over two hours long. It could have been condensed. The Duffer Brothers were afraid to take risks. The ending felt rushed to me. I was overjoyed with all the reunions, but there should have been more.
Prepare yourselves, you're going to feel like you've been punched in the gut with everything that happens. I was actually crying in one scene, something I haven't done in a while, especially while watching a show.
Season 4 of Stranger Things is an epic ride from start to finish. Aside from my complaints, it is still a fun experience. Watch Stranger Things on Netflix. Just like everyone else, I am sitting on the edge of my seat in wait for season 5.
tv
About the author
Writing has been my passion since I was 11 years old. I love creating stories from fiction, poetry, fanfiction. I enjoy writing movie reviews. I would love to become a creative writing teacher and leave the world inspiring minds.
Reader insights
Nice work
Very well written. Keep up the good work!
Top insight
Expert insights and opinions

Arguments were carefully researched and presented
Add your insights