Those Who Wish Me Dead - A Movie Review
'Those Who Wish Me Dead' is a nail-biting story with the bravest characters.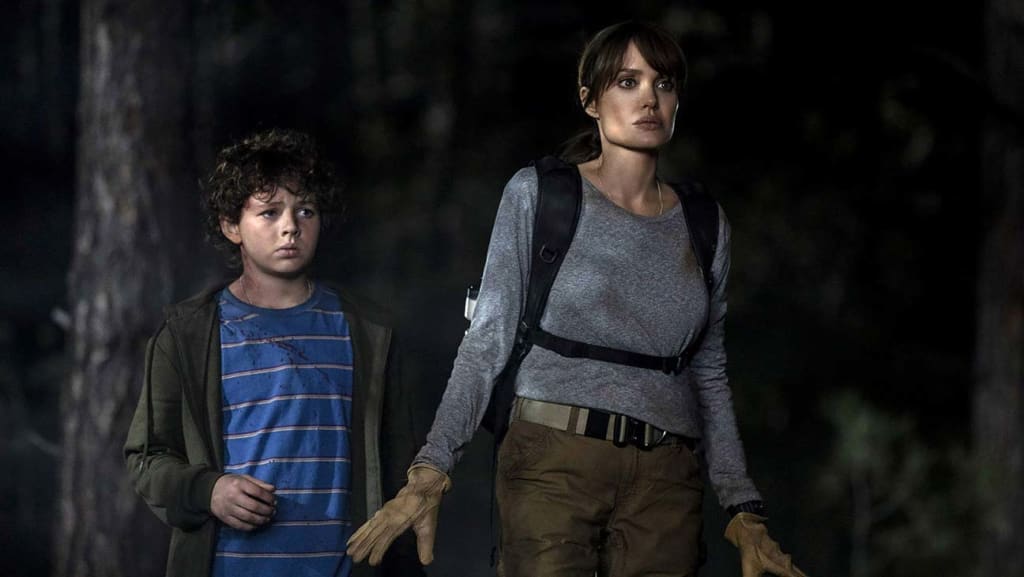 Follow me. Do exactly everything that I tell you to do.
Those Who Wish Me Dead is a 2021 film. On the run in the Montana wilderness after witnessing two assassins kill his father, Connor meets Hannah, a survival expert. Finding safety is not easy as a hungry forest fire chases them down.
I didn't get a chance to see Those Who Wish Me Dead when it was in theaters last year. Thanks to this film, now I know what to do if I am ever in the woods surrounded by a forest fire. Exhibiting the usual disaster film cliches, Those Who Wish Me Dead is a nail-biting story with the bravest characters.
Hannah doesn't have an easy time throughout the film. Taking a lot of serious falls and sustaining nasty cuts, giving up is not in her vocabulary. Scarred from memories, Hannah is sought with an unprecedented task to help a little boy to safety. Angelina Jolie was outstanding. Her wit, enthusiasm, and action-packed heroism were motivating.
I was astounded by Finn Little's performance. For a young actor, he had to experience a multitude of thematic elements. I am most impressed by his character's perseverance. Having to withstand all the nightmarish events at his age is not easy for a child.
Jolie and Little worked great together. They have a lot of insult challenges. In their short time together, the pair support each other. That was my favorite part of their dynamic. It's a positive example of any first responder.
This isn't just a disaster film. It's a character study. I didn't expect Those Who Wish Me Dead to be a character film. Credits include Nicholas Hoult, Aiden Gillen, Jake Weber, Jon Bernthal, Medina Senghore, Tyler Perry, and more.
Most characters were written as typical cliches, like the villains. Oh, wait until I get started on the villains. They were so cartoonish that it was hard to take them seriously. Other than killing and threatening people there wasn't much else to their characters. Their vocabulary wasn't that big, exploiting foul language in every sentence.
Allison (Medina Senghore) gets the best character award. All women are fighters - especially when pregnant. That is the best message incorporated from this film. Senghore and Jon Bernthal (Ethan) shared the sweetest lovey-dovey relationship that I've seen on film in the longest time.
Some portions of the story were weak. I didn't like how some scenes were directed. It felt like the actors were just reading from a script or waiting for direction cues. One scene that felt unnecessary to me was when Hannah and Connor run across a field avoiding lightning bolts. Another safety lesson, but it is not necessary. This film is about forest fires.
Looking past that, Taylor Sheridan focused highly on the character depth. His utilization of fire safety was another highlight in the film. Sheridan's direction was praised by most of the cast who noted that he had a unique direction, specifically about how he connected to the characters.
For all the intense fires, thankfully no real woodland areas were burned down. Instead, a woodland set was safely set on fire. Firefighters were on hand at all times. Fire etiquette is a notable attribute, on and off the set. It's the right film to teach you about fire safety.
Be warned, Those Who Wish Me Dead is an on-edge film. It's intense. Gross wounds and haunting images are shown. It may not end as expected. The film is still worth a watch for anyone who is in search of a new thriller.
review
About the author
Writing has been my passion since I was 11 years old. I love creating stories from fiction, poetry, fanfiction. I enjoy writing movie reviews. I would love to become a creative writing teacher and leave the world inspiring minds.
Reader insights
Be the first to share your insights about this piece.
Add your insights