Strange news to make your Friday great
A weather reporter with googly eyes, a python who swallowed a beach towel,a man who found his own gravestone and a wandering hippo.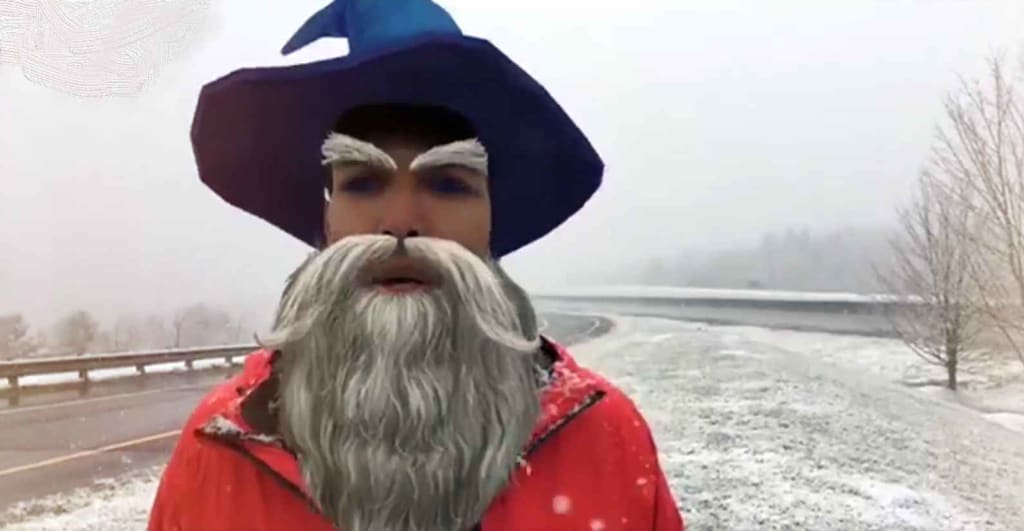 Image from WLOS ABC 13/Facebook
Sometimes it's fun to browse through the odd and weird news in the world, just to see what comes up. The following is a selection of some of the latest stories to make you laugh or scratch your head.
These include a weather reporter with googly eyes, a python who swallowed a beach towel and a man who found his own gravestone, despite being very much alive. Then there was a hippo, looking for fresh grazing at a gas station in South Africa.
Weather man has 'googly' eyes
Weather man Justin Hinton works for WLOS ABC 13 in North Carolina. He had just finished a report about the first snowfall they had seen this season. However, he noticed viewers making comments about his "weird face."
When he went back to view the live feed of his report, he found out what had happened. It turns out he had accidentally turned on some of the Facebook face filters. Viewers found his report hilarious, as they saw him as a cat, a wizard, wearing a space helmet, with googly eyes and more while telling his serious story.
The video of his report was posted to the WLOS ABC 13 Facebook page where Justin says, "Wait, Misty, did I have a weird face?" His viewers enjoyed the show so much, they asked him to use the face filters on every weather report from now on.
Monty Python and the missing beach towel
The Small Animal Specialist Hospital in Sydney, Australia, recently posted a video to Facebook. The video reveals a pet python, appropriately named Monty, who had to visit emergency care after swallowing an entire beach towel.
The 18-year-old jungle carpet python was put under anesthesia and vets scanned her to find the position of the beach towel. Once Dr. Olivia Clarke had an idea of its location, she sent a pair of forceps into the snake through an endoscope to grab hold of the towel and pull it out.
It ends up looking like one of those magician shows, as the beach towel just keeps on coming until it was fully out of Monty's body. According to the vets, Monty (and the beach towel) are both doing well. She was discharged from the hospital the same day and according to Monty's owner, she is back to her normal happy, hungry self. Hopefully, the owner will keep things like towels out of Monty's reach from now on.
Man discovers his own gravestone in a cemetery
As noted by the Metro, a British man was shocked to discover his own grave in a local cemetery. It seems his ex-wife might have been getting revenge on him, by placing the gravestone there.
It turns out no one had phoned Hattel for months and now he believes he knows why – they thought he was dead. Ironically, Alan says he doesn't want to be buried and would prefer to be cremated. It is unknown what he will do about the tombstone.
Hippo looks for grazing at a South African gas station
A hippopotamus was seen casually strolling into a gas station in the South African town of St. Lucia last Sunday evening. The OK Express convenience store at the gas station shared a video on Facebook which shows the hippo strolling around the parking lot.
Quite a crowd gathered to watch the hippo as it went by. According to the Facebook post, the hippo was looking for grazing in town and casually returned to Lake St Lucia where it lives later that day. The video was taken by motorist Marie Stubbe who said she was parked across the street from the gas station when she suddenly spotted the hippo.
Apparently this isn't an unusual occurrence in town, as hippos often go searching for fresh grazing and don't make any problems along the way. You leave them alone, they'll leave you alone!