'Star Wars' fan with R2-D2 bionic arm has a big fan in Mark Hamill
While Isabella Tadlock is a big fan of the 'Star Wars' franchise, when her dream came true in the form of an R2-D2 bionic arm, she gained a huge fan herself.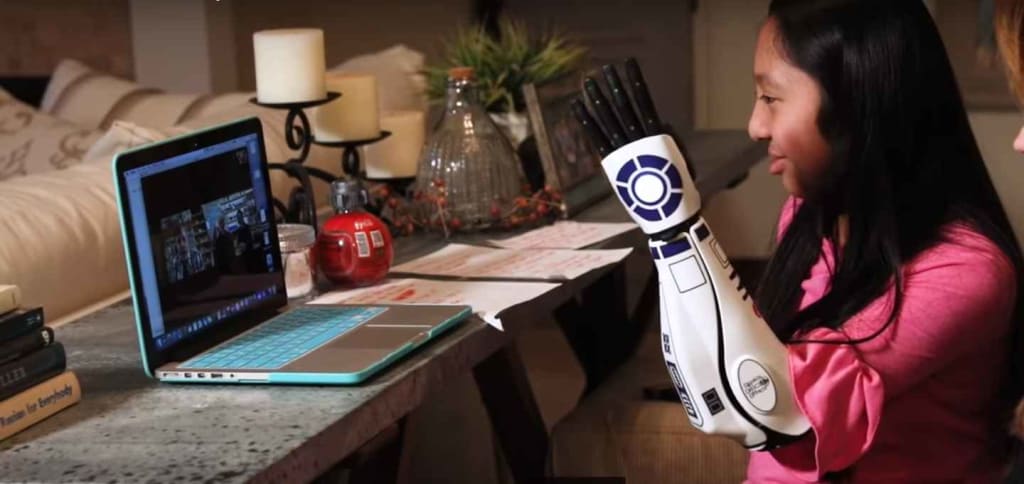 Isabella Tadlock shows Mark Hamill her new R2-D2 bionic arm - Open Bionics/YouTube
When Isabella Tadlock was born, she was missing a left hand and her right hand had no fingers. This meant the Tallahassee, Florida girl had trouble picking things up. A huge "Star Wars" fan, she revealed her dream to have an R2-D2 bionic arm.
A Mightycause account was set up to raise funds to make her dream come true. Along the way, Mark Hamill, who plays Luke Skywalker in the films, became a huge fan of the 11-year-old girl.
'Star Wars' fan's dreams come true
As noted by CNN, after being born with a disability, life was challenging for young Isabella Tadlock. According to her family, her left arm ended with a "nub," while her right hand had no fingers or a thumb.
Multiple surgeries were performed, which led to Isabella's right hand having three fingers and a thumb. It was then time to see what could be done for the young girl's missing left hand.
Isabella made a wish for an R2-D2 bionic arm after watching a video of a small boy with a similar device. A fund raising account was launched on the Mightycause website dubbed "Isabella's Second Hand Friends."
Along the way, the donations were boosted by Mark Hamill, who plays Luke Skywalker in the "Star Wars" film franchise. Isabella's nanny had shared a link with him on Twitter during November, telling Hamill Isabella was a big fan of his.
After he became aware of her cause, Hamill shared Isabella's fund-raising link on Twitter to his 3.6 million followers, leading to the donations reaching almost $14,000.
Isabelle meets Mark Hamill
On February 20, after news of her bionic arm was released, Isabella finally met Mark Hamill via a video call. Mark, Isabella and her mother, Pamela Tadlock, had a 30-minute conversation.
Hamill says in the video that he heard Isabella was a "Star Wars" fan, but went on to say he was a big fan of her, explaining how proud he was of the young girl.
In the video, included here, Isabella shows Mark how she can now pick things up, which Hamill says was "great" and "so fantastic." He said the R2-D2 bionic arm is called a "Hero Arm" because she really was a hero. He then went on to introduce his dogs, Mabel and Millie, and his daughter, Chelsea.
Pamela told CNN that Hamill "could not have been more encouraging and kind."
Open Bionics creates bionic arms
Isabella's "Hero Arm" was created by Open Bionics, a company that wishes to give children with limb disabilities an "empowering arm." According to their website, the children's disabilities are "superpowers."
Basically the bionic arm pick up signals from the muscles in the limb, allowing the wearer to perform various tasks. What makes it really fun is that the company was asked what kind of bionic arm she wanted. As she is a huge "Star Wars" fan, she naturally asked for a bionic arm that resembled Luke Skywalker's droid, R2-D2. The company's designers happily obliged.
It has only been a couple of weeks since Isabella received her R2-D2 bionic arm, but according to Isabella, these have been the best days of her life. In an update on her Mightycause account, the young girl said how excited she was that she will be able to ride a bike, "create in the kitchen" and swing on the monkey bars, just like her friends do.
Isabella's mother said the new bionic arm had really helped her with her confidence and self-esteem. Pamela went on to share that on the previous night, Isabella had been able to blow dry her own hair for the very first time.
Now it seems Isabella has a new dream in store. According to her mom, she wants to become a bionic arm model. As Mark Hamill told Isabella, "May the Force be with you, always."